The Easy How-to Guide to Make Pickled Bell Peppers at Home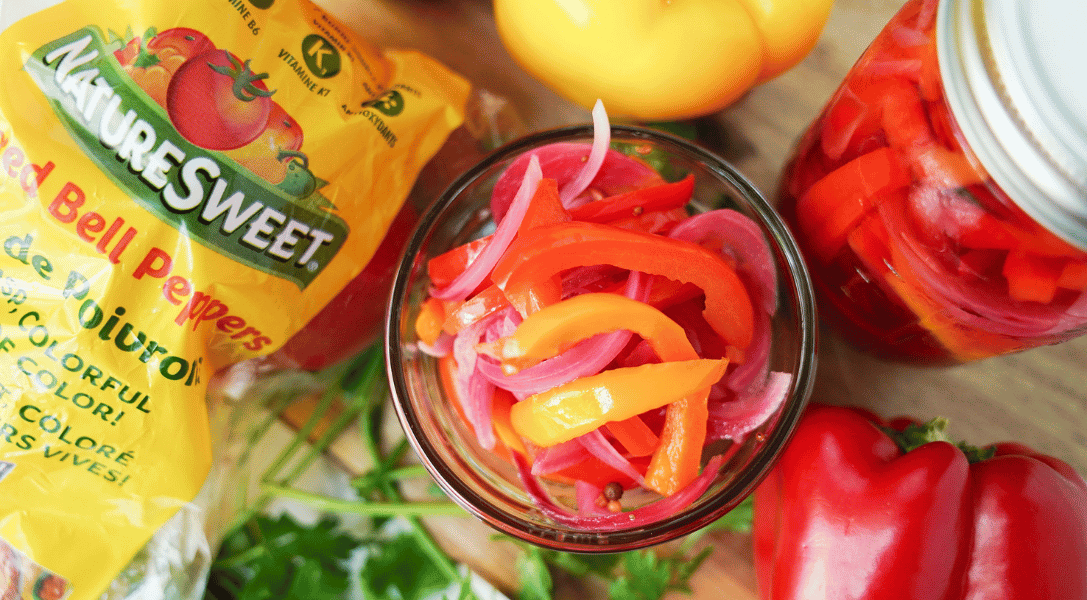 Pickled bell peppers add zesty, fresh flavor to all of your favorite recipes. Most of the ingredients are likely sitting in your pantry right now, and it only takes 15 minutes to get your bell peppers soaking up extra flavors. Use them as a topping, snack, or mix-in – pickled sweet peppers are good any way you eat 'em.
Sometimes we buy a few more peppers than we need, or we simply forget that we had them sitting in our fridge.
So, what do you do when you don't necessarily feel like making stuffed peppers but you also don't want them to go to waste?
The answer is simple: pickled bell peppers.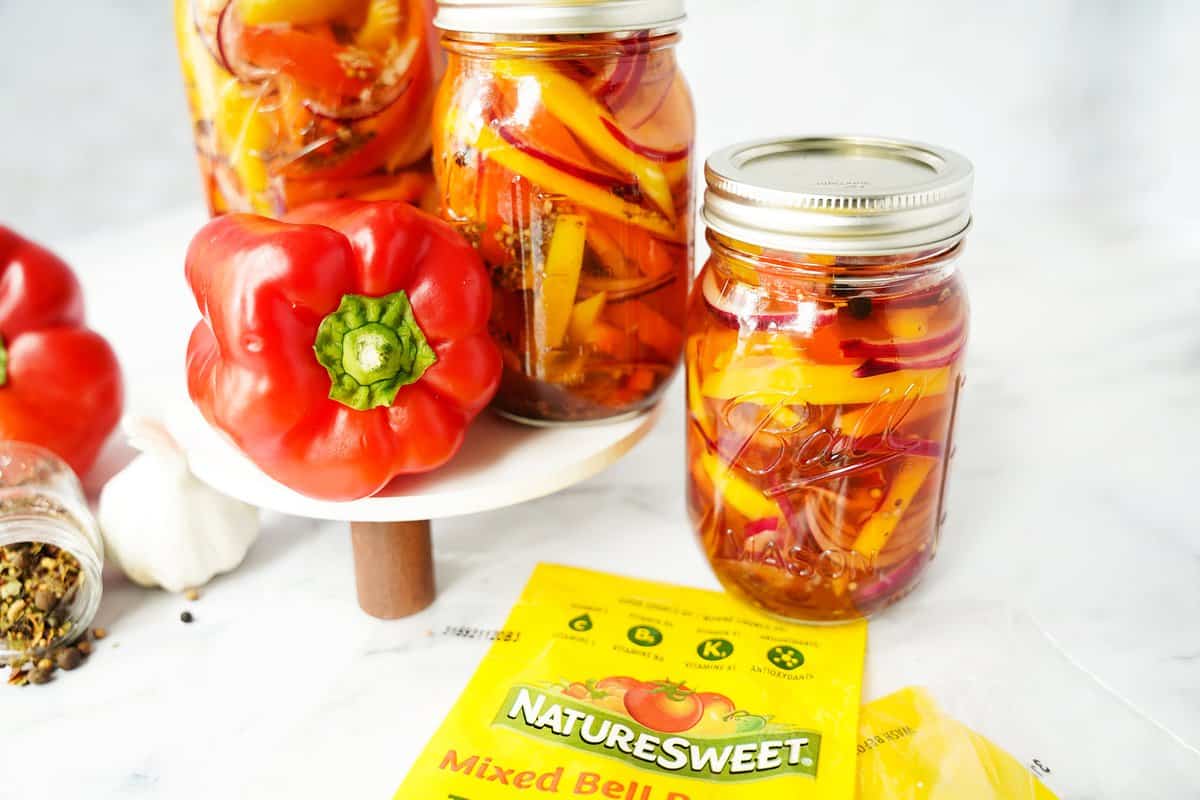 Pickled bell peppers are sponsored by NatureSweet®.
If you haven't had these before, prepare to be amazed. Pickled peppers are the best way to extend the life of your produce and add a little something extra to your meal plan this week.
Ready to give it a try?
Why Pickle Bell Peppers?
Pickling is an age-old food preservation technique that you may remember doing with your grandparents. Fruit, veggies, meat, and fish can all be pickled to prevent the food from spoiling and ultimately save you money in the long run. Pickle your favorite veggies by letting them ferment in a brine where the carbs break down and marinate them.
We're going to use the second method and let our peppers marinate overnight. As the peppers soak up the brine and pickling spices, they become soft with a sweet, tangy flavor.
Add your pickled peppers to:
Check out some of our recipes for inspiration. Once you've tried pickled bell peppers with your favorite recipes, you'll want them every time.
Ingredients
Pickled peppers are mostly made with pantry items that you may already have on hand. And if you're interested in using up some peppers that are starting to look less than ideal, you've already got the peppers ready to go too.
Let's make sure you have everything before you get started.
Bell Peppers
It's safe to say that your bell peppers are the most important ingredient here. Since peppers are the star of this recipe, you want to make sure that you get high-quality produce for the best flavors. We used one bag of NatureSweet® mixed bell peppers. Each bag comes with three peppers with a beautiful rainbow of yellow, red, and orange. And the bag is clear, so you can look over your peppers before you purchase them.
Pickled bell peppers are fat-free and add a little zesty flavor when added to meals you already enjoy. Double or triple this recipe for an easy addition to your family's meals or as a snack on their own – they're that good!
Red Onion
Your pickled bell peppers are already going to taste zingy and yummy, but red onions always add an extra layer of flavor to any recipe. Not to mention they develop a bright pink color as they sit in your brine. If you like some crunch, onions hold up during the pickling process, so you still get that crisp bite mixed in with your bell peppers.
Garlic
Everybody loves garlic, so we added eight to ten cloves. Use that flat side of your knife to smash your garlic cloves and peel them. You'll add them to your brine as it cooks.
When it comes to pickled bell peppers, fresh ingredients are the key to getting the most flavorful peppers. If you're in a pinch, you could use garlic powder, but the flavor is much weaker. As the fresh garlic cooks, the brine absorbs that unique, spicy taste, which pairs well with the bell peppers and red onion.
Pickling Spices
This is an easy mix of spices that you can find in your grocery store. Pickling seasonings can include allspice, bay leaves, cardamom, cinnamon, cloves, coriander, ginger, mustard seed, and peppercorn. They come in prepackaged mixes as whole or coarse pieces. Look for it in the spice aisle.
Celery Seed
Not to be confused with celery salt, celery seed is a dried, wild seed. It has a more intense flavor than fresh celery. When you heat it up, you only need two tablespoons of this spice for your brine. You'll probably have some left over for your future pickling recipes. Celery seed also goes really well with potato salad, soup, and seafood.
Apple Cider Vinegar
We used apple cider vinegar because it's made from fermented apple juice, so it keeps the flavor more on the sweet side. It has a more mellow taste compared to other vinegars with a hint of fruitiness. You could substitute apple cider vinegar for white vinegar but expect it to taste slightly more tart and acidic.
How to Pickle Peppers
Step 1: Julienne your NatureSwee®t Bell Peppers. Use a knife to cut each face of your red, orange, and yellow bell peppers. Remove any inner pieces and rinse away the seeds. Then, slice each bell pepper side into long, thin strips. Add them to a large mixing bowl.
Step 2: Cut your red onion into thin strips. Add them to your mixing bowl with your bell peppers and mix together with your hands.
Step 3: Divide your bell pepper and onion mixture between your mason jars. It should be enough to fill two to four jars, depending on their size.
Step 4: Boil the minced garlic gloves, spices, celery seed, sugar, and vinegar for one minute. Set the brine aside and let it cool completely.
Step 5: Pour the brine into each jar, leaving ½ inch of space at the top of the jar. Screw on the lid for each jar.
Step 6: Place your pickled bell peppers in the fridge for at least 24 hours and enjoy!
Related: How to Cut a Bell Pepper
How to Select a Bell Pepper
Your peppers should have a firm skin. Wrinkles or wilting mean that the pepper is overripe. Check the texture, stem, and weight. If you don't plan to pickle them on the same day, go for a smooth pepper. The stem should also be nice and sturdy, not brown or shriveled. Last, compare the weight of your peppers in each hand. The heavier peppers have thicker skin and fresh seeds.
Related: Bell Pepper: How to Select, Store, and Serve
How to Store Pickled Peppers
Pickled bell peppers are best stored in the fridge. Pickled peppers can last anywhere from one to eighteen months, depending on what kind of jar you use. When you use a mason jar with a lid that screws on and off, store your peppers in the fridge for up to one month. If you use jars that use heat to seal the lid on, your peppers will last up to eighteen months in your pantry, unopened.
Why We Love NatureSweet®
Since 2021, NatureSweet® has been Fair Trade Certified. That means that they are regularly evaluated to ensure they are living up to their social and environmental responsibilities as growers. One of their top priorities is their associates, who grow and process the produce you and your family enjoy, as well as the environment your bell peppers are grown. You can always trust the quality of NatureSweet® when you make pickled bell peppers.
Look for the NatureSweet® logo in the produce aisle!
More Great Pepper Recipes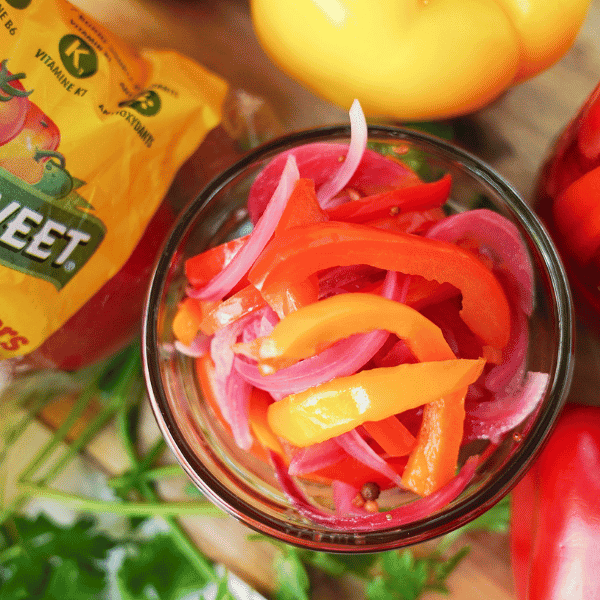 Pickled Bell Peppers
Pickled bell peppers are a surprising addition to a variety of recipes. Make them in 15 minutes, store them overnight, and enjoy them with everything.
Print
Pin
Rate
Ingredients
1

bag

NatureSweet® Mixed Bell Peppers

julienned

1

medium

red onion

halved and thinly sliced

8-10

cloves

garlic

smashed

3

teaspoons

mixed pickling spices

2

teaspoons

celery seed

1/2

cup

sugar

3

cups

apple cider vinegar

1½

cups

water
Instructions
In a large bowl, mix the thinly sliced peppers and onions. Divide the mixture between your mason jars, about 2-4, depending on their size.

In a small saucepan, bring the garlic, spices, celery seed, sugar, and vinegar to a boil for one minute.

Pour the liquid mixture into each jar, leaving 1/2 inch of room at the top, and seal the lid.

Refrigerate for at least 24 hours.
Notes
Use two, 24 oz. mason jars or four, 12 oz. mason jars to fit all of the liquid, peppers, and seasonings. 

For extra flavor, triple the garlic, pickling spices, celery seed, and sugar.

Refrigerate pickled peppers for up to one month.
Nutrition
Calories:
162
kcal
|
Carbohydrates:
33
g
|
Protein:
1
g
|
Fat:
1
g
|
Saturated Fat:
0.1
g
|
Polyunsaturated Fat:
0.1
g
|
Monounsaturated Fat:
0.2
g
|
Sodium:
19
mg
|
Potassium:
226
mg
|
Fiber:
1
g
|
Sugar:
27
g
|
Vitamin A:
18
IU
|
Vitamin C:
5
mg
|
Calcium:
60
mg
|
Iron:
1
mg