Sweet Red Onion and Apple Panini Sandwich in Six Minutes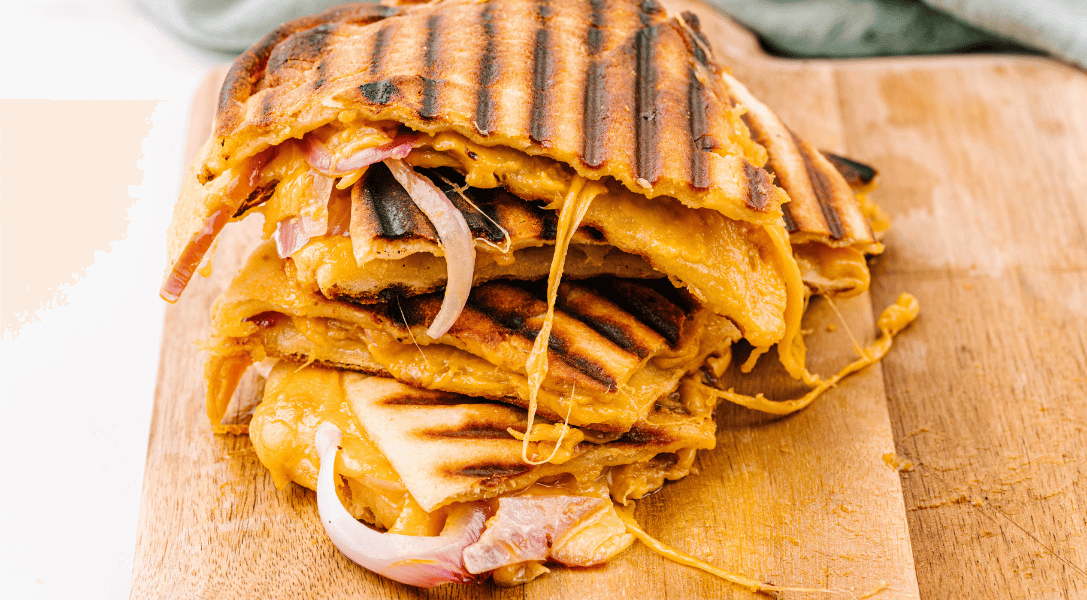 Sweet crisp apples, melted cheddar, spicy mustard, and mild red onions will make your taste buds come alive with this easy panini recipe. With only five ingredients and six minutes on the panini press, you'll love how fast you can get lunch on the table stat. Made with naan instead of sandwich bread for a fluffy yet tantalizing panini grilled to perfection.
Sandwiches are a common go-to lunch, especially when your kids are hanging out with you during the summer. But there's one way to easily elevate your sandwich game.
A panini press.
Using your panini press to get iconic grill marks on your delicious apple, cheddar, and red onion panini makes you feel like you're eating a professionally made sandwich from your favorite cafe down the street.
All it takes is six minutes and five ingredients to make a nutritious lunch that you and your kids will want over and over again.
Ready to give it a try? One, two, three…go!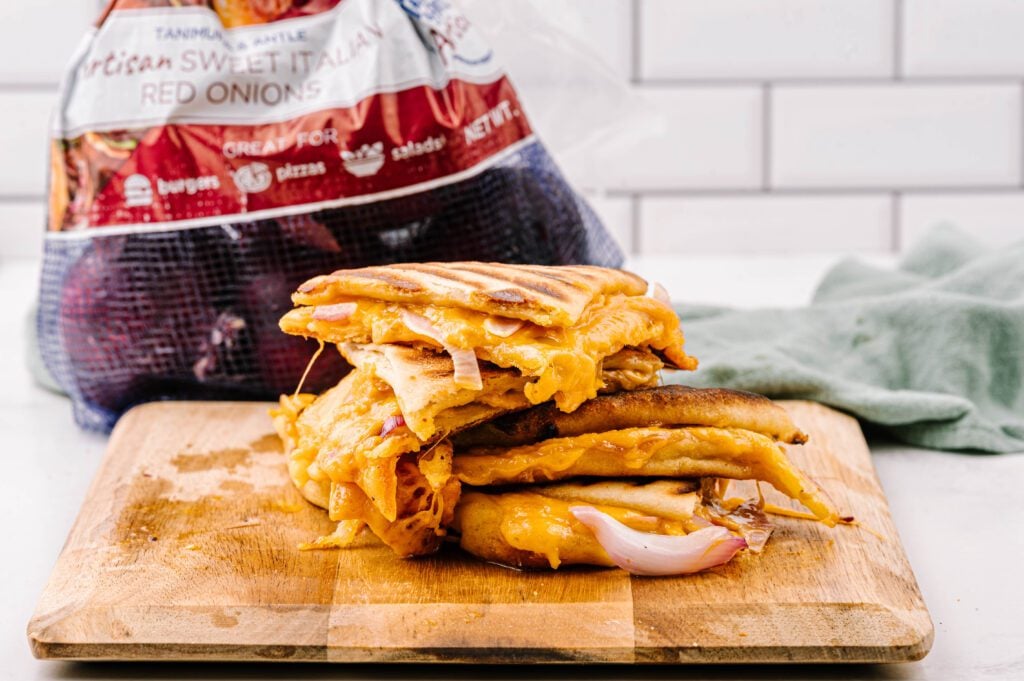 Grilled Apple, Cheddar, and Red Onion Panini is sponsored by Tanimura & Antle
Panini or Grilled Sandwich?
The main difference between the two is the tool used to prepare each sandwich. Any heated, flat surface is used to heat and sear the bread and contents of a grilled sandwich. A panini is made when you get beautiful grill marks on the outside of your sandwich as you press down on it with a panini press. Grilled sandwiches can sometimes turn out too crispy and tall, making them harder to eat. That's why we love using a panini press for this recipe.
You can use a panini press with any kind of sandwich you want, especially one that includes lots of melty cheese.
What Is a Panini Press?
A panini press is a small, electric kitchen appliance that you can use to grill from inside your home.
You may have heard of it called a sandwich press or grill press. A sandwich press is designed with indentions for your sandwich to fit inside and grill to perfection. A panini press is much more versatile. You can use it to grill everything you would grill on a regular grill outside on the fourth of July — chicken, shrimp, fruit, eggs, and veggies.
A panini press lets you add more ingredients to your sandwich because the press squishes all your sandwich toppings together. It cooks to perfection every time. As you cook your paninis, prep the next one or two (depending on the size of your press) to get lunch or dinner ready without a fuss (or a mess).
If you don't have a panini press, they are usually available anywhere that sells kitchen appliances and tools. You don't need anything fancy or professional. Sometimes you can find them for as little as $12.99, and they may be on sale around the summer holidays.
How Long Do You Grill A Panini?
We grilled our panini for about six minutes. An easy indicator to know when your panini is ready is to watch the cheddar cheese. The cheese should be slightly melted, like it's about to start dripping down the side of your panini. If you like your paninis extra crispy, or your cheese extra melty, you can always grill it longer. This is your apple, cheddar, and red onion panini, and we want it to be love at first bite.
Ingredients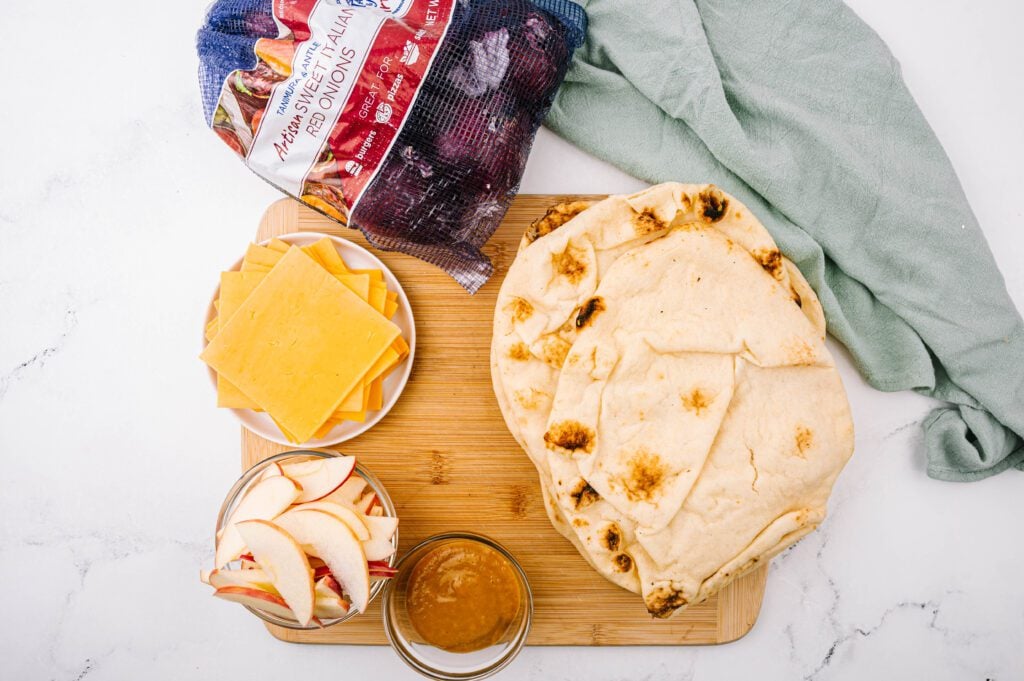 You only need five ingredients to make this sweet, spicy, sharp, and crispy panini. That means it's easy, quick, affordable, and nutritious for you and your family.
Here's what you need:
Cheddar Cheese
It's both a classic and a favorite (and easy to find at any grocery)! There are different varieties you can choose from: mild, sharp, aged, white, etc. Make it with whatever you may have on hand!
Naan Bread
Naan is a leavened, oven-baked bread that's popular in Indian cuisine. It looks more like flatbread instead of traditional sandwich bread. There are different flavors, from plain to garlic and more. We chose naan bread for this recipe because it's thin, yet airy at the same time. Since it's thin and you're using your panini press, that means you get to pile on as many toppings as your heart desires.
Because of how naan is cooked, it comes with charred spots and crispy edges to add a true grilled taste to your panini. Grab a package from the bread section, and see for yourself how easily it can replace even your favorite loaf of bread.
On second thought, you may want to grab the family pack.
Apple
You already know that apples and cheddar make a beautiful marriage of flavors for your tastebuds. So we had to add it to our panini. The sweet, crisp crunch of apples with gooey cheddar and sweet hot mustard…it's like a party in your mouth. The flavors complement each other and blend beautifully together so well. When you spread your panini toppings evenly, you experience a little pop of each flavor in every bite.
Look for apples that are red, firm, and without any bruising or soft spots. Crisp, firm apples hold up well during the pressing process, releasing the naturally sweet juice from your apples to the rest of your panini ingredients.
Tanimura & Antle Artisan® Sweet Red Onion
Now to the secret ingredient – Tanimura & Antle Artisan® Sweet Italian Red Onions pack a punch, without overpowering the other flavors. This is good news for any picky eaters you may serve. Although you're pressing your panini, you're simply heating your panini up instead of cooking it. So, Instead of having soft, caramelized onions, they're in between sweet and spicy, crunchy and soft. By using this type of mild onion, everyone loves your panini, especially your kids. You could also use our red onion marmalade recipe for a little extra sweet and tangy flavor.
Look for your Tanimura & Antle Artisan® Sweet Italian Red Onions in a bag in the produce department at your local grocery store or individually in the red onion section with a blue Tanimura & Antle sticker. Plus, check out our guide on how to cut an onion 7 ways that will help you minimize your prep time!
Sweet Hot Mustard
This mustard pairs well with the sliced apples to balance out the sweet flavor by adding a hint of spice.
It has a smooth texture that blends with the apples, cheddar, and onion as your panini press grills your sandwich to perfection.
With the classic tangy mustard paired with a sweet heat to round out the flavor profile, you don't want to leave it out. Look for sweet, hot mustard with the other condiments like ketchup and relish.
How to Make a Panini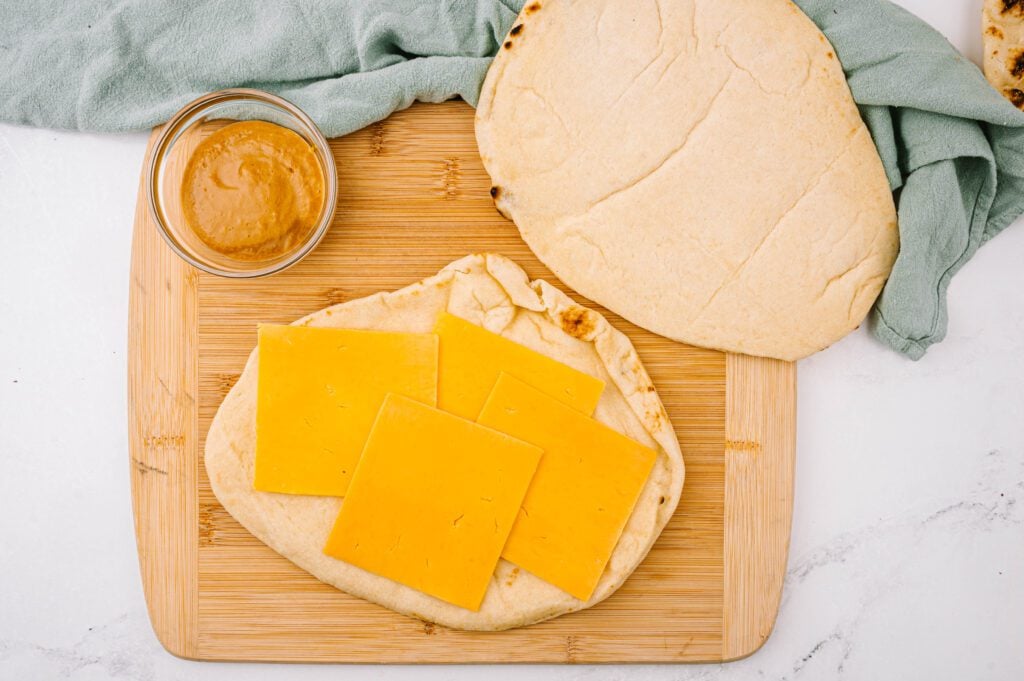 Step 1
Heat your panini press. Core your apple and slice the Tanimura & Antle Artisan® Sweet Red Onion.
Put a few slices of cheddar cheese on a piece of naan.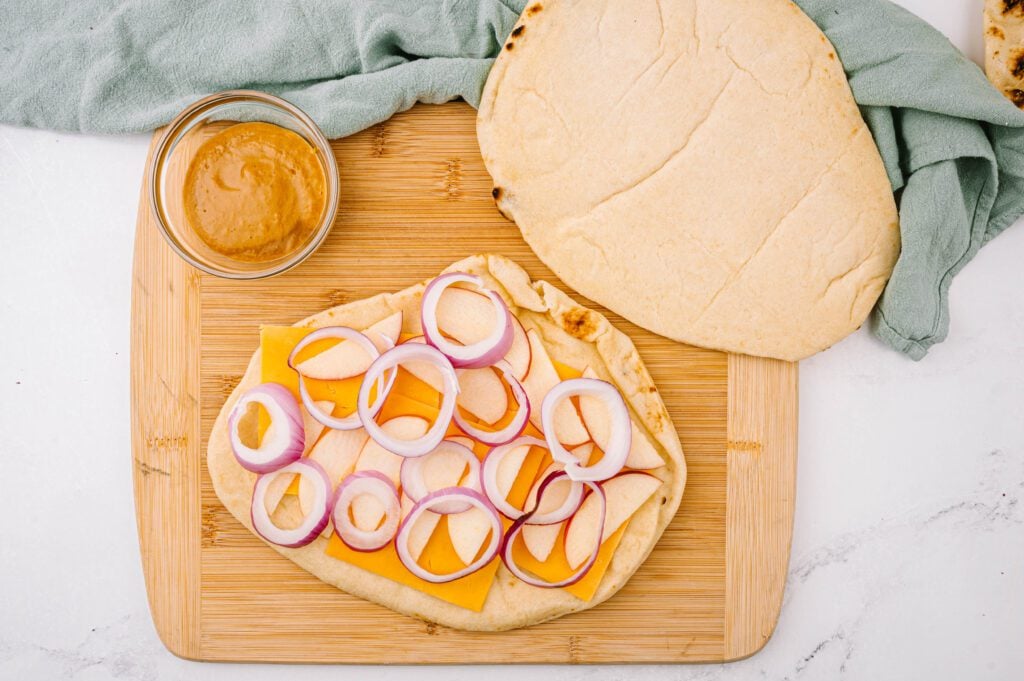 Step 2
Layer the apple and onion slices on top of the cheese.
Top with a few extra slices of cheese.
Spread the mustard on the top piece of naan and place it on top of the apple, cheese, and red onion.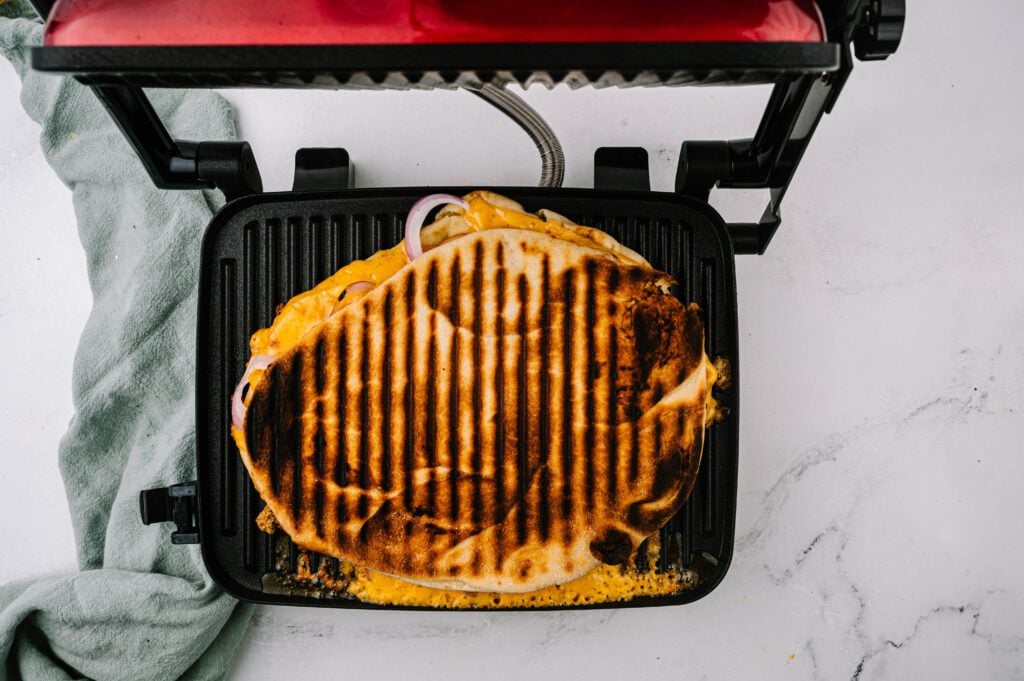 Step 3
Grill it in the panini press for about six minutes.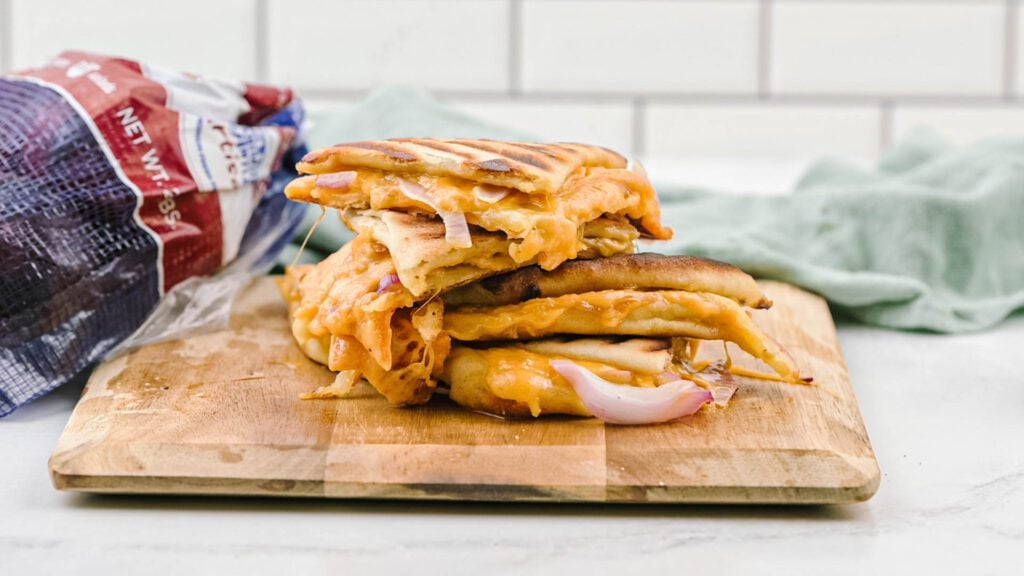 Step 4
Cut in half and serve. Bon appetit.
Why We Love Tanimura & Antle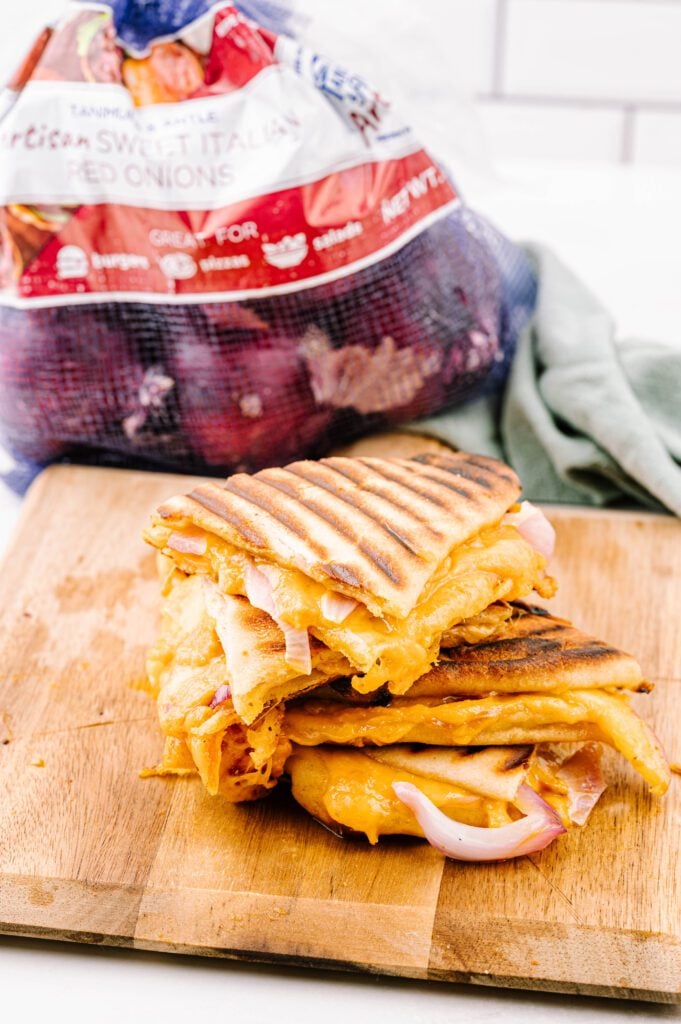 Tanimura & Antle is committed to sustainability, community, and food safety. When it comes to food safety, they believe that it's non-negotiable to go the extra mile in the way they grow your food. Because of their food safety plan, they've become a leader in the industry.
From regularly testing their irrigation water to attracting bugs that help keep pests away to being strategic about where they grow their crops each season, you can be sure you're getting high-quality produce. If you enjoy fresh cauliflower, greenhouse-grown lettuce, or artisan onions, Tanimura & Antle can help you give your family delicious recipes.
You can learn more about the Tanimura & Antle Farming Heritage or their commitment to innovative farming techniques and sustainability over the last 100 years.
Be sure to add artisan red onion to your grilled apple, cheddar, and red onion panini for an easy lunch your kids will love.
More Panini Ideas
Grilled Apple, Cheddar, and Red Onion Panini
Five ingredients and six minutes are all you need to make an apple, cheddar, and red onion panini sandwich. Easy, quick, and nutritious – a recipe your kids will want on repeat.
Print
Pin
Rate
Ingredients
6

oz

cheddar cheese

sliced

4

slices

large naan bread

(or bread of your choice)

1

red apple

cored and sliced

1/2

Tanimura & Antle Artisan® Sweet Italian Red Onion

thinly sliced

3

tablespoons

sweet hot mustard
Instructions
Heat up your panini press while you prep your panini ingredients.

Place a slice of cheddar cheese on the bottom piece of naan.

Next, layer the apple and onion slices over the cheese.

Then, finish it off with another piece of sliced cheese on top to help the panini stick together.

Use a butter knife to spread sweet, hot mustard on the top piece of the naan, and put the mustard side down on top of the top layer of cheese.

Place the panini onto your heated panini press, until heated through and the cheese is melted (about six minutes).

Use a knife to cut it in half and serve. Warning: cheese will be gooey and stringy.
Notes
Optional: sprinkle chopped parsley on top to add some fun color.
Nutrition
Calories:
606
kcal
|
Carbohydrates:
48
g
|
Protein:
26
g
|
Fat:
35
g
|
Saturated Fat:
17
g
|
Polyunsaturated Fat:
1
g
|
Monounsaturated Fat:
7
g
|
Trans Fat:
0.01
g
|
Cholesterol:
90
mg
|
Sodium:
1229
mg
|
Potassium:
237
mg
|
Fiber:
5
g
|
Sugar:
13
g
|
Vitamin A:
918
IU
|
Vitamin C:
6
mg
|
Calcium:
667
mg
|
Iron:
1
mg