DIY Dried Citrus Holiday Garland — An Easy Way to Make Your Home Holiday Ready
Nov 03, 2022, Updated Jun 16, 2023
It's almost that time of year again – twinkly lights, food comas, family visitors, and cups of cocoa by the fireplace.
You and your family probably have your own traditions filled with decorations passed down from generation to generation.
But we've got a new addition that we think you'll love… a DIY Holiday Citrus Garland.
We love this idea because it gives the air a fresh scent of citrus, adds a natural pop of color to your decorations, and looks like stained glass when it's hung in front of a window.
And the best part is that you can use it for up to two years!
Get out your citrus because we're making a holiday garland.
What is a dried citrus garland?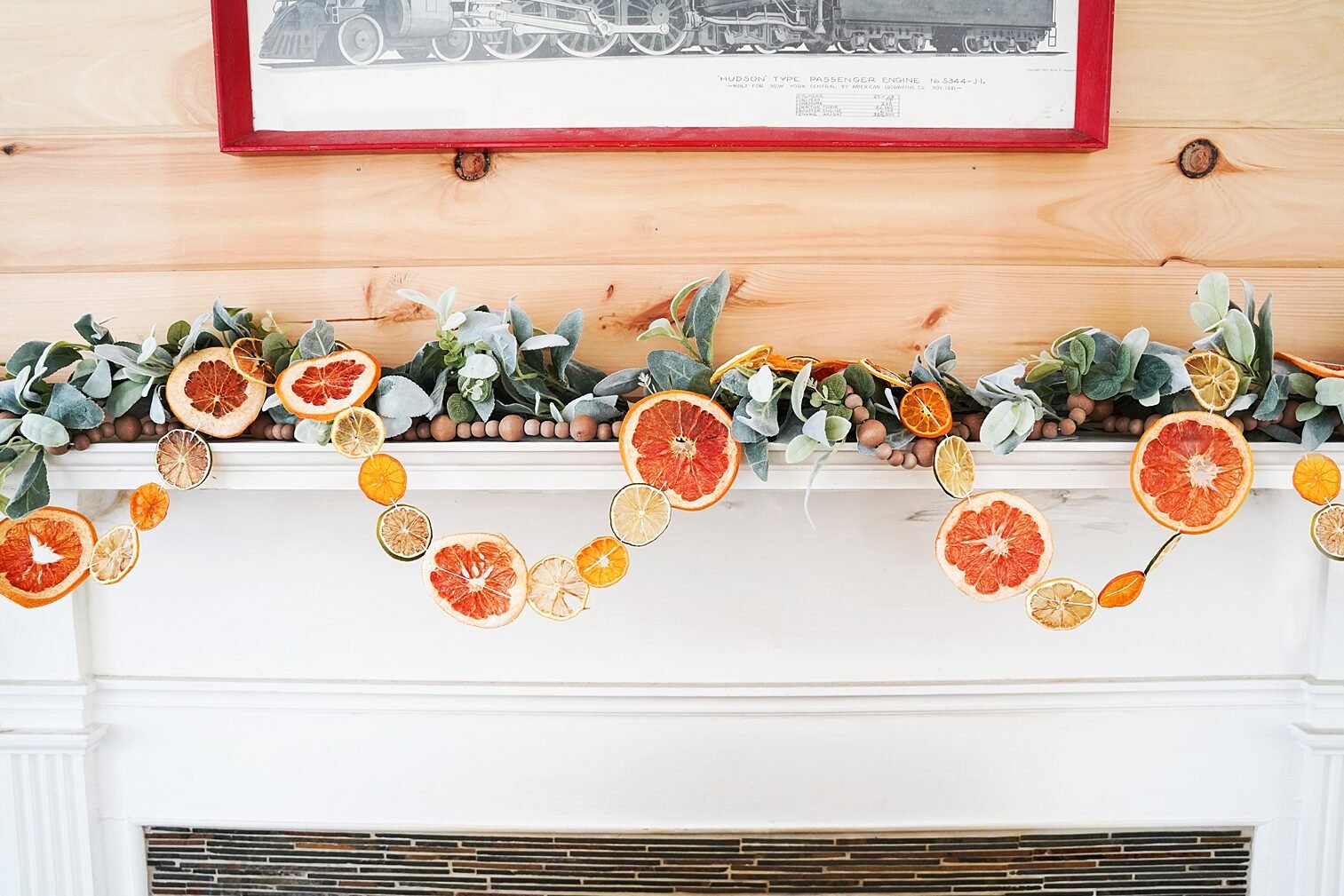 Your new favorite decoration for your window, mantle, staircase, or hallway. It's a string of dried citrus (or any dried fruit) that can be hung, draped, or woven in with decorations around your home.
Hang it by itself above your window for a beautiful stained glass glow from the sun. Intertwine your dried fruit garland with pine leaves on your staircase or hallway for a pop of color during the holiday season. Or weave it into your Christmas tree for a fresh, new look.
Any way you choose to use it – your citrus garland will look stunning.
Dried citrus for garland
We love produce because of all the beautiful colors that fruits and veggies develop as they grow. So for this dried citrus garland, we'll be using all of the citrus colors from mandarins, oranges, grapefruit, lemons, and limes. Pink, orange, yellow, and green bring a fun splash of color to your home.
Feel free to make a pattern from your rainbow of colors or pick your next color of citrus at random – as long as you have fun in the process.
So… how do you dry citrus?
It takes some time, but it's easy. Cut your citrus fruit into ¼ inch slices. Since we're using our citrus to make a garland, keep the rind (skin) on. The rind helps the garland stay together so that when you string the twine into each slice, it won't be able to cut through to the edge and fall off the twine.
Your dehydrator should have multiple trays. Lay your citrus out in a single layer on each tray. Set your dehydrator to 135℉ for 6-8 hours. The dehydrator is less time consuming because you can start the process and let the machine do the work for you.
Related: DIY Potporrui
But you don't have a dehydrator
It requires a little babysitting, but you can still make your holiday garland in the oven. You'll need parchment paper to line your baking sheet. This prevents your citrus from sticking to the baking sheet and breaking.
Set your oven to 150℉. Batch your citrus, so the lemons are on one baking sheet, the oranges are on another, and so on. Lay the citrus wheels in a single layer on the cooling rack. Flip your mandarins, oranges, lemons, and limes every 2 hours and the grapefruit every 3 hours.
Dehydrating time can be anywhere between 3-9 hours based on the type of citrus you use and how thick you cut the slices. Your citrus wheels are ready when they are dry and feel brittle.
Dried Citrus Garland Tips
Use a sharp knife. A dull knife pulls on the flesh of the citrus and gives your garland a little extra DIY look. We love using a mandolin for this step because it cuts each slice very thin, reducing dehydration time.
Cut thin slices. The wider your citrus slices are, the longer it will take to dry them out. Save yourself a little time by cutting your citrus slices as thin as possible for a beautiful, glassy finish in less time.
Waxed twine. Any type and color of twine work, but the waxed twine makes it easier to thread through each citrus wheel and is still strong enough to hold your garland together.
Storage. Keep your dehydrated citrus in an airtight container and store it in a cool, dry place. When your garland is stored correctly, it lasts at least 2 years. When it becomes very brittle and the color fades, it's time to make a new one.
What you need
Dehydrated citrus — mandarins, oranges, grapefruits, lemons, and limes
Large Needle — to sew the twine through each citrus slice
Waxed Twine — for easy gliding
Scissors — to cut your twine
Wooden Beads — to decoratively tie off the ends
Let's make your holiday citrus garland.
Step 1
Measure the window, hallway, banister, or tree that you want to decorate with your garland and cut the length of twine accordingly. Thread your twine through the eye (hole) of the needle.
Step 2
Use your needle to make a hole between the sides and the top, close to the rind. The first hole should be away from you.
Step 3
Use your needle to poke a hole on the opposite side, from back to front.
Step 4
Continue to weave the twine through all of your dried citrus slices until you have 6 inches of twine on each end.
Step 5
Make a knot at each end of your garland, around the rind. Add a wood bead to each end and tie another knot to hold the bead in place. Trim the excess twine. Then decorate!
More Produce DIY
Did you make your own dried citrus holiday garland?
We'd love to see a picture in the comments!
Print
Holiday Citrus Garland
Get the whole family together to make a dried citrus holiday garland. Hang it up on your mantel, banister, hallway, tree, or window for a stained glass look. And it lasts for a few years!
Materials
1

large

Needle

2

Wood beads

Twine
Instructions
Dehydrator Method
Use a knife to thinly slice lemons, limes, grapefruits, and oranges.

Your dehydrator should have multiple trays. Lay as many citrus slices as possible in a single layer on each tray.

When your dehydrator is full, set it to 135°F for 6 hours.
Oven Method
Preheat the oven to 150°F.

Use a knife to thinly slice all of your citrus.

Put a piece of parchment paper on a cookie sheet and lay as many of your sliced citrus pieces as possible, in an even layer.

Bake your citrus for about 5 hours, flipping halfway through. Feel free to use multiple cookie sheets if you have them to help dehydrate more citrus at a time.
Citrus Garland
Measure the window hallway, mantel, or tree you'd like to decorate. Add an extra 6 inches on each end, so you have room to tie your wood bead at the end.

Thread the twine through the eye (hole) in your needle. Leave excess twine hanging from the needle eye, so your twine doesn't fall out.

Use your needle to poke a hole away from your body, near the rind. The hole should be in the middle of the membrane closest to your 3 o'clock. Gently pull on your needle to thread the twine through. Leave 6 inches of twine hanging for your wood bead later on.

Then use your needle to poke a hole from the back, toward your body, near the rind. The hole should be in the middle of the membrane that's closest to your 9 o'clock. Pull the needle through until the twine feels snug.

Continue threading your citrus slices in any order you'd like. When you have 6 inches of twine left on each side of your garland, you're all done sewing your citrus. Loop the twine through the hole again to make a knot around the rind. Repeat on the other side.

Next, thread your twine through a wood bead and loop it again. You should have a piece of twine on the outside of your bead. Tie a small knot with your twine to secure the bead in place, and trim the excess with scissors.

Repeat on the other end, and now you have a beautiful handmade citrus garland!
Notes
When you thread the twine, use the needle to poke holes away from you when you add a new citrus slice. This makes it easy to thread in the same direction every time.
Use an oven-safe cooling rack that fits into your baking sheet instead of parchment paper. The rack allows the air to flow better, so your citrus dehydrates properly.