20 Thanksgiving Side Dishes That'll Get Gobbled Up
It's time to start planning the Thanksgiving menu! Whether you're serving it yourself or bringing a dish to a family gathering or Friendsgiving, you'll need to choose some tasty side dishes. We're sharing 20 Thanksgiving side dishes that will steal the show. Forget the turkey, these familiar flavors and fresh takes on holiday classics will get gobbled up! Which ones will grace your table this year?
Thanksgiving Jarcuteries
These individual-sized charcuterie boards are the latest trend in tasty party snacks and a handy alternative to traditional charcuterie boards. Jarcuterie puts a personalized spin on this party favorite with single-sized portions of your favorite charcuterie ingredients. From savory meats to crunchy veggies to juicy berries, you can pair all kinds of finger foods with some fine cheese to make a convenient yet gorgeous table-setting decor.
Bacon Wrapped Apples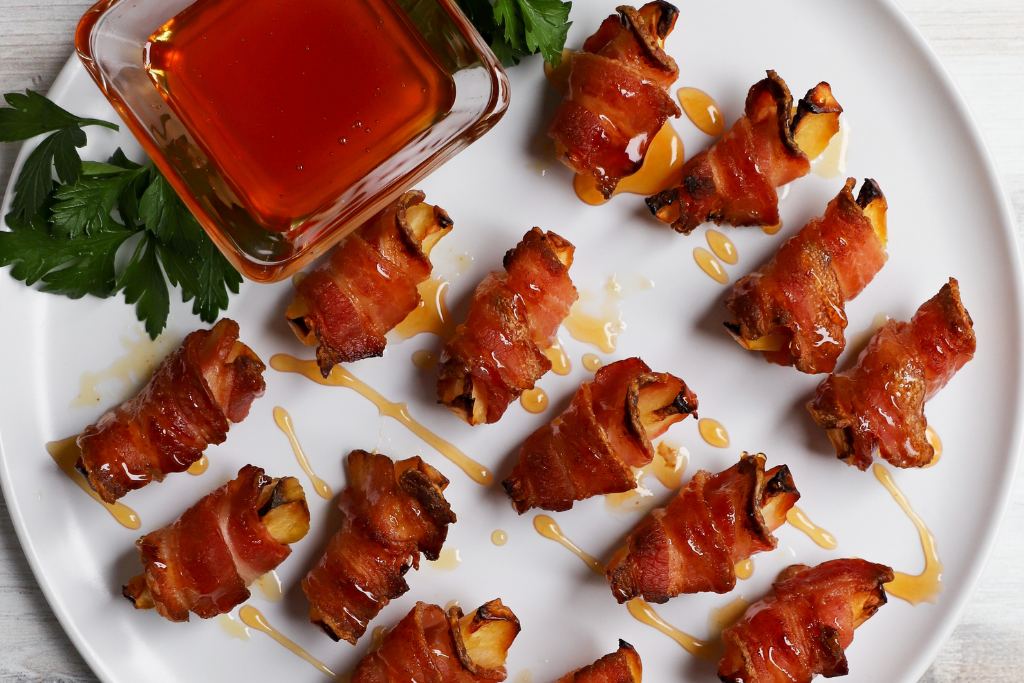 Keep everyone happy and in good spirits while waiting for the main course with a savory appetizer: bacon-wrapped apples. Juicy, sweet Honeycrisp apples are wrapped in salty bacon and drizzled with hot honey. Is your mouth watering yet? This recipe might just be three ingredients but the flavors are complex and indulgent.
Apple, Cranberry, and Kale Salad
This salad boasts a plethora of flavors, from sweet honey and apples to savory mustard, blue cheese, prosciutto, and more. Astonish your friends and impress your family by serving this luxurious salad at your holiday meal!
Savory Bosc Pear Salad
Pears are an elegant fruit deserving of an elegant presentation. This salad is not only elegant, but it's also decadent. It features Bosc pears cooked in bacon fat and served with toasted pecans, balsamic glaze, fresh thyme, and shaved parmesan cheese.
Cranberry, Blueberry, & Strawberry Sauce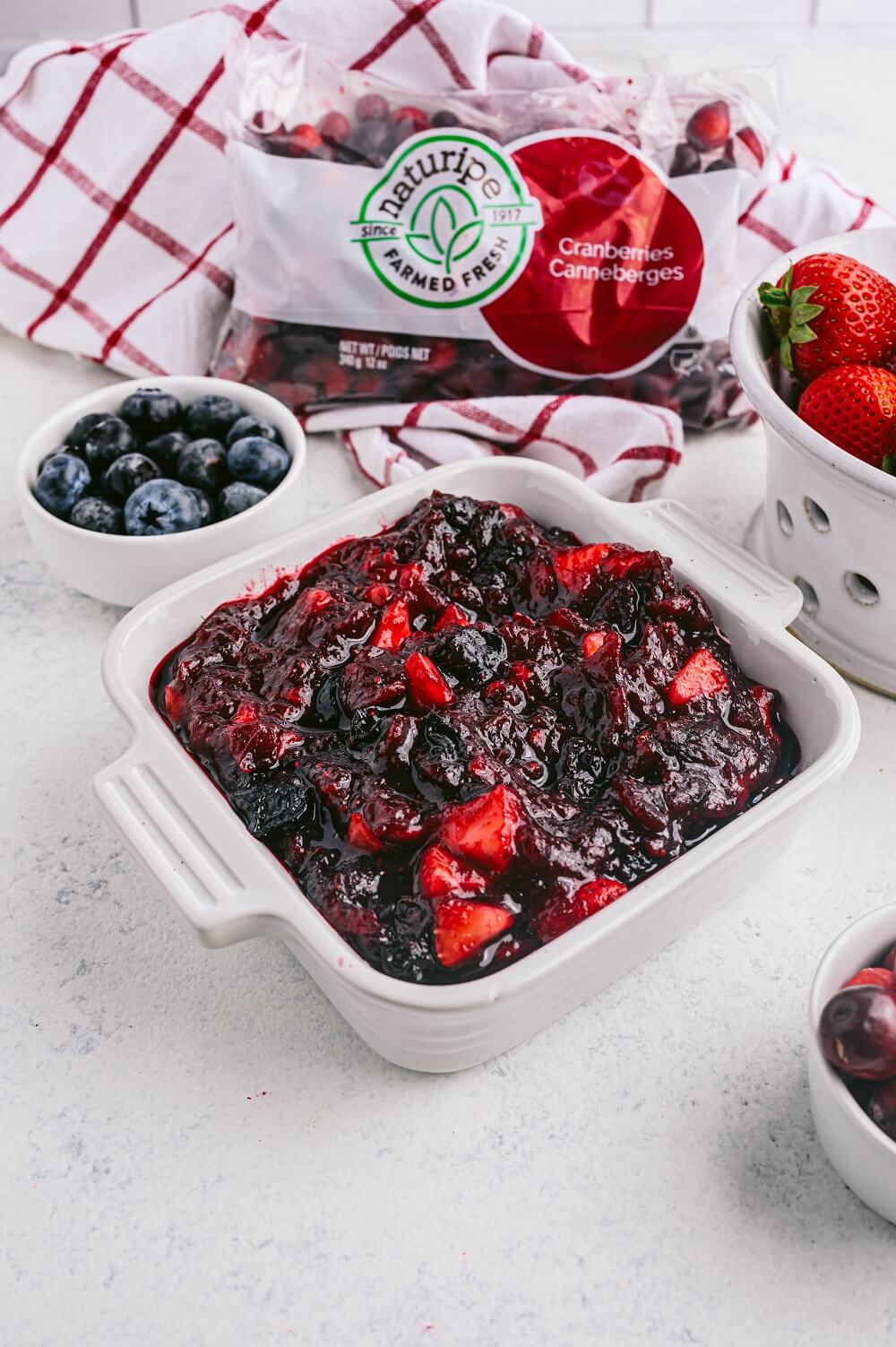 Give some juicy new flavor to a Thanksgiving classic! Cranberry, Blueberry, and Strawberry Sauce is perfect for adding some tangy tartness to your turkey. If you want your sauce to be a little less tart, substitute orange juice in place of water when preparing it.
Twice Baked Potato Casserole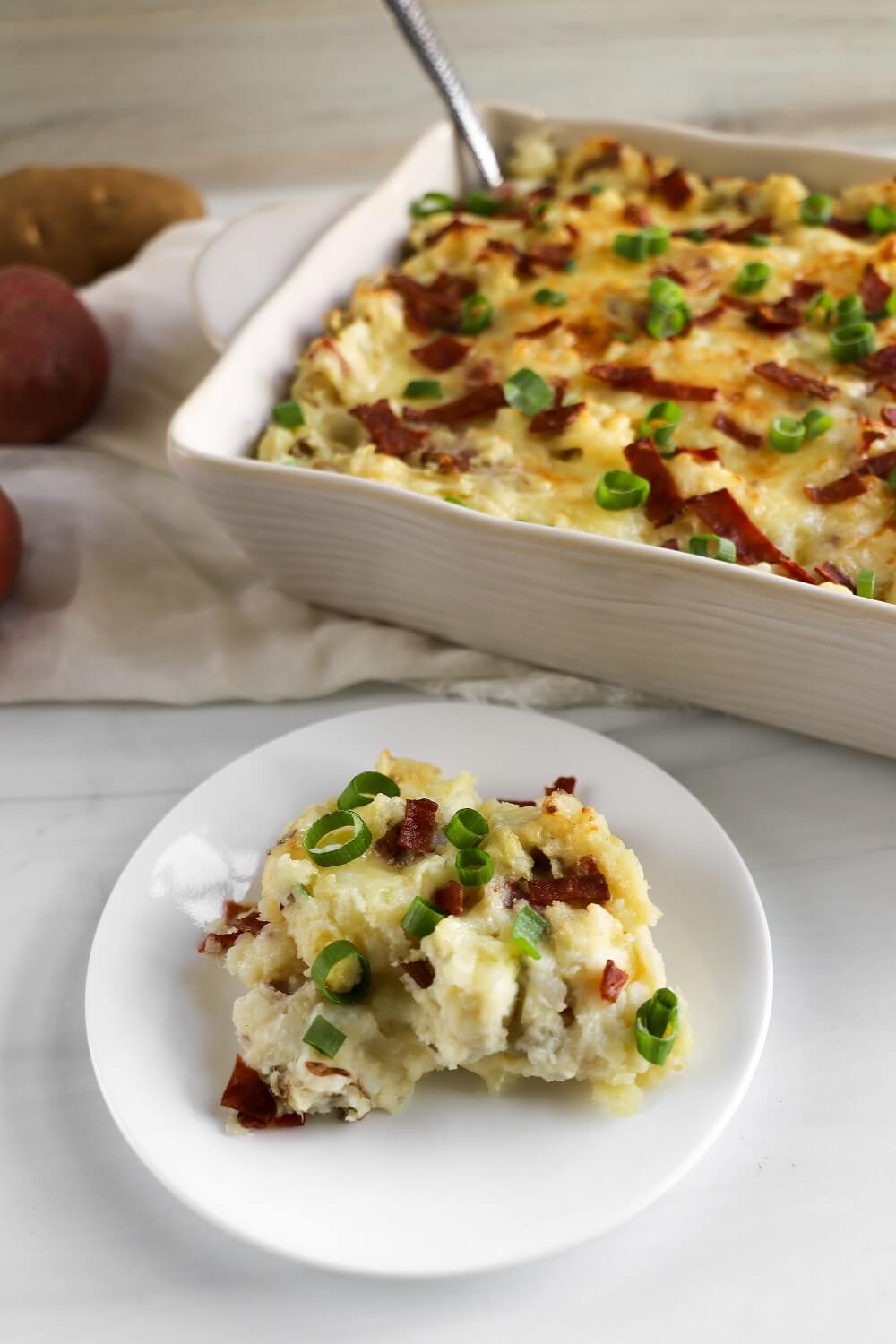 Made with red potatoes, bacon, cheese, and sour cream, this casserole is an exciting change to traditional mashed potatoes.
Vegan Potatoes au Gratin
Hosting a plant-based dinner? These cheesy, savory Vegan Potatoes au Gratin are entirely meatless and dairy-free.
Sweet Potato Casserole
This Sweet Potato Casserole recipe is easy to make and perfect for holiday indulgence. In our egg-free version, the butter, brown sugar, maple syrup, and vanilla bind all the ingredients together. If you want to roast sweet potatoes instead of using canned yams, we've included three easy ways to do so.
Sweet Potato Bake
Change up your sweet potato side dish with this Sweet Potato Bake! One of our favorite things about it is that it's all made in one dish, which means less cleanup. We used a cast iron pan for extra flavor and a classy presentation. With a spiraled look and crispy, sliced texture, this bake is one-of-a-kind.
Cornbread-Sausage Stuffing with Pink Lady® Apples
Cozy, hardy, and deliciously fragrant, stuffing is one of the holiday foods we look forward to all year long. This year, delight your family with a stuffing that is extra delicious, Cornbread-Sausage Stuffing with Pink Lady® Apples.
Stuffing Muffins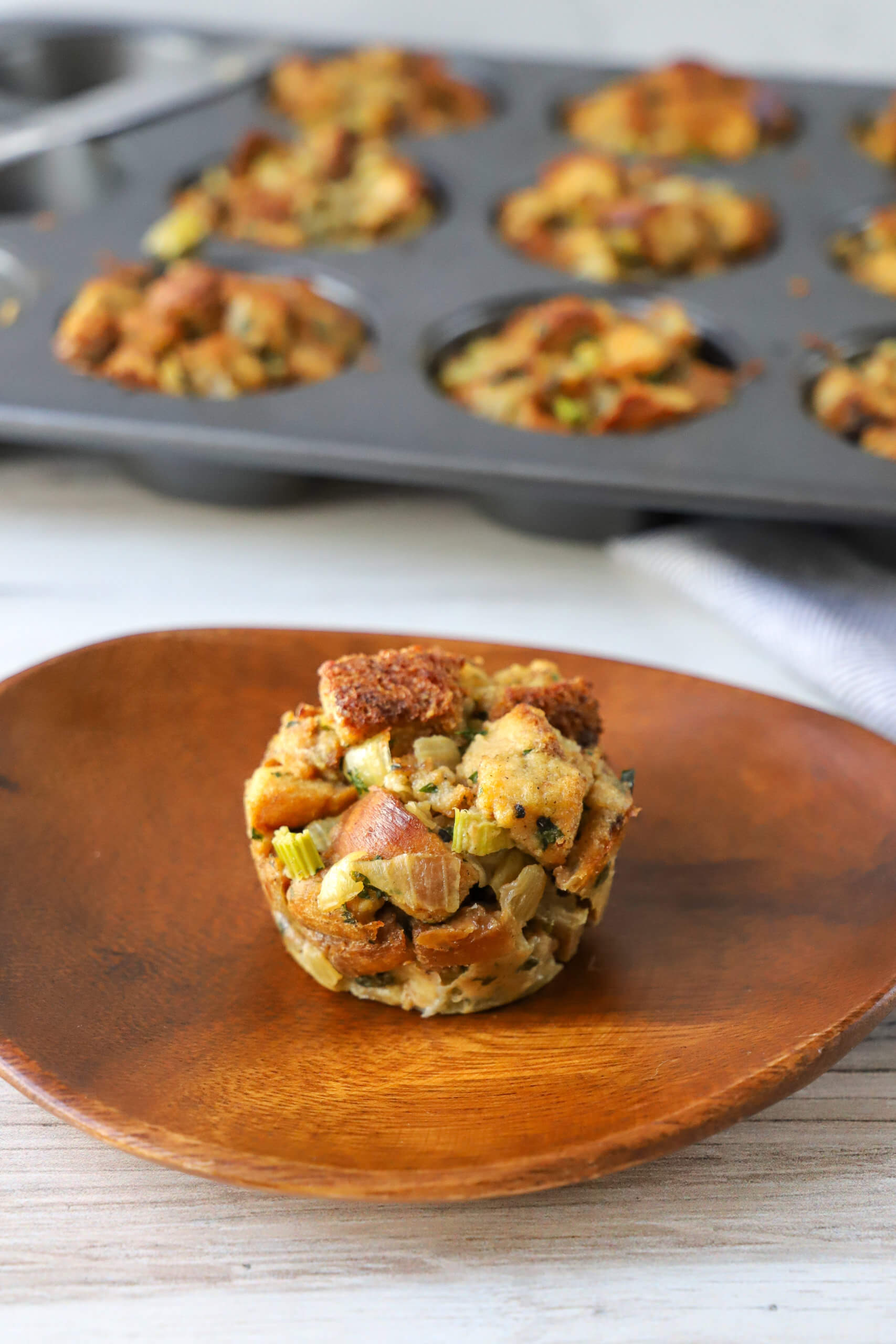 Want to use your hands to eat your Thanksgiving side dishes? These Stuffing Muffins are perfectly portioned and allow guests to serve themselves. They're still stuffed with all the flavors and textures of traditional stuffing. If you prefer to prep ahead of the big day, Stuffing Muffins can be made the day before. Simply store them in an airtight container and heat them for a few minutes prior to serving.
Barley Stuffing with Butternut Squash, Apples, and Kale
We love doctoring up stuffing with lots of fruits and veggies. But if you want to skip heavy bread-based stuffing altogether, try this recipe for barley stuffing! It's hearty just like traditional stuffing but is nutrient-dense with fewer carbs.
Blistered Green Beans with Fried Shallots
This light and flavorful recipe is a loving nod to traditional green bean casserole. Using only a few simple ingredients, it's quicker to make and still offers all the flavor we expect in a holiday green bean side dish. It's vegetarian, vegan, gluten-free, and keto-friendly.
Fresh Green Bean Casserole
Sometimes classic green bean casserole can be mushy and heavy, but this fresh recipe is rich and creamy with lots of texture. The green beans remain firm and the panko bread crumbs provide just the right amount of crunch.
Air Fryer Brussels Sprouts
Enjoy this flavorful veggie without putting a damper on its nutritional benefits. This light side is a great accompaniment to some of Thanksgiving's heavier dishes.
Baked Mushrooms with Lemon and Gruyere
Looking for a quick and easy Thanksgiving side? Try Baked Mushrooms with Lemon and Gruyere! After just 15 minutes in the oven you'll have an enticing side that pairs well with countless other dishes. The distinctive, earthy flavors of the mushrooms are accented with citrus notes. Gruyere cheese adds a creamy, nutty flavor. Thyme adds a subtle aromatic note that rounds out the flavors.
Sautéed Swiss Chard with Garlic and Mushrooms
This colorful, flavorful dish features Bright Lights® swiss chard from Salad Savoy. It will add some fun hue to your Thanksgiving table.
Sautéed Radishes and Bacon
Here's a dish you probably won't see on any other table this holiday. Radishes are versatile, nutritious, and a sorely underrated veggie. We cooked these radishes in bacon drippings to get a potato-like texture and taste. Serve your radishes and crispy bacon as a unique side for your Thanksgiving feast!
Cinnamon and Brown Sugar Carrots
Add some sweetness to a favorite fall veggie with these Cinnamon and Brown Sugar Carrots! This quick and easy side dish is great if you're short on time or just need to focus on the turkey. Sweet, hearty, and just a bit crunchy, this carrot dish compliments all kinds of holiday favorites.
Pomegranate-Glazed Roasted Root Vegetables
This dish combines three of the most flavorful and colorful root vegetables: carrots, beets, and turnips. They are glazed in a rich pomegranate sauce and topped with whipped goat cheese, crunchy pistachios, and ruby red pomegranate seeds. Its bright colors are inviting and the flavors will have everyone coming back for seconds.
The turkey may (usually) be the main event, but you can let your Thanksgiving side dishes shine by making some of these delicious recipes. Which ones did you choose for your meal? Did they wow your friends and family? Let us know in the comments!