What's in Season October: Fruits & Vegetables
Oct 19, 2022, Updated Oct 30, 2022
Many think the summer months are the best time to stock up on fresh produce. However, this isn't the case!
There are many delicious fruits and vegetables in-season during October. Which fruits and vegetables should you be stocking up on? Read this guide from the Produce Moms to learn what's in season!
Envy™ Apple
You'll be envious if you don't get your hands on some Envy™ apples this October! There are around 7,500 varieties of apples worldwide, and about 2,500 of them are grown in the United States.
Envy™ apples are the best of the bunch, as they're sweet, sophisticated, and crisp, with a slight flowery taste. The Envy™ apple is a cross between two other beloved apple varieties – the Braeburn and Royal Gala. New Zealanders developed the apples in 2009, and farmers began distributing them that same year.
Even though they've grown a lot in popularity, the apples are still hard to come by, as they're only grown in New Zealand, Chile, Australia, and Washington State. Envy™ apples pair amazingly with fruity oatmeal bowls, salads, and cheese.
Idaho Potato
The humble Idaho potato may not be as exotic as the Envy™ apple, but it's delicious and versatile. Idaho potatoes are commonly referred to as the "chef's potato" because they have the exact amount of starchiness, making them perfect for various dishes.
Idaho potatoes have a mild flavor and fluffy texture when baked. You can use these potatoes to make potatoes au gratin, mashed potatoes, Hasselback potatoes, potato salad, and more.
Related: Twice-Baked Potato Casserole
Brussels Sprouts
Brussel sprouts are highly nutritious, as they may help protect against certain types of cancer and fight other health issues, such as high cholesterol, diabetes, heart disease, and high blood pressure. (source)
For a flavorful side dish, you can grill, roast, or sautee your Brussel sprouts with olive oil, salt, and garlic.
Celery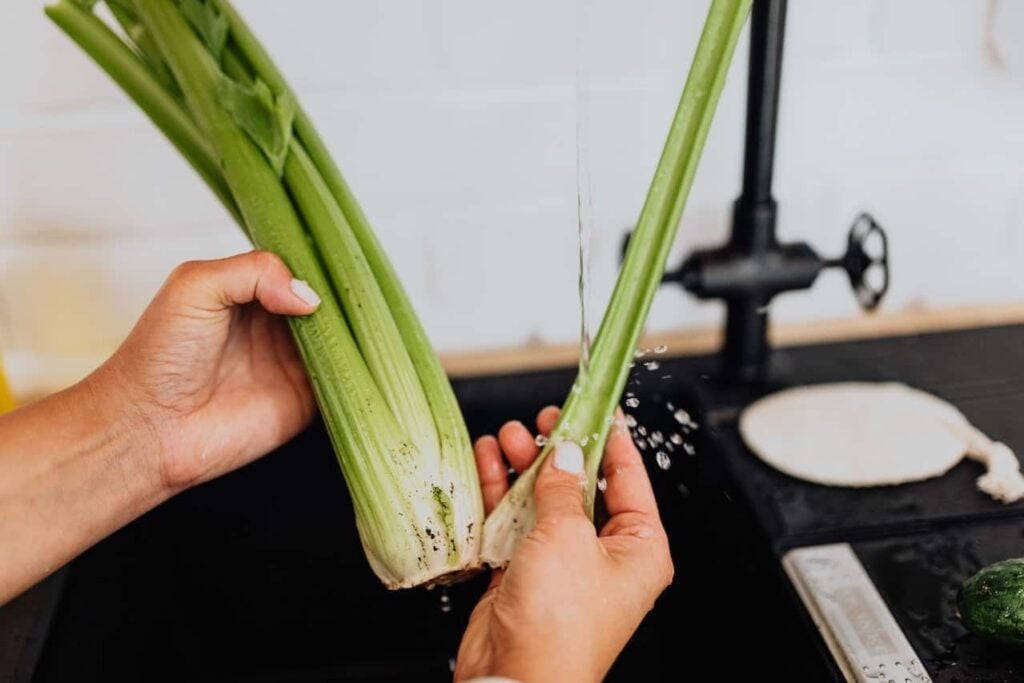 Celery may not be the most flavorful vegetable, but it is versatile and affordable. Celery is rich in vitamins A, K, and C, folate, and potassium. It also has a low glycemic index, which may help stabilize blood sugar levels.
One of the most popular ways to enjoy celery is with peanut butter or ranch dressing. However, you can also use celery to make a delicious soup. You can also add it to your salads, casseroles, and chowders for a nice crunch.
Kale
Kale is a nutritional powerhouse. This leafy cabbage is rich in vitamins A, B, K, folate, and omega-3 fatty acids. Kale is also a weight-loss-friendly food, containing small amounts of fiber and protein.
You can swipe out your ordinary salad lettuce with kale for a nutritional boost. Some other fantastic ways to use kale include:
Grilled with a lemony dressing as a side dish
Baked to make kale chips
Added to a breakfast casserole
Roasted under a chicken
Added to soups for a nutritional boost
Red Bell Pepper
Red bell peppers are another excellent vegetable to enjoy during October. They go well with a heaping spoonful of hummus and are an excellent source of vitamin C.
They also contain antioxidant properties to protect you against certain diseases. You can quickly grill or roast red peppers with salt and pepper for a healthy side dish. We recommend making some stuffed red peppers. Cut the pepper in half and add seasoned quinoa, veggies, spices, and cheese. Then, bake the peppers for a tasty, healthy dinner.
Grapefruit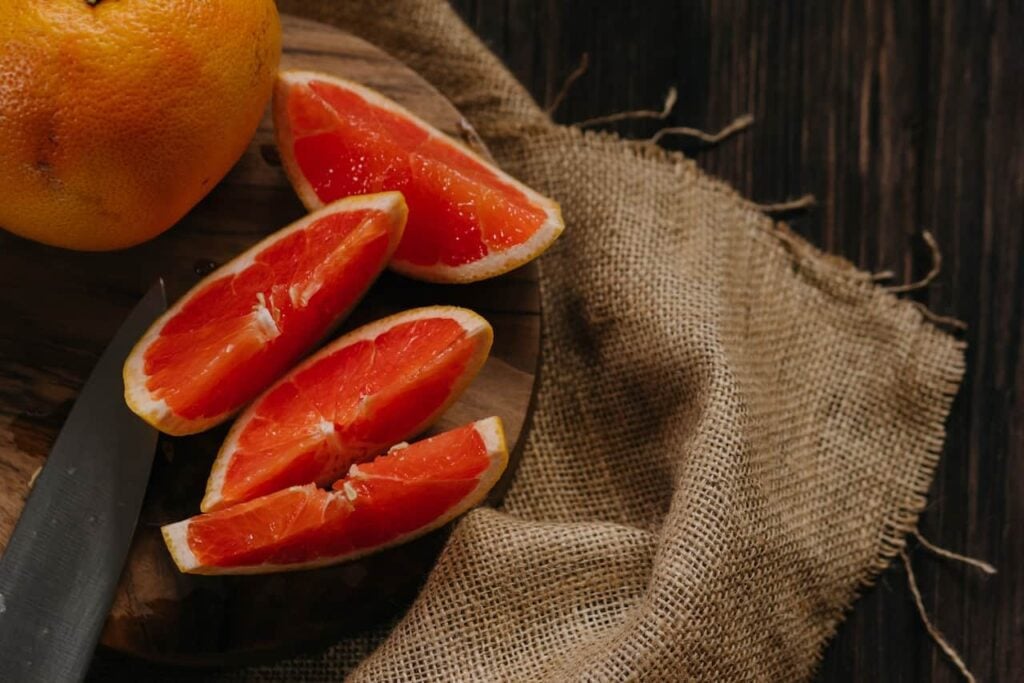 Grapefruit is often considered a summer fruit, but it's still in season in October. Many people find plain grapefruit overpowering, so we recommend getting creative with it.
You can chop up grapefruit and add it to a salad with avocado, onions, chicken, or whatever toppings you desire. Or, you can make a grapefruit yogurt parfait, grapefruit green smoothie, or grapefruit pomegranate salad.
You can also braise grapefruit with honey and bananas for a sweet treat.
Sugar Snap Peas
Sugar snap peas are the perfect healthy snack for the autumn months. Like red peppers, sugar snap peas are excellent when paired with some hummus.
They taste fantastic when sauteed and combined with a bit of salt, cayenne pepper, and olive oil. Or, you can sautee them with soy sauce, toasted sesame oil, and toasted sesame seeds.
Romaine Lettuce
Romaine lettuce is just as fresh in October as it is in summer. Romaine lettuce is often more affordable than other greens, so it's affordable for those on a budget.
While the obvious option is to use romaine lettuce to make a salad, you can also grill, sautee, braise, or add it to your favorite soup.
Baby Portabellas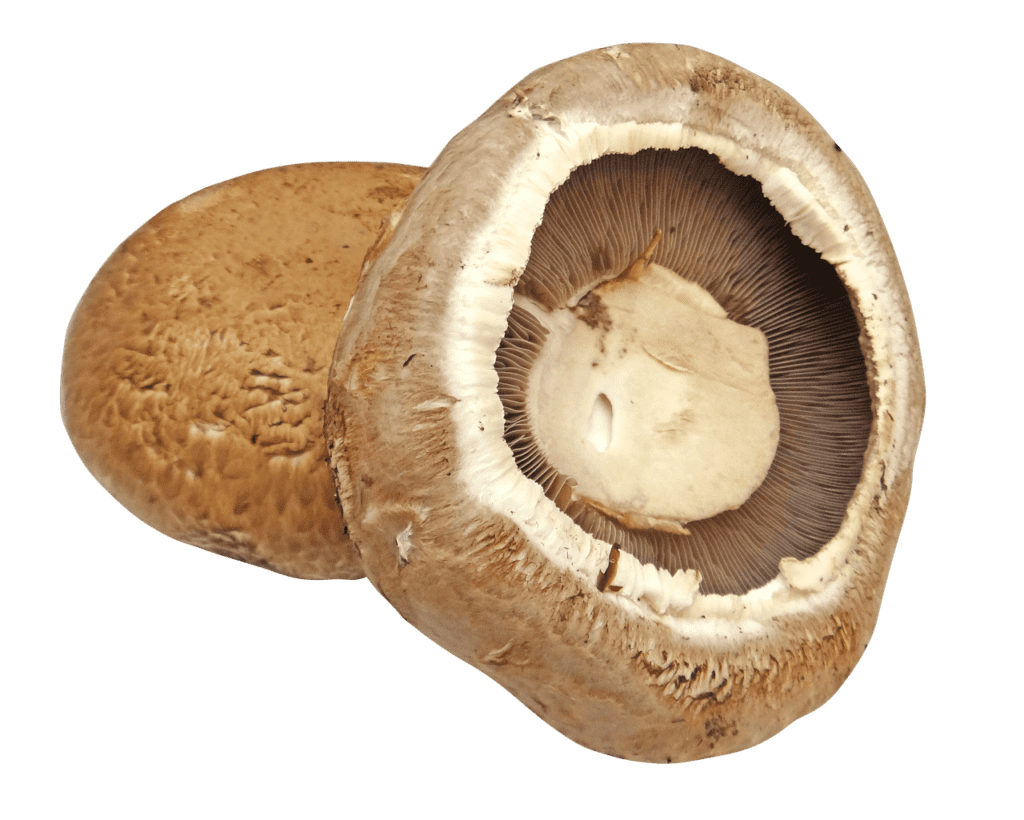 Baby portabellas are dark brown and firmer than white button mushrooms. You can saute baby portabellas with lemon juice, salt, olive oil, and thyme for the perfect side dish. Or, you can stuff them with garlic, cheese, and bread crumbs for a tasty snack.
Use baby portabellas to make mushroom vegan tacos!
Green Seedless Grapes
You must purchase some green seedless grapes if you're craving a sweet yet sour snack this October. Many people also enjoy frozen green seedless grapes, as freezing grapes help bring out their genuine flavor.
Plus, grapes last much longer when frozen, as they stay fresh in the freezer for about 10 to 12 months.
Jalapeno
Jalapenos are the perfect vegetable to buy when you want to spice up your meals. Jalapenos pair well with any Mexican-style dish, including tacos, enchiladas, and tortilla soup.
You can make jalapeno poppers with breadcrumbs, cream cheese, and bacon. If you're vegetarian or vegan, try adding jalapenos to your black bean burgers. In addition to giving dishes a spicy kick, jalapenos are rich in vitamins A, C, and potassium.
Bosc Pear
Bosc pears are brown pairs that were originally cultivated in France and Belgium. They're also known as Kaiser pears. They have long, curved stems and elongated necks that gradually widen to the base.
Bosc pears have a sweet, juicy flavor with a hint of nutmeg and cinnamon, which is why they're so perfect during the Fall. In addition to enjoying fresh, you can roast bosc pears with cinnamon, honey, and balsamic vinegar.
Blackberries
Blackberries are a fantastic source of antioxidants, vitamins C and K, manganese, and fiber. They can boost your brain and oral health and help burn belly fat.
One cup of blackberries contains just 60 calories. You can enjoy plain blackberries or add them to yogurt for a healthy breakfast. You can also use blackberries to make all kinds of sweet treats, including muffins, cakes, and crumbles.
White Onion
White onions have a sharp, robust flavor, so people rarely eat them raw. Many people find white onions have the most potent flavor out of all the onion varieties.
However, a little white onion can go a long way when used correctly. White onions are essential ingredients in salsa, which you can easily make at home.
You can saute white onions or add them to your potato or macaroni salads. White onions are also delicious in French onion soup.
Avocado
The delicious, creamy avocado needs no introduction. We all know avocado is the star ingredient in guacamole, but it can also pair well with many other dishes.
Avocados make an excellent topping for salads, soups, chilis, toast, and eggs. Avocados are an excellent source of unsaturated fat, lowering your risk of developing chronic conditions like dementia or heart disease.
Spinach
October is the best month to enjoy spinach. Spinach can curb your appetite, help prevent osteoporosis, strengthen your immune system, and keep your eyes healthy.
Replace your regular salad lettuce with spinach for a nutritional boost. You can add a handful of spinach to your favorite smoothie or soup recipe. Spinach also tastes excellent in omelets with a bit of cheese and mushrooms.
Mini Watermelon
Buying a massive watermelon at the grocery store can be cumbersome. Well, fear not, as mini watermelons are in season during October. Mini watermelons are typically the same size as cantaloupes, sometimes more miniature.
They're sweet, juicy, and crispy and make you feel like you're on a tropical beach on a cold fall day. Slice and combine mini watermelon with feta, cucumber, and mint for a delicious salad.
Seedless Cucumber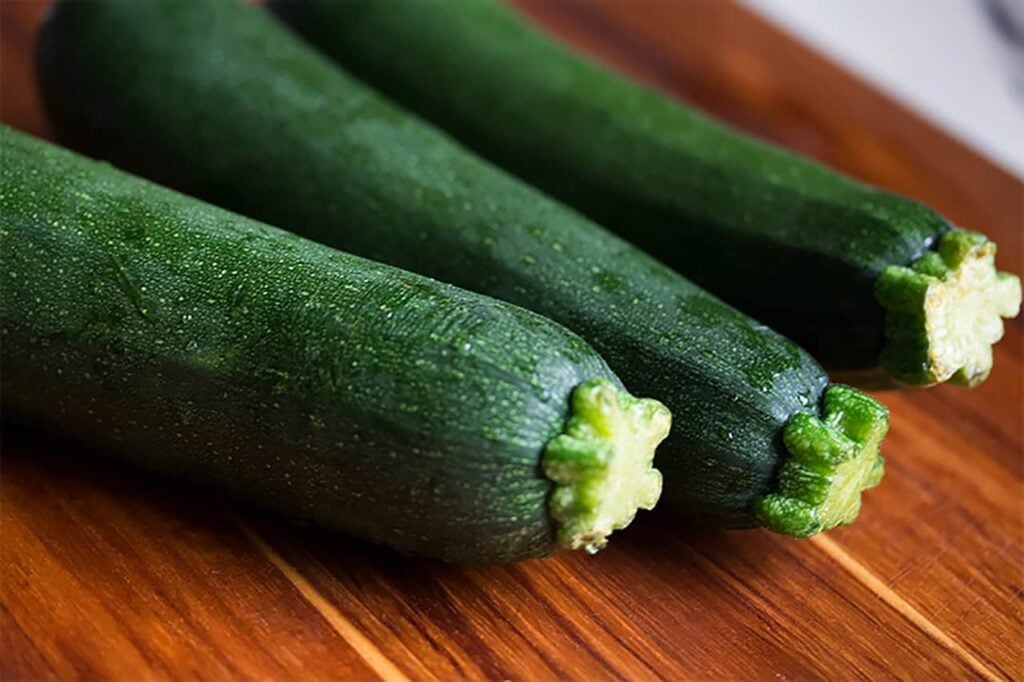 Seedless cucumbers (also known as English cucumbers) are slender and sweeter than regular cucumbers, which tend to have large seeds and a bitter flavor.
Use your English cucumbers to make cucumber tea sandwiches to serve at your next autumn get-together. You can also whip up a cucumber salad with red wine vinegar, onion, olive oil, dill, and sugar.
Grape Tomatoes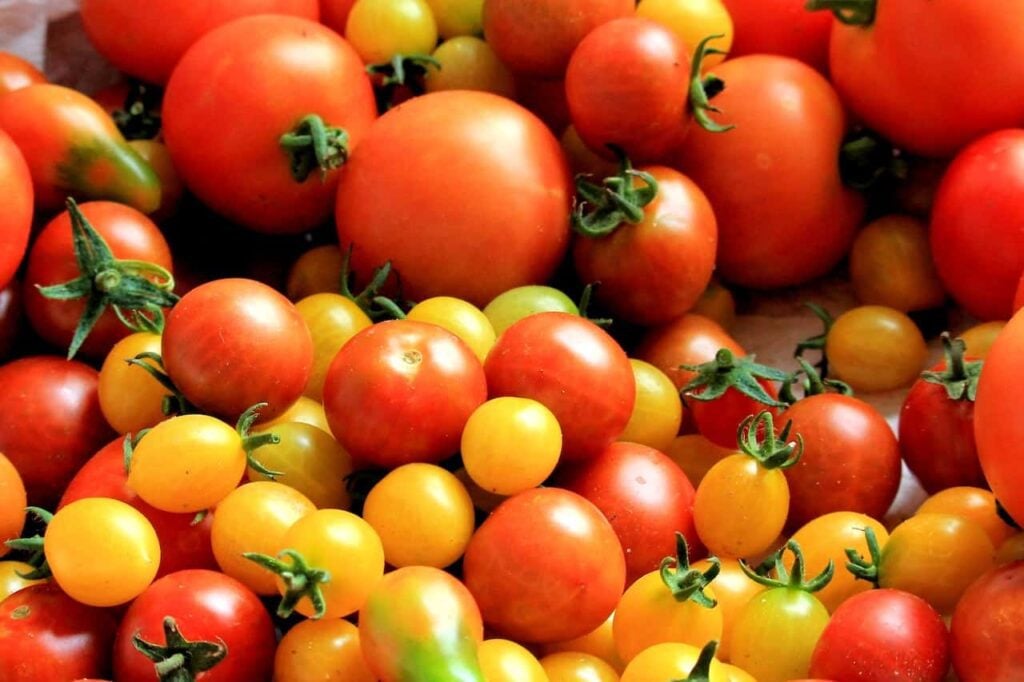 Grape tomatoes are the perfect salad topping, and they also pair well with hummus and are an excellent flatbread topping.
You can make grape tomato skewers with onions, cucumber, and grilled chicken. Or, blend the tomatoes to make cold Spinach gazpacho soup.
Related: Tomato Panzanella Bowl
SweeTango(R)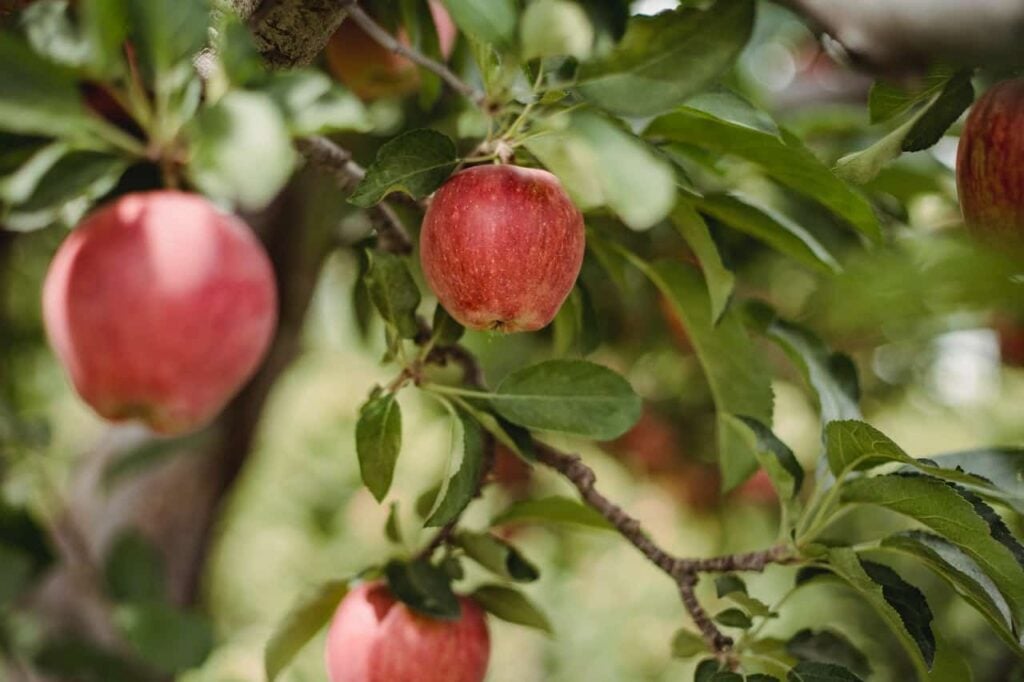 SweeTango apples contain a lively touch of honey, citrus, and spices. They're also remarkably crunchy, so they're a good alternative for anyone who hates soft apples.
SweeTango apples pair perfectly with pork chops and sweet potatoes. You can also make a SweeTango tart with eggs, sugar, vanilla, flour, and butter.
Use your SweeTango apples to make an apple tortellini pasta salad!
Passion Fruit
Passion fruit isn't very well-known in the United States; however, it's quickly growing in popularity. The fruit has a purple peel that, when sliced open, unleashes a juicy, yellow, seed-filled pulp. The seeds found within passion fruit are rich in antioxidants.
You can eat passion fruit fresh, juice it, or add it to your favorite smoothie recipe.
Walnuts
A handful of walnuts is an excellent snack. Walnuts are rich in polyunsaturated fats and omega-3 fatty acids, and studies show that eating walnuts can lower your LDL (bad) cholesterol levels.
There are many beautiful ways to enjoy walnuts in October. Make candied walnuts with caramel sauce or boiled sugar for an iconic fall snack. Or, you can make walnut cinnamon porridge for a hearty fall breakfast.
You can even use walnuts to make vegan cheese sauce or pesto.
If you want to practice healthier eating habits this fall, try The Produce Challenge®️!
Ambrosia Apple
Ambrosia apples have smooth skin, tender and juicy flesh, and a fine, crispy texture. Ambrosia apples are the perfect mid-morning snack, as they contain a healthy dose of fiber to tide you over until lunch.
You can use Ambrosia apples to make spiced apple butter to spread on bread, scones, or crackers.
Banana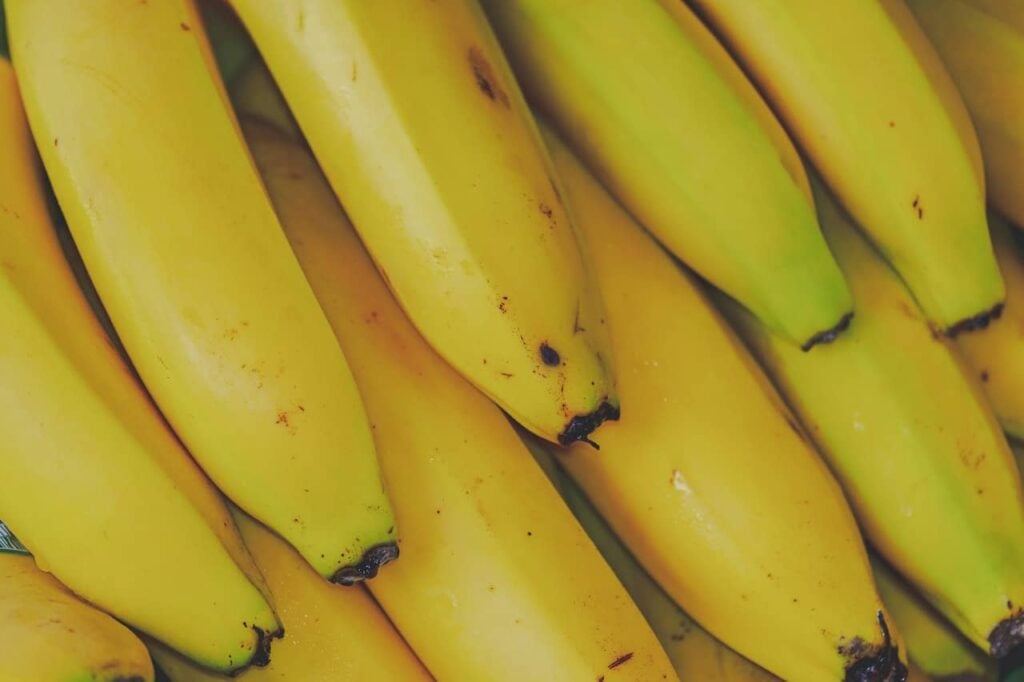 Most know that bananas are tasty and rich in potassium. Bananas can support your digestive and heart health, improve your blood sugar levels, and aid in weight loss.
October is the perfect time to whip up a batch of fresh banana bread. Or, you can mix things up and make banana muffins, banana pancakes, or banana and peanut butter smoothies.
Related: Air Fryer Banana Split Recipe
Pumpkin
Of course, we can't talk about October without talking about pumpkins, the most iconic fall vegetable. While most of us buy pumpkins as Halloween decorations, they can also be used in various tasty dishes.
When gutting your pumpkins, save the seeds and roast them for a salty, healthy snack. You can also cook pumpkins and use them to make cookies, pies, scones, and overnight oats. Or, add pumpkin to your favorite curry dish.
Pineapple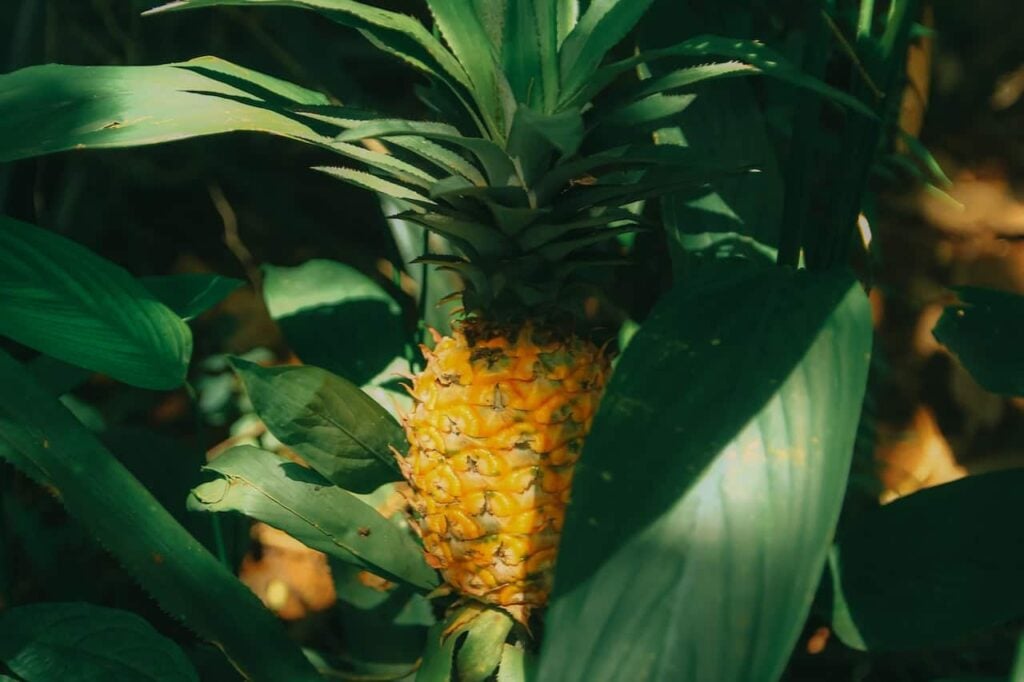 People often associate pineapple with summer. However, you can also enjoy pineapple in October! Eat it fresh, or bake it into a cobbler or pie. Or, you can try making the infamous pineapple upside-down cake.
You can also use pineapple to make a delicious chicken stir fry.
Persimmon
Persimmon is a berry native to Asia. Much larger than your average berry, persimmons have a mild, sweet, and rich flavor. There are many unique ways you can use persimmons.
You can use this fruit to make persimmon bread, cookies, or jam. If you're craving something cheesy and filling, use persimmons to make a persimmon ricotta risotto.
Blueberry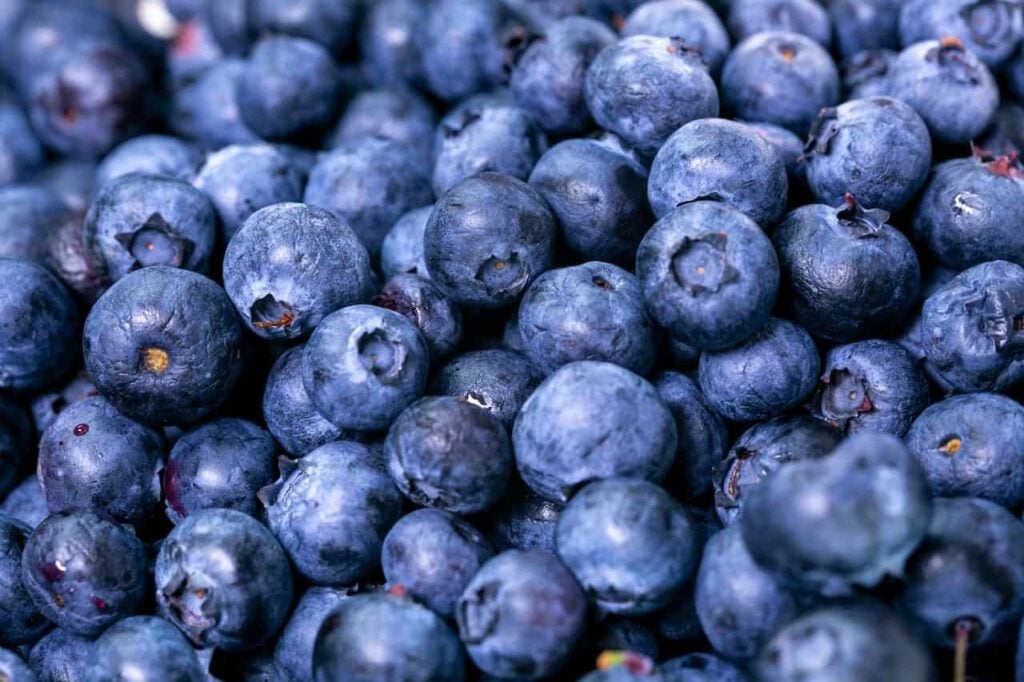 Blueberries can help you reduce your blood pressure, manage your blood sugar levels, and manage your cholesterol. They taste amazing fresh, but you can also store them in the freezer for up to six months.
Use your blueberries to make muffins, cobblers, and yogurt parfaits.
D'Anjou Pear
The D'Anjou pear is a short-necked green pear with subtle sweetness and a refreshing lemon-lime flavor.
The dense flesh of D'Anjou pears holds up well to heat, so they're perfect for baking, roasting, grilling, or poaching.
Caramel Apple
Caramel apples are another iconic fall dessert. You can use store-bought caramel or make it homemade if you're up for the challenge.
Sprinkle on some crushed peanuts to your caramel apples for added flavor and crunch.
Time to Stock Up On October Fruits and Veggies!
As you can see, there are many delicious veggies and fruits to enjoy in the fall. Now, it's time to head to the grocery store and stock up on the above items.
Let us know how you plan to incorporate these fruits and veggies in the comments below!