Jarcuteries: Single Serve Charcuterie Boards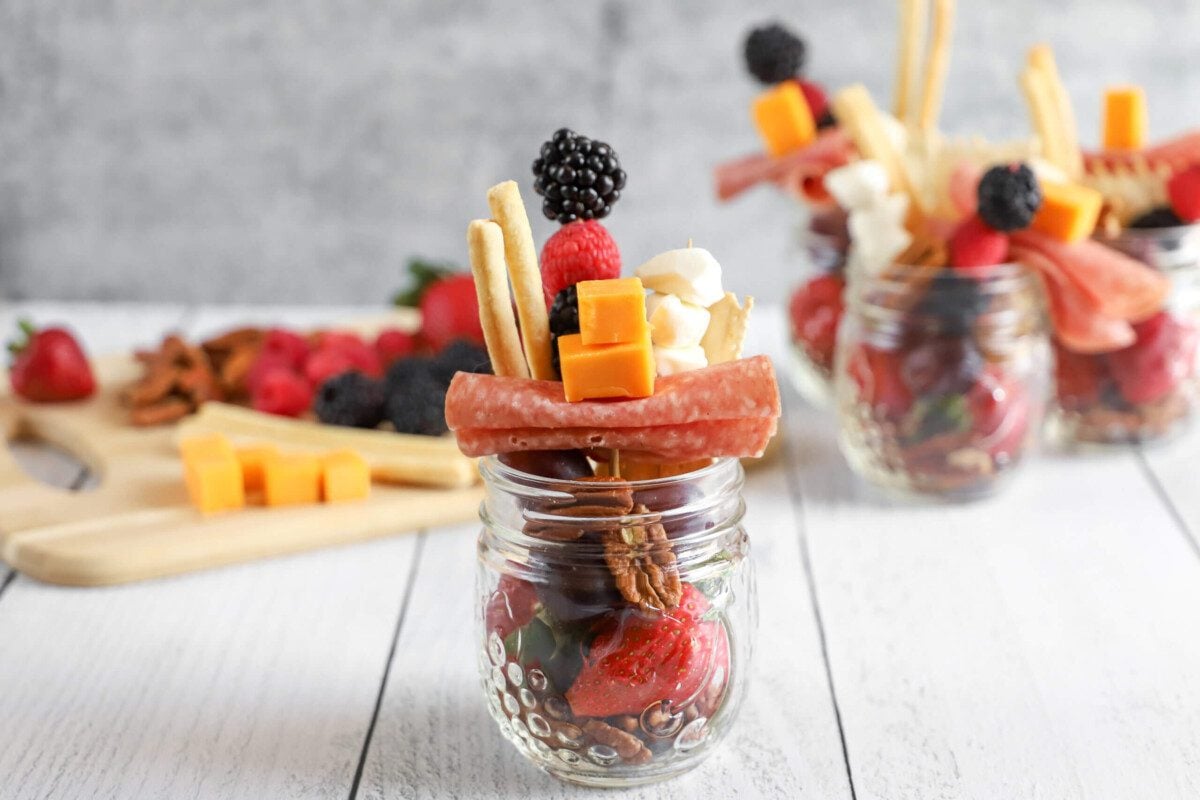 Thanksgiving is on the horizon, and as we begin to look for cute and creative ways to serve fruits and vegetables, I'd like to make a case for Jarcuteries. These individual-sized charcuterie boards are the latest trend in tasty party snacks and a handy alternative to traditional charcuterie boards.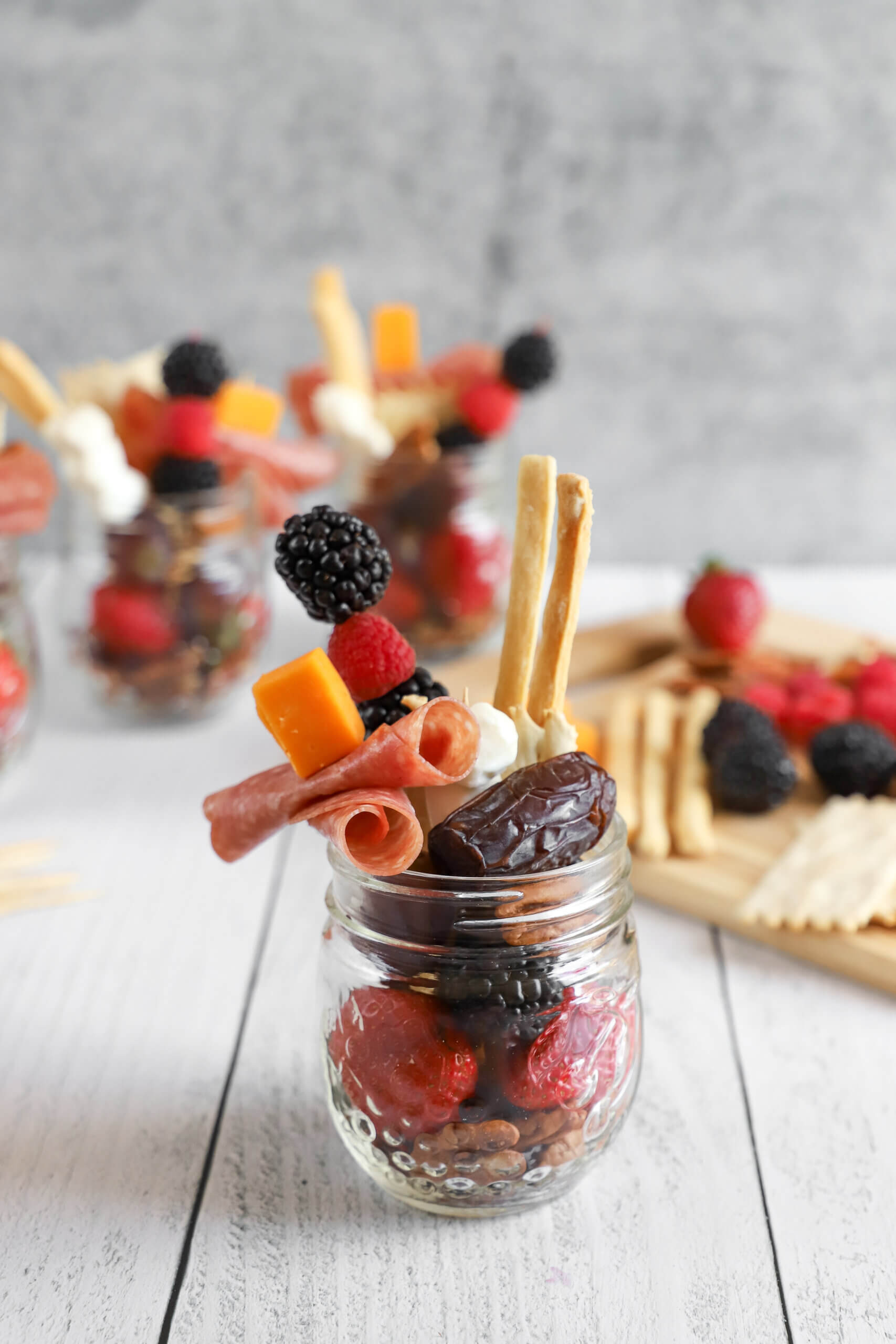 What Is Jarcuterie?
Jarcuterie — a spin of the classic charcuterie — puts a personalized spin on this party favorite with single-sized portions of your favorite charcuterie ingredients. From savory meats to crunchy veggies to juicy berries, you can pair all kinds of finger foods with some fine cheese to make a convenient yet gorgeous table setting decor.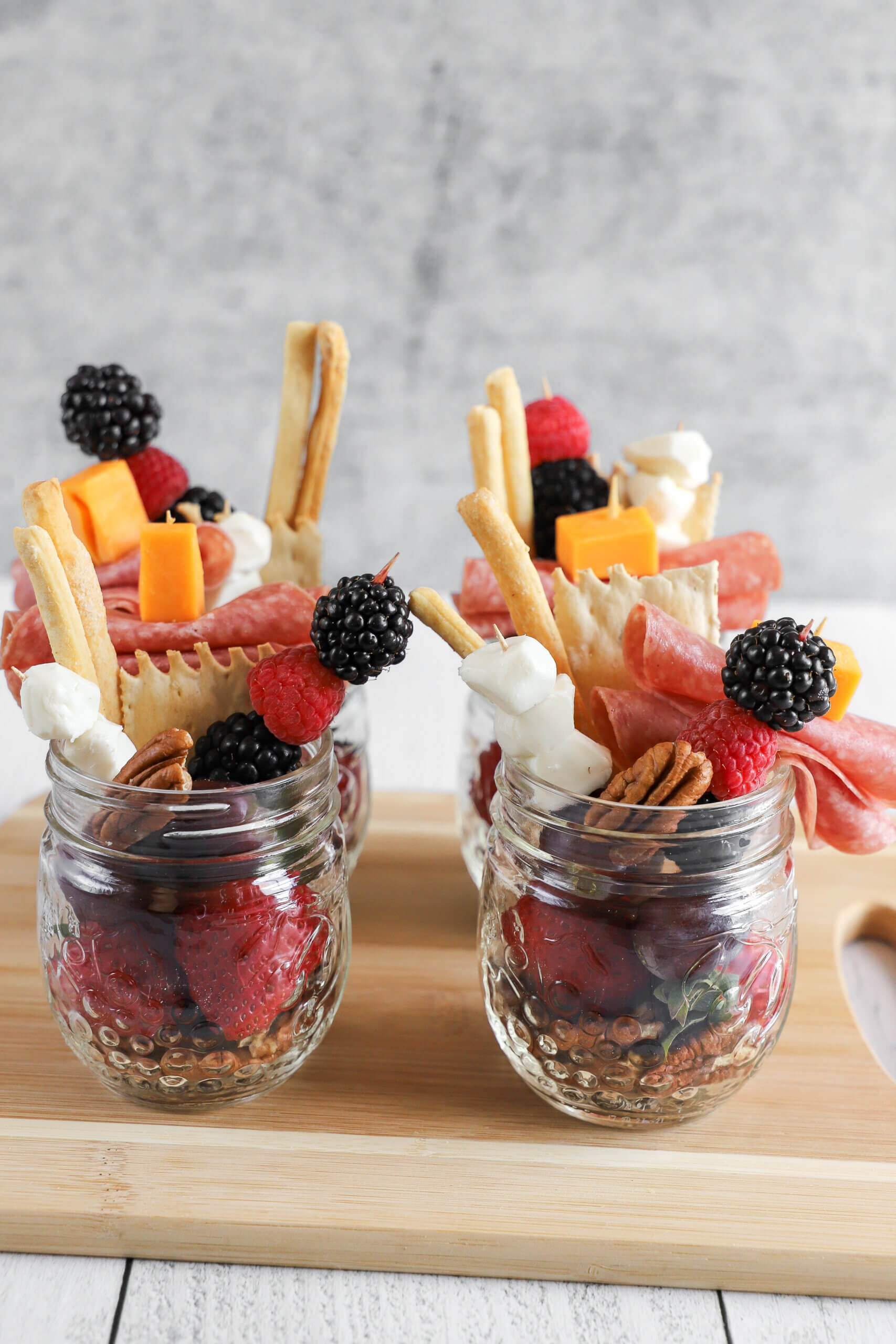 How To Make Jarcuteries
So how do jarcuteries work? Instead of using one board for everyone, pack small Mason jars with individual servings of your snacks for each guest. Glass jars are easy to carry and turn your hors d'oeuvres into table decor at the same time.
These perfectly-portioned snacks are sure to satisfy — and they look beautiful, too! Pair and arrange the ingredients in each jarcuterie for a snacking presentation that will wow your guests.
1. Pick your jar, we use Mason Jars
2. Add selected bread of cracker ingredient
3. Add cheese slices or cubes
4. Fill in the gaps with ingredients like berries, olives, chocolates
5. Add a garnish to tie in a theme or holiday
Jarcuterie Ingredients
There are few rules to making a traditional charcuterie board: include ingredients like cheeses, deli meats, olives, berries, veggies and crackers. The snacks you pick should complement each other. The same goes for jarcuteries, especially since your ingredients will be filling a small jar. Otherwise, the only limit is your imagination — and what you can find at the grocery store, of course!
When putting together your jarcuteries, design it around the occasion you are celebrating. Emphasize the relationship between each flavor.
Are you celebrating Thanksgiving? Fill your Mason jars with pretzel sticks, rolled turkey or ham slices, cubs of cheese, cherry tomatoes, olives or pickles. A wedding shower might call for berries and soft cheeses. Help a graduate savor their success with olives, tomatoes, and pepperoni. Father's day is the perfect time to try a sweet-and-savory combination of dried fruits and sausage. If you're holding a party for the neighborhood pups, try filling a dog-safe cup with some of these homemade treats for your furry guests (and their owners) to bring home!
Cheese is often central to a charcuterie setup, but there are so many kinds that you can choose one specifically to complement your other ingredients. Pre-cubed cheese can help you whip up jarcuteries in a hurry. If you want specialty cheeses you may need to cube it yourself.
Jarcuterie Ingredients to Consider:
Salami
Pepperoni
Fresh mozzarella cheese
Cheddar cheese cubes
Raspberries
Blueberries
Strawberries
Watermelon cubes
Cantaloupe cubes
Pecans
Peanuts
Walnuts
Cherry tomatoes
Baby corn
Grapes
Gherkin pickles
Orange slices
Chocolate or candy
Mini breadsticks
Dried fruit
Crackers
Celery
Baby carrots
Mini sausages
Mini pretzels
Cucumber slices
To tastefully arrange your jarcuteries, use toothpicks and small skewers to hold the ingredients together. This can help you create beautiful bouquets of snacks in your jars. It also provides your guests with a way to eat those snacks!
To get you started, here is a simple jarcuterie recipe that will work for any occasion, from graduation gatherings to poolside parties.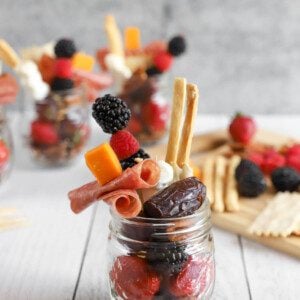 Jarcuteries
Jarcuterie puts a personalized, social-distancing-friendly spin on this party favorite with personalized portions of your favorite charcuterie ingredients.
Ingredients
pecans

strawberries

grapes

dates

fresh mozzarella cheese pearls

cheddar cheese

cubed

salami slices

blackberries

raspberries

crackers

mini breadsticks
Instructions
Place pecans in the bottom of each jar. Layer on strawberries, grapes, and dates.

Assemble cheese and meat skewers and place upright in jars.

Assemble raspberry and blackberry skewers and place upright in jars.

Add crackers and breadsticks to each jar.
Nutrition information is automatically calculated, so should only be used as an approximation.
Like this? Leave a comment below!
What Jarcuterie creations have you come up with? Share your favorite combinations and arrangements with us on Instagram @theproducemoms!