Pink Lady® vs. Cripps: Why Pink Lady® is Better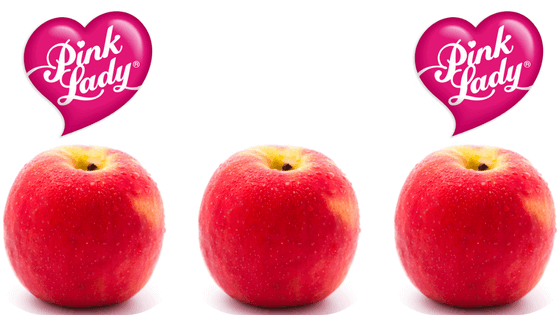 Pink Lady® vs. Cripps
With hundreds of apple varieties, how do you choose which to snack on?
One of our favorites is the Pink Lady® not be confused with the generic version of Cripps Pink. Cripps Pink was the first apple to be awarded a trademarked name. Pink Lady® is the trademark name for the Cripps Pink cultivar.
What does this mean for you and why does it matter?  QUALITY! And the only way to guarantee quality is to buy the brand, Pink Lady®.
Although they can seem the same, Pink Lady® apples must meet high-quality standards. The Pink Lady® Brand Apple was developed over 30 years ago and has become an international favorite and well established in thousands of retail food stores in many regions.
When at the grocery store, look for the recognizable Pink Lady® Brand and the Flowing Heart Logo. It is "a symbol of elegance and sensuality". This will guarantee you're getting an apple from the best growers, trees that are certified meaning you have full traceability and are getting a brand promise of high quality.
Every apple that goes to market as a Pink Lady® has met the criteria for sugar content, firmness, color and blemishes. More than half of the season's crop do not meet those standards and are sold instead as "Cripps Pink".  Because of this, it is considered a premium apple. Pink Lady® apples have a very long growing season (200 days!) and spend more time on the tree than any other apple. With that, you can find Pink Lady® apples from early December through September. The Pink Lady® has vivid green skin covered with a pinkish-blush that becomes a deeper shade of red where the apple was exposed to more sun. They have a crunchy texture and a sweet-tart taste with great versatility. And remember, the only way to guarantee quality, is to buy the Pink Lady® brand!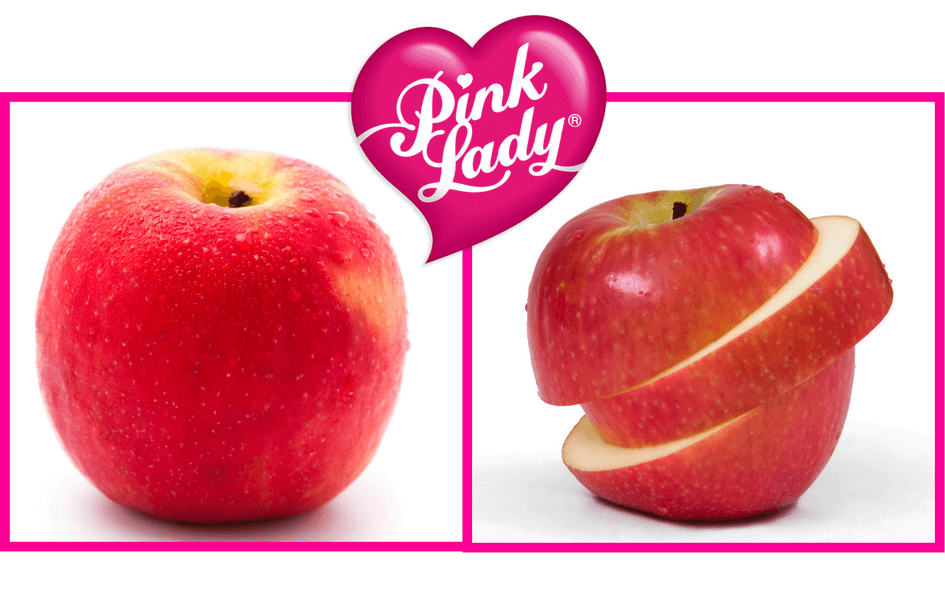 How to Use Pink Lady® Apples
The unique tangy-tart and sweet flavor and the texture of the firm, crisp flesh profile of the Pink Lady® makes them great for snacking, salads, sauces, and any baking recipes. We have included some fun, easy and flavorful ideas on how to use Pink Lady® apples.
Upside Down Pink Lady® Apple Cake
This will be your new favorite dessert that requires only 15 minutes of prep! The Pink Lady apples add that sweet flavor which will have your family begging for more.  Click here for the recipe!
Watermelon and Pink Lady® Apple Coconut Fresca

Nothing says refreshing like this infused fresca! The perfect combination of watermelon, Pink Lady® and coconut water makes this a thirst quenching drink! Click here for the recipe!
Pink Lady® Sweetie Pies
Win your way into your sweetie's heart through their stomach. Enjoy a dozen edible roses with these Pink Lady® Sweetie Pies. Don't let this impressive looking dessert scare you off. Even novice bakers can pull this off without much effort! Click here for the recipe.
Grilled Pink Lady® Apple Salad & Basil Mint Pesto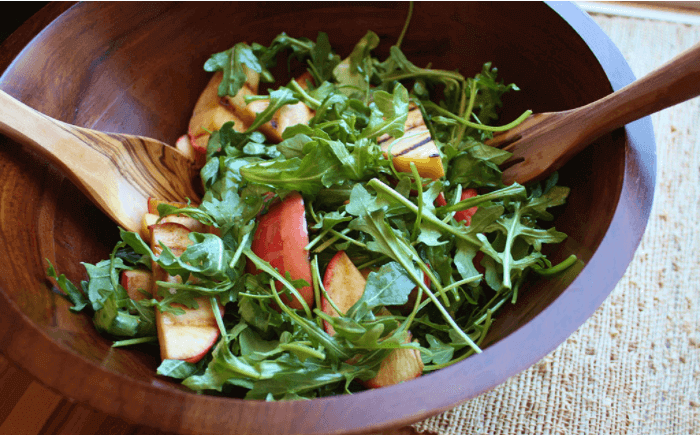 Spicy pepper like baby arugula sprigs with mint basil nutty pesto makes this salad unique. Crisp grilled tart sweet apples with bites of toasted rich pine nuts and creamy mozzarella will make this a keeper! Click here for the recipe.
Coconut Stuffed Pink Lady® Apples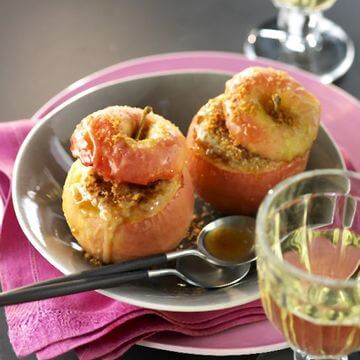 Simple yet delicious these stuffed apples are sure to please! The toasted coconut flakes and apples will have your home smelling like you're on a tropical vacation! Click here for the recipe.
Pink Lady® Apple Dutch Baby Pancake
Dreamy mornings are made of these! Sweet vanilla fluffy light layers of our handmade dutch baby baked with love in an iron skillet and topped with fresh blackberries and Pink Lady® Apple slices. Dust powdered sugar and lightly squeeze lemon to make these ever so perfect! Click here for the recipe.
Pink Lady® Bloomin' Apples
Everyone knows and loves bloomin' onions, but have you ever heard of a bloomin' apple? Fun to eat and delicious, bloomin' apples are one of those desserts that everyone oohs and ahhs before devouring. Click here for the recipe.
More about Pink Lady®
Your purchase of Pink Lady® supports nationwide programs fighting things such as child-obesity and breast cancer.  Enjoy your Pink Lady®!  To learn more about Pink Lady® visit their website or follow them on their social channels: Facebook, Instagram, Pinterest and YouTube.