Your New Favorite Condiment for Every Dish — Apple Ssamjang Dipping Sauce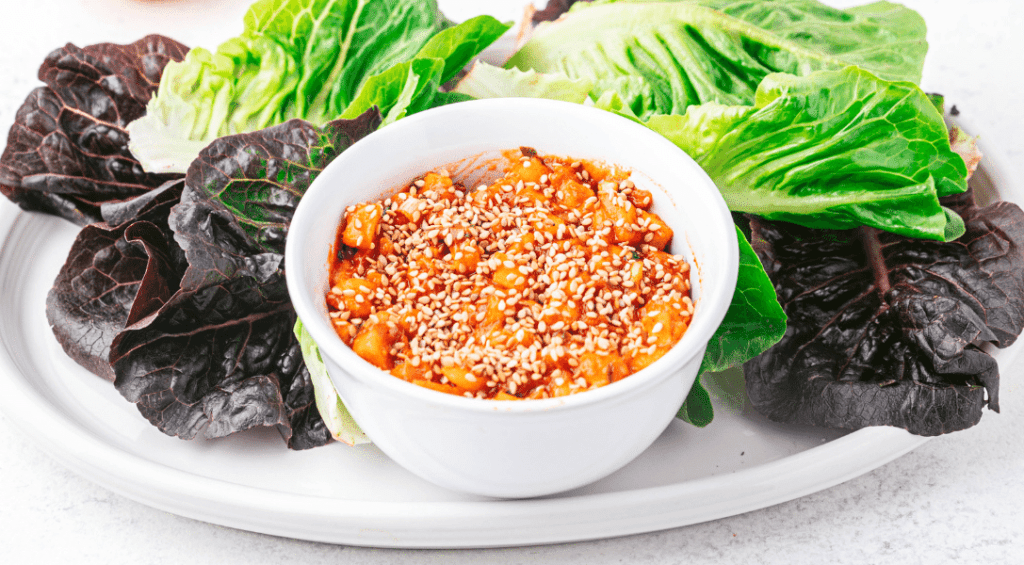 Apple Ssamjang Dipping Sauce is sponsored by SweeTango®.
If you like Korean BBQ, then you're going to love ssamjang sauce!
This recipe is full of flavor, easy on the wallet, and quick to prep. And it goes with pretty much any dish. We will use it to assemble lettuce wraps full of fresh ingredients, including SweeTango® apples.
Mix a few simple ingredients together, serve with lettuce and rice, and dinner is ready to go.
Let's make this an easy weeknight. What do you say?
What is ssamjang sauce?
You've probably seen ssamjang sauce if you've ever eaten Korean BBQ. It has a texture close to a paste that's spicy, nutty, and salty all at the same time. But the more you stir the ingredients together, the paste becomes juicier and sauce-like.
Pronounced "Sahm-Jahng," "Ssam" means wraps or wrapped food, and "Jang" is a word that describes fermented condiments as a whole. So basically, these are wrapped fermented condiments.
But before you think that doesn't sound very exciting, this simple and affordable dish is all about layers of flavor wrapped up into a tiny bite.
We're going to serve this the Korean way – family style. That means less meal prep for you, and everyone can eat as much as they want during a relaxing family dinner.
This recipe is crazy simple and packed with tasty flavors for an easy weeknight meal.
Specialty Korean BBQ Sauce Ingredients
Doenjang
Doenjang is a soybean paste that's fermented in a sea salt brine. That's it, just two ingredients. Its chunky consistency is similar to miso paste with a sharp, salty, umami flavor. Doenjang can come in different colors because the longer it's exposed to oxygen, the darker it gets.
You should be able to find doenjang in the Asian aisle at your grocery store or in Asian markets. If your grocery store doesn't carry it, use miso paste as a substitute, and you may need to add extra salt.
Gochujang
Made with fermented soybeans and chili paste, gochujang comes in at less than half of the spice level as a jalapeño. Just enough heat balanced out with sweet and earthy flavors, gochujang gives your ssamjang sauce that beautiful red color. If you're not sure about the spice level, start with less, and you can always add more.
Look for gochujang in the Asian aisle at your grocery store. If you can't find gochujang, try Thai chili paste instead of sriracha. Your sauce will be thicker and have a bolder flavor profile.
SweeTango® Apples
Usually, ssamjang sauce has sugar added to it. Instead, try adding SweeTango apples for a natural, unique sweetness with a subtle honey flavor to sweeten your sauce. Just as bakers might use applesauce as a sweetener, let's use fresh, chopped apples to balance out the heat in your ssamjang dipping sauce.
How to store homemade ssamjang
It's best to use your ssamjang sauce right away because that's when it's fresh and tastes the best. But if you have some leftovers, store your sauce in an airtight container in the fridge. It should last up to 10 days. Make a big batch to freeze so you have ssamjang sauce on hand to drizzle on top of your favorite dishes.
How to make ssamjang
Mix all of your ingredients, including soybean paste, pepper paste, SweeTango® apple, garlic, scallion, and sesame oil, in a small mixing bowl.
Stir until the mixture turns red.
Put your ssamjang sauce into a serving bowl and onto a serving platter.
Place your greens around the bowl of sauce on the serving platter.
Assemble your lettuce wraps with rice and ssamjang sauce. Use your fingers to tightly wrap the lettuce around the outside.
Use ssamjang sauce for:
Veggie dip

Meat or fish before grilling

Stir fry

Dumplings

Frittatas
Put it on anything and everything to add a smoky sweetness to simple ingredients for a totally new flavor combination. Who knows, you could create the next TikTok trend!
Why We Chose SweeTango® Apples
SweeTango apples are crisp and sweet with a touch of citrus and honey. A one-of-a-kind apple with its unique combination of juicy, crunchy, and subtle sweetness, we love using SweeTango apples. In this recipe, they stay crunchy and balance out the spicy, earthy flavors from the soybean and pepper pastes.
Look for SweeTango apples at your grocery store to get started on your ssamjang dipping sauce.
Related: Where to Find SweeTango Apples
More SweeTango Recipes
Try this Asian-inspired fajita recipe and top it off with your ssamjang sauce!
Ssamjang Dipping Sauce
A flavorful blend of sweet, spicy, and earthy, ssamjang sauce goes with a variety of meals – and it's so easy to make. Simply mix and serve for a new take on any recipe.
Print
Pin
Rate
Ingredients
1/4

cup

doenjang

(fermented soybean paste)

1

T

gochujang

(Korean hot pepper paste)

1

SweeTango Apple

peeled, cored, cut into 1/8-inch dice (about 3/4 cup)

2

garlic cloves

minced

2

scallions

chopped

1

T

toasted sesame oil

1

t

toasted sesame seeds

green leaf lettuce

for wraps

32

oz

white rice

prepared according to pachage
Instructions
Ssamjang Sauce
In a medium bowl, use a mixing spoon to combine the soybean paste, hot pepper paste, SweeTango diced apples, garlic, scallions, and sesame oil. Your ingredients are blended when the mixture turns a reddish color from the pepper paste. The more you mix, the juicier the mixture will be.

Transfer your ssamjang sauce to a small serving bowl and sprinkle with the sesame seeds.
Lettuce Wraps
Arrange your greens and herbs on a large serving platter and put your serving bowl with the sauce in the center. This gives everyone easy access to assemble their wraps. Place the bowl of rice in the center as well.

Scoop white rice into a lettuce leaf and then spoon some of the apple ssamjang on top of the rice. Use your fingers to gather the edges of your lettuce to close up your wrap as much as you can.