SweeTango® Tuna Sandwich
This post is sponsored by SweeTango apples. 
Tired of settling for the same old tuna salad sandwich? Why not mix it up with this SweeTango® Tuna Sandwich? We've ditched the bread for tasty, crunchy apple rings and used fresh ingredients for a whole new take on a lunchtime classic.
A Fresh Take On a Fresh Sandwich
These aren't your typical sandwiches – they don't use any bread! Instead, they're capped with a crisp SweeTango® apple. These blushing red apples are some of the tastiest apples available. A hint of citrus, honey, and spice give them a balance of flavor that makes this unexpected sandwich combo work. They're also perfect for baking or simply snacking out of hand. And with a remarkably loud and satisfying crunch, they're sure to be your new favorite apple variety! Pick up some SweeTango® apples in your local produce section from mid-August or early September through November or early December.
There's more to these sandwiches than just delicious flavor, though. Each SweeTango® Tuna Sandwich is packed to the gills with nutrition. They aren't just hearty, they're heart-healthy! Both tuna and apples promote good heart health and boost the immune system. Tuna has a low fat content while apples contain no fat or cholesterol. These and other nutritious ingredients like Greek yogurt and celery make this a guilt-free dish! Feel good about what you're eating or serving for lunch with a SweeTango® Tuna Sandwich.
How To Make the SweeTango® Tuna Sandwich
This recipe for the SweeTango® Tuna Sandwich comes from our eBook, SweeTango® for ALL Eating Occasions. Download it for free for this and other creative ways to use SweeTango® apples in your kitchen.
This unique sandwich is simple to make! All you'll need to do to prepare the ingredients is slice the apples into rings and mix the tuna and other fillings. Then it's just a matter of building each sandwich to taste.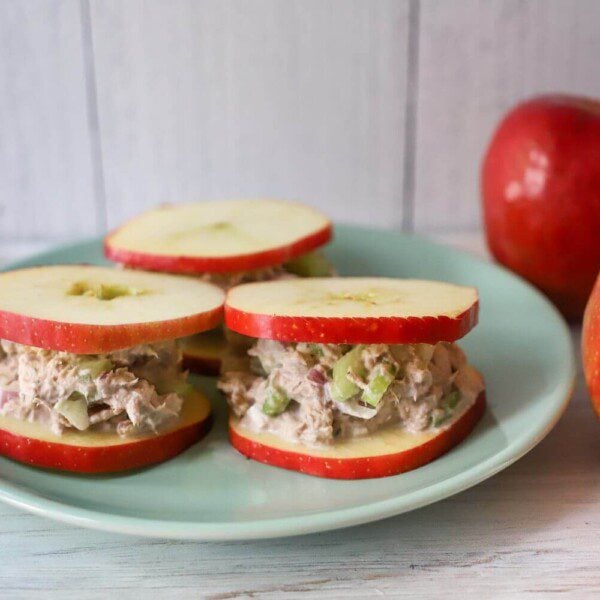 Ingredients
2

SweeTango apples

10

oz

tuna

drained

4

tbsp

Plain Greek yogurt

3

tbsp

red onions

diced

1/2

cup

celery

chopped

2

tsp

fresh lemon juice

Salt and pepper to taste

1/4

cup

walnuts

chopped
Instructions
Slice SweeTango apples into rings.

Mix tuna, yogurt, onion, celery, walnuts and lemon juice in a medium bowl. Season with salt and pepper to taste.

Layout apple rings on a serving platter.

Spoon some of the mixture on top of each apple ring and add a second apple ring on top.

Serve and enjoy!
How did you like this tasty take on tuna salad? Tell us how you and your family enjoyed this SweeTango® Tuna Sandwich in the comments below. If you snag a sweet sandwich snapshot, tag us on Instagram @theproducemoms!