Green Papaya Fajitas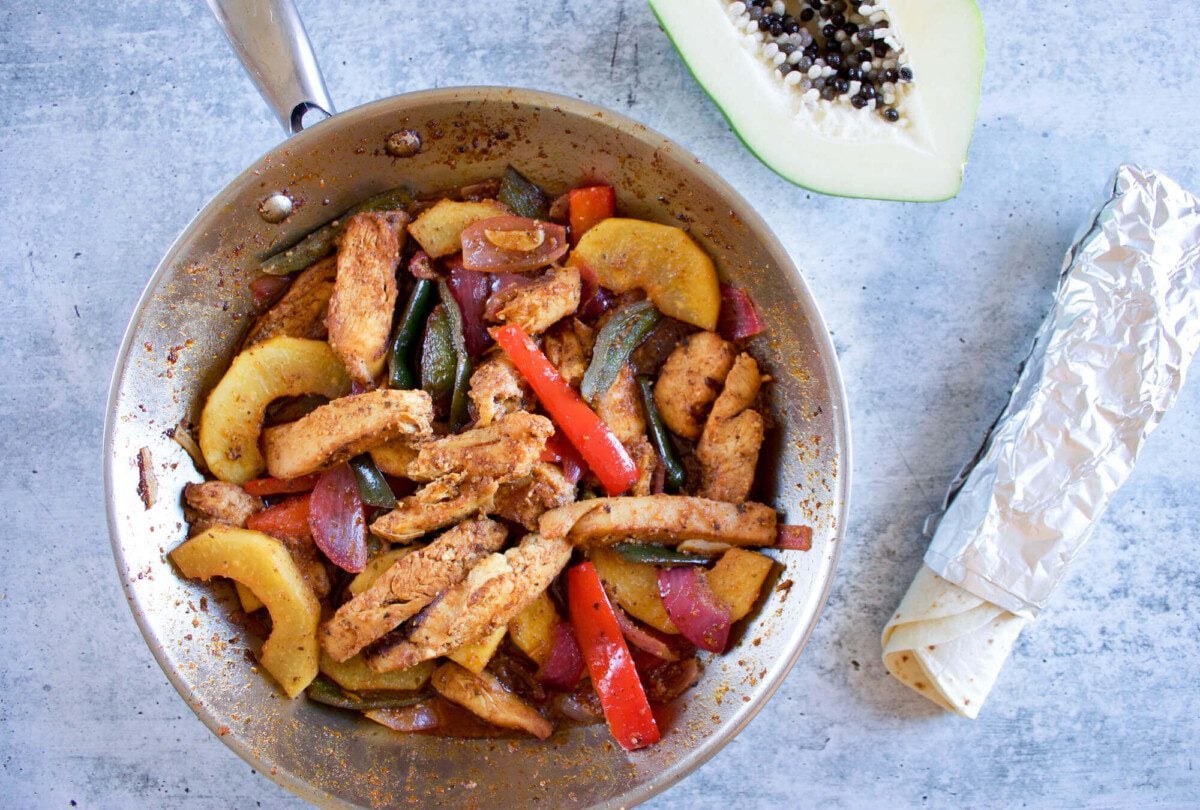 This unique ingredient makes fajitas even tastier!
Green papaya is often used in Southeast Asian cooking. Perhaps most well-known is the classic Thai dish Som Tam (Green Papaya Salad). Although commonly grown and used in Asia, papaya is actually native to the tropical regions of Mexico and Central America so we thought it would be fun to add it to a Mexican dish. Give this recipe for Green Papaya Fajitas a try and you'll wonder why you haven't been adding this special fruit to your fajitas all along!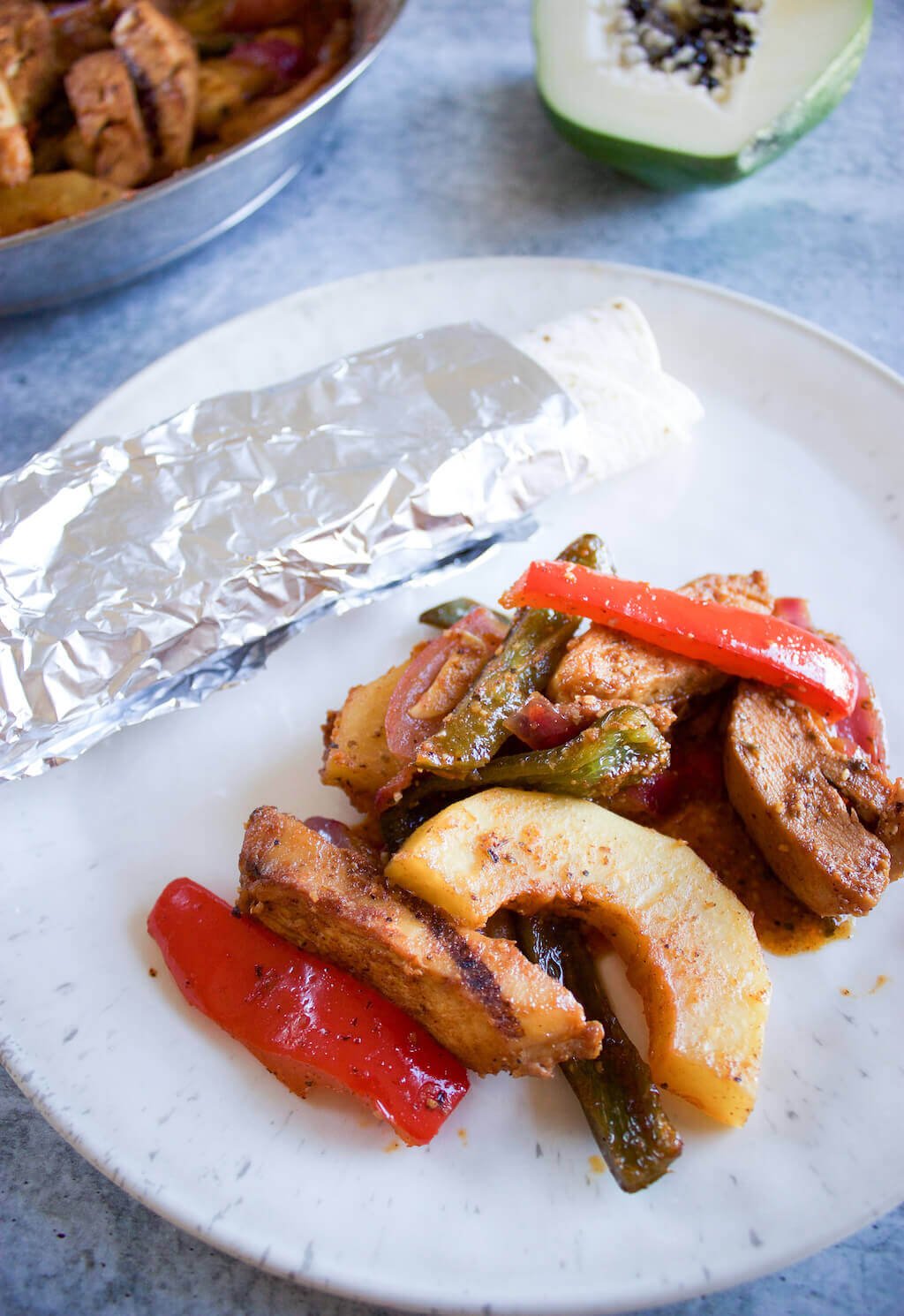 What Are Green Papayas?
Though they look and taste differently, green papaya is actually the same fruit as orange papaya. They are picked earlier than orange papayas — before they are fully mature and ripe. Unlike orange papayas, they are not juicy or sweet. Instead, they are crisp and mild. Green papayas are more vegetable-like than fruity orange papayas.
Fun Fact: Papaya seeds turn from white to black as they ripen and are edible.
Green papaya has a firm, foamy texture that softens but keep its shape when cooked. Because of its extremely mild flavor it takes on other flavors in your dish very easily. In this recipe, they are infused with garlic, lime juice, and fajita seasonings making each bite a flavor sensation!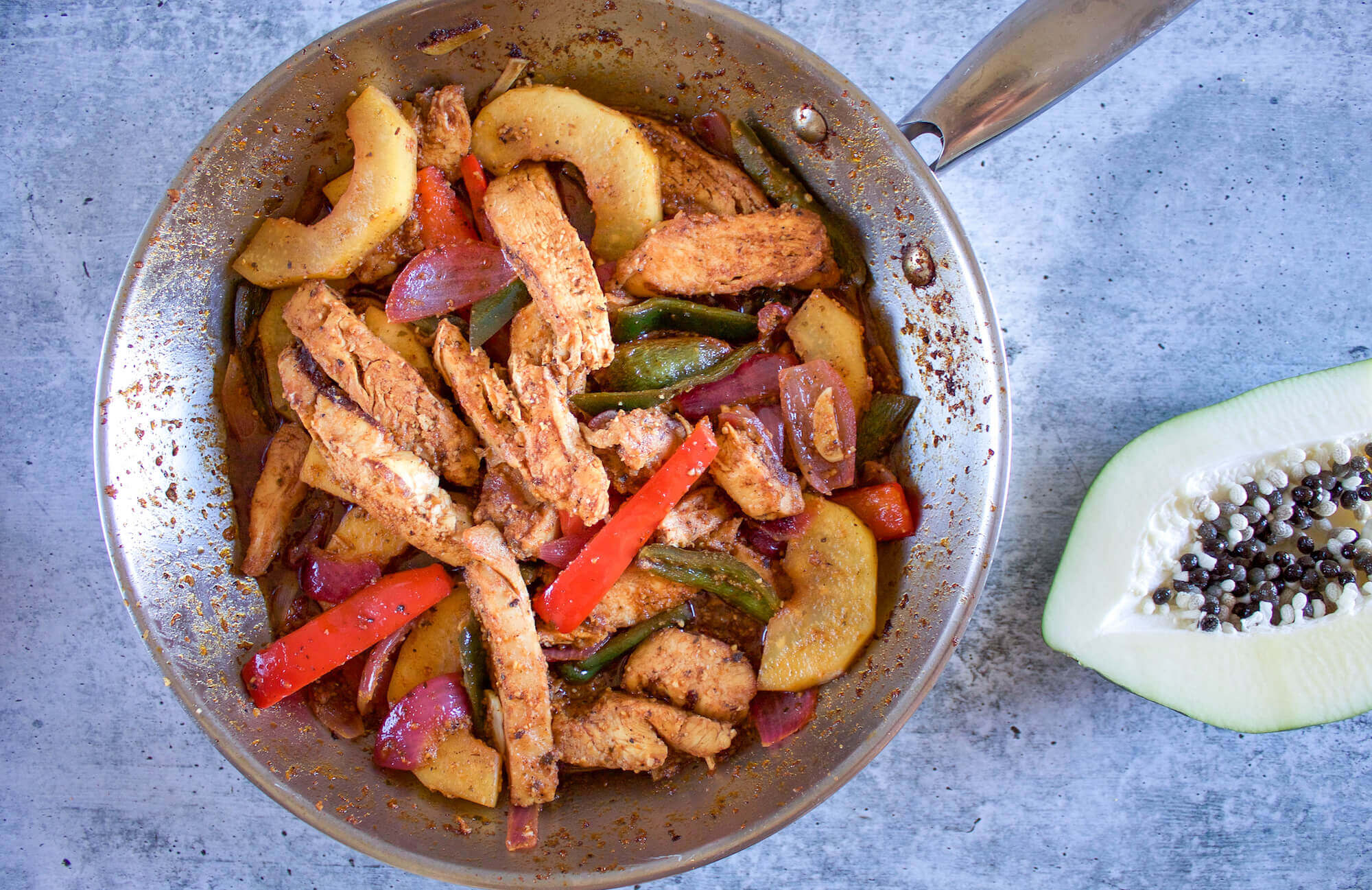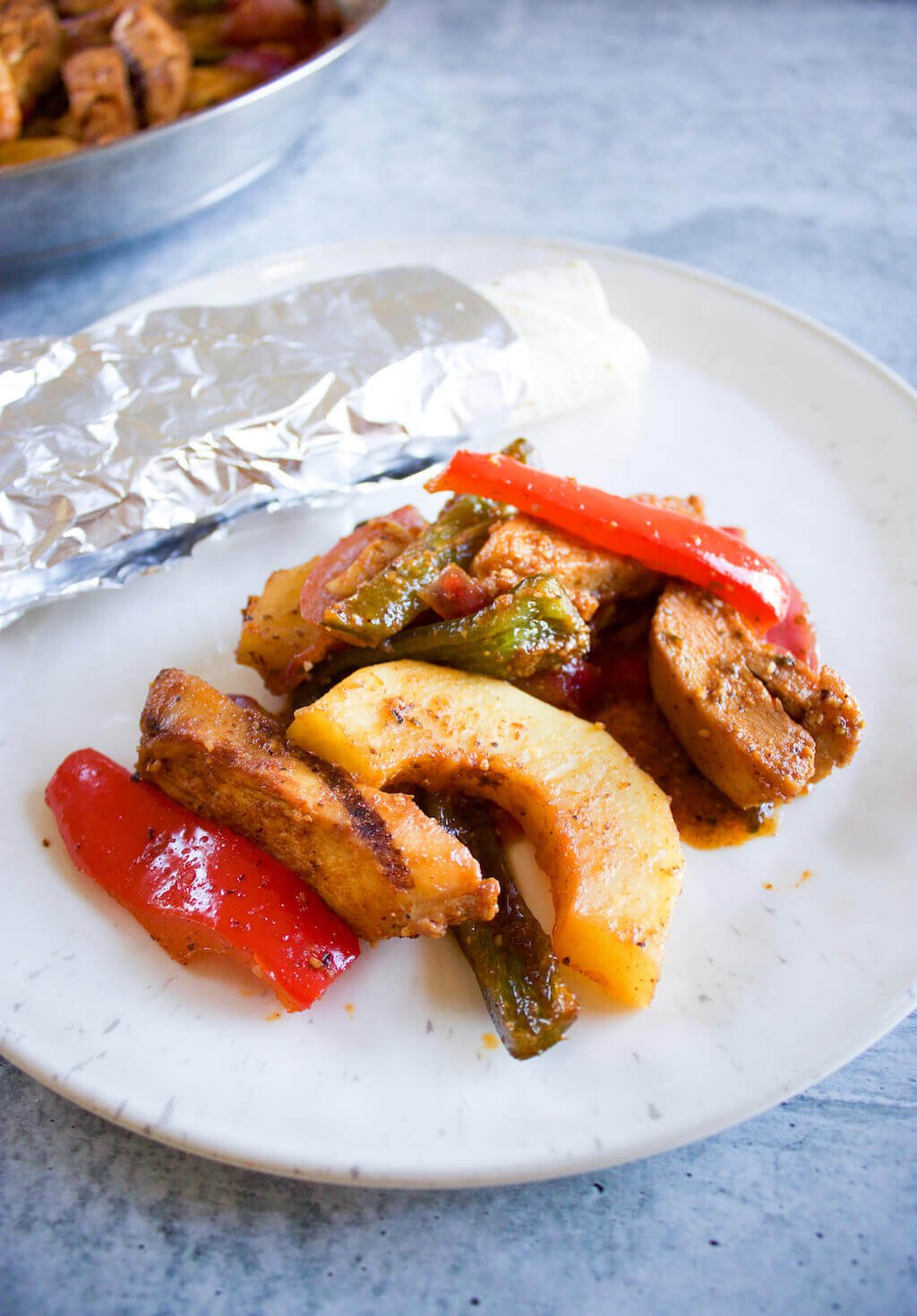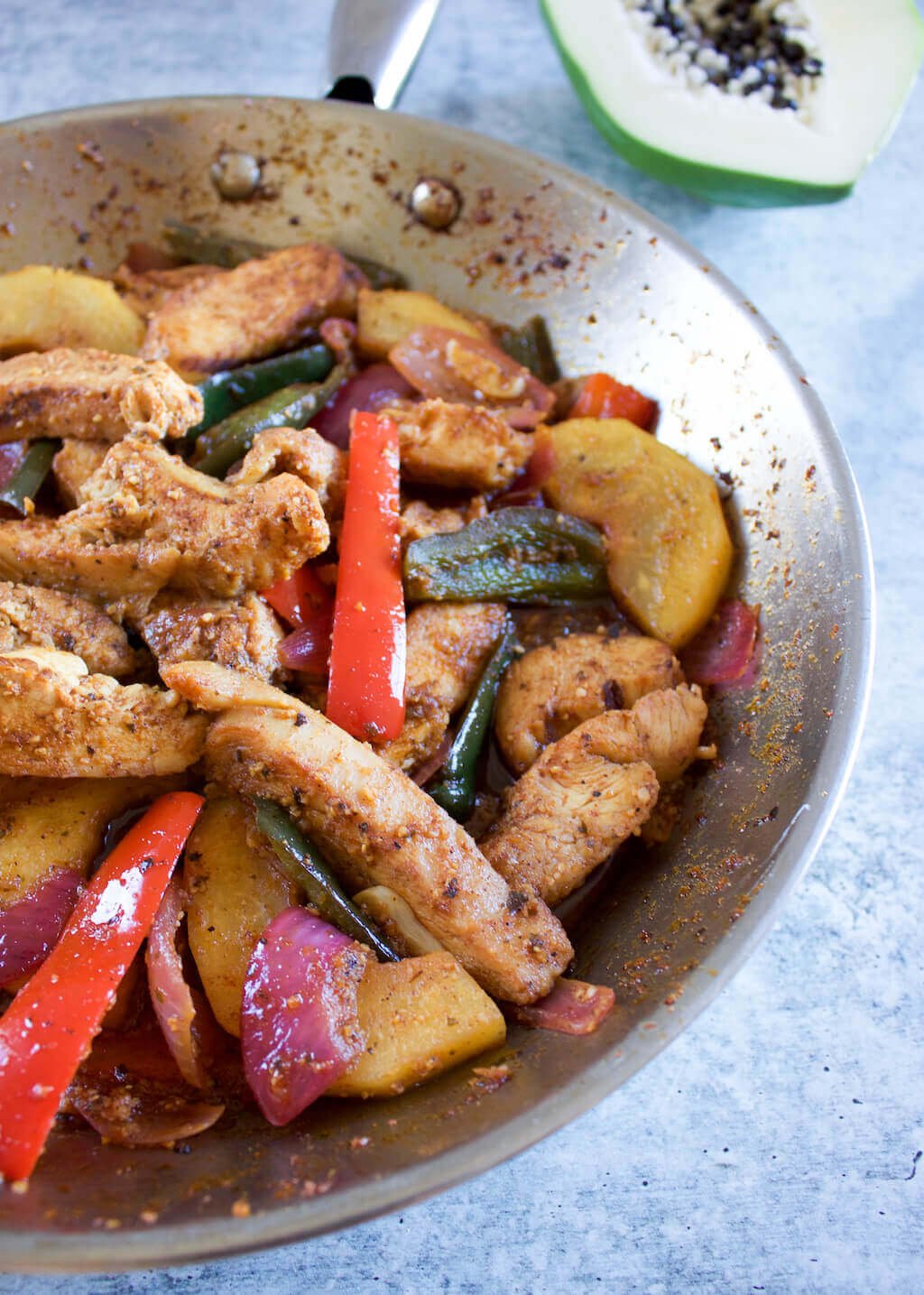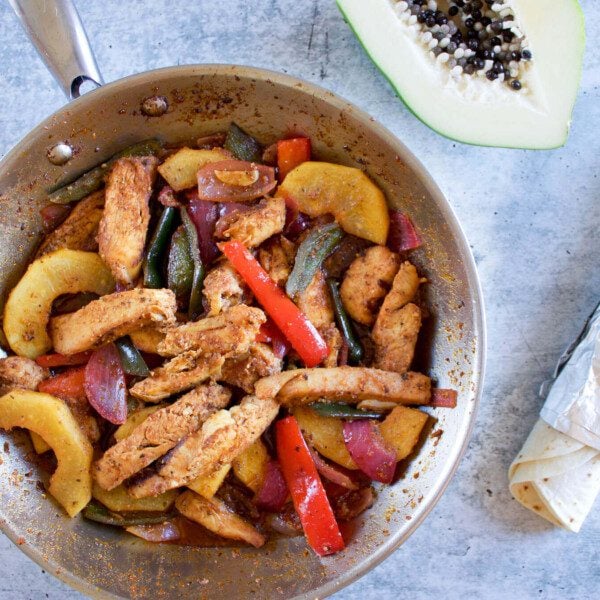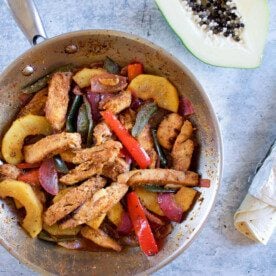 Ingredients
1

lb

cooked chicken breast

cut into strips

1/2

green papaya

peeled, seeds removed, cut into strips

1

red onion

sliced

3

cloves

garlic

minced

1

red bell pepper

sliced

1

poblano pepper

sliced

1

lime (juice only)

2

tbsp

fajita seasoning

2

tsp

grapeseed oil

flour tortillas
Instructions
Combine all ingredients in a one gallon storage bag. Shake to combine and evenly coat chicken and veggies and let sit for 20-30 minutes in the refrigerator.

Heat a skillet to medium heat. Add fajita ingredients to pan and cook until chicken is heated thoroughly. Around 7-8 minutes.

Serve fajitas with warm tortillas.
Fun Fact: Papayas contain vitamin A and papain. These nutrients help break down inactive proteins, meaning papayas can break down and remove dead skin cells. Rub papaya skins and pulp on the bottoms of your feet to make them soft and smooth.
Next time you see green papayas in the store, pick one up and give this fajita recipe a try.
Have you ever cooked with or eaten green papaya? What did you think? Share your experience in the comments below.
Looking for orange papaya recipes? Try these:
Or check out our Papaya Pinterest board.