Cucumber Melon Salad Recipe — A Light, Easy, and Quick Side
Cucumber melon salad is a sweet, savory, hydrating, and refreshing salad that your whole family will fall in love with. We wanted to create an exciting salad recipe that you'll want to add to your meal plan. With just a handful of ingredients and minimal prep time, it's great for busy weeknights, too.
Most of us tend to eat more salads during the summer, whether it's a fruit salad or a leafy green salad.
But sometimes, you just need to switch things up a bit.
After all, if you're getting bored with the usual salad for lunches and sides, odds are your kids are too.
So let's change that.
Cucumber melon salad is sponsored by NatureSweet®.
Although this cucumber cantaloupe salad isn't "traditional," it's still simple, affordable, and tasty. And who wants to always be traditional anyway?
Come check it out!
Why You'll Love Cucumber Melon Salad
We love finding new ways to change up a traditional salad recipe. They don't always have to be lettuce with some veggies and protein. Salads are like people in a way. They come in all shapes, sizes, and colors. And this cucumber cantaloupe salad proves it.
We know you'll love this cucumber melon salad because it…
Comes loaded with

nutritious ingredients

Has a variety of

yummy fruit and veggies

Only takes

15 minutes

to make

Uses

everyday ingredients

Is

affordable

Is deliciously

sweet and savory

Pairs well as an

easy side

with any dish
Since it only takes 15 minutes to make your cucumber cantaloupe salad, you can cook your protein, like chicken or fish, and prep your salad while the protein cooks.
You know what that means…
You're getting dinner on the table in under 30 minutes tonight!
Ingredients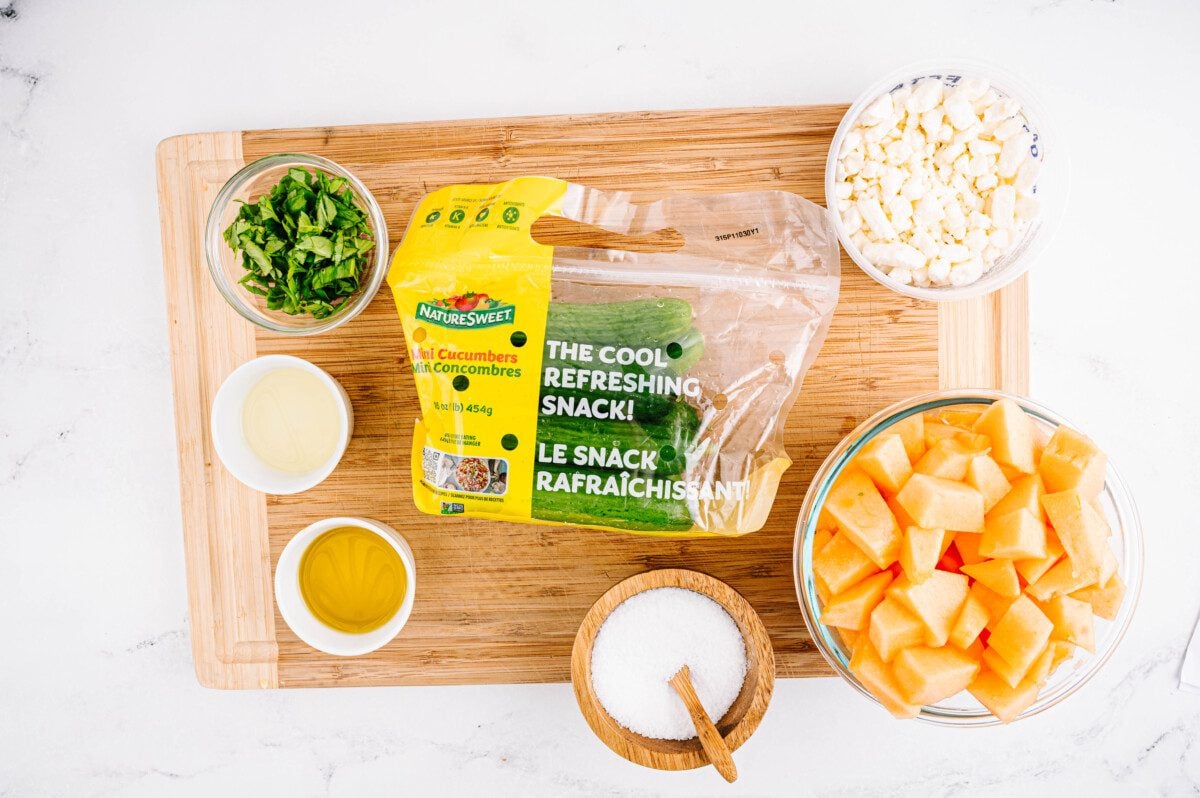 Ok, now that you know how incredibly easy but still exciting this cucumber melon recipe is for us moms, you just need to double-check that you have all of the ingredients before you get started. Below is a full list of everything you need and why we chose these tasty add-ins to bring this recipe to life.
Feel free to mentally check them off as you read.
Cucumbers
Since these crisp and crunchy green veggies are one of the stars of this salad, you want to use a high-quality brand you trust. We used NatureSweet® because they're known for growing Raised Right cucumbers with a focus on quality. We got a bag of mini cucumbers for easy slicing. Although these cucumbers are mini, they are packed with vitamins and minerals. Plus, they are made of 95% water making them a hydrating addition to your summer salad.
Be warned, you will use up the whole bag. You may want to grab another bag to have extras on hand for a nutritious and refreshing snack.
Cantaloupe
Next, we'll add cantaloupe for a sweet addition to our cucumber melon salad. Cantaloupe is soft and tender — a nice balance to crunchy cucumbers! Similar to cucumbers, cantaloupe also has high water content and electrolytes for hydration and fiber to promote a healthy digestive tract.1
We like to keep things simple so we cut the cantaloupe into bite-size pieces. If you'd like to dress things up a bit, use a melon baller to scoop out your cantaloupe instead of cutting it. This is also a fun way to get your kiddos involved so they'll be just as excited to eat it.
Feta
We love adding feta to our salads. It's a popular ingredient in Greek cooking which means it pairs well with olive oil. Since most salads have a dressing made from olive oil, it just makes sense to add this crumbly, creamy ingredient to your melon cucumber salad. Feta paired with the cucumber and cantaloupe is how you transform this salad into a creamy, sweet, and crunchy bite.
It usually comes in a plastic container in the dairy section. If it's not near the bricks of cheese, it could also be by the deli. Pick any brand that you prefer or look for what's on sale.
Olive Oil
We always recommend using olive oil as the base for your homemade salad dressings. Canola, vegetable, or sunflower oil don't have as much flavor. And the way those oils are processed, they tend to lose all the nutritional benefits like heart-healthy fats and antioxidants.
The best part is that you don't need a lot of olive oil to help you feel full longer. And it adds a unique green olive flavor that pairs well with the fresh ingredients of your salad.
If you're in a pinch and run out of olive oil, go ahead and use any type of oil you have on hand. Just remember that it may alter the taste of your dressing and your cucumber melon salad.
Lemon Juice
There are a few reasons to add lemon juice to your cucumber melon salad dressing. First, it's a natural way to prolong the life of the cantaloupe in your salad. Second, it adds a citrusy brightness to your salad. This salad is already light, but the acidity from the lemon juice makes it feel even more refreshing.
You only need one lemon to get the amount of juice and acidity to balance your flavors. You should get about two to three tablespoons of lemon juice from one lemon. However, no need to measure it out unless you're using lemon juice from a bottle.
Basil
A sweet, aromatic, and peppery flavor is the finishing touch to your cucumber melon salad. Basil pairs well with various flavors and textures, from sweet and savory to soft and crunchy. You've probably had basil with mozzarella because it pairs well with cheese. Simply roll your basil leaves up and use a knife to coarsely chop your basil. Then sprinkle it on top.
When it comes to fresh basil, you get the best bang for your buck at Trader Joe's. You'll probably end up with leftover basil to add to pizza, pasta, drinks, or grilled recipes. It's versatile and easy to add to many recipes.
How to Make Cucumber Melon Salad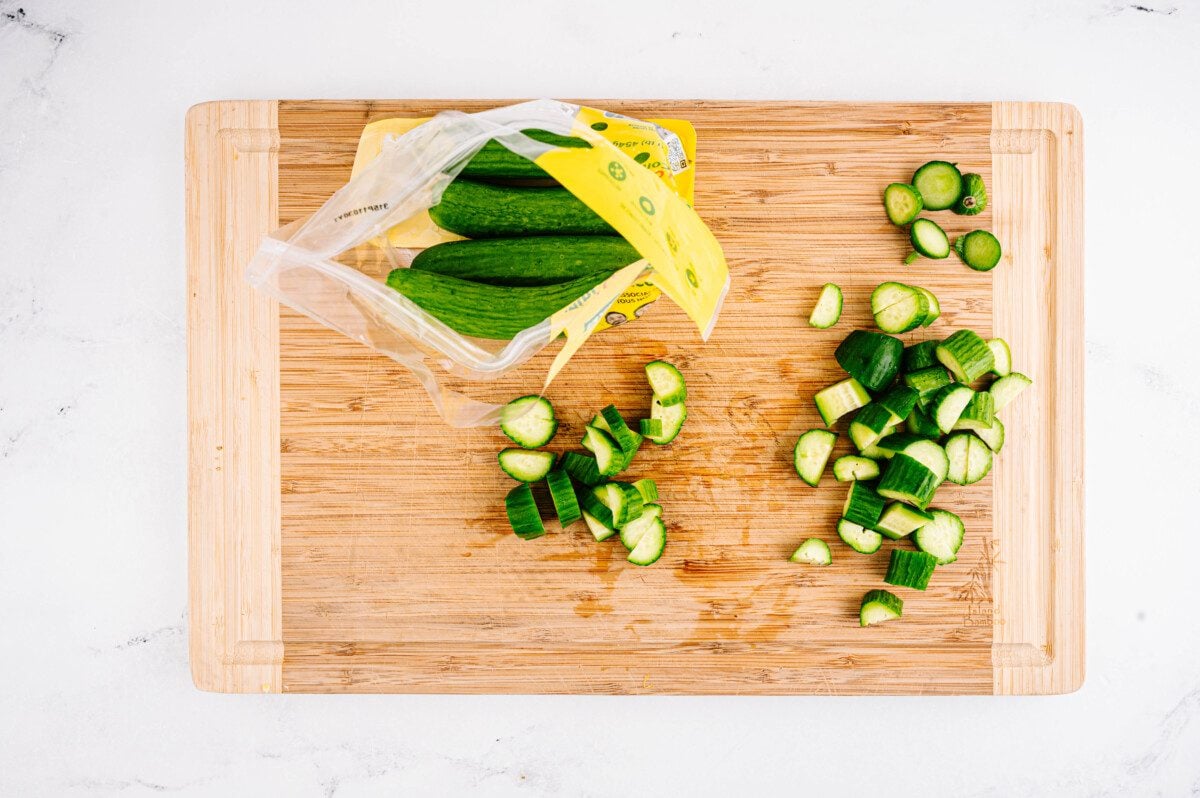 Step 1: Use a knife to cut your NatureSweet® mini cucumbers in half lengthwise, from end to end. Lay each half, cut side down, and slice the cucumber into half-moon shapes. Repeat with your entire bag of cucumbers.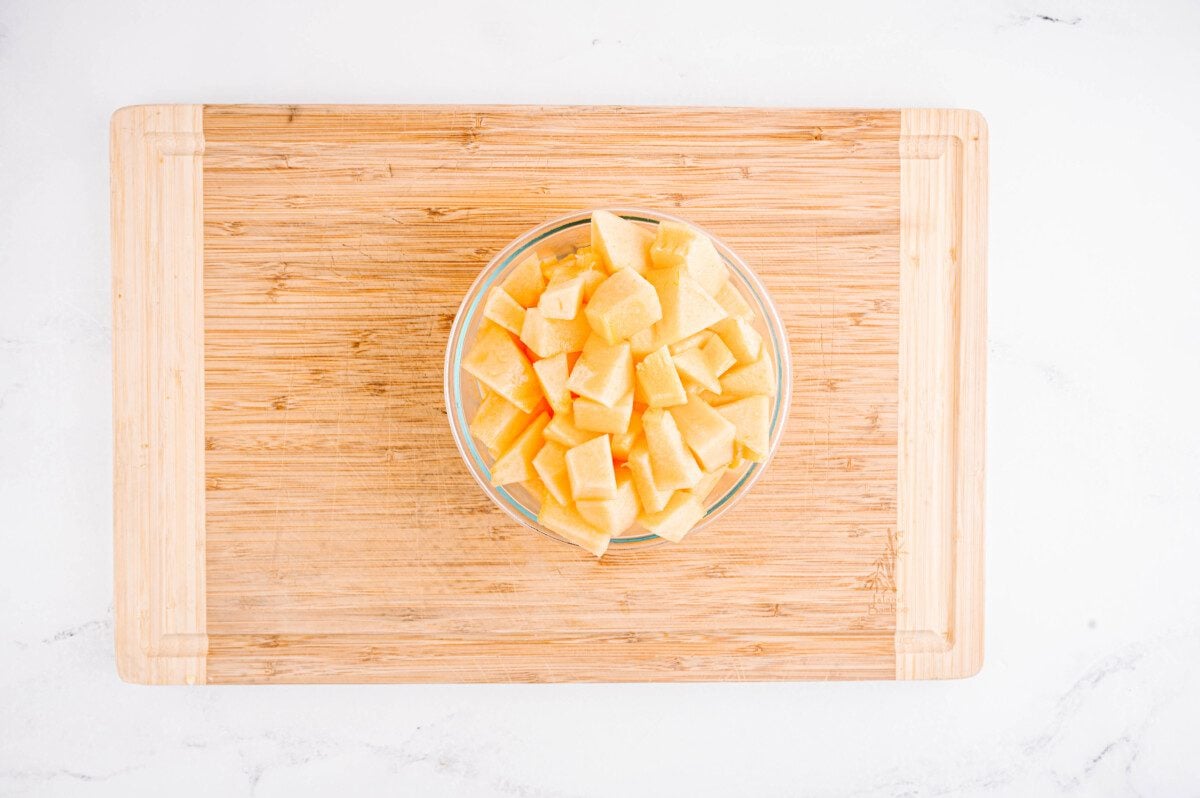 Step 2: Use your knife to cut the end of your cantaloupe. Stand your cantaloupe up on the flat edge, where you cut off the end. Now, cut between the skin and the flesh to peel a section of your cantaloupe. Work your way around until the skin is gone.
Step 3: Cut your cantaloupe in half and scoop out the seeds with a spoon. Then, slice your cantaloupe into wedges or thin stripes, depending on how small you want them. Cut crossways to make bite-size pieces. And toss them into the bowl with your cucumbers.
How to Make Vinaigrette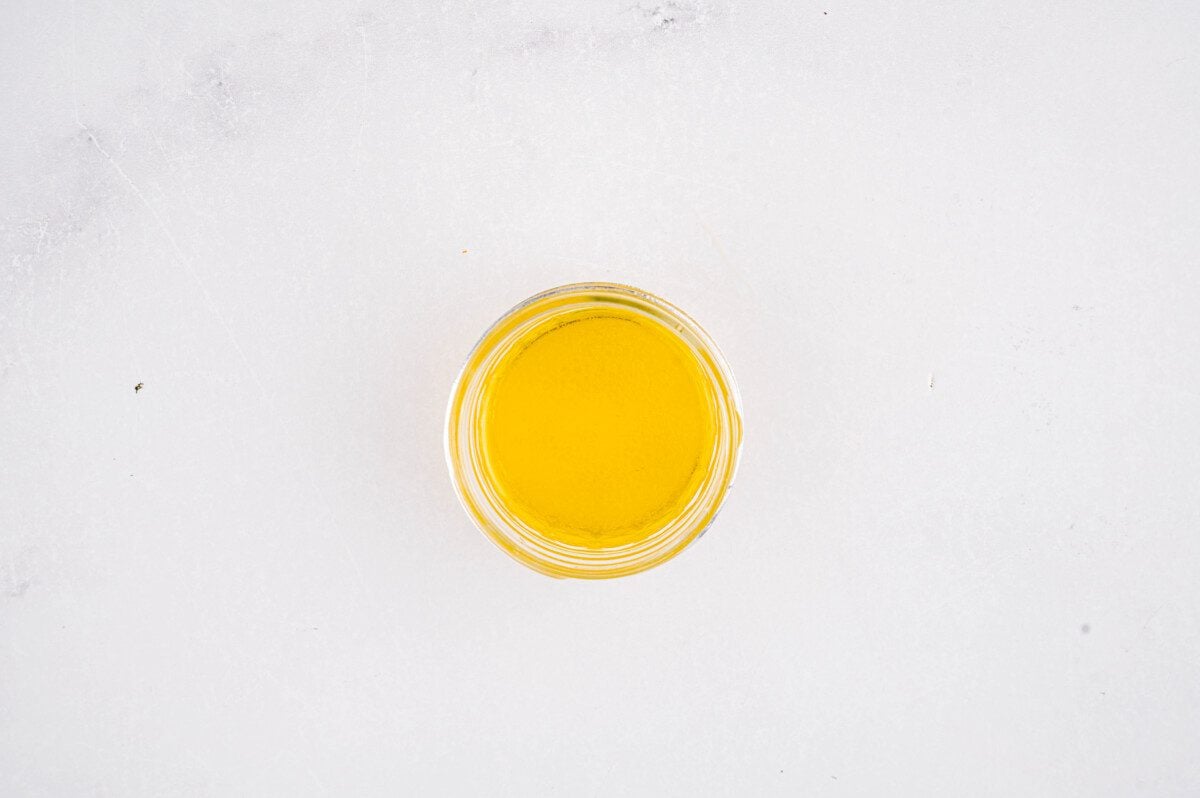 Step 1: Add all of your dressing ingredients to your mason jar. Put the lid on and shake vigorously until everything is combined.
Step 2: Pour your vinaigrette over your salad and toss until your salad is fully coated and top with feta and basil.
How to Select Cucumber
When you look for your bag of mini cucumbers, look for ones that are firm and dark green in color. When cucumbers start to turn yellow, they are starting to become too ripe. A ripe cucumber will taste and smell off or not quite right. Be sure to look your cucumbers over for any soft spots or blemishes.
Although you need a whole bag of mini cucumbers, you should be able to see and feel them through the clear plastic bag they come in.
How to Store Cucumber Melon Salad
Store your cucumber cantaloupe salad in an airtight container for up to three days. This salad tastes crisp and crunchy when you serve it fresh. If you have any to store and your salad starts getting too soggy for your liking, add some salt to absorb some of the liquid. But, sometimes little mouths prefer it when the cucumber and melon pieces have soaked up some of the juices and are softer to eat.
Give it a try after storing it to see if you and your family prefer fresh or stored.
Why We Love NatureSweet®
NatureSweet® takes pride in raising its tomatoes, bell peppers, and cucumbers right. From their single, long cucumbers to their mini and baby cucumbers, they always make sure that their cucumbers have that classic and fresh crunch for all your snacking needs.
They believe the more you put into something, the more you get out. And it shows in the quality of their produce and sustainability efforts.
Have you tried their mini cucumbers yet?
Look for them in the produce section at your grocery store!
Related: NatureSweet® Is Doing What's Right
Fresh Cucumber Recipes
Watermelon and Cucumber Salad — sweet, juicy, cool, and crisp for warm summer days
Spicy Cucumber Salad — a fresh way to spice things up
Stuffed Tomato and Cucumber Wraps — kind of like veggie sushi
Avocado Shrimp and Cucumber Bites — a quick and easy bite-sized appetizer
Cantaloupe Cucumber Salad
Cucumber melon salad is easy, quick, and full of hydration and refreshing flavor for hot summer days. It's the perfect addition to any picnic or cookout.
Print
Pin
Rate
Ingredients
1

bag

NatureSweet® mini cucumber

1

cantaloupe

deseeded and cubed

3

oz.

crumbled feta cheese

3

tablespoons

olive oil

1

lemon

just the juice

pinch

salt

12

leaves

basil

coarsely chopped
Instructions
Use a knife to cut the NatureSweet® mini cucumbers in half, then slice. Add them to a large mixing bowl.

Cut the cantaloupe into bite-sized cubes. Add them to your mixing bowl with the NatureSweet® cucumbers.

Add the olive oil, lemon juice, and salt to a small bowl and whisk or put it in a mason jar and shake until combined.

Add the vinaigrette to your cucumber melon salad and toss to combine.

Top with feta and basil leaves and chill or serve immediately.
Nutrition
Calories:
409
kcal
|
Carbohydrates:
29
g
|
Protein:
9
g
|
Fat:
31
g
|
Saturated Fat:
9
g
|
Polyunsaturated Fat:
3
g
|
Monounsaturated Fat:
17
g
|
Cholesterol:
38
mg
|
Sodium:
569
mg
|
Potassium:
544
mg
|
Fiber:
4
g
|
Sugar:
23
g
|
Vitamin A:
9684
IU
|
Vitamin C:
59
mg
|
Calcium:
254
mg
|
Iron:
2
mg