Chocolate-Covered Watermelon for a Juicy, Salty, and Sweet Summer Bite
May 01, 2023, Updated Jun 16, 2023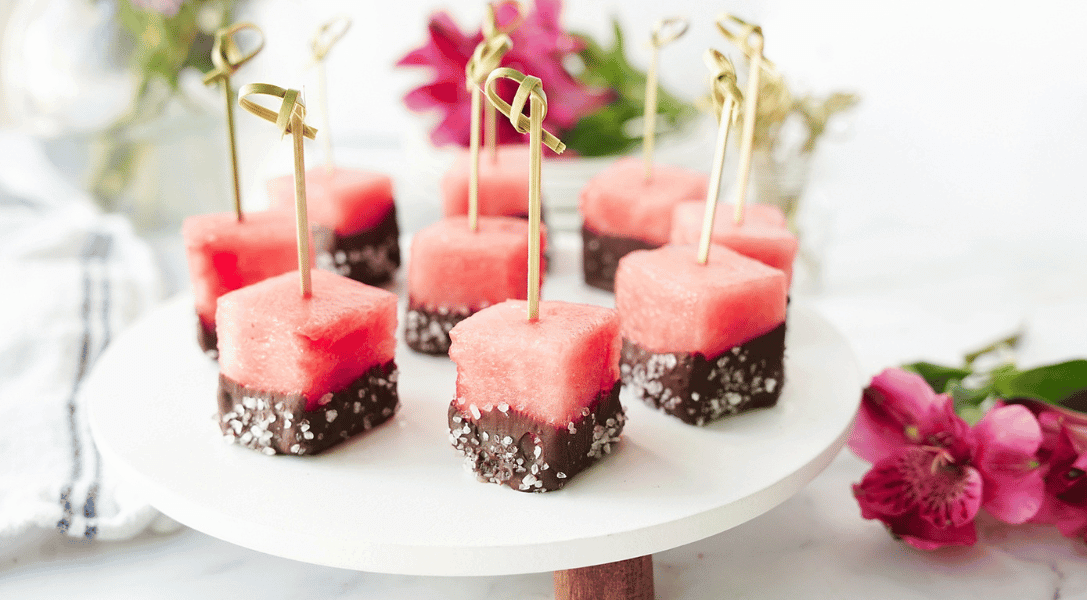 Ever tried chocolate-covered watermelon? You're in for a refreshing summer snack or dessert. Frozen watermelon cubes coated with a hard chocolate shell and sprinkles of sea salt make the perfect bite of summer. Make it fun with cookie cutters for cool shapes. Or add sprinkles so the kids are just as excited to eat these frozen treats as you are to serve them.
Sometimes in the summer, you just need something that's refreshing, easy-to-make and will satisfy the sweet tooth! These mouthwatering chocolate-covered watermelon bites (even though they're almost too pretty to eat) will check all the boxes. After all, they are as perfect as a summer dessert gets!
So, you have to try our chocolate-covered watermelon bites!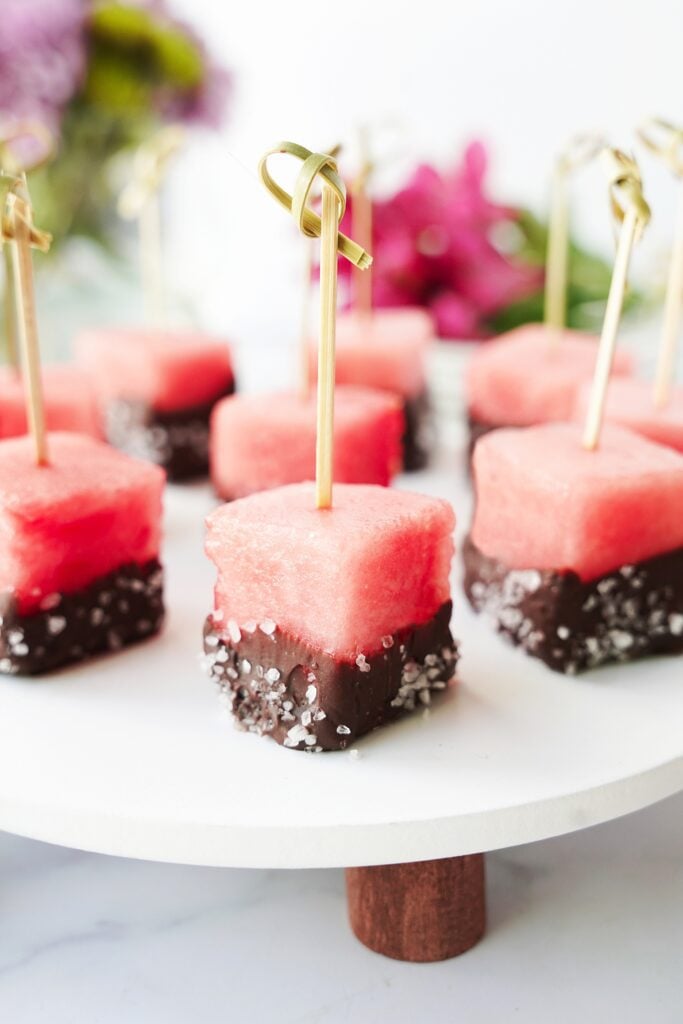 Chocolate Covered Watermelon Bites are sponsored by the Watermelon Board.
It's dairy- and gluten-free, if you use dark chocolate. And it has way less sugar than an ice cream sandwich.
Plus, you can buy a whole watermelon and go to town on making watermelon bites so you always have them on hand when the littles get a craving.
Your kids will love these and you'll feel good knowing you're giving them a nutritious summer treat.
Is Chocolate-Covered Watermelon Good?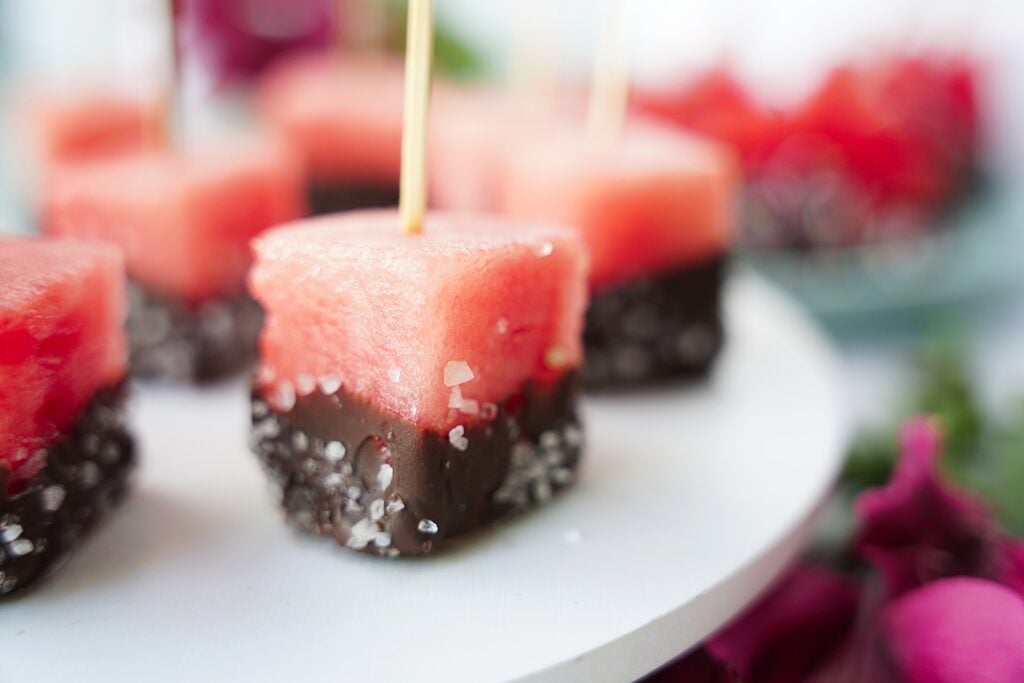 At first, we weren't sure about this flavor combo either. But if you love watermelon, chocolate, and sea salt separately, you may as well try them all together. The trick is to freeze your watermelon cubes, or shapes if that's what you're using. Then dip them in chocolate and quickly sprinkle sea salt before the chocolate dries. The refreshing bitter, sweet, sour, and salty flavors in each bite are sure to put a smile on your face.
If by some chance, you don't love this flavor combo, you can do so many other things with watermelon. You can make a salad, kebabs, or even dog treats.
Three Reasons to Eat More Watermelon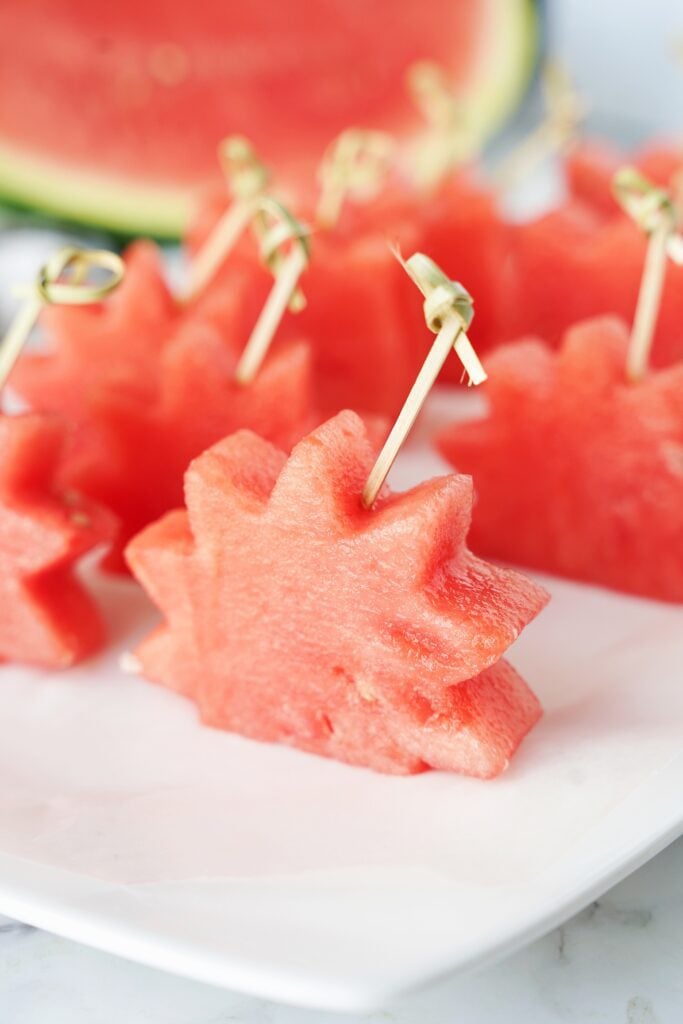 Watermelon is delicious, good for you, and surprisingly sustainable. Regardless if you think it's a fruit or veggie, there are a few reasons to include watermelon on your grocery list this summer.
Save Money
A box of popsicles can cost you up to six dollars depending on the brand and how big of a box you get. An entire watermelon is typically less (especially during peak season), and you get a lot more out of it. If you don't think you'll eat the entire watermelon in one go, you can freeze some of it for your chocolate-covered watermelon bites and use the fresh watermelon for other recipes.
Versatile
Watermelon can be eaten any way you like it — grilled, air fried, frozen, fresh, in desserts, salads, and more. It's 92% water so it's perfect for hydrating you on hikes, camping, or at the park. It's nutrient-dense so you can feel good about serving it all summer. And it's very easy to use. Swap it for another ingredient to breathe fresh, new life into an old recipe.
Zero Food Waste
Did you know that you can eat your entire watermelon, including the rind? Yep, you can eat the green skin of your watermelon, it just needs to be cooked first! Whether you grill it or air fry the rind, you can have a new go-to snack, side, or main course all summer long. Not only does watermelon taste refreshing but none of it gets wasted either.
Watermelon can sometimes get overlooked when it comes to yummy and sustainable produce, but we hope you give it a try.
Ingredients
There are only three ingredients used to make this delightful recipe.
Whole watermelon

Chocolate

Sea Salt

And don't forget the toothpicks!
It's sure to brighten up your day with each sweet, salty, and frozen bite.
How to Make Chocolate-Covered Watermelon Bites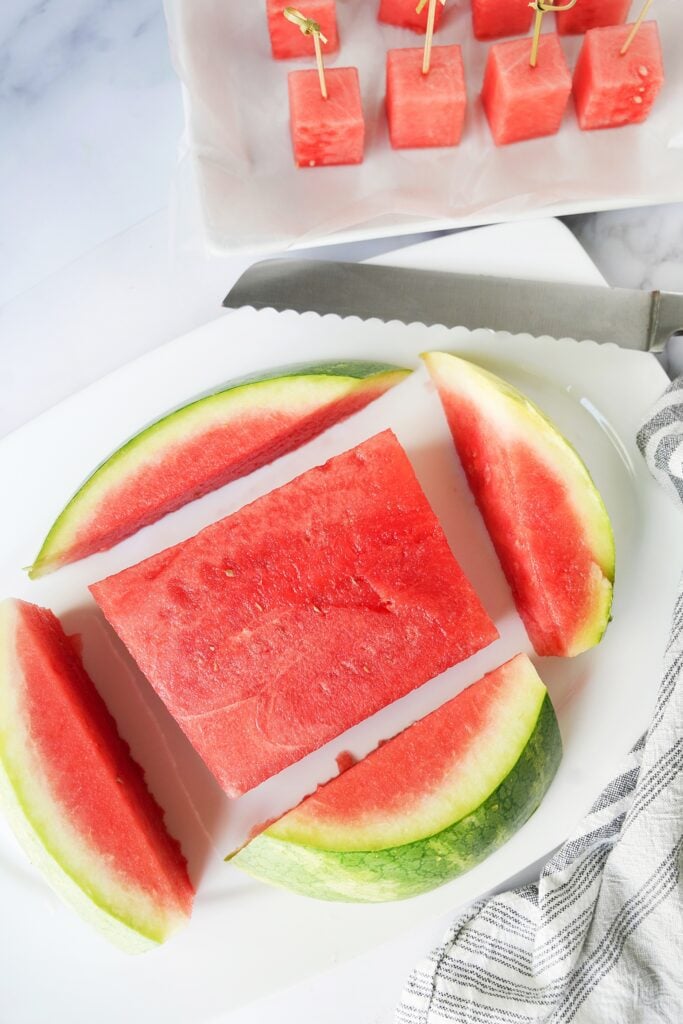 Step 1
Cut off the rinds of your watermelon.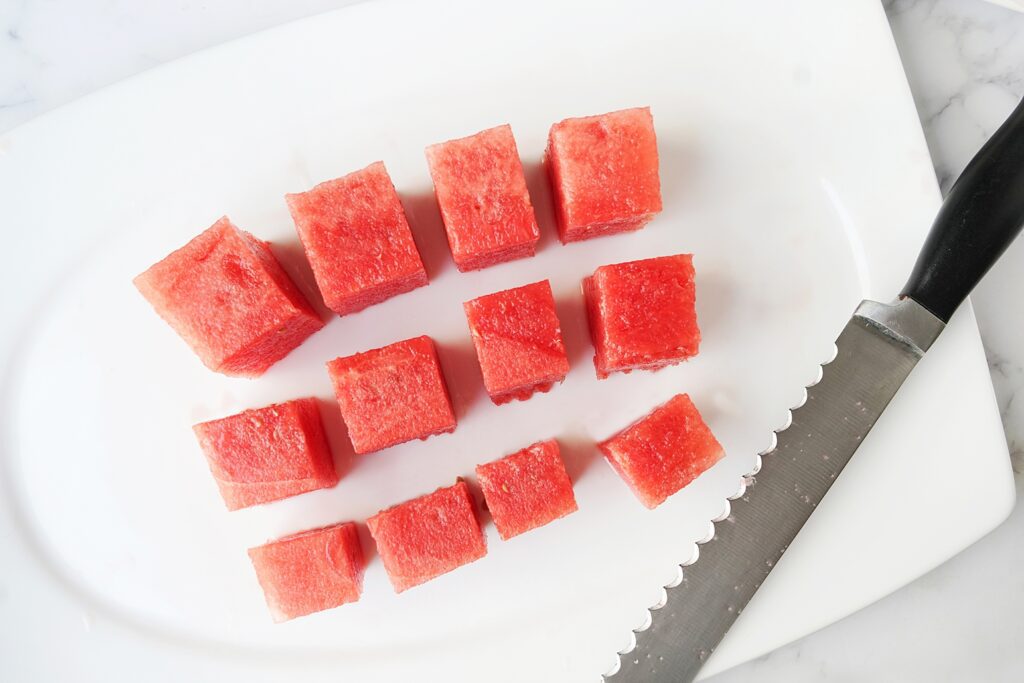 Step 2
Cube your "sheet" of watermelon.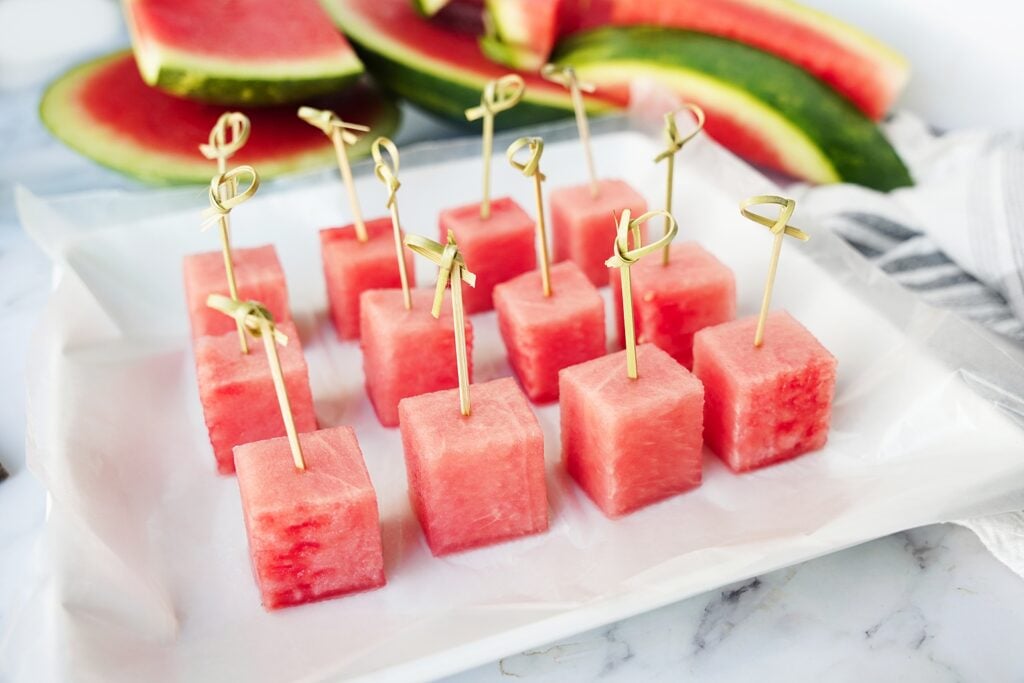 Step 3
Stick a toothpick on the top of each cube and set it in the freezer for 30 minutes.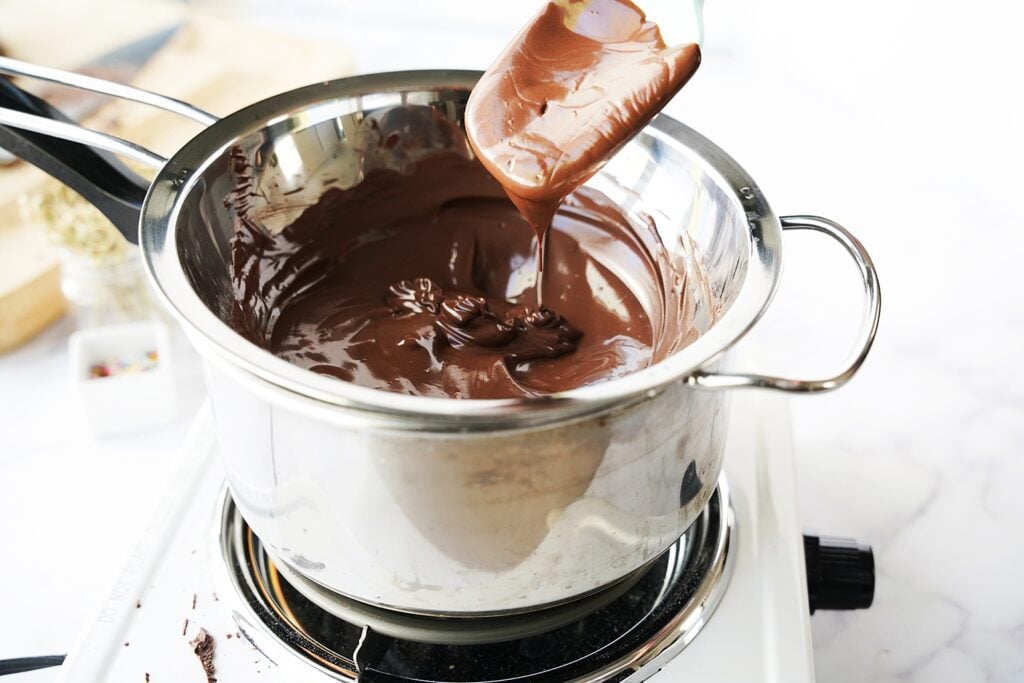 Step 4
Melt the chocolate.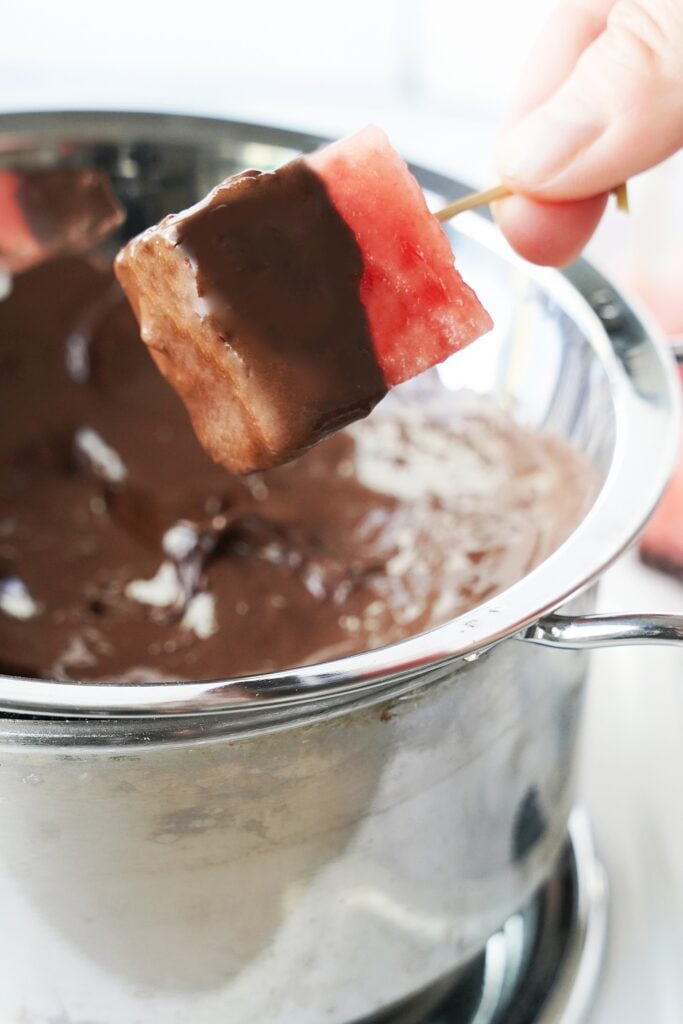 Step 5
Dip each watermelon cube in the chocolate.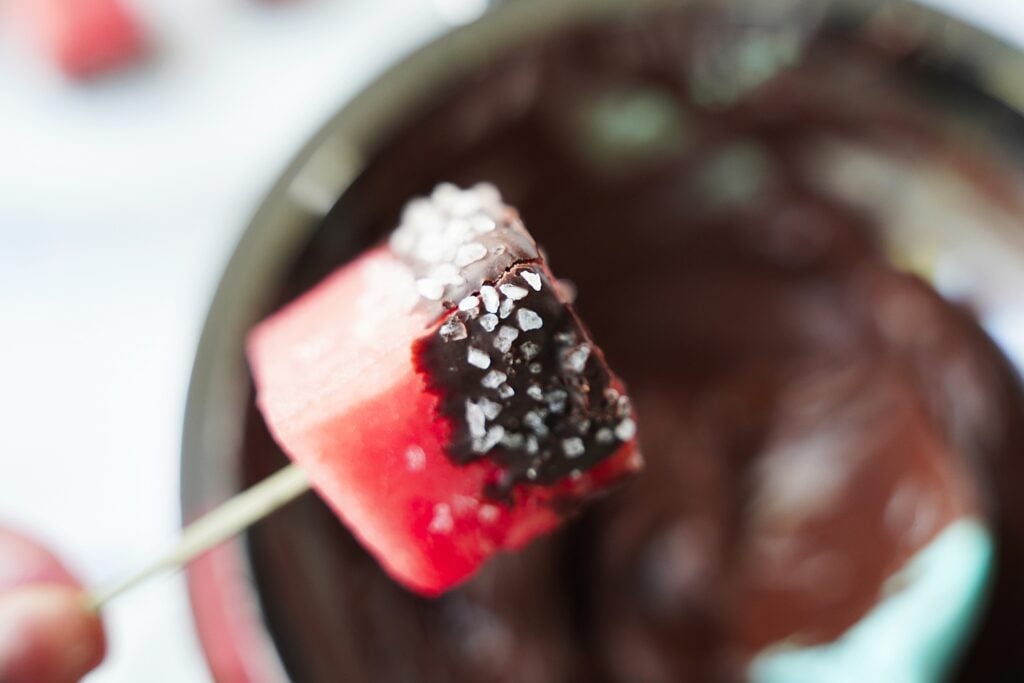 Step 6
Sprinkle with sea salt, let sit, and serve.
How to Choose Your Watermelon
First, take a look at your watermelon to make sure it's symmetrical and free of any bruises or soft spots. Then, pick it up. Since it's mostly made of water, it should feel heavy for its size. Last, turn it around and look for the "ground spot" — which means exactly what you think. The ground spot should be buttery yellow — not white or green.
If your watermelon meets all of these guidelines, it will be juicy and fresh.
How to Cut It Into Cubes
Rinse your watermelon under cool water and use a produce brush to give it a good scrub. Then dry it with a paper towel.
Cut your watermelon into thick slices. Start by cutting off the end and work your way to the other end with a large knife. You should now have big, circular slices.

Cut the rinds off of each circular slice so that you have a square piece with only the juicy flesh. Save the rinds and cook them later.

Cut your pink sheet into strips vertically, then horizontally to easily create proportionate cubes.
From there, grab a bowl and transfer your cubes to a storage container and freeze.
More About the National Watermelon Board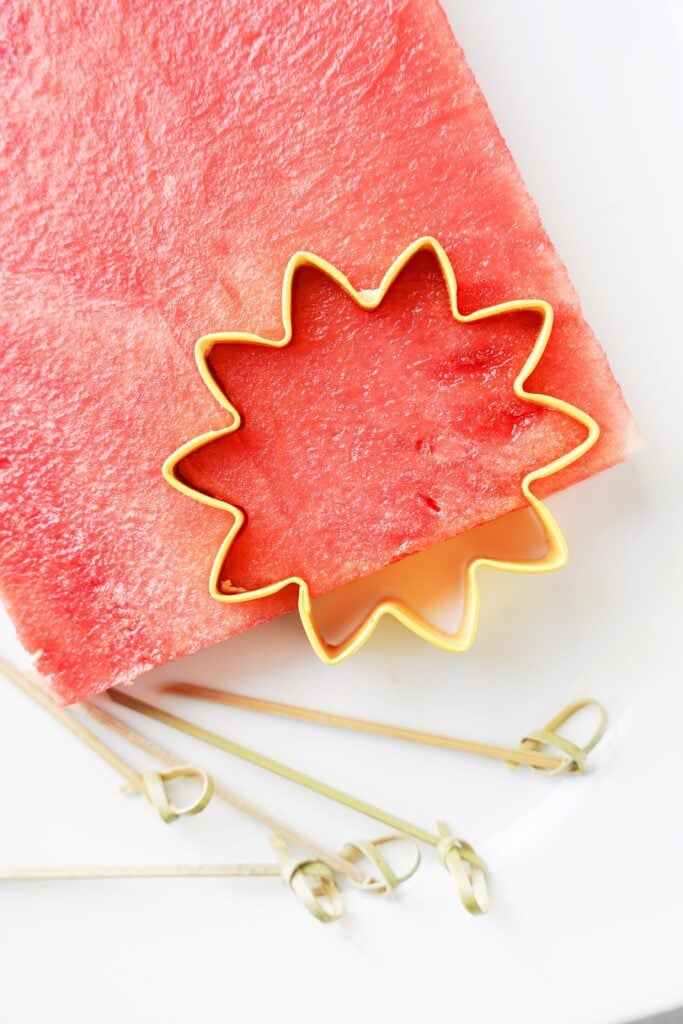 Sustainability is the Watermelon Board's number one priority. Each time you use the entire watermelon, you save about five pounds of food waste. Watermelon Board is devoted to helping you use the entire watermelon — the flesh, juice, AND rind. And we've partnered together to help you try new recipes that help you do just that. Be sustainable for the planet and your wallet.
Check out this calculator to see how you can cut down food waste when you eat all of your watermelons.
More Watermelon Recipes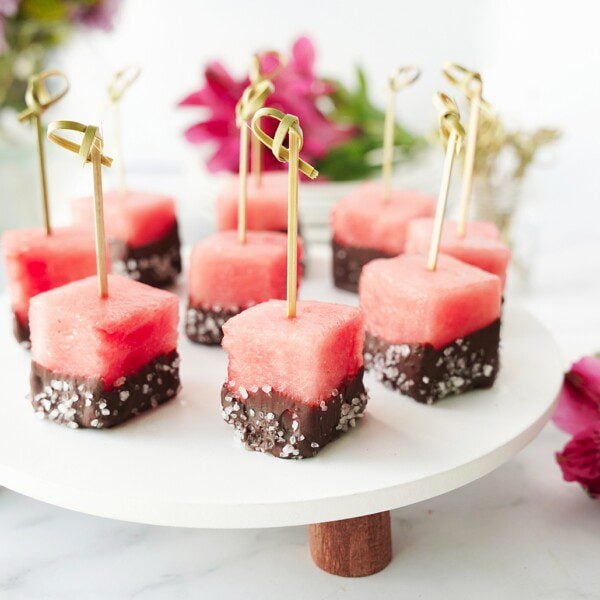 Chocolate-Covered Watermelon Bites
Chocolate-covered watermelon bites are bursting with refreshing flavor. Frozen watermelon coated in a hard chocolate shell and sprinkled with sea salt is the ideal ode to summer.
Ingredients
3

cups

watermelon

1-inch cubes

1

cup

block chocolate

chopped

sea salt

to taste
Instructions
Line a baking sheet or large plate with wax paper. Place the cubes on the wax paper e so they are slightly spread out and don't touch each other. Use a paper towel to draw out any excess moisture from the watermelon.

Stick a toothpick at the top of each piece of watermelon. Then, place the baking sheet in the freezer for 30 minutes.

While the watermelon is in the freezer, melt the chopped chocolate. Add a few inches of water to a pot over medium heat and add the chocolate to a heat-resistant or theramal glass bowl and set aside. When the water starts to boil, set the bowl on top of the pot. The water should not touch the bottom of the bowl.

Use a spatula to constantly stir the chocolate until it's melted.

Hold onto a cube with the toothpick and dip it in the warm chocolate. Let any excess drip off back into the bowl. The chocolate hardens quickly so have the salt ready to sprinkle as soon as the extra chocolate stops dripping. Transfer your complete watermelon bite to the wax paper to set. Repeat with all of your watermelon.

Serve immediately or store in the freezer until ready to serve.
Notes
Microwave your chocolate in 30-second increments, stirring in between if you don't have a proper glass bowl to double boil the chocolate. 
Do not use chocolate chips for this recipe. They have a waxy coating that makes it more difficult for the chocolate to stick to the watermelon. 
This is also fun to do with cookie cutters and different shapes. You can even use sprinkles to make it more fun for your kids!
Nutrition
Serving:
10
g
|
Calories:
102
kcal
|
Carbohydrates:
14
g
|
Protein:
1
g
|
Fat:
6
g
|
Saturated Fat:
4
g
|
Polyunsaturated Fat:
0.2
g
|
Monounsaturated Fat:
2
g
|
Sodium:
3
mg
|
Potassium:
102
mg
|
Fiber:
1
g
|
Sugar:
12
g
|
Vitamin A:
259
IU
|
Vitamin C:
4
mg
|
Calcium:
7
mg
|
Iron:
1
mg
Nutrition information is automatically calculated, so should only be used as an approximation.
Like this? Leave a comment below!