Watermelon Pizza
May 23, 2018, Updated May 25, 2021
Any way you slice it, watermelon pizza is delicious!
Who doesn't love a slice of pizza or a slice of watermelon? They are two of the yummiest, most fun foods to eat. So what happens when you turn a watermelon into a pizza? You get a slice of summertime! Watermelon with its juicy, sweet flavors decadently topped with cream cheese fruit dip, berries, kiwi, and mint… who could resist?!
Fruit pizza is traditionally made using a sugar cookie crust, which is delicious, but sometimes you don't want to take in all the added sugar of a cookie especially when you are already eating deliciously sweet fruit. No baking is required when you use watermelon instead of a sugar cookie mix as your crust. And who wants to bake in the summertime anyway? For all our friends who are avoiding gluten, watermelon pizza is gluten-free so go ahead and grab yourself a slice. But perhaps the most compelling reason to use a watermelon crust… it's ridiculously DELICIOUS!
Let's take a moment to rejoice in just how EASY watermelon pizza is to create. It looks stunning but it requires little effort to make. Fruit is naturally beautiful and when you add a rainbow of colorful fruit on top of a vibrant pink watermelon, well the art makes itself!
The most difficult part is slicing the watermelon into pizza rounds. To do this, use a sharp knife to cut clear through the watermelon. If your knife won't go fully through, you can make two cuts from either side. Just be sure your cuts line up. After you make your first cut, continue to make 1-inch cuts until you have enough rounds to create the number of pizzas you desire. The size of the pizzas will vary slightly, with the largest coming from the center of the watermelon and the smallest towards the ends.
Once you get the watermelon cut into rounds, all that's left is to top it. We chose a cream cheese fruit dip as the "pizza sauce" but you could also use Greek yogurt, honey, or no sauce at all. For our toppings, we selected three types of berries, kiwi, and mint. What can we say, we like a lot of toppings on our pizza! But pizza is personal, so top yours with whatever you like best. One watermelon can be sliced up into many different pizza pies, so try out different combinations to find your favorite.
Produce Mom Tip: Short on time? Buy a pre-made fruit salad or fruit tray at your local grocery store and use this for the toppings. It will cut back on prep time.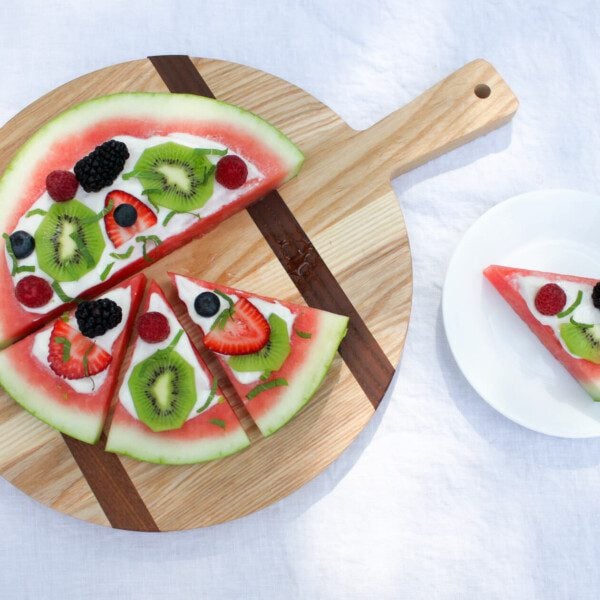 Ingredients
1

watermelon

sliced into rounds

cream cheese fruit dip

blueberries

strawberries

sliced

blackberries

kiwi

sliced thinnly

mint

chopped
Instructions
Cut watermelon into 1-inch rounds.

Spread a layer of cream cheese fruit dip onto the watermelon, stopping just before the rind begins.

Top with berries, kiwi, and mint. Serve cold.
Nutrition information is automatically calculated, so should only be used as an approximation.
Like this? Leave a comment below!
Choosing a Watermelon
The best watermelon pizzas start with the best watermelons. Our brand partners at the Watermelon Board have these tips for choosing a great watermelon:
Look for a firm, symmetrical watermelon that is free from bruises, cuts or dents.
Look for a watermelon that is heavy for its size.
 Look for a watermelon with a creamy yellow spot from where it sat on the ground and ripened in the sun.
Did you know that every part of a watermelon can be used? Before you throw that rind away, check this out!
Which toppings will you choose for your watermelon pizza? Pineapple? Pomegranate arils? Cantaloupe? The options are endless!