Sandía Loca | Mexican-Style "Crazy" Watermelon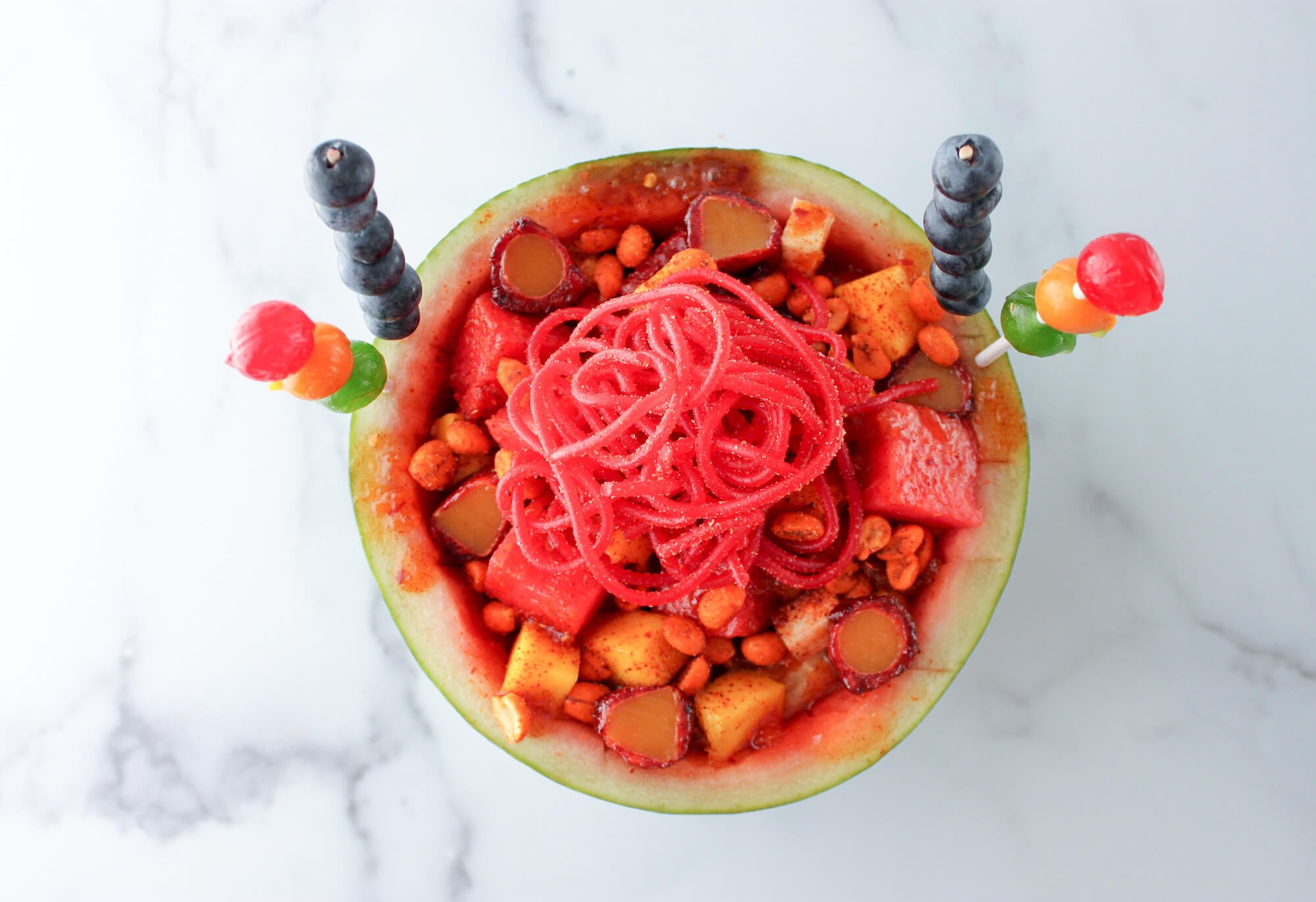 You'll go crazy for Sandía Loca!
Sandía Loca means "crazy watermelon" in Spanish. It is a traditional Mexican dish that is a party for the eyes and the mouth! A hollowed out watermelon is filled with produce and candy, drizzled with chamoy sauce, sprinkled with Tajín seasoning, and then decorated with more candies. It's delightfully wacky!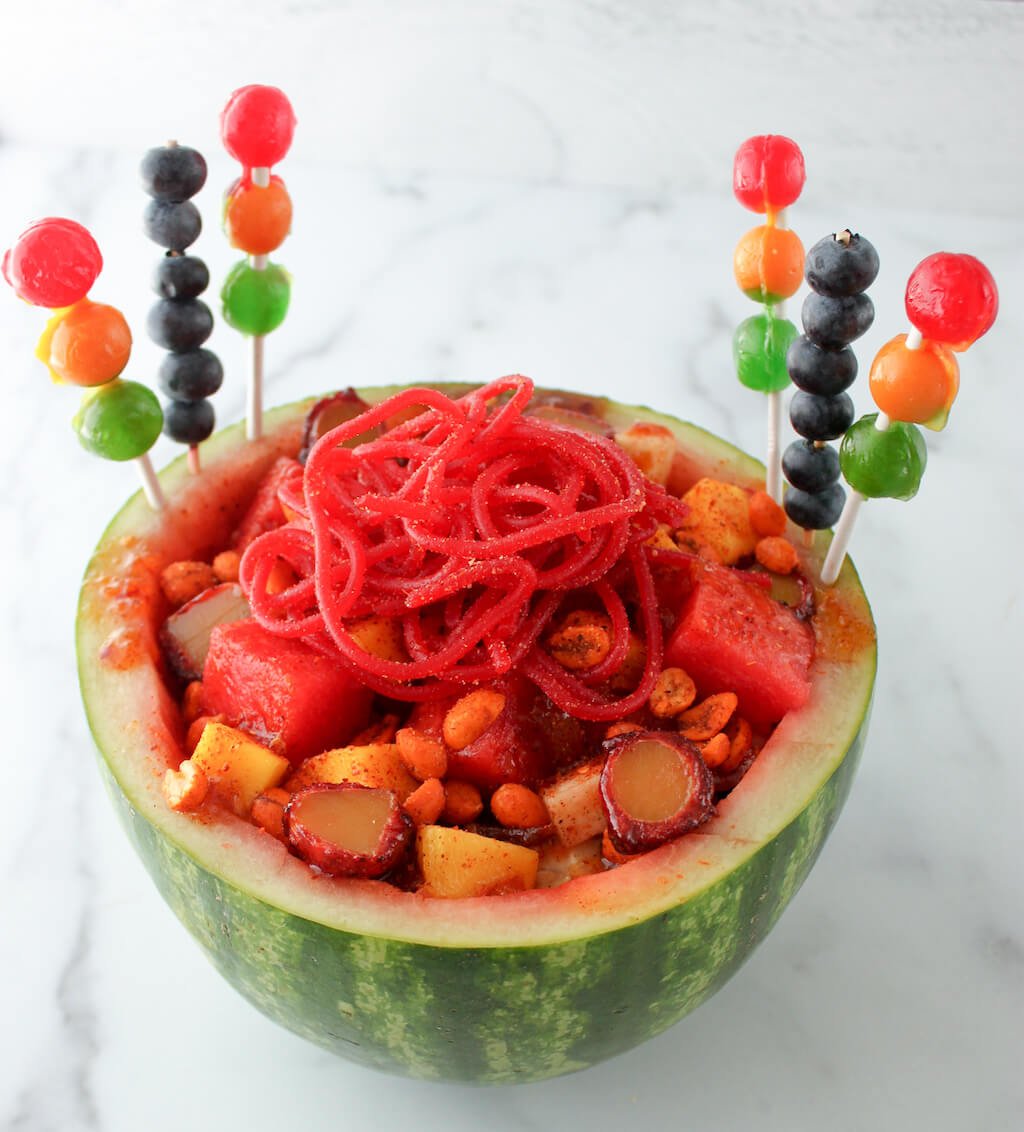 To make Sandía Loca, begin by cutting a seedless watermelon in half. Remove the watermelon by scoring it several times in both directions and scooping it out with a large spoon. Save the watermelon chunks, they will be going right back in!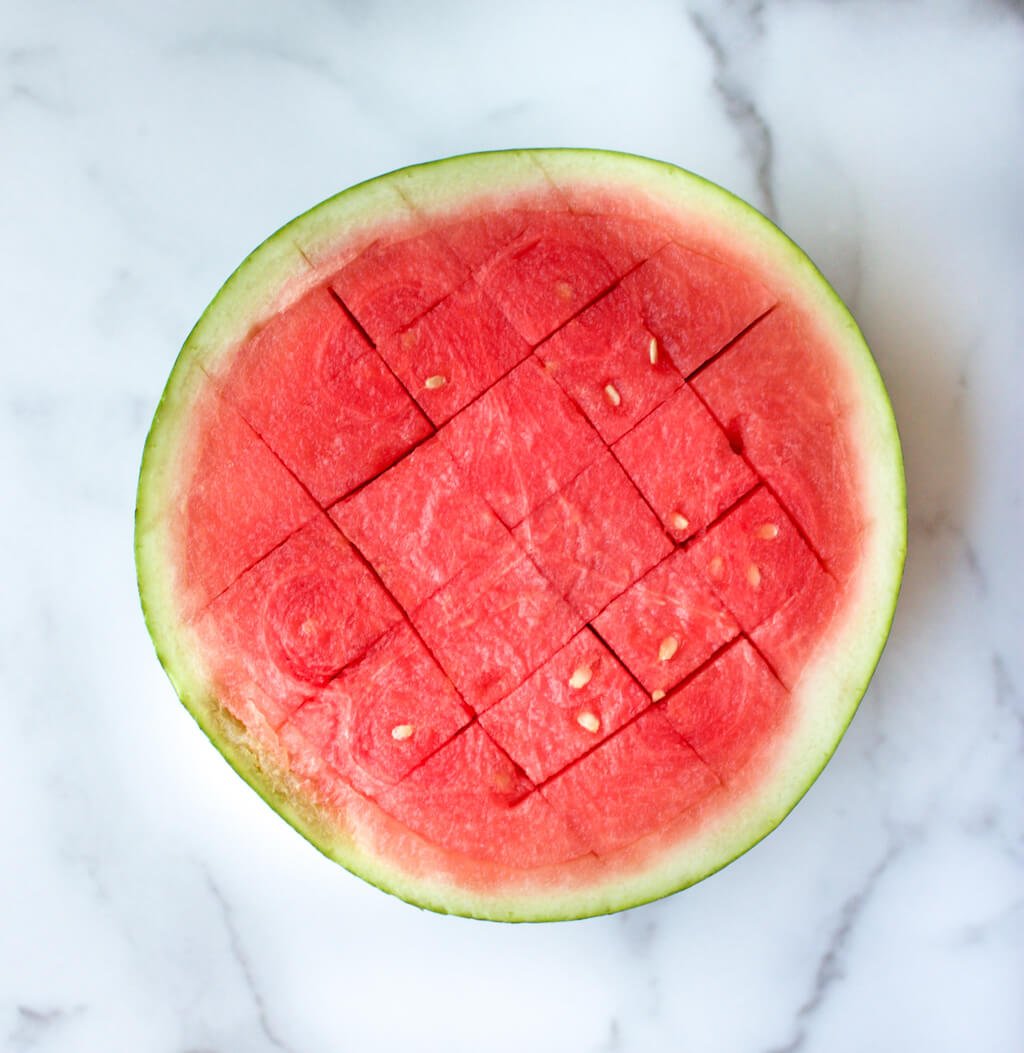 PRODUCE MOMS TIP: To help you Sandía Loca stay stable, cut a thin sliver of the watermelon rind off the bottom. Giving it a flat bottom will prevent it from rocking back and forth. 
Next, prep your other fruits and veggies. You can use whatever you'd like but we recommend jicama, mango, and cucumber. Cut each item into small, bite-size pieces. Learn the best ways for cutting mango here.
Once all your produce is chopped into bite-sized pieces, start filling the watermelon shell back up with it. Then, drizzle on lime juice and chamoy sauce and add a generous sprinkle of Tajín seasoning. Next, add some peanuts and Mexican candies. Lastly, stick a few lolipops or fruit kabobs into the rind of the watermelon.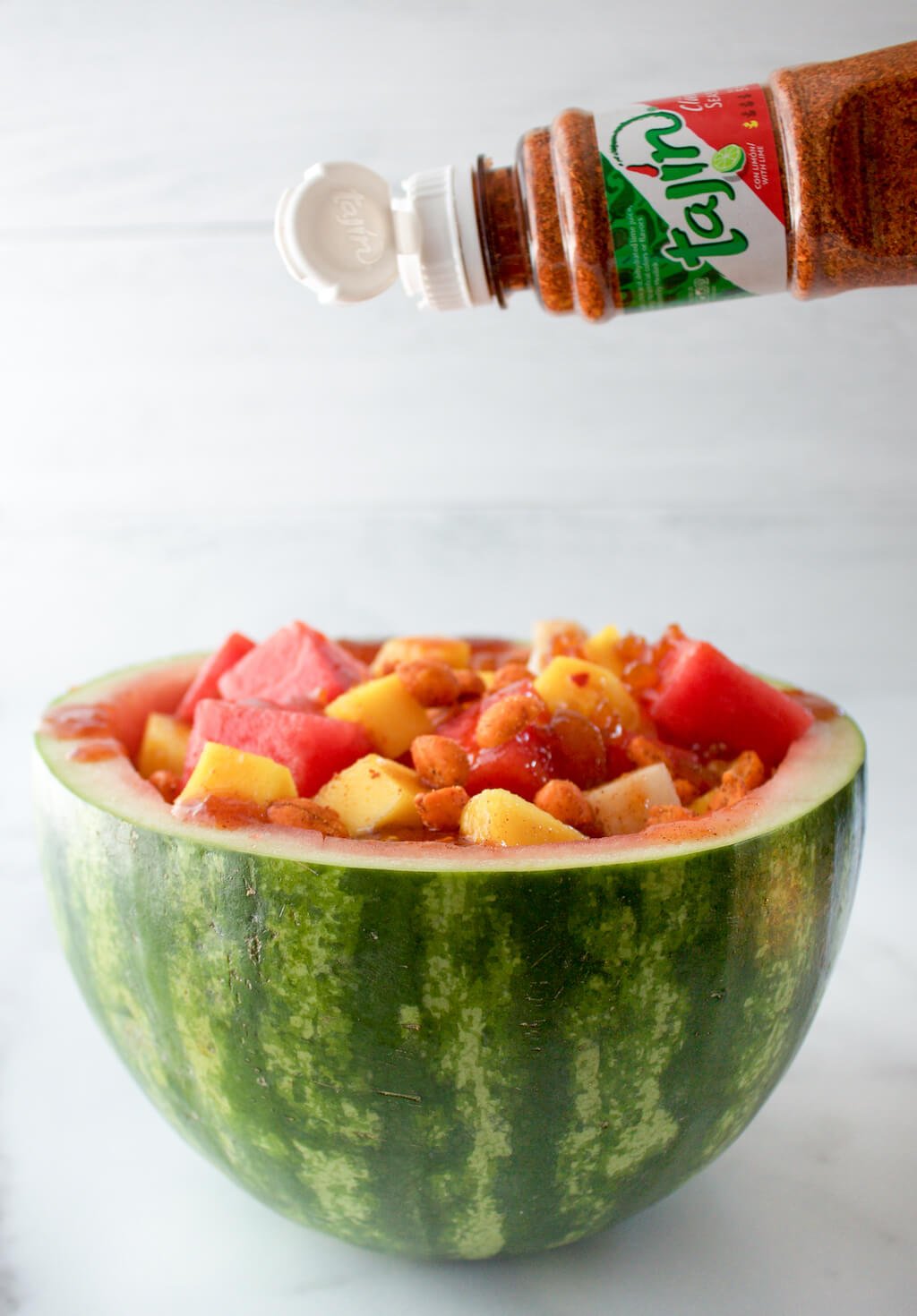 Use whichever types of Mexican candies you'd like, but be sure to choose at least one or two tamarind candies. Lucas Salsagheti is highly encouraged! International markets and Mexican grocers will have a variety of candies to chose from.
Fruit skewers are also a great decoration. Try blueberries, mango, pineapple, kiwi, or strawberries sprinkled with Tajín. Place the skewers around the edges of the watermelon.
Don't overthink it and remember: the crazier the better!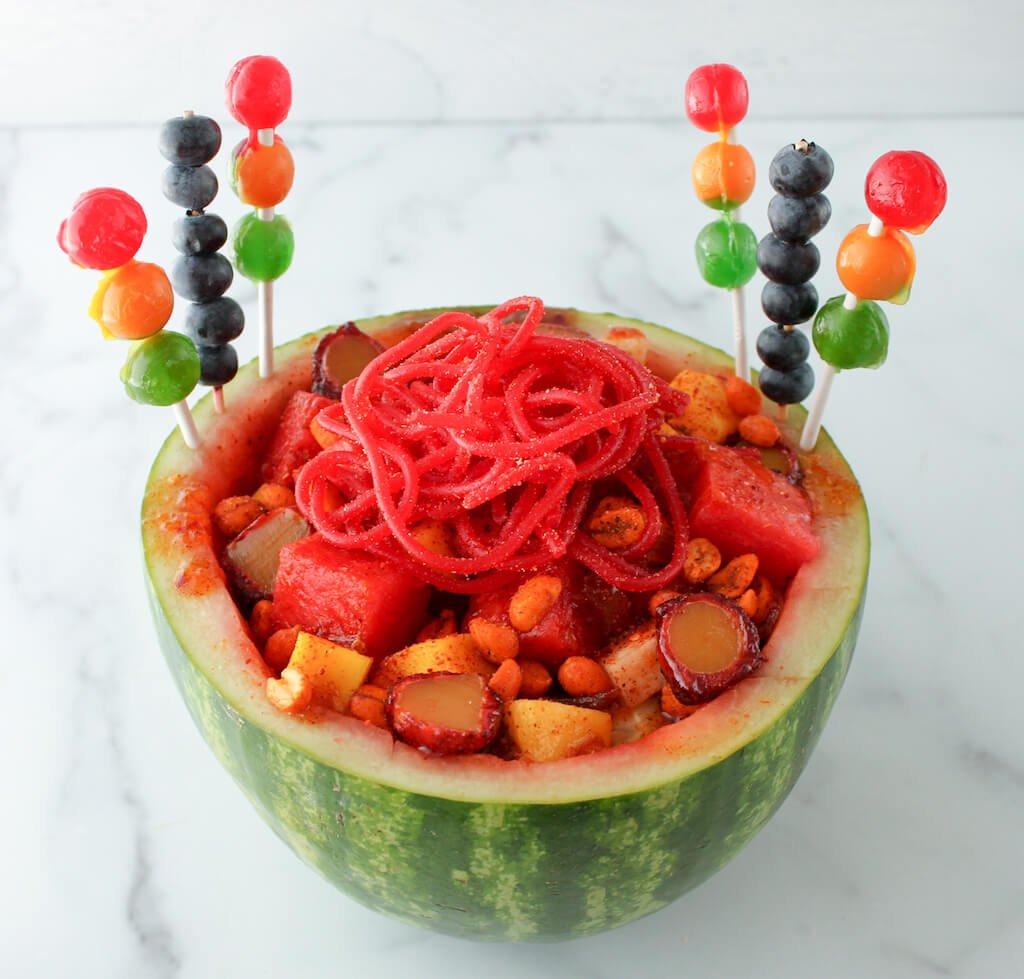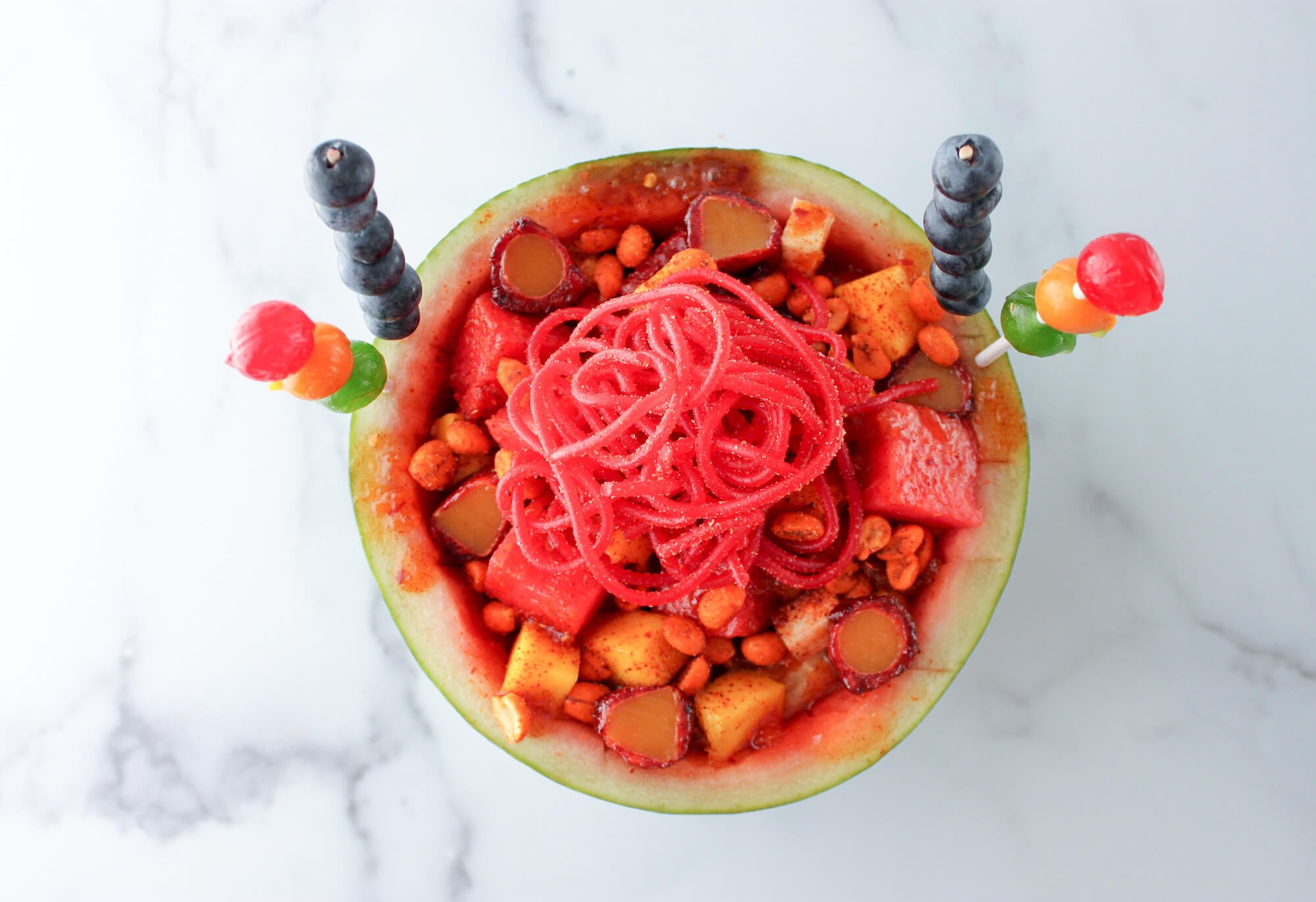 Ingredients
1

watermelon

1

jicama

peeled and cut into bite-size pieces

1

cucumber

peeled and cut into bite-size pieces

1

mango

cut into bite-size pieces

1

lime

juice only

1/2

cup

chamoy sauce

or to taste

2

tbsp

Tajín seasoning

Mexican candies

choose whichever varieties you'd like

peanuts

to taste
Instructions
Cut a watermelon in half. Cut a thin sliver of watermelon rind off the bottom of the watermelon half you plan to use so it sits without rocking.

Score the flesh of the watermelon several times in both directions. Remove the watermelon chunks with a spoon and set aside.

Combine the watermelon chunks with jicama, cucumber, and mango. Lightly mix and pour contents into the empty watermelon shell.

Pour lime juice and chamoy sauce over top of the fruit. Sprinkle on Tajin seasoning.

Decorate: Add peanuts and candies on top of fruit. Place lollipops and fruit skewers into the watermelon rind.
Now all that's left is to grab a few forks and dig in with friends!
Have you made Sandía Loca before? Which fruits and candies do you add? Tell us in the comments below.