5 Minute Apple & Cottage Cheese Breakfast Bowl — Sweet, Satisfying, and Low Carb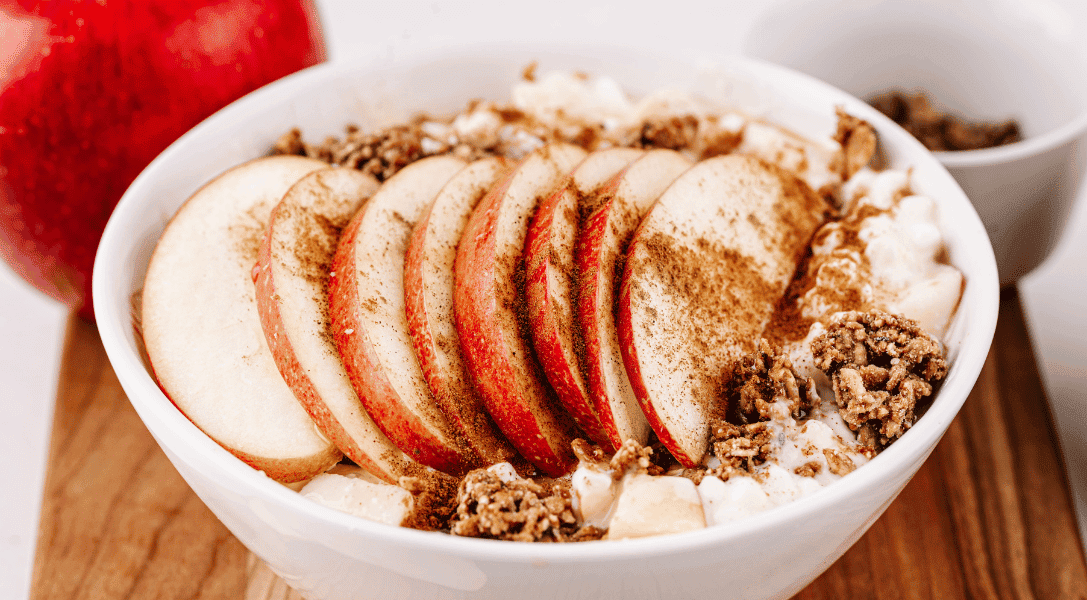 This cottage cheese breakfast bowl recipe is about to blow you and your kids away. Made with creamy cottage cheese, crisp apples, sweet maple syrup, and topped with crunchy granola, warm cinnamon, and more apples – your whole family will not be able to get enough. Ready in five minutes for an easy back-to-school breakfast your kids can make themselves.
School is back in session for most.
Right about now, you're starting to think about what to do for breakfast and lunch for your kids – and yourself, for that matter.
We love a quick breakfast recipe that helps everyone get where they need to be on time and feel full from a nutritious meal. That's all a mom could ask for.
And this cottage cheese breakfast delivers on affordability, ease, and nutritional quality.
Ready to see how you can do it too?
Check it out!
What Are Apple & Cottage Cheese Breakfast Bowls?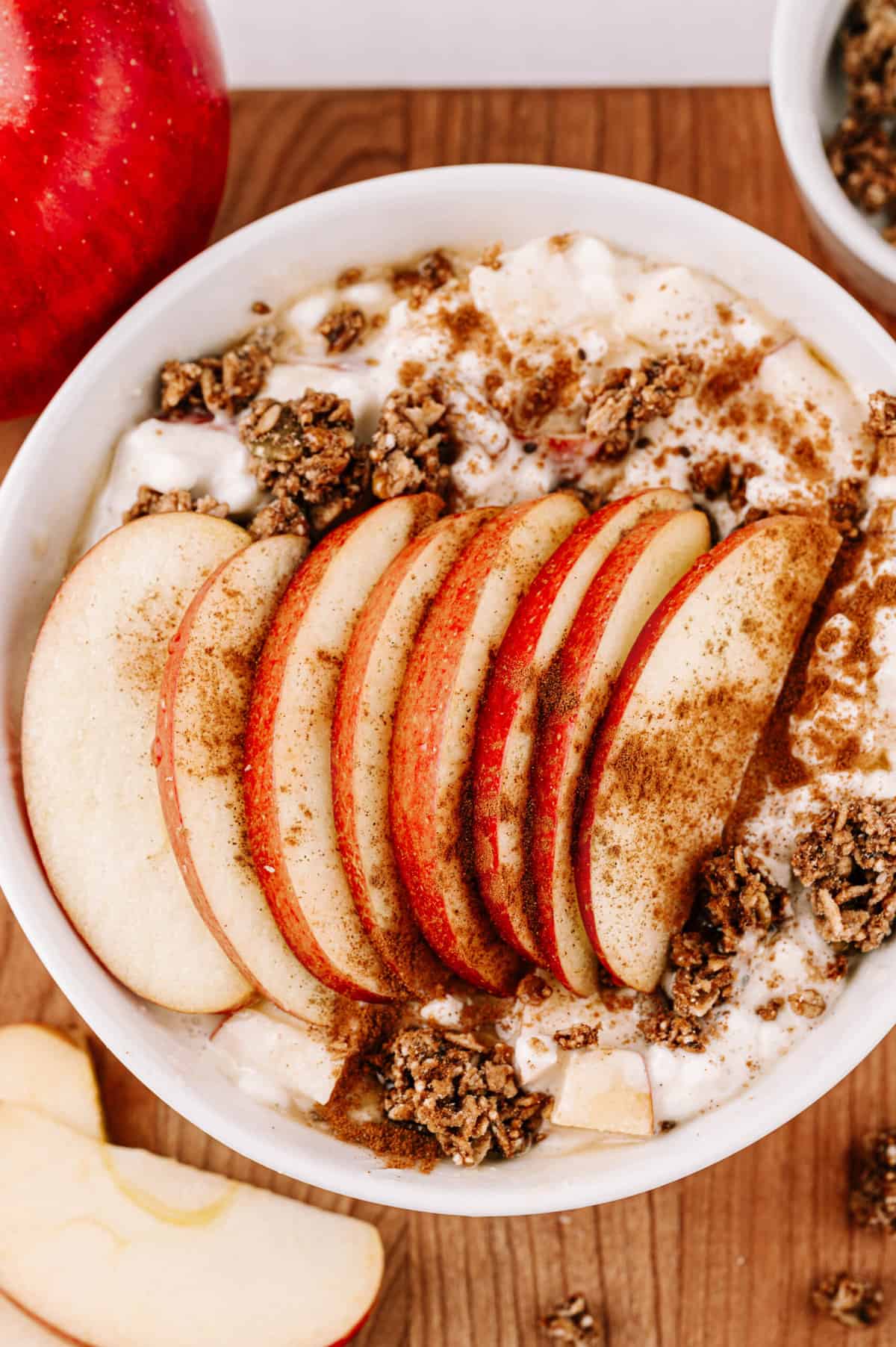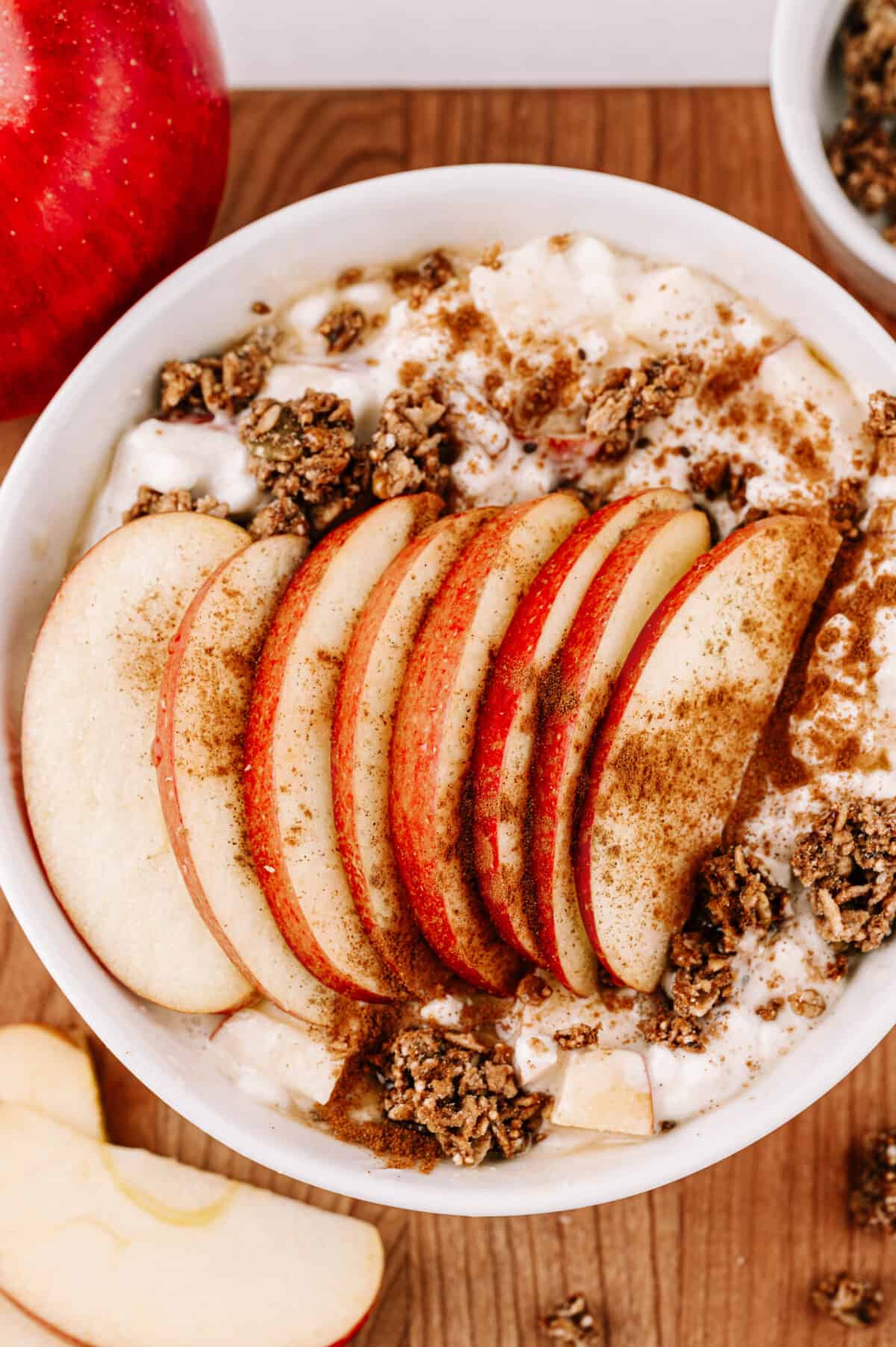 Cottage cheese apple breakfast bowl is sponsored by Envy™ Apple.
You've likely heard of protein bowls or breakfast bowls. But the cottage cheese bowl may be a new one for ya. We promise it's simple to throw together, like your other bowls piled with your favorite protein or breakfast items. The base is made with cottage cheese and mixed with apples, raisins, and maple syrup. Then it's topped with crunchy granola and thin apple slices.
In fact, as moms ourselves, we guarantee you'll fall in love with this breakfast recipe as much as your kids. And the best part is that kids can make this recipe themselves for an easy back-to-school breakfast.
Ingredients for Your Cottage Cheese Breakfast Bowl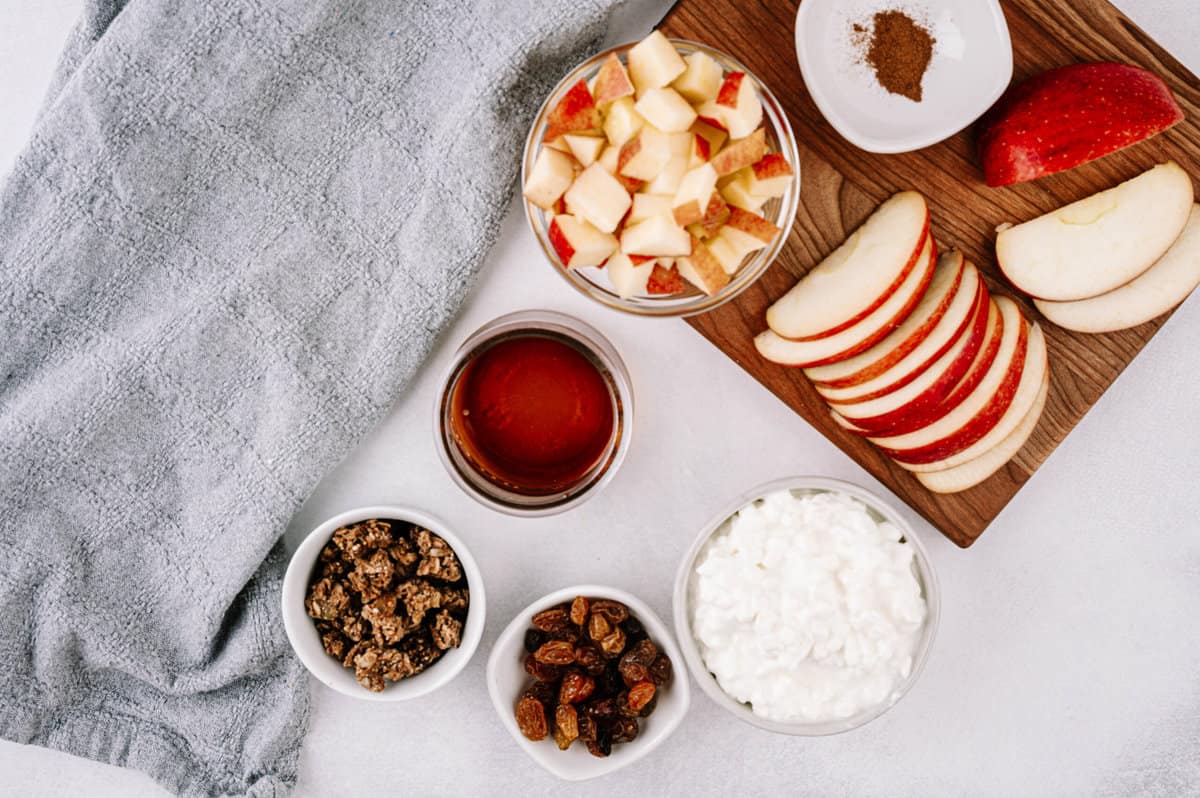 Ready to get breakfast made in 5 minutes flat? All you need are six ingredients that are easily accessible at any grocery store, no matter where you live. Around here, we're all about affordability, flavor, and nutritious ingredients. And this recipe gets a gold star in each of those areas.
Here's what you need.
1. Cottage Cheese
Instead of oats, we're using cottage cheese as the base of your breakfast bowl. After the curds in cottage cheese form, they are rinsed so that the acid used to cause the curdling is gone. This gives it a sweeter taste that kids really enjoy. It's high in protein and calcium to help your kids develop strong bones and teeth for an A+ checkup with your doctor.1
You may have noticed that cottage cheese has made a huge comeback (thanks to social media). It is all the trend with breakfast bowls, ice cream, cookie dough and so much more!
If you really want to get a nutrient-packed cottage cheese for your family, look for one with probiotics for optimal gut health. Probiotics are live cultures, or good bacteria, that can help keep your kids healthy, especially as we head into another school year. Look for cottage cheese in the dairy section of your local grocer.
2. Envy™ Apple
There are so many things to love about Envy™ apples:
Crisp indulgent flavor

Balanced sweetness

Delightful crunch as you bite into them.
If you plan to prep your cottage cheese breakfast bowls for the week, you definitely want Envy™ apples. The flesh of these vibrant red apples stays white longer than other apples, making them ideal for make-ahead recipes.
The apples really elevate the sweetness of this breakfast bowl. Use this store locator tool to find Envy™ apples near you. And if your store doesn't carry them, just ask! Often, managers are happy to order produce at your request. And you'll be so glad you did.
3. Granola
If you like oatmeal, chances are you'll enjoy a crunchy granola topping with yogurt, as a breakfast bar, or plain with a little bit of milk poured over it. The advantage to adding granola is that the combination of seeds, nuts, and dried fruits adds healthy fats and fiber that don't quite compare to oats. Still great, but granola kicks things up a notch in the nutrition department.
Feel free to make your own or buy a premade option at your favorite grocery store. Most of them use pretty similar ingredients that still pack a punch in flavor and nutrition that your kids are bound to love. Try a few brands to find your favorite one.
4. Golden Raisins
The light, almost translucent golden raisins look like beautiful rays of sunshine when added to any recipe. Unlike raisins, they're plump and soft, not so dried out — with a more fruity taste than traditional. Golden raisins are naturally sweet, so they don't need (or have) added sugars. Although golden raisins have fiber and antioxidants, they should still be eaten in moderation.
One-third of a cup is the perfect amount of natural sweetness to balance out your cottage cheese breakfast bowl. Your kids will never get tired of this easy-to-make breakfast.
5. Cinnamon
Did you know that cinnamon is made from the bark of a cinnamon tree? Yep, that's right. Strips of the tree's inner bark are dried until they curl, making cinnamon sticks. Then the sticks are ground into powder to make ground cinnamon.
Just be careful not to overdo it on the cinnamon because it doesn't break down easily. That's you may cough, choke, or feel a burning sensation when you eat too much of it. And this can happen more so with kids. Just a pinch, sprinkled over the top of your cottage cheese breakfast bowl, is all you need.
6. Maple Syrup
When you want to sweeten a recipe, use a natural sweetener. Maple syrup is one of our favorite ways to sweeten things up a bit, especially when using a more savory ingredient like cottage cheese. Similar to jam and cheese, maple syrup gives this breakfast bowl recipe that yummy blend of sweet and creamy.
Because of the strong natural sweetness in maple syrup, you don't need a lot. Only two tablespoons. If you don't have maple syrup on hand, feel free to use honey or agave. You'll likely need more than two tablespoons because they aren't as sweet. But they still add the sweetness that gets your kids requesting this over and over again.
How to Make an Apple & Cottage Cheese Breakfast Bowl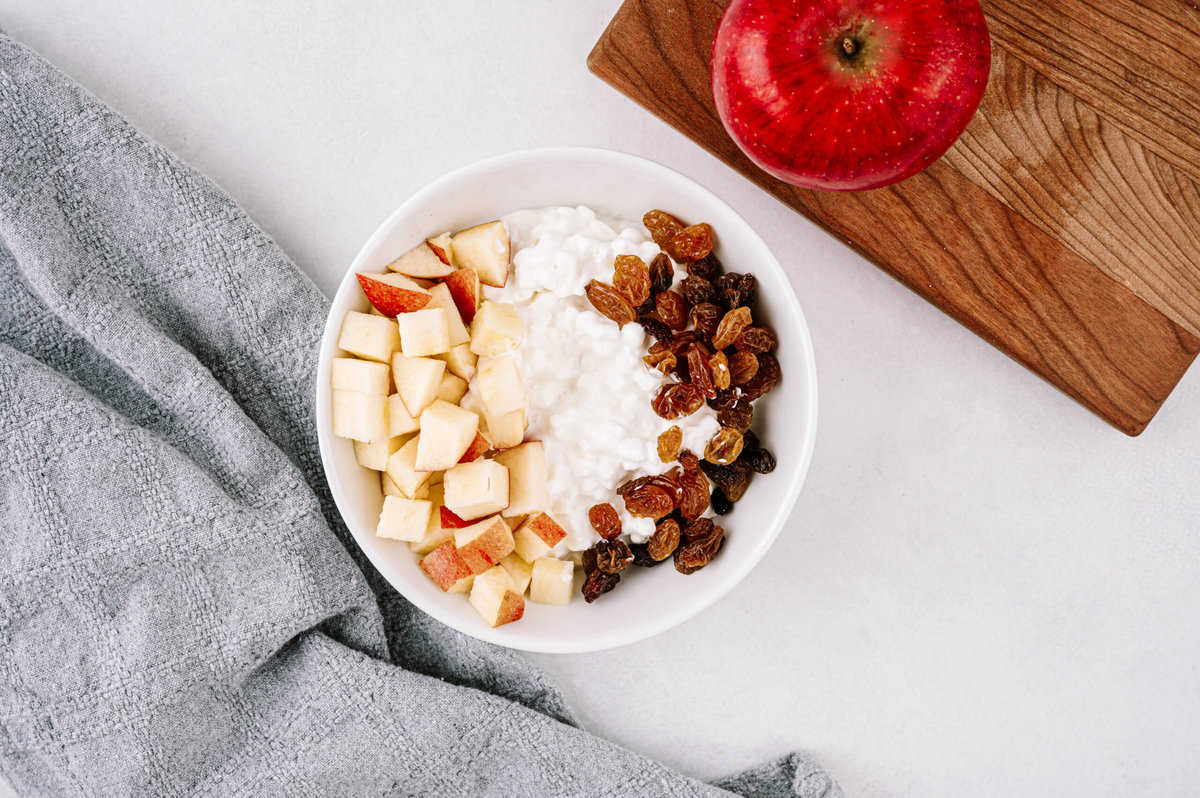 Step 1: In a serving bowl, add the cottage cheese, diced Envy™ apples, golden raisins, and maple syrup. Use a spoon to mix in all of the ingredients until they're combined.
Step 2: Evenly sprinkle the granola over the top.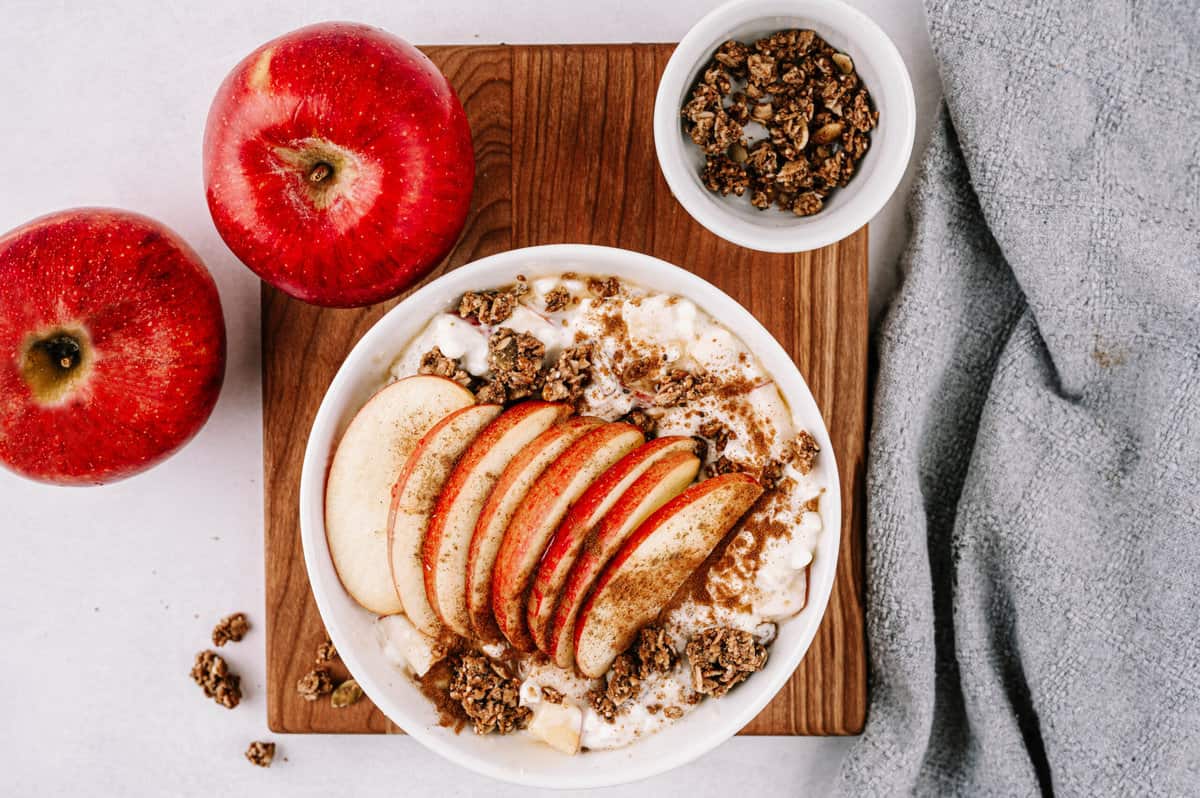 Step 3: When you're in a hurry, place the Envy™ apple slices on top. If you want to make it look pretty, fan the apple slices and place them where you think looks appealing – to the side, at the top.
Step 4: Grab a pinch of cinnamon with your fingers or gently shake the ground cinnamon bottle to evenly add a warm spice to your cottage cheese bowl.
Step 5: Pour the maple syrup into a tablespoon and drizzle it over your cottage cheese bowl. Repeat with the second tablespoon. Drizzle it randomly or do it in opposite directions with each tablespoon. For extra fun for the kiddos, let them do the drizzling.
More Breakfast Recipes
How to Select the Perfect Apple
Look and feel are two of the easiest ways to tell if an apple is ripe and ready for your cottage cheese breakfast bowl. Red apples should have firm flesh with vibrant red skin. If there are any dents, bruises, or blemishes, it's best to look for another apple. However, while feeling around for any soft spots, be careful not to pinch the skin with your fingers and possibly bruise it.
How to Store Apples
Apples love to be stored in cooler temperatures. This helps extend their shelf life from the time you bring them home to the time you eat them. If you plan on eating your apples within a day or two, you can store them at room temperature, but they'll have a more crisp, fresh taste when refrigerated. Be sure not to store your apples with potatoes or onions outside of the fridge because they can absorb those distinct, savory flavors.
5 More Ways to Eat Cottage Cheese
One of the amazing things that gets overlooked about cottage cheese is how versatile it is. It can be made into a sweet or savory appetizer, lunch, breakfast, or dessert. Add any number of combinations of your favorite fruits, veggies, and toppings to easily stretch your grocery budget and avoid food waste.
Here are a few more ideas to get you started.
Peanut Butter and Jelly

— Oats, peanut butter, and jelly

Veggies

— Tomatoes, cucumber, and pepper

Fruit

— Blueberries and almonds

Tropical

— Banana, pineapple, and coconut

Dessert

— Cocoa powder, peanut butter, granola, vanilla, and brown sugar
It's versatile, right?
You can add anything you want to cottage cheese, even whip it into a dip. And if you can't think of anything, let your kids experiment with the toppings you have on hand. Some of their weird flavor combos may turn out to be a new favorite.
Have fun and get creative with it.
Why We Love Envy™ Apple for the Cottage Cheese Breakfast Bowl
Envy™ Apple's mission is to be a part of the small everyday moments you enjoy with your family, especially your kids. They're only little for so long, right? We love partnering with them because food is such a universal element in bringing families together and making memories in the kitchen. With an apple that's sweet, fresh, crisp, and vibrant, Envy makes it easy to remember the little moments with your family.
From the time their apples grow in rural communities to the time they get on your plate, Envy™ uses purposeful growing techniques to give you extraordinary apples to enjoy the moment. Look for the red and white apple logo for a truly incredible apple experience.
More Envy™ Recipes We Love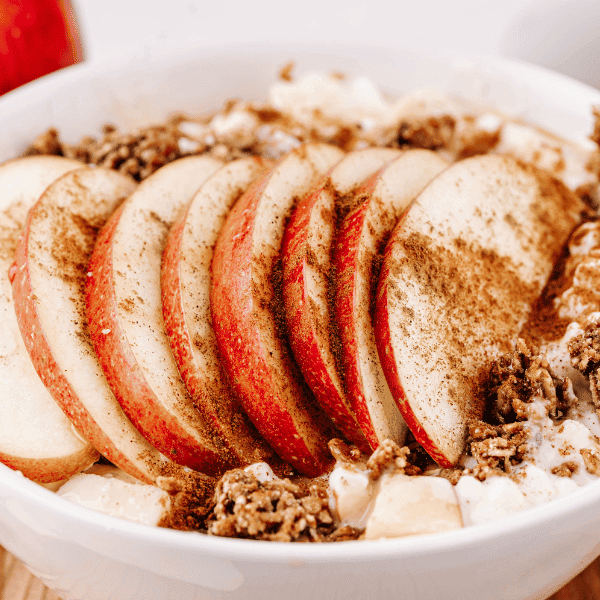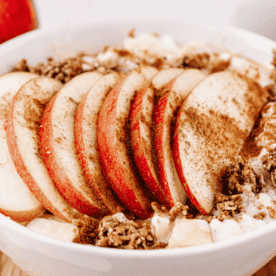 Cottage Cheese Apple Breakfast Bowl
A quick and easy protein-filled cottage cheese breakfast that's ready in 5 minutes and keeps your family feeling full, all morning long.
Print
Pin
Rate
Ingredients
1/2

cup

cottage cheese

1

Envy™ apple

1/2 diced and 1/2 thinly sliced

1/3

cup

golden raisins

1/3

cup

granola

pinch

ground cinnamon

2

tablespoons

maple syrup

plus extra for drizzling on top
Instructions
In a bowl, mix cottage cheese, diced Envy™ apple, golden raisins, and maple syrup.

Top your cottage cheese breakfast with the granola and thin slices of Envy™ apple.

For garnish, sprinkle with cinnamon and drizzle with maple syrup. Serve or store for a ready-to-go breakfast or snack.
Nutrition
Calories:
548
kcal
|
Carbohydrates:
116
g
|
Protein:
17
g
|
Fat:
6
g
|
Saturated Fat:
2
g
|
Polyunsaturated Fat:
1
g
|
Monounsaturated Fat:
2
g
|
Cholesterol:
18
mg
|
Sodium:
407
mg
|
Potassium:
892
mg
|
Fiber:
8
g
|
Sugar:
83
g
|
Vitamin A:
400
IU
|
Vitamin C:
10
mg
|
Calcium:
167
mg
|
Iron:
4
mg