Dragon Fruit Yogurt Parfait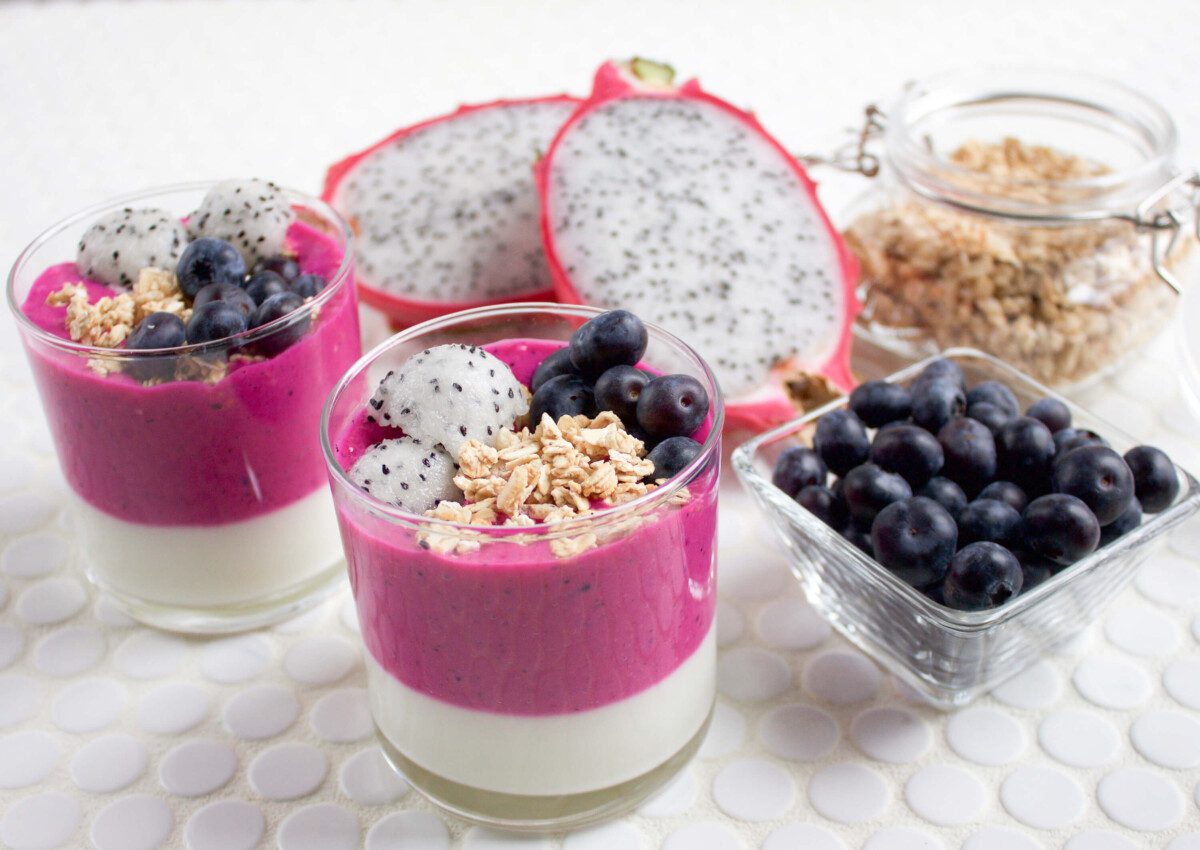 Dragon Fruit, also known as Pitaya, is native to Central and South America and is now grown around the world, particularly in Asian countries. Dragon fruit has a subtle sweetness and is juicy like a watermelon or pear. Its texture and black edible seeds are similar to a kiwi. Dragon Fruit Yogurt Parfaits are a fun way to enjoy dragon fruit. Their vibrant color and sweet and tangy flavors are irresistible!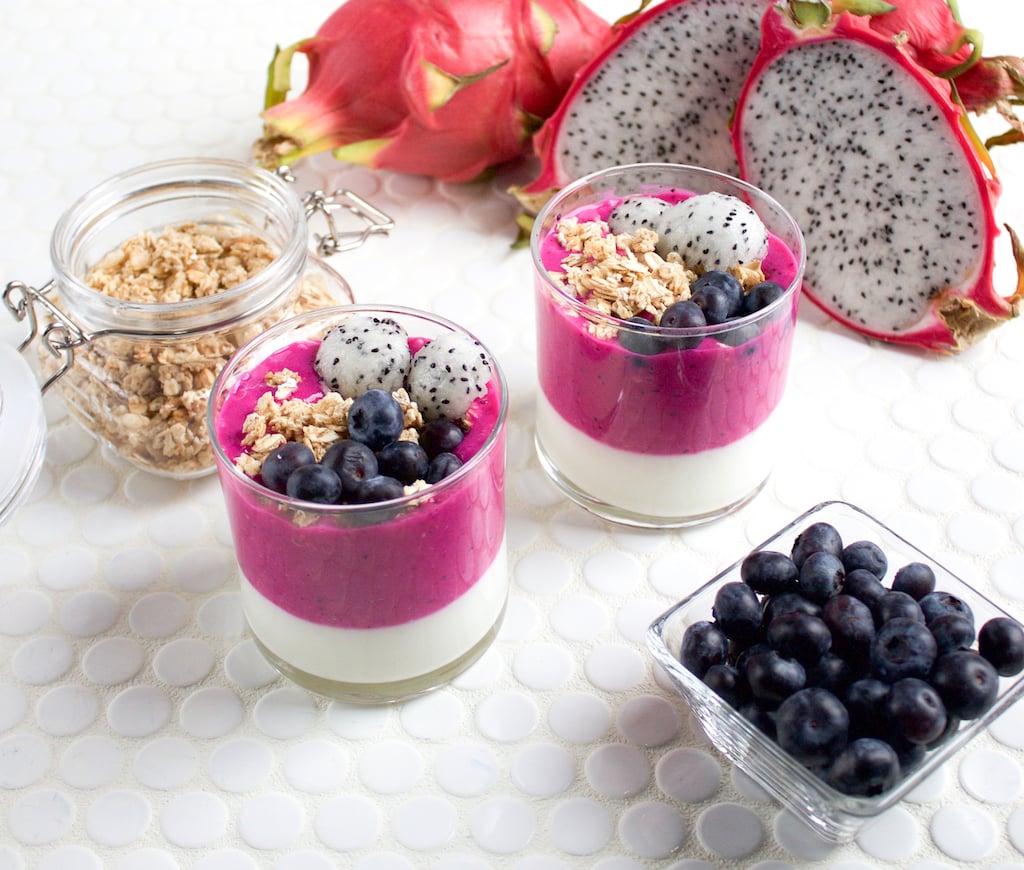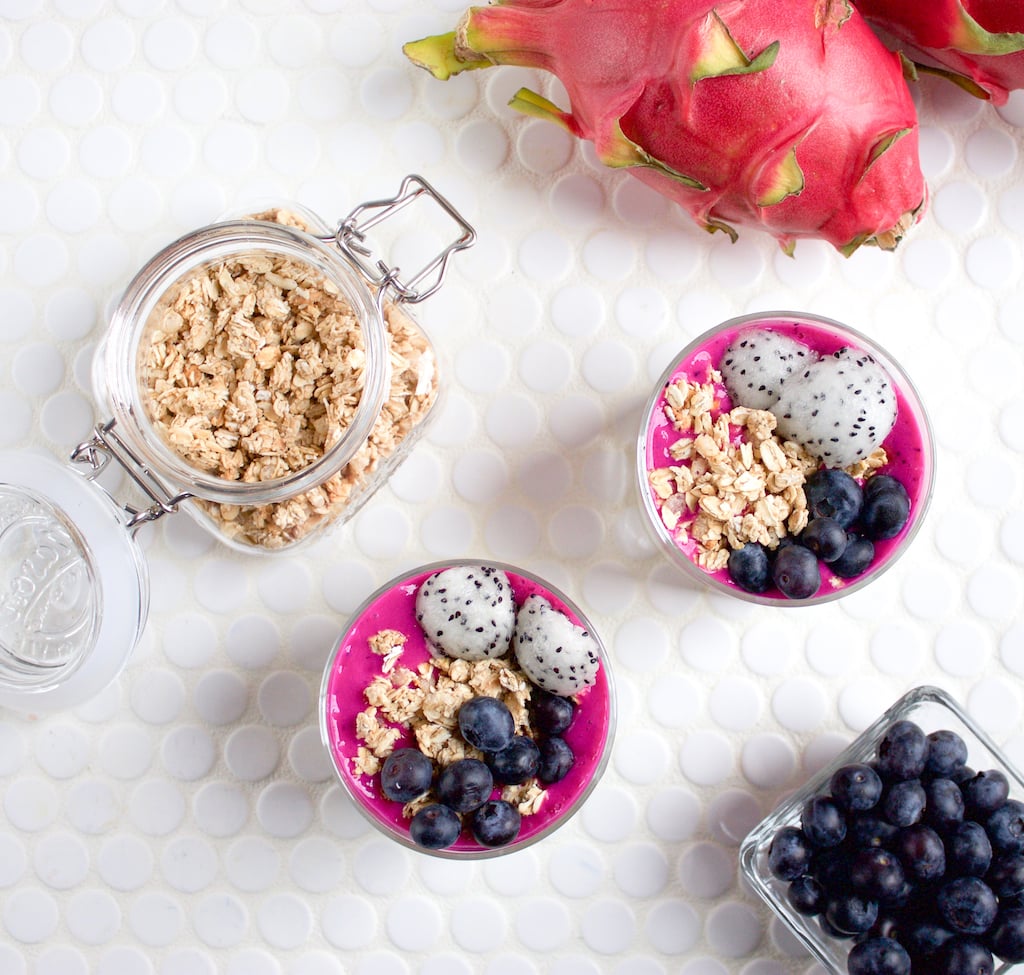 Its name and spiky exterior may seem intimidating, but actually, dragon fruit is quite approachable. The spikes on the outer shell are not sharp. A knife easily cuts through the outer skin. To open a dragon fruit, run your knife lengthwise down the middle. Then you can scoop out the flesh with a spoon — simply run the spoon between the flesh and the skin and then cut the flesh into small chunks. You can also use a melon baller to scoop the flesh out into attractive spheres.
Dragon fruit is delicious to eat by the spoonful, in fruit salads, or added to smoothies. Today, we are sharing a favorite recipe for Dragon Fruit Yogurt Parfaits. These make for a great energy-boosting breakfast or a fun after-school snack. Kids love the nearly neon pink color! Trying to skip dessert but still craving something sweet? Indulge with a Dragon Fruit Yogurt Parfait instead!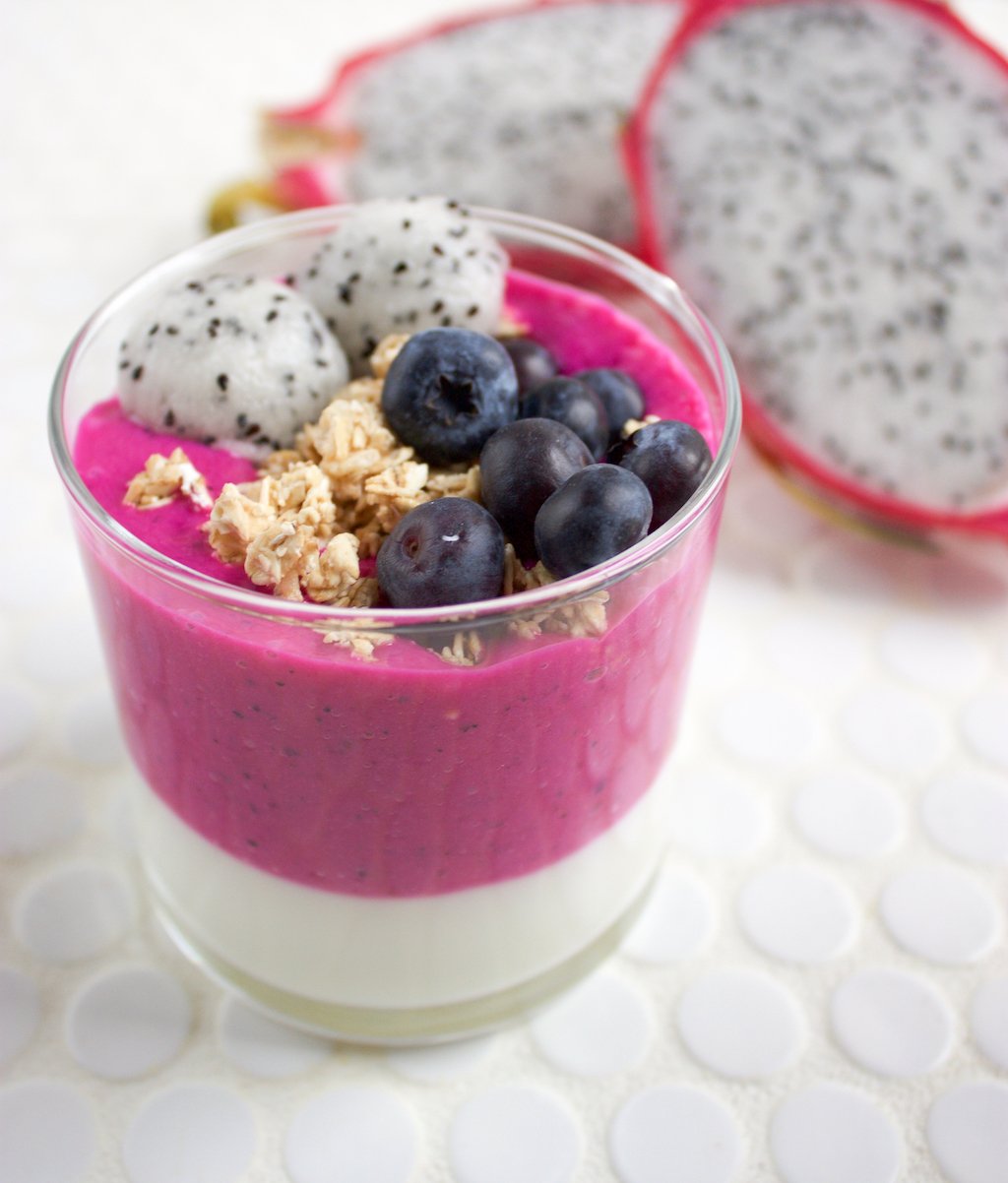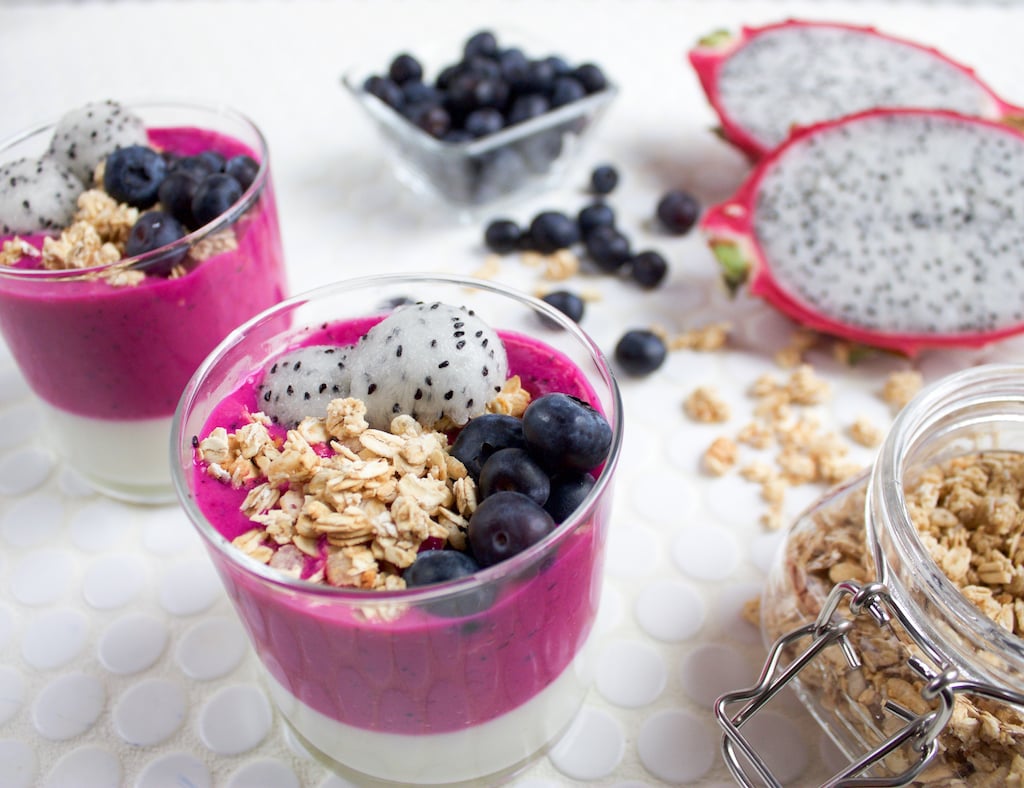 Red vs White Dragon Fruit
Some dragon fruits have a red flesh while others have white flesh. It can be difficult to tell the two apart from the outside. Typically, red-fleshed dragon fruits are rounder while white-fleshed ones are oblong. Most grocery stores will label which is which and often times there is a sticker on the fruit itself describing the color of the flesh. Red and white-fleshed dragon fruits taste similarly, with the red-fleshed fruits tasting a bit sweeter and richer.
In this recipe, we use both red and white dragon fruits. However, if you can only find one color that's fine. They can easily be substituted for one another.
Produce Mom Tip: If you can't find red-fleshed dragon fruit in the produce department, check the frozen food section. Most grocers sell frozen, red-fleshed dragon fruit near the frozen berries and other fruits.
Dragon Fruit Nutrition
Dragon fruits are rich in magnesium, which can help boost energy and relax the body's muscles, and a good source of B vitamins, vitamin C, iron, fiber, and calcium. They are rich in antioxidants and contain many phytonutrients, which may help prevent disease and help keep the body healthy and running properly.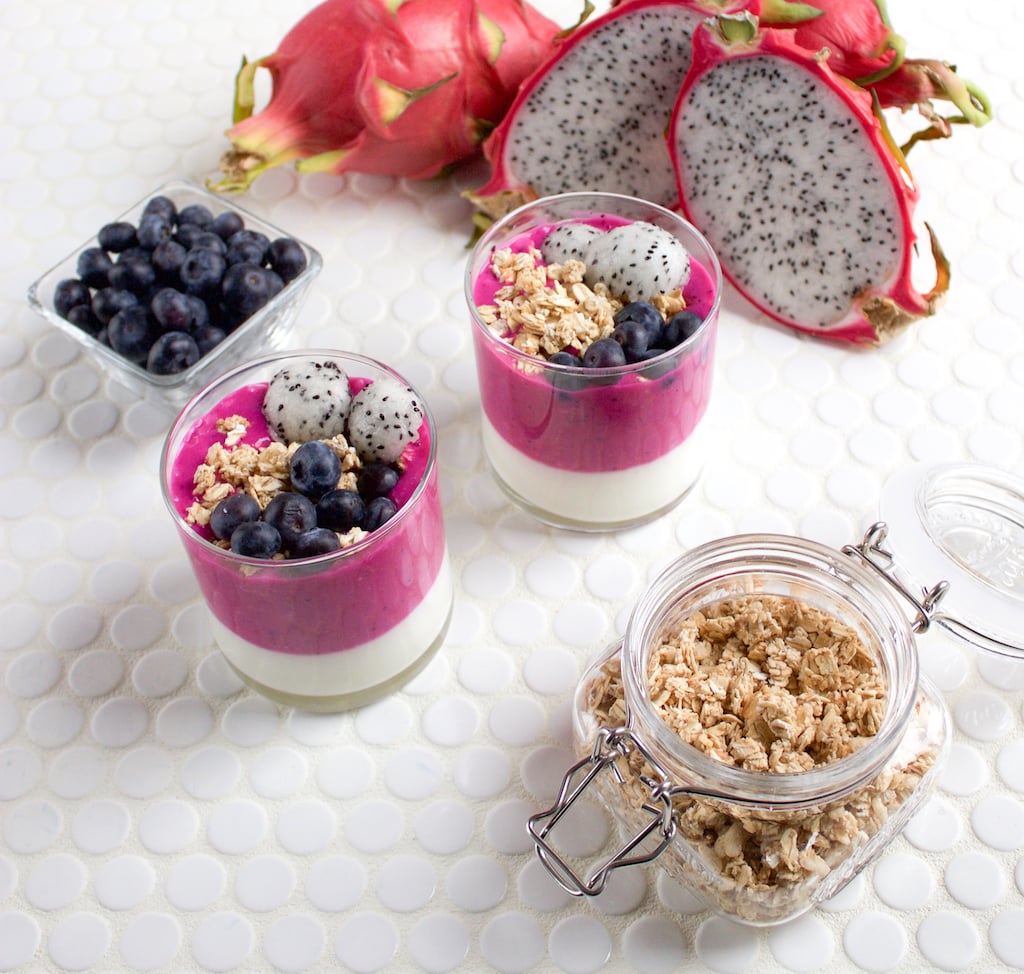 How To Select and Store Dragon Fruit
Look for dragon fruits that are free of blemishes and have a bright, even-colored skin. A ripe dragon fruit will give slightly when you lightly squeeze it. If it is squishy, it is probably overripe.  If it doesn't give at all, it will need to ripen for a few days. Store it at room temperature to allow it to ripen.
If you want to slow down the ripening process, store dragon fruit in the refrigerator inside of a plastic bag or sealed container. Dragon fruit is highly susceptible to picking up flavors from other items in the fridge. Storing it inside a bag or container will prevent flavor transference from occurring. Cut dragon fruit should also be stored in a sealed container inside the fridge.
Cut dragon fruit can also be frozen. To freeze, line a baking sheet with wax or parchment paper and place cubed dragon fruit on it, make sure the cubes do not touch one another. Place the baking sheet in the freezer overnight, or until each piece is frozen through. Then, put the frozen cubes into a zip-top freezer bag, removing as much air as possible before sealing, and store in the freezer for several months. Frozen dragon fruit is perfect for smoothies. It can also be used for making our Dragon Fruit Yogurt Parfaits!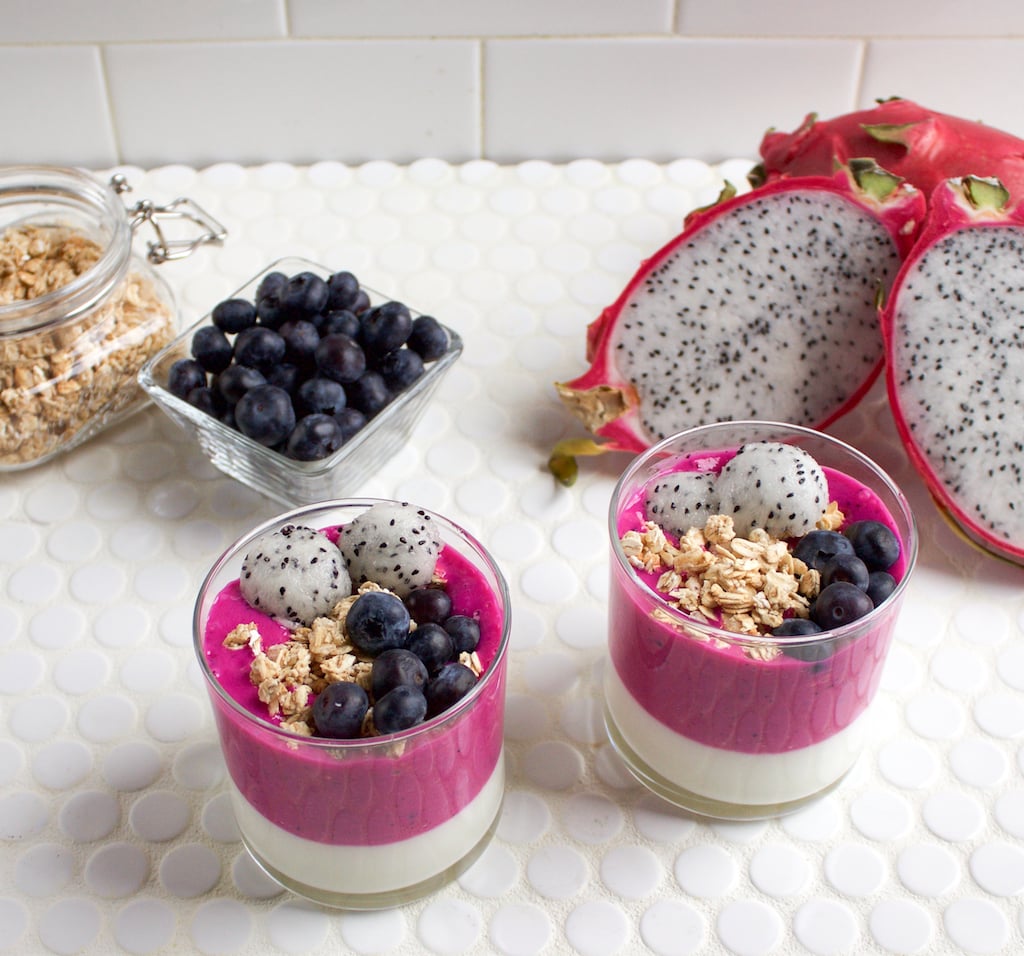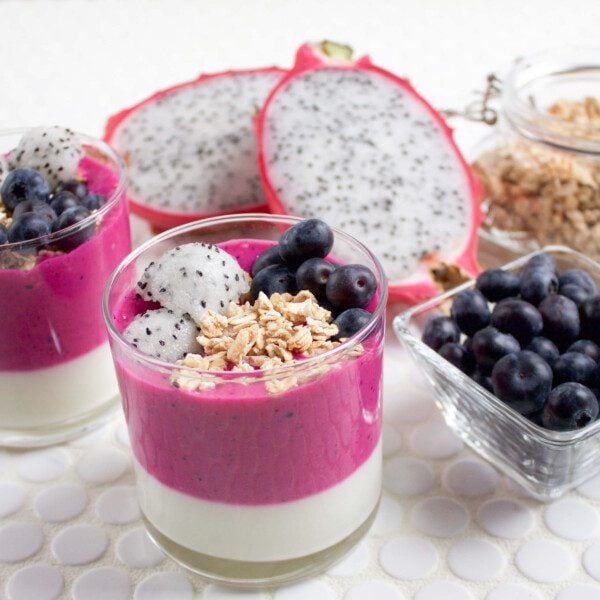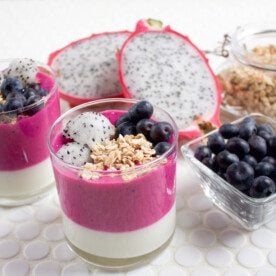 Ingredients
1

dragon fruit

red flesh, peeled

1

dragon fruit

white flesh, peeled

1

banana

peeled

1

Tbsp

honey

2

cup

plain yogurt

or yogurt of your choice

granola

to taste

blueberries

to taste
Instructions
Blend dragon fruit (red flesh), half dragon fruit (white flesh), banana, honey, and 1 cup yogurt until smooth.

With the remaining half of the white-fleshed dragon fruit, use a melon baller to scoop flesh into balls. Set aside.

Fill cups with remaining yogurt (about 1/3 of the way up the cup). Top yogurt with the blended mixture.

Garnish with blueberries, granola and dragon fruit balls (white flesh).
Add dragon fruit to this week's grocery list and give these Dragon Fruit Yogurt Parfaits a try. Tag us on Instagram at @TheProduceMoms and let us know what you think!
How do you like to serve dragon fruit? Share in the comments below.