Homemade Granola Bars (Less Sugar, More Yum) 
Aug 25, 2022, Updated Dec 07, 2022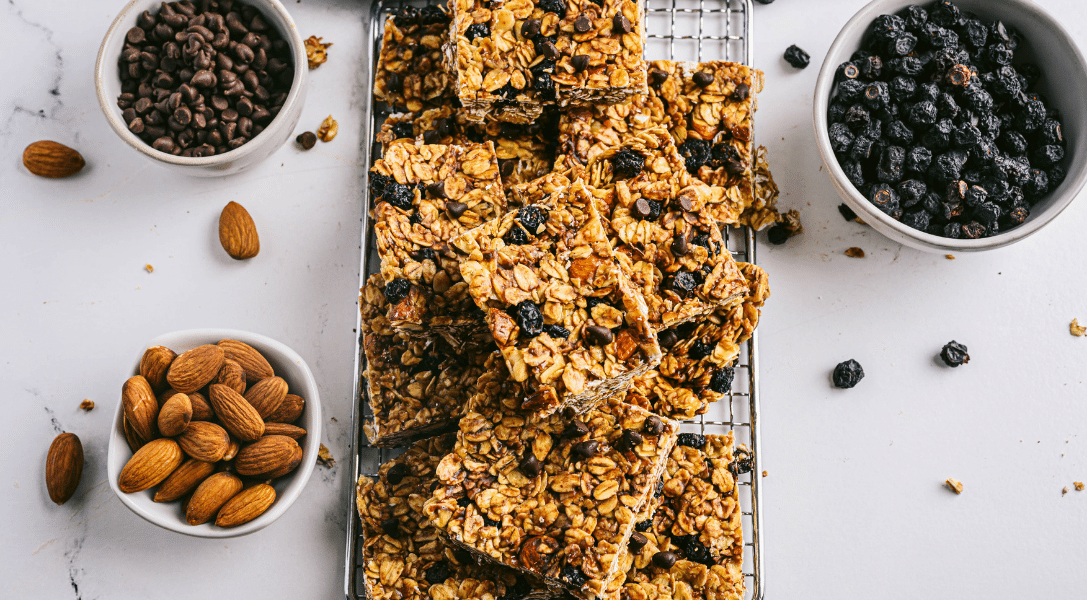 Do you ever go to a restaurant or see a prepackaged item at the grocery store and wonder if you could make it at home?
The truth is — you probably can, it's easier than you think, and it's fun the whole family can be a part of!
Homemade recipes are more affordable, healthier, and customizable for you and your family.
That's why we had to share this Homemade Granola Bar recipe with you. It's soft and chewy with a hint of sweetness from Sunrise Fresh dried fruit, chocolate chips, and honey. And it only takes about 30 minutes of prep and cook time.
Let's get started!
Homemade Granola Bars vs Store Bought
Pretty much everything you see on grocery store shelves can be made at home. Cooking at home when you can is better for your family's health because you know exactly what's going into your food. Many popular granola bars and dried fruit brands add preservatives, sugar, and processed ingredients for longer shelf life.
Most homemade recipes, including this Homemade Granola Bar recipe, are cheaper, in the long run, to make from scratch. In fact, you probably already have most of the base ingredients for the granola bars in your kitchen.
Your biggest hurdle will be deciding how you want to customize your granola bars. Add peanut butter, pistachios, or chia seeds to switch things up. We love using Sunrise Fresh dried fruit because the only thing in their products is real fruit!
They help us know exactly what we are putting into our recipes and still deliver fresh, sweet, and delicious flavor.
Pro Tips for the Best Homemade Granola Bars
Edible "Glue"
Sugar molecules separate from each other when they get wet, but they are still attracted to each other. So when you melt sugar in your pan, weakened hydrogen bonds form in between the sugar molecules. That's why melted sugar becomes sticky. Honey, melted chocolate chips, and sticky sugar are the "edible glue" that holds your granola bars together.
Firm Fingertips
We recommend using your fingers instead of a spatula to press your granola bar mixture into your square pan. Spend about a minute pressing firmly with your fingertips so you have a better feel for when the mixture is compact in your square pan. This step can make or break your granola bars into bars, or a crumble. Take your time pressing the granola mixture into your pan. This isn't a step you will want to shorten!
Let It Cool
Waiting for something to set is always the hardest part. But wait at least 2 hours before you dig in. This allows time for your butter mixture, including your edible "glue" (dissolved sugar, honey, and chocolate) to harden and keep the granola from crumbling all over your house.
At this point, your block of granola is probably rock hard. Let it sit out at room temperature for about an hour so it's soft, chewy, and easy to cut into bars.
How to Store Homemade Granola Bars
No matter how you like your granola bars, store them in an airtight container or tightly seal your square pan. If you prefer softer, more chewy bars, leave them at room temperature. And if you want them to be firm, store them in the fridge. They're good for up to a week (if they aren't gobbled up before then).
Can You Freeze Homemade Granola Bars?
Absolutely! Double or triple batch this recipe and freeze your bars in an airtight container for up to three months. Then all you have to do is thaw a few for the week and you have a quick snack on hand with your favorite fruits, nuts, and seeds.
Homemade Granola Bar Ingredients
When you make anything homemade, you get to customize it the way you want. Below is the list of base ingredients to make any kind of granola bars you'd like.
Base Ingredients:
2 1/2 cups old fashioned rolled oats
1/2 cup whole almonds, coarsely chopped
1/3 cup honey
1/4 cup unsalted butter, cut into pieces
1/4 cup packed brown sugar
1/2 teaspoon vanilla extract
1/4 teaspoon sea salt
Now let's get to the customization, shall we?
In this recipe, we used Sunrise Fresh Dried Blueberries. But Sunrise Fresh has all kinds of dried fruits for you to choose from.
Add a couple of different dried fruits like apples and cherries to your granola bar recipe. Or make a few batches and add one type of dried fruit to each batch for variety.
The possibilities are endless!
How to Make Homemade Granola Bars From Scratch
Step 1
Start by toasting your almonds and oats on a baking sheet at 350°F for 8-10 minutes, mixing halfway through.
Step 2
Transfer your granola to a large bowl and set it aside.
Step 3
Heat your honey, butter, brown sugar, vanilla, and sea salt in a saucepan over medium heat.
Step 4
When it starts to bubble, take your pan off of the heat.
Step 5
Mix your granola and your butter mixture together in a large bowl.
Step 6
After it's cooled, pour the entire granola mixture into a lined square baking dish. Let it chill in the fridge for 2 hours.
Step 7
Let your granola block come to room temperature and cut it into 12 even bars.
Why We Love Sunrise Fresh Dried Fruit
Have you ever wondered why a bag of dried fruit contains more ingredients than just fruit? Sunrise Fresh wondered the same exact thing! While other companies pack their dried fruit with sugars and other ingredients, Sunrise Fresh lets the fruit speak for itself with all-natural flavor and no added ingredients. And you can order Sunrise Fresh directly to your door from Amazon!
Looking for something sweeter?
Check out our Dried Cherry and Chocolate Chip Cookie recipe!
Homemade Granola Bar
Add your favorite nuts, fruits, and seeds to this quick and easy base recipe for homemade granola bars. No added sugar and clean ingredients you can feel good about.
Equipment
1 Baking Sheet

1 Mixing Bowl
Ingredients
2 1/2

cups

old fashioned rolled oats

1/2

cup

whole almonds

coarsely chopped

1/3

cup

honey

1/4

cup

unsalted butter

cut into pieces

1/4

cup

brown sugar

packed

1/2

teaspoon

vanilla extract

1/4

teaspoon

sea salt

1/2

cup

Sunrise Fresh Dried Blueberries

coarsely chopped

1/4

cup

mini chocolate chips
Instructions
Granola
Preheat your oven to 350° F. Line the bottom and sides of your 8-inch square pan with parchment paper and set it aside for later.

Grab your baking sheet and line it with parchment paper. Pour your oats and almonds onto your lined baking sheet. Bake for 5 minutes.

Use a spatula to give it a quick mix and bake it for another 3-5 minutes or until the granola mixture is lightly toasted. Then transfer your homemade granola to a large bowl and set it aside.
Bars
Add your butter, honey, brown sugar, vanilla, and salt into a small saucepan on medium heat. Heat the ingredients until the butter melts, stirring occasionally. It's done when you start to see small bubbles and the sugar is completely dissolved. Now let's put it all together.

Get your large bowl with your homemade granola that you set aside earlier. Pour your butter mixture in with your granola. Use your spatula to mix all of the ingredients until they are well combined.

Let cool for 5-10 minutes, and then add your Sunrise Fresh Dried Blueberries and chocolate chips. Stire to combine.

Next, get your lined 8-inch square pan and pour your granola mixture into it. Use your fingers (or rubber spatula) to firmly press the mixture into the pan. Be sure to press down hard so your bars stay together when they cool and after you cut them.

Sprinkle your desired amount of chocolate chips across the top of your pressed granola mixture. Then use your spatula to gently press them into the top so they sink in a little bit. Cover your bars with aluminum foil and refrigerate them for at least 2 hours, or freeze for about 30 minutes.

Remove your block of granola mixture from the pan and gently peel off the parchment paper from the bottom. Cut your granola block into 12 even pieces. And now you have homemade granola bars!
Notes
A 9-inch square pan works just as well as an 8-inch square pan. You'll probably end up with slightly thinner granola bars, but the taste will be just as amazing.
Nutrition
Calories:
221
kcal
|
Carbohydrates:
33
g
|
Protein:
4
g
|
Fat:
9
g
|
Saturated Fat:
3
g
|
Polyunsaturated Fat:
1
g
|
Monounsaturated Fat:
3
g
|
Trans Fat:
0.2
g
|
Cholesterol:
11
mg
|
Sodium:
56
mg
|
Potassium:
167
mg
|
Fiber:
3
g
|
Sugar:
18
g
|
Vitamin A:
127
IU
|
Vitamin C:
0.1
mg
|
Calcium:
38
mg
|
Iron:
1
mg
Nutrition information is automatically calculated, so should only be used as an approximation.
Like this? Leave a comment below!