Elegantly Stacked Waldorf Apple Salad With a Creamy Vinaigrette (Mayo-Free)
May 22, 2023, Updated Jun 16, 2023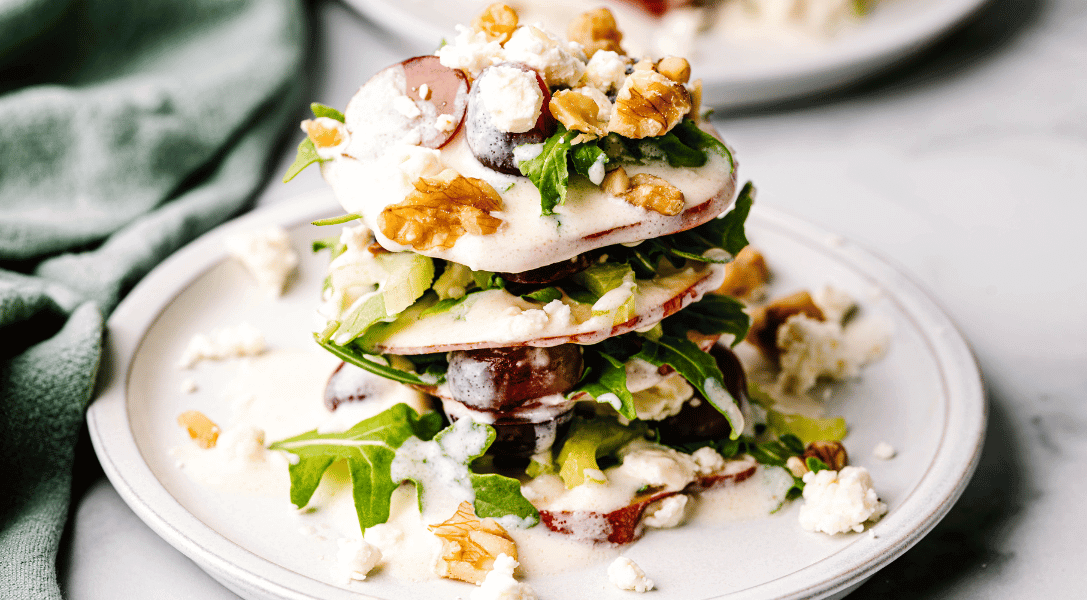 Stacked Waldorf apple salad is a classic, and this recipe still has all your favorite ingredients, like apples and celery. But we used creamy Greek yogurt for an egg-free option, and we actually like it more than the original. Sprinkle each apple layer with tangy goat cheese, sweet grapes, and spicy arugula for a gorgeous salad you can't resist.
Summer salads are popular no-cook meals that are light, quick to toss together, and easy on the waistline. But after a week or so of eating all of those greens, you might be getting less excited about your traditional leafy green lunch breaks.
We switched up the traditional Waldorf apple salad and stacked it for flavorful crunch, nuttiness, and creamy chunks in every bite.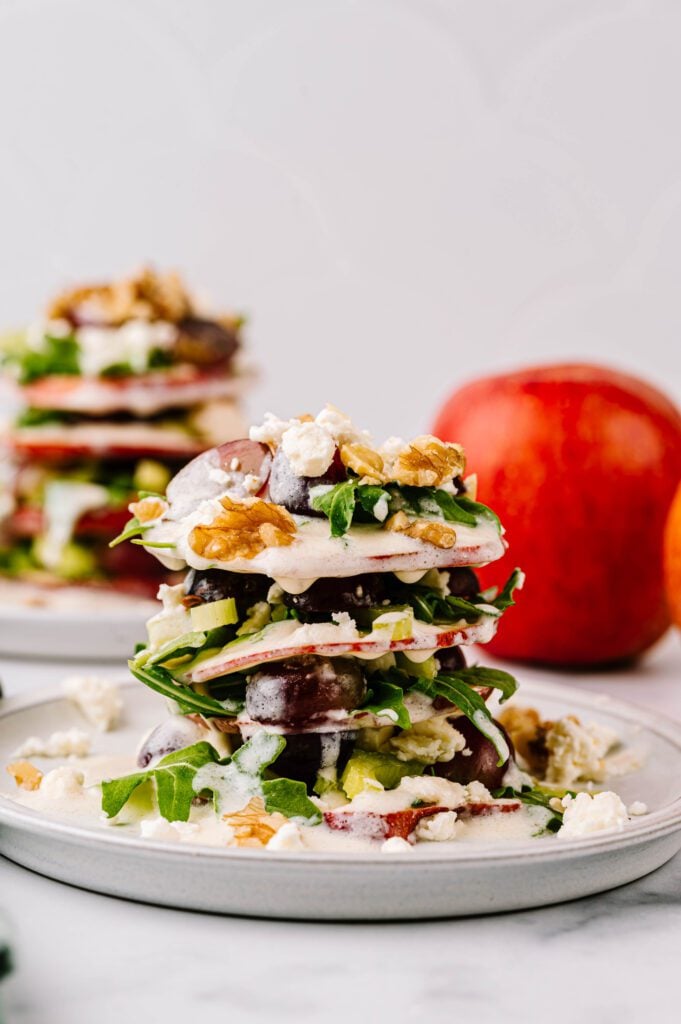 Waldorf Apple Salad is sponsored by Envy™.
It looks stunning with the bright red apple slices, green celery, and arugula. You'll be excited to dig into this simple yet elevated recipe.
Serve it immediately as a snack or light meal that everyone will love. (Plus, it's egg-free!)
C'mon, we'll show you how easy it is.
What Is Waldorf Salad?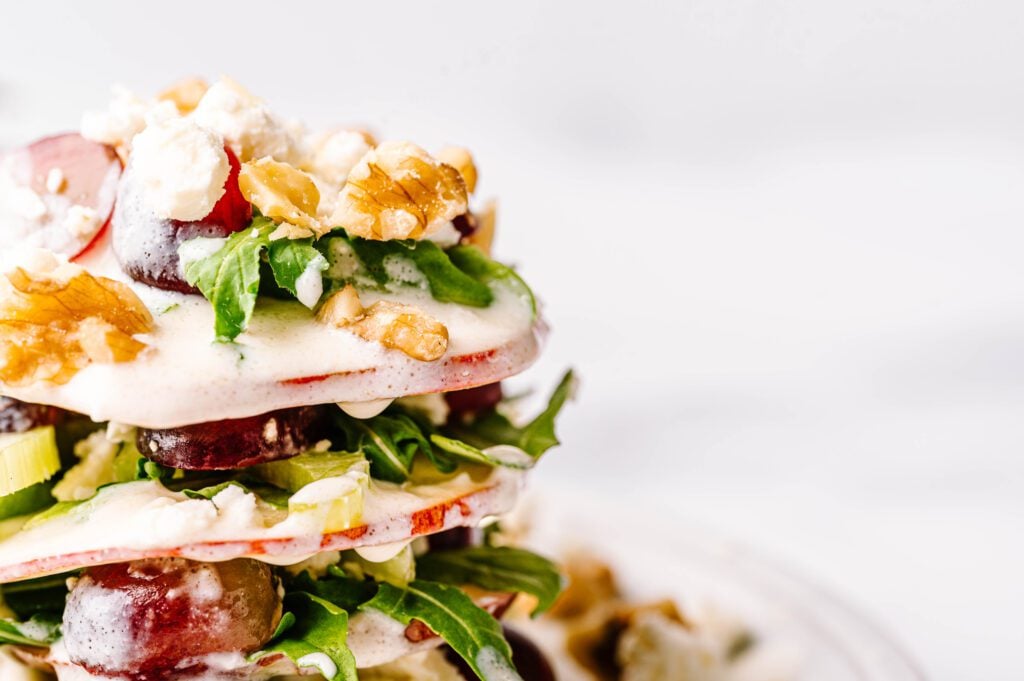 This famous salad started with only three ingredients — apple, celery, and mayo. It was shared with the public 130 years ago in honor of the St. Mary's Hospital for Children. The Waldorf Hotel in New York opened the day before, and the ball was the first event held at the hotel after opening day. The manager of the hotel has been credited for this simple yet elegant salad.
Although Waldorf salad started off simple, it has many variations today like yogurt, walnuts, and grapes. It's usually served similarly to an egg salad with the ingredients tossed together and coated in a mayo-based dressing, sometimes served over a thin bed of greens.
We've elevated this recipe by tossing thin Envy™ apple slices and layering them with arugula, grapes, goat cheese, and walnuts. Don't let its complex flavors fool you, this salad is still simple to put together for an easy weeknight side or snack.
Ingredients
You probably already have about half of the ingredients on hand to make our stacked Waldorf apple salad. You only need to add a few extra affordable items to your grocery list. But you may want to get a few extras because you'll want this apple salad again.
Envy™ Apples
Apples are the star of this salad recipe, so you want high-quality apples. Envy™ is known as the ultimate apple experience. They strive to grow apples that help you slow down and savor the moment. From the beautiful deep red appearance to the sweet, aromatic, and crisp crunch in every bite, you'll see why they bring this recipe to a whole new level.
Plus, slices of Envy™ apples stay white longer!
Look for them in the produce section with the red and white sticker. You can also check out their store locator to find Envy™ apples near you!
Goat Cheese
Goat cheese adds a creamy, tangy richness to your apple salad. It's soft without being smooth like ricotta cheese and has a buttery, tart flavor. Goat cheese traditionally pairs well with sweet apple slices and grapes, spicy arugula, and nutty walnuts. If you're not a fan of goat cheese, try another soft cheese like mascarpone or cream cheese.
Break off chunks with your fingers and sprinkle between each apple layer. This is an easy way to spread it evenly into every crunchy nibble. You can usually find this in the diary section of your grocery store by the milk and butter. Waldorf apple salad calls for half of a cup, so you don't need much to whip up this recipe.
Walnuts
With a mild and earthy flavor, walnuts pair well with sweet apples. Apples are high in carbs, so they take about an hour to digest. The fat and protein from the walnuts help slow down digestion so you feel full longer, making Waldorf apple salad ideal for a light meal or snack. The best thing about walnuts is that you don't need a lot to benefit from the calcium, omega-3, and iron.
Use your knife to roughly chop the walnuts, then toast them in the oven at 350℉ for about eight to ten minutes. Or look for ones that are already toasted in the baking or snacking aisle.
Yogurt
An easy way to balance the acidity in dressings is to add something creamy — like yogurt. Greek yogurt is thick, sour, and sometimes bitter. This is perfect for an added layer of creaminess without the mayo. If you're egg-free, this is music to your ears! Honestly, I prefer this recipe with yogurt instead of mayo, so you don't feel like you're missing out. Yogurt is known for its probiotics that help improve gut health and calcium for strong bones.
Grab a tub from the dairy section of your neighborhood grocery store.
How to Make Your Salad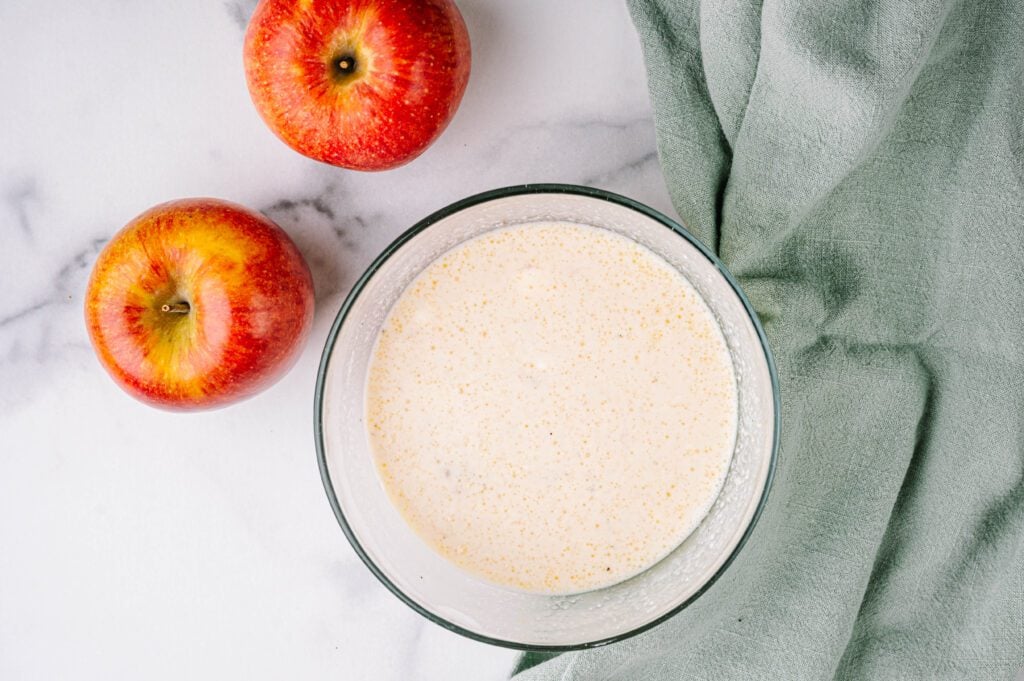 Step 1
Whisk apple cider vinegar, greek yogurt, olive oil, honey, and Dijon mustard until creamy. Then add salt and pepper to taste and set aside.
Step 2
Thinly slice your Envy™ apples.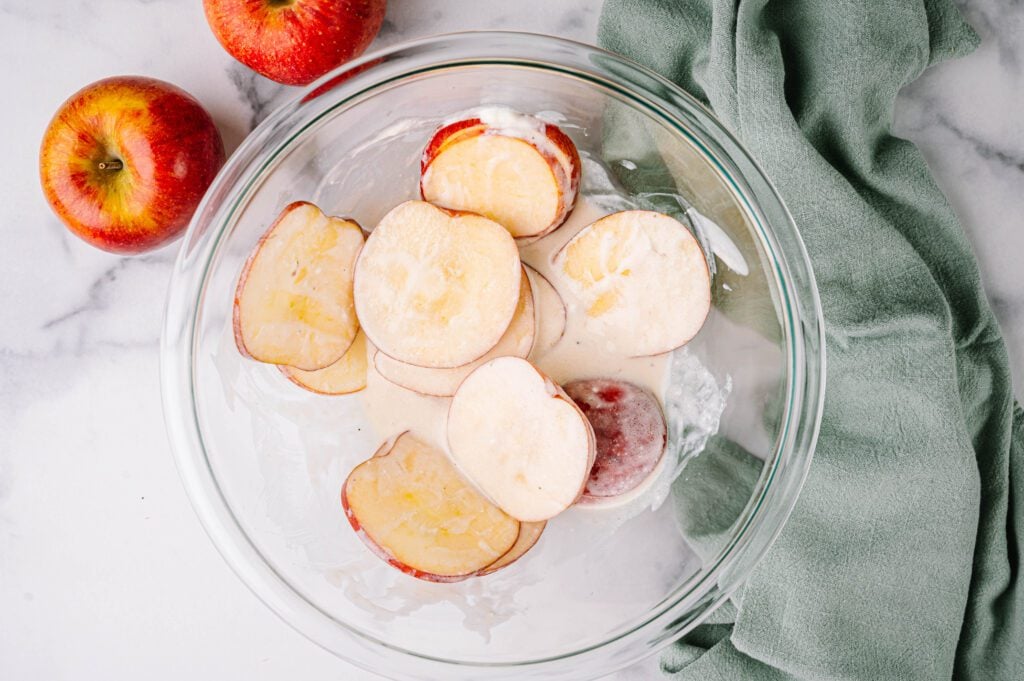 Step 3
Add apples, ⅓ cup of the vinaigrette, salt, sugar, and pepper to a large bowl and toss to coat.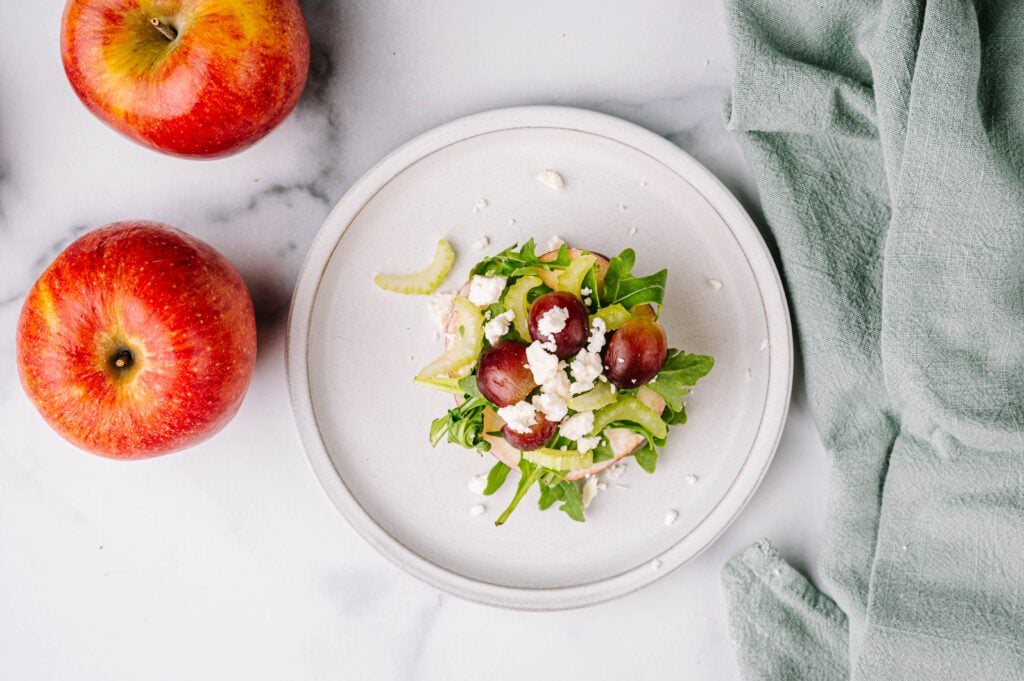 Step 4
Lay a slice of apple on each plate and sprinkle arugula, celery, grapes, and goat cheese on top of each apple. Continue to layer each plate with apples and toppings.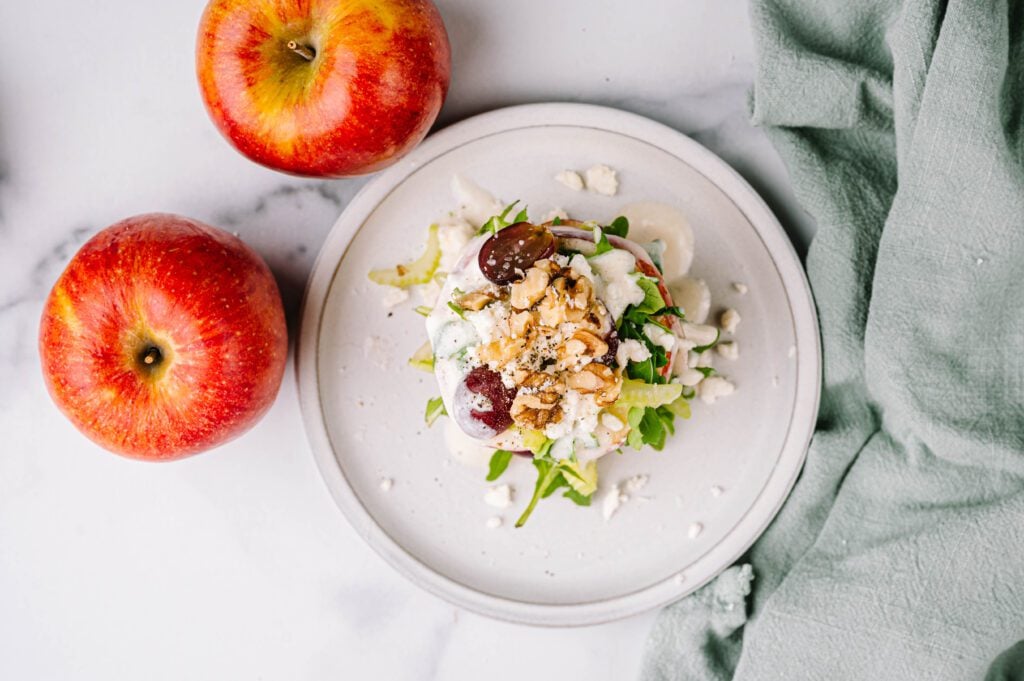 Step 5
Sprinkle the leftover goat cheese and chopped walnuts on top of each stacked Waldorf apple salad. Garnish with celery leaves and serve.
Can Stacked Waldorf Salad Be Made Ahead?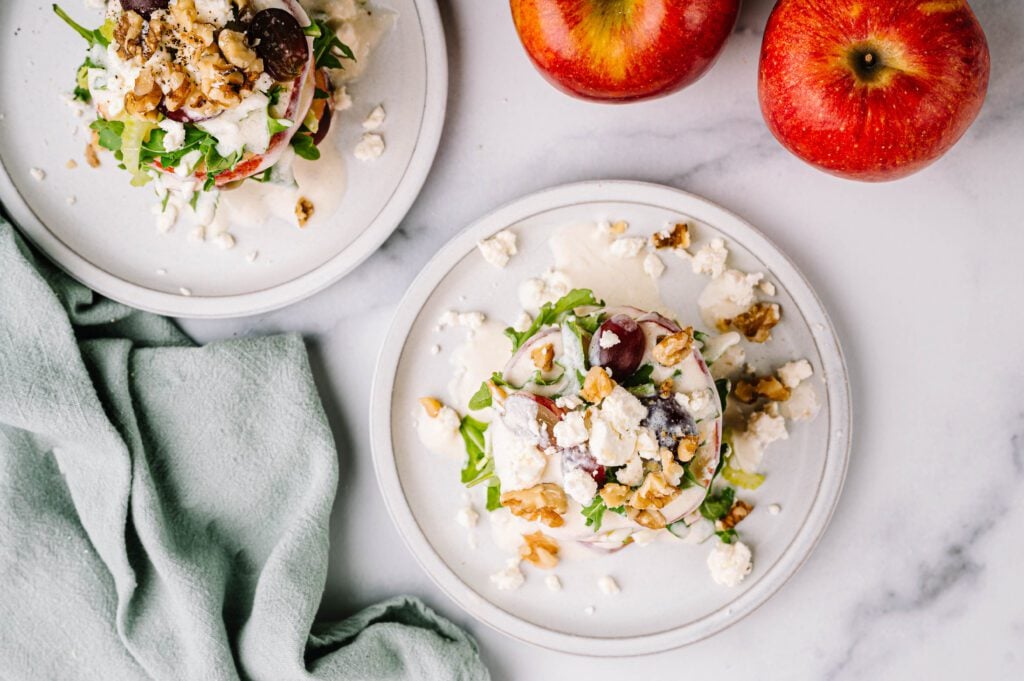 When you think of a salad, you think of crisp, fresh fruits or veggies. And Envy™ apples are grown with the intention of enjoying the moment. We recommend making your Waldorf apple salad right before serving so you can enjoy the fresh, uplifting aromatic, and delightful crunch of the apples. Get your family involved in the prep work and use this time to catch up with your family around the dinner table.
Why We Love Envy™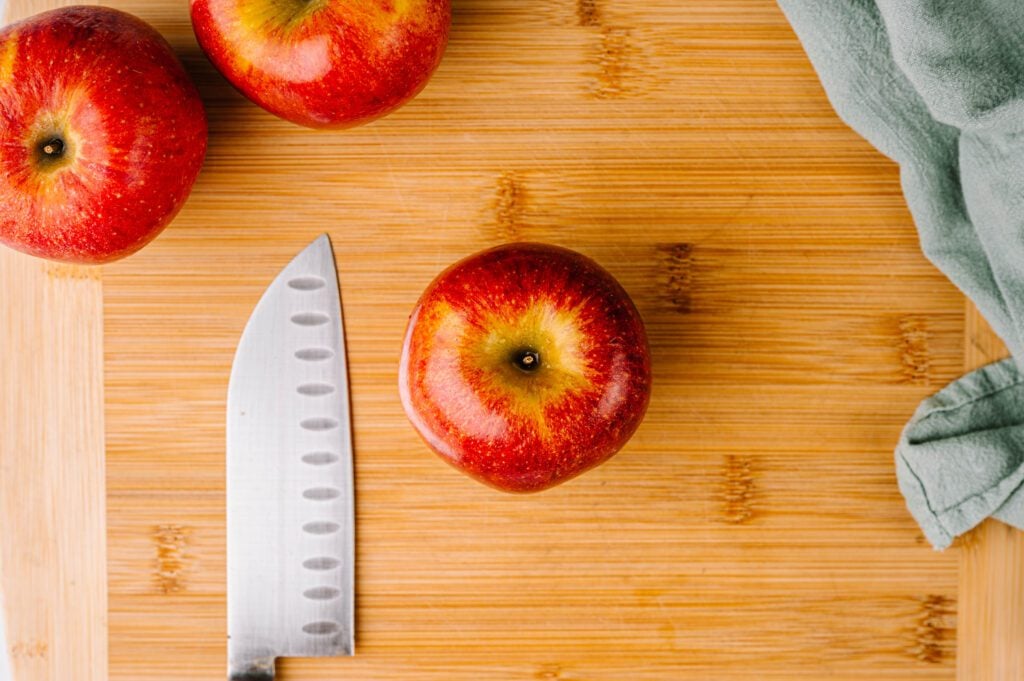 Envy™ is all about the experience when you take the first bite of your apple. With fresh, year-round availability, you can indulge in the ultimate apple experience of balanced sweetness, fresh aroma, and satisfying crunch. They want to show you how incredible apples can taste and share in life's little moments with you.
They use world-class growing methods in elite growing locations like New Zealand and Washington. Envy™ uses integrated fruit production (IFP) to grow their crops so the health of you and I, and the earth, are the number one priority.
Check out the Envy™ difference at a store near you.
Experience Envy™ Apples
It's clear that Envy™ is passionate about how they grow their apples. They enjoy helping you celebrate life's small moments every day. As soon as you take your first bite of crisp apple, creamy goat cheese, spicy arugula, and earthy walnuts — we're sure you'll love this salad too.
More Ultimate Apple Recipes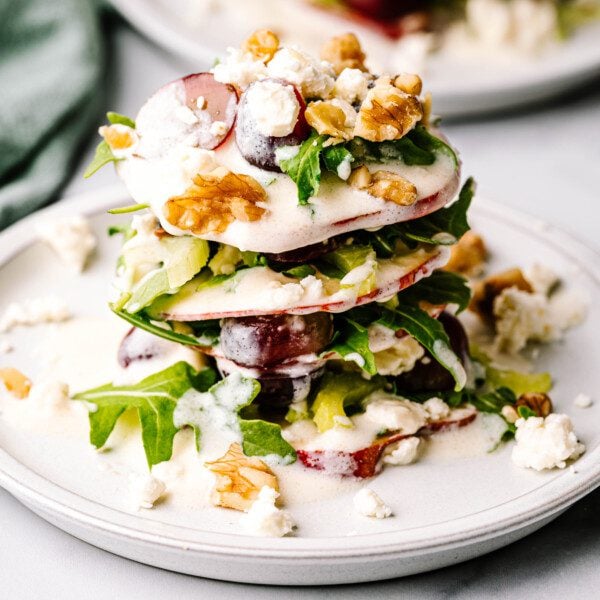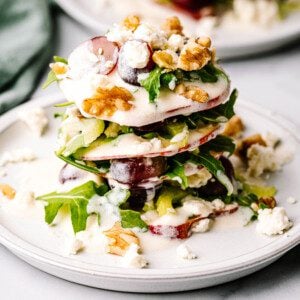 Apple Waldorf Stacked Salad
Elevate Waldorf apple salad by stacking thin slices of apples and layering your toppings in between each slice. This is an easy way to switch up a traditional recipe that's sure to impress.
Ingredients
Vinaigrette
1/3

cup

apple cider vinegar

2/3

cup

plain Greek yogurt

2

Tablespoons

extra virgin olive oil

3

tablespoons

honey

1

tablespoon

Dijon mustard

1/4

teaspoon

salt

1

poinch

ground black pepper
Salad
2

Envy™ Apples

thinly sliced

1/2

teaspoon

salt

1/2

teaspoon

sugar

1/4

teaspoon

ground black pepper

1

cup

baby arugula

1/3

cup

celery

thinly sliced

1/3

cup

red grapes

halved

1/2

cup

crumbled goat cheese

divided

1/2

cup

toasted walnuts

chopped

celery leaves for garnish
Instructions
Vinaigrette
In a small mixing bowl, whisk together apple cider vinegar, Greek yogurt, extra virgin olive oil, honey, and Dijon mustard until creamy, smooth, and a little runny.

Season to your liking with salt and pepper and set it aside for later.
Salad
Use a sharp knife or a mandoline to slice the Envy™ apples into 1/8 inch-thick rounds. Hold the mandolin firmly with one hand and the apple in the other. Glide the apple back and forth over the blade to get round, thin slices. Watch out for your fingers!

Add your apple slices, 1/3 cup of vinaigrette, salt, sugar, and pepper in a large bowl. Toss to coat the apple slices.

To serve, lay one slice of apple on each plate, then top with arugula, celery, grapes, walnuts, and a sprinkle of goat cheese. Continue layering the ingredients on each plate until all ingredients are used.

Sprinkle the remaining goat cheese. Continue layering the ingredients on each plate until all ingredients are used.

Serve with the remaining vinaigrette on the side so your guests can see it drip down the sides of your stacked apple Waldorf salad.

Garnish with celery leaves and serve.
Nutrition
Calories:
368
kcal
|
Carbohydrates:
33
g
|
Protein:
12
g
|
Fat:
23
g
|
Saturated Fat:
6
g
|
Polyunsaturated Fat:
8
g
|
Monounsaturated Fat:
8
g
|
Trans Fat:
0.003
g
|
Cholesterol:
15
mg
|
Sodium:
605
mg
|
Potassium:
314
mg
|
Fiber:
4
g
|
Sugar:
27
g
|
Vitamin A:
516
IU
|
Vitamin C:
6
mg
|
Calcium:
116
mg
|
Iron:
1
mg
Nutrition information is automatically calculated, so should only be used as an approximation.
Like this? Leave a comment below!