14 Recipes for Chillin' and Grillin'
The Produce Moms is proud to partner with the Produce for Better Health (PBH) Foundation to celebrate "Chillin' & Grillin'". Summer means it's time to fire up the grill and chill by the pool with a plant-packed snack. Give your family some grilled summer nutrition and #HaveAPlant!
When you cook during the summer, odds are you spend a lot of time by the grill. But this outdoor dining miracle device isn't just good for cooking meats! Plenty of produce can be cooked into delicious dishes over some hot coals or burners. Just start thinking outside the box and you'll find new fruits and veggies to cook inside the lid. Here are some great ways to start grilling more produce:
Grilled Fruit Kabobs and fruit grilling tips
By grilling fruit, you'll bring out their natural sweetness for a tasty summertime treat! And what better way to enjoy them than on kabobs? Placing fruit on skewers prevents the fruit from falling through the grate into the coals. Plus, it also makes a handheld snack that's fun and easy to eat in the backyard.
Grilled fruit kabobs are a hit with adults and children alike. This recipe features pineapples, watermelon, starfruit, kiwi, strawberries, bananas, and nectarines. You'll also find some handy tips for grilling fruit!
Get the recipe for Grilled Fruit Kabobs here!
Grilled Watermelon and Italian Sausage Kabobs
Grilled watermelon and Italian sausage are a pair that are sure to delight, especially when your family or guests get a whiff of the delicious scents wafting off of your grill. Watermelon gets sweeter on the grill, making this seasonal favorite even more irresistible. Spicy Italian sausage makes this a unique sweet-and-hot combo, but you can skewer any kind of sausage you like alongside your juicy watermelon.
Get the recipe for Grilled Watermelon and Italian Sausage Kabobs here!
Grilled Jerk Shrimp and Pineapple Kabobs
These kabobs combine two of the yummiest grilled foods: shrimp and pineapple. But what really takes these kabobs to the next level is the homemade Jamaican jerk sauce. Although traditionally used on pork, jerk sauce is delicious on just about any meat or seafood, including shrimp. It's also a nice contrast to pineapple. Its spice is tempered by pineapple's sweet juices.
Get the recipe for Grilled Jerk Shrimp and Pineapple Kabobs here!
Chicken and Lollipops® Kabobs
Chicken and veggies are a classic kabob combination – and the addition of Lollipops® elevates this classic! Multi-Colored Lollipops® Kale Sprouts are a cross between red kale and Brussels sprouts and give these skewers an eye-catching burst of color. They'll take on a delightfully smokey flavor on the grill.
Get the recipe for Chicken and Lollipops® Kabobs here!
Cherry and Pork Skewers with Cherry Rosemary Sauce
Grilling intensifies a cherry's sweet flavors. The juices caramelize on the grill and the result is out of this world good! Cover these skewers with a homemade Cherry Rosemary Sauce. A combination of cherries, pinot noir, rosemary, and balsamic glaze, its deep flavors complement the mild, salty taste of the tenderloin. It's also a nice balance to the sweetness of grilled cherries.
Get the recipe for Cherry and Pork Skewers with Cherry Rosemary Sauce here!
Watermelon Elote Salad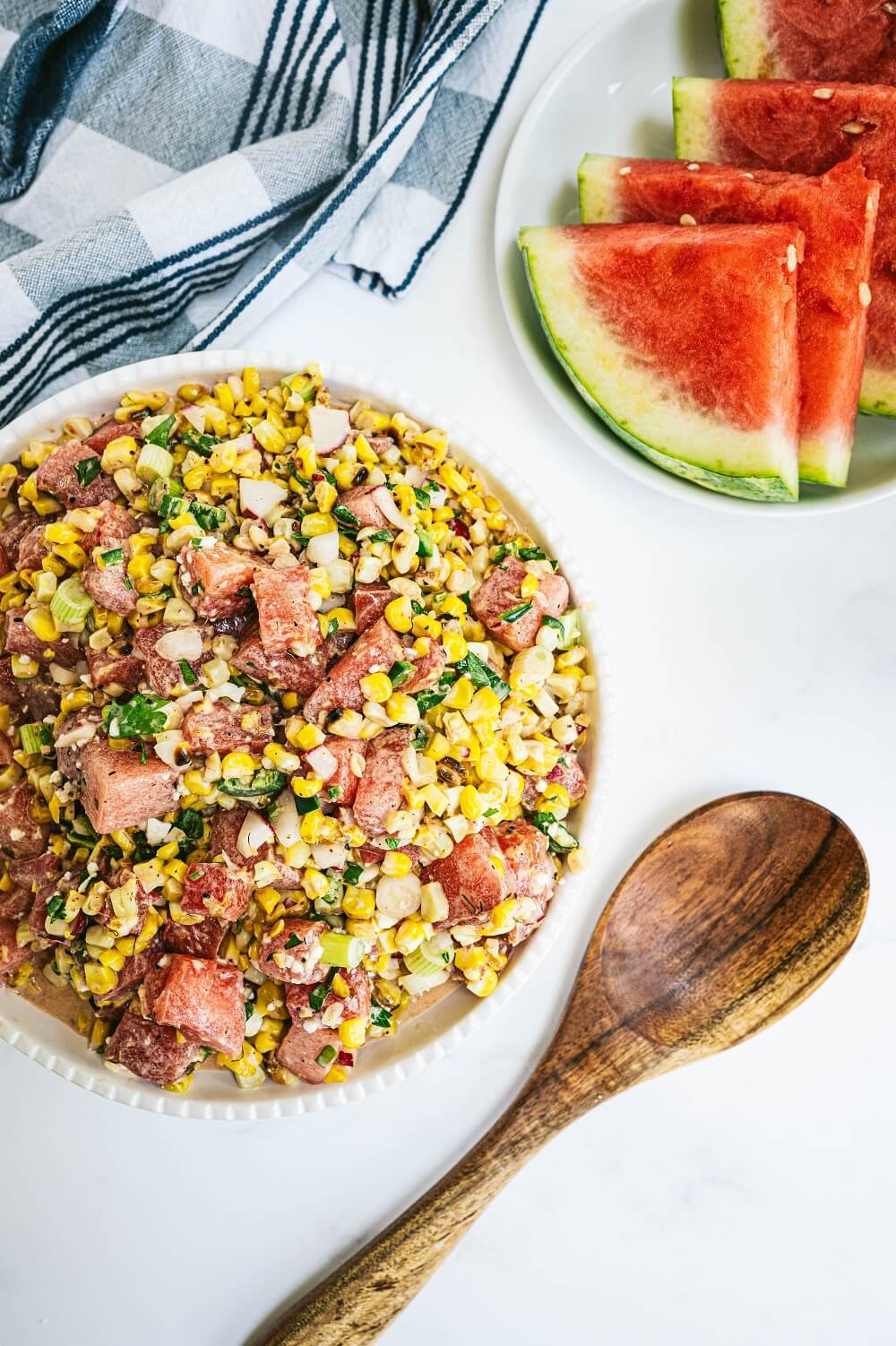 Put a new twist on your next grill-out with Watermelon Elote Salad! We mashed two summer standbys into one incredible dish using delectable grilled watermelon and irresistible elote-style corn on the cob. Both are unique takes on typical summer fare that elevate this salad into something more than just the sum of its ingredients. Try it at your next cookout and WOW your guests!
Get the recipe for Watermelon Elote Salad here!
Grilled Zucchini Caprese Salad
Caprese salad is a classic Italian dish made with tomatoes, mozzarella cheese, and basil. We kept that traditional base and simply added tender slices of grilled zucchini. This small change makes a big impact! Olive oil, balsamic, and a pinch of black pepper and kosher salt bring all the flavors together. We opted for a balsamic glaze, but balsamic vinaigrette is an excellent choice too.
Get the recipe for Grilled Zucchini Caprese Salad here!
Grilled Red Bell Peppers with Olives and Feta
Peppers are practically made for grilling – especially big, flavorful bell peppers! Grilled Red Bell Peppers with Olives and Feta is a knife and fork appetizer with a Mediterranean flare. This tasty dish has a pleasing mix of flavors and is a great start to any meal. Serve it alongside grilled chicken, steak, or warm pasta.
Get the recipe for Grilled Red Bell Peppers with Olives and Feta here!
Grilled Radicchio
Radicchio is a type of leaf-chicory. It's often used in salads because its wine-colored leaves add an enticing pop of color. But grilling radicchio is one of our favorite ways to enjoy it! The grilling process removes the bitter flavors that this veggie contains in its raw state. It also turns the leaves tender. Grilled radicchio is a great side to grilled meats and fish.
Get the recipe for Grilled Radicchio here!
Grilled Caesar Salad
Did you know that Romaine Lettuce is great for grilling? It's true! Whole leaves of grilled romaine lettuce are an excellent vessel for other ingredients… like nature's own tacos! Try grilling romaine lettuce with parmesan and asiago cheeses, breadcrumbs, and Caesar dressing for a new spin on Caesar Salad.
Get the recipe for Grilled Caesar Salad here!
Grilled Potatoes
Potatoes pair so nicely with grilled foods – why not grill the potatoes? This recipe uses Red or Yukon Gold potatoes to create a crispy grilled dish. It's a delicious side that will steal the spotlight from your entree!
Get the recipe for Grilled Potatoes here!
Grilling Sweet Potato Planks
Sweet potatoes make a delectable side or a sugary dessert – yet they're packed with nutrition! Grilling brings out the natural sweetness of sweet potatoes. Grilled Sweet Potato Planks pair well with just about any grilled meat. They're a nutritious side item you can feel good about putting in your body.
Get the recipe for Grilled Sweet Potato Planks here!
Grilled Honeycrisp Apples
Cinnamon and sugar make these Grilled Honeycrisp Apples a sweet evening snack that will help you re-energize after a long summer day. While grilled apples are a tasty summertime snack, keep this one in your back pocket for fall, too. These sweet grilled apples are perfect for cool weather – that's not too cool for grilling!
Get the recipe for Grilled Honeycrisp Apples here!
Bonus: Grilled Peach Old Fashioned
This Grilled Peach Old Fashioned will please everyone from the whiskey lover to the whiskey curious to the whiskey hesitant. The bright, sweet notes of the peaches meld beautifully with the corn and grain sweetness of the bourbon and are rounded out by that slight grill char. A few dashes of peach bitters bring the drink into perfect harmony, yielding a cocktail fit for a lovely night on the porch or a mid-day grilling treat.
Get the recipe for Grilled Peach Old Fashioned here!
What are you grilling?
Grilling gives you a whole new way to experience your favorite fruits and veggies. You may not have known that some of this produce would cook well on the grill, but trust us, it thrives! What are your favorite ways to enjoy grilled fruits and vegetables? Which ones will you serve at your next cookout to impress a crowd? Tell us in the comments, and don't forget to check out the Produce for Better Health Foundation when you #HaveAPlant!