8 of Our Favorite Apple Items at Trader Joe's This Season 
Dec 16, 2022, Updated Jan 17, 2023
Trader Joe's is loaded with ready-to-heat and serve apple creations for an easy meal or snack at any time of day. Since it's apple season, we gravitated toward our favorite apple finds throughout the store. We just had to share them with you!
Fall and winter is the time for apples to shine.
What better place to go for a sweet and crisp apple taste than your neighborhood Trader Joe's?
TJ's always has unique finds depending on the season. Whether it's apples, pumpkin spice, or peppermint, you're sure to find your own seasonal favorite that you'll want to stock up on each year.
Like their apple tart with sweet cream cheese blended into the filling. Or their fan-favorite apple blossoms for an elevated take on apple pie. Run to your local Trader Joe's to get these unique apple favorites before the season ends.
This post is sponsored by Envy Apple.
It's an extra busy season right now. As a parent, you probably don't exactly have time to make pies, tarts, and oatmeal balls every week of the holiday season. But you still want the taste and smell of fall aromas.
That's why we've come up with some fun apple favorites that only require a quick trip to Trader Joe's.
We trust Trader Joe's because of the quality ingredients they use in their recipes. You can always count on reasonable prices that make it easy to support their sustainability values. You can't beat it!
Here are a few of our favorite Trader Joe's apple items.
Envy™ Apples
Sweet, fresh, and finished with a crisp crunch, Envy™ apples are the best addition to your recipes. If you are looking the ultimate apple experience, Envy™ apples deliver everything you could ever want from your apple. You get a firm texture with a natural sweetness for all those pies, cakes, and crisps you'll make this season.
It's all about making memories in the kitchen. Whether you're making an All American Apple Pie, Apple Wreath Salad, or Apple Blondie Cupcakes, Envy™ loves to be part of your family traditions – especially when it comes to food that brings people together. Consider it your new "secret ingredient" to creating those warm and cozy memories.
Envy™ has once again partnered with the Hallmark Channel because it's the ultimate holiday apple! Enjoy our free, downloadable eBook, Envy™ for the Holidays.
Trader Joe's Apple & Pumpkin Hand Pies
An apple pie on the go? That's what you get with apple and pumpkin pies that fit perfectly in your hands. With a flaky and buttery "pie" crust, the earthy sweetness of pumpkin puree, thick cream, and crisp apples, your taste buds will love you. All the yummy fall flavors in every single bite.
Just pop it in the oven at 350℉ for 8-10 minutes, and it's baked to golden perfection. Hand pies work well as an on-the-go snack or a self-indulgent treat after the kiddos go to sleep.
We won't tell, it's our little secret.
Trader Joe's Waldorf Salad
This hearty and delicious salad can be tossed together quickly for an easy dinner side or a light lunch. Filled with romaine, red leaf lettuce, spring mix, and spinach, there's a variety of greens to give this salad a nice twist. It's topped with sweet apples, grapes, crunchy walnuts, and grilled chicken and completed with a brown sugar maple dressing.
Although this salad is on the sweeter side, there are only 2 grams of added sugar when you add the dressing. We love the pairing of apples and walnuts in this salad for a sweet and toasty addition of flavor.
Grab yours in the refrigerator aisle at your local Trader Joe's!
Trader Joe's Muesli Cereal
Muesli is so easy to prepare your kids could make it themselves. It's a popular European breakfast cereal with some sort of variation of whole grains, nuts, dried fruits, and seeds.
Try muesli with tangy vanilla yogurt, cooked like oatmeal with a sprinkle of cinnamon on top, or as a cold cereal with milk. It's good for your heart and has lots of fiber to help you feel full longer. Muesli cereal has tons of nutritious ingredients like dried apples, rolled oats, seeds, raisins, and almonds – with no added sugar.
Pumpkin seeds and dried apple chunks scream fall flavors. If you're looking for a new breakfast or snack that's actually good for you, we recommend giving muesli a go. Add some fresh apple slices or pumpkin puree to your muesli for an explosion of fresh fall flavor.
You should be able to find muesli in the cereal aisle at your neighborhood Trader Joe's.
Trader Joe's French Apple Tart
If you're anything like us, you like to save room for the best part after a big dinner – the dessert. This french apple tart recipe has a rustic, homemade feel with elegant flavors designed by a Master Pastry Chef. It was served to the President of France, so you know it's going to be a hit!
A buttery shortbread crust, a layer of tart and sweet apricot and apple filling, topped with apple slices, and finished with an apricot glaze for a beautiful glossy look. This french tart has a nice balance of flavors with just the right amount of crust-to-filling ratio.
Give it a try. We promise you'll wish TJ's had this tasty treat year-round!
Trader Joe's Apple Cinnamon Oatmeal Bites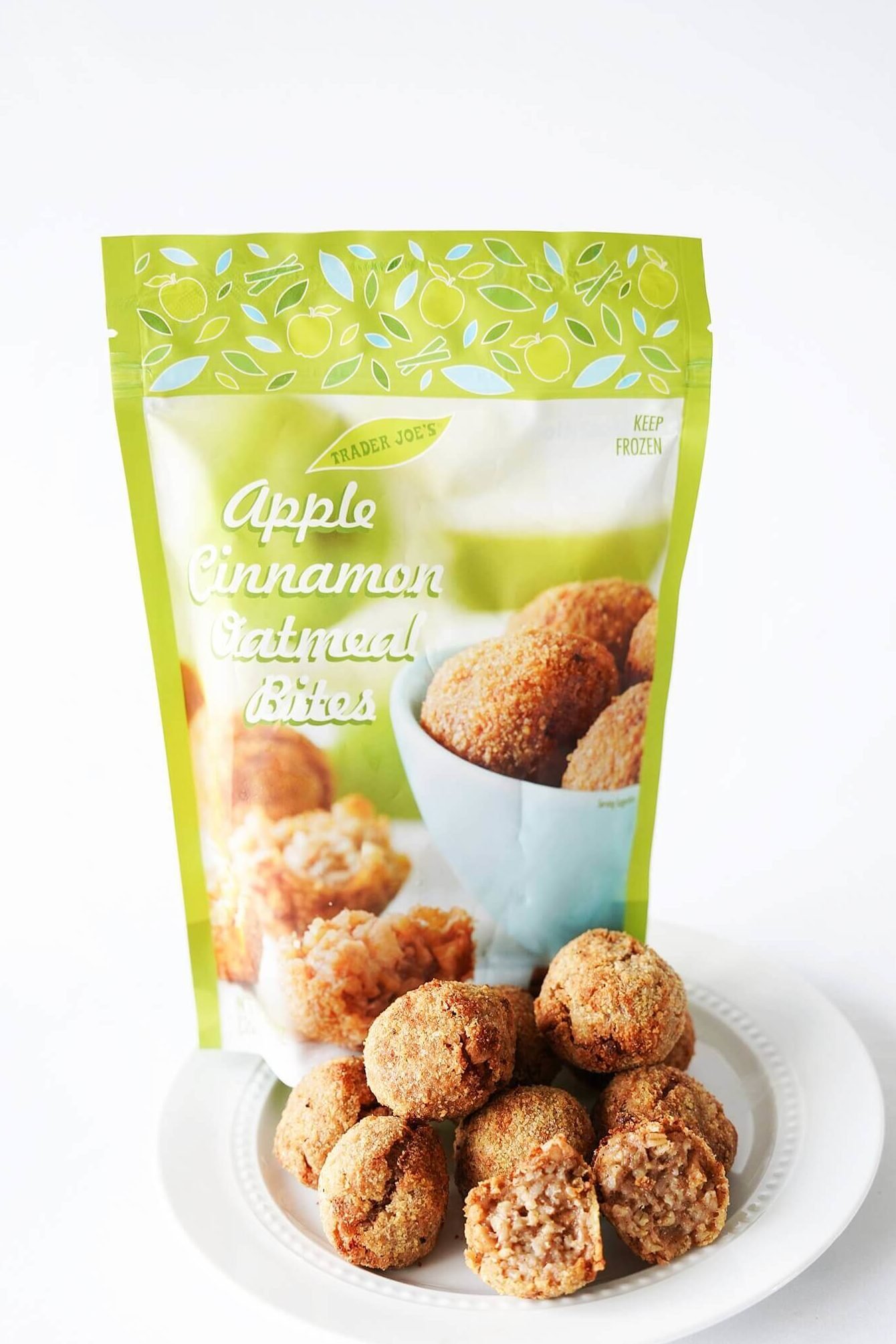 We all have those mornings where everything seems to go wrong – but with oatmeal bites, you can check off breakfast without a worry. These portable oatmeal bites are perfect for little hands when you're running late.
Steel-cut oats soaked in milk, cinnamon, sugar, butter, and real dried apples, rolled into bite-sized balls, and lightly coated with bread crumbs. The best part is that you can crisp these babies up in the oven or air fryer while you help everyone find their homework or their left shoe.
Oatmeal bites are a quick, easy, and filling breakfast win in our book.
Trader Joe's Sweet Apple Chicken Sausage
Sweet apple chicken sausage is so versatile. Make it for breakfast with some eggs and toast, toss it in a casserole for protein, or serve it with some potatoes and veggies or inside a hot dog bun for an easy weeknight meal.
Made with chicken leg meat, Vermont maple syrup, real diced apples, and no artificial ingredients or preservatives, we're sure you'll love these too. They're already cooked, so you just need to heat them up and serve them. Grill, pan fry, broil, or microwave options are on the back of the package to make your life a little bit easier.
An excellent balance of sweet and savory. Don't forget to add this to your next TJ's shopping list!
Trader Joe's Apple Blossoms
Imagine a money bag of gold made from a pie crust overflowing with apple filling and golden cinnamon streusel on top. That's what you get from this 2 pack of apple blossoms. Ideal for a special treat with your daughter or a date night at home – you get just the right amount of delicious apple pie goodness.
These have been a TJ's customer favorite for almost 20 years, and they're easy on the wallet. With a gooey apple filling and a flaky money bag crust, you can't go wrong with these. And they're made by the apple growers themselves for a true farm-to-market dessert.
Light, delicate, and delicious, these apple blossoms are sure to satisfy your sweet tooth.
Trader Joe's Rustic Apple Tart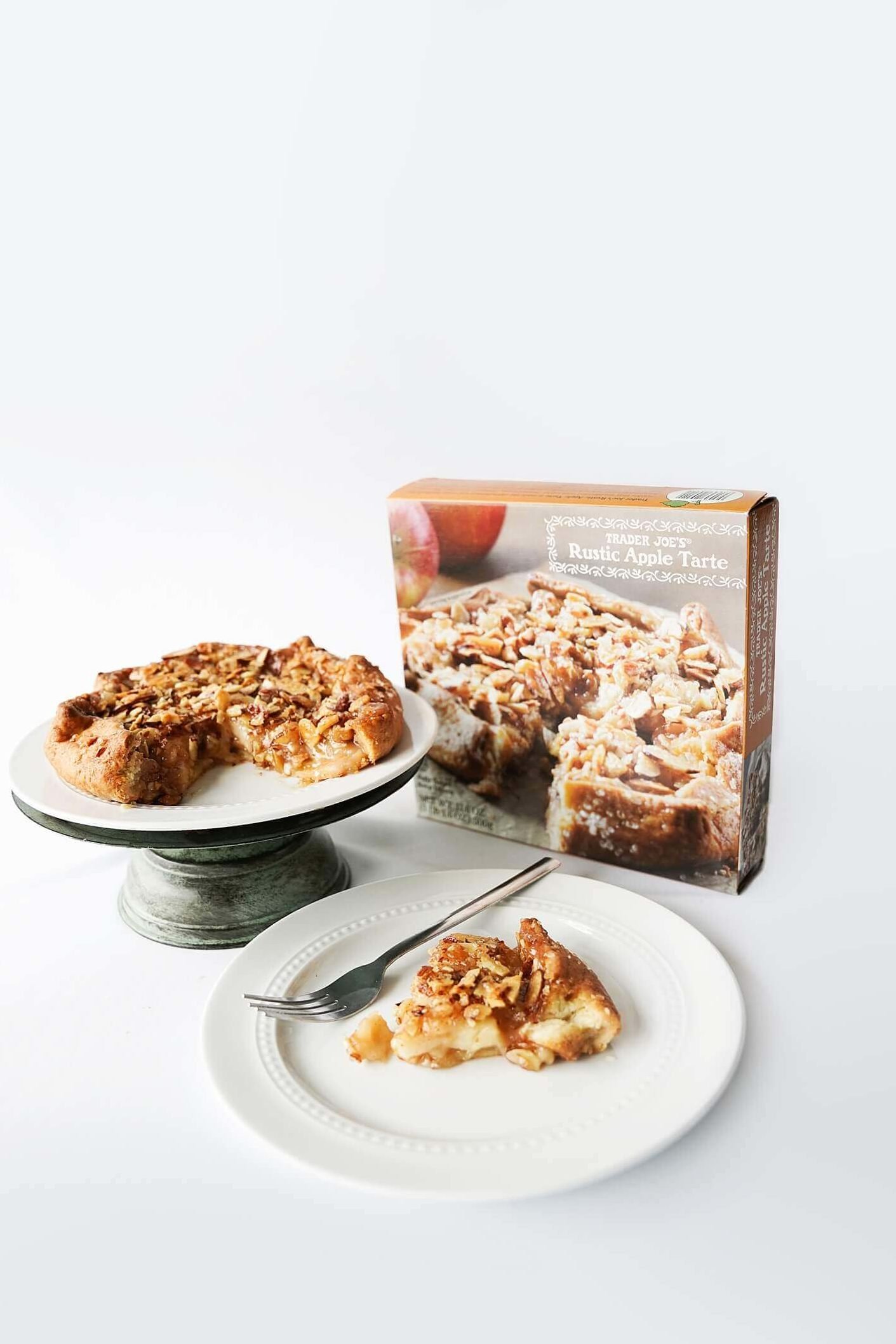 Last but most certainly not least – the rustic apple tart. You could think of this almost like a Dutch apple pie. The apple filling is blended with sweet cream cheese, cinnamon, and sugar for a creamy, cozy combination. The crust is hand folded, glazed, and topped with coarse sugar for a simple yet delightful tart.
The apples are baked just enough so they aren't too mushy or crunchy. All you need is your oven, a baking sheet, and 20-25 minutes to indulge in this yummy dessert. And it has 4 servings per tart.
Sweet and addictive, this rustic apple tart is the perfect dessert after a cozy meal with your family.
Have you tried any of our favorite apple items from Trader Joe's?
Let us know which one is your favorite in the comments below!