Grilled Fruit Kabobs + Tips for Grilling Fruit
Apr 26, 2018, Updated Jun 13, 2022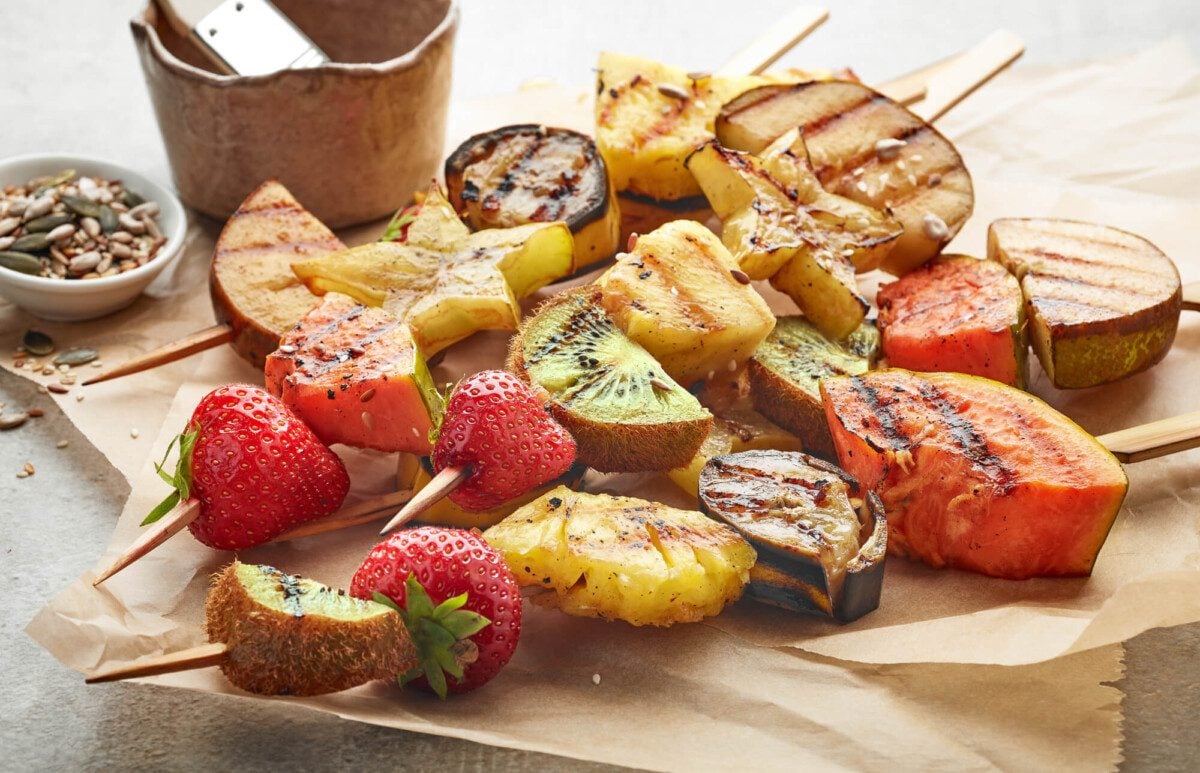 Grilled Fruit Kabobs will be the star of your next cookout!
When it comes to grilling produce, veggies usually take centerstage. Grilled eggplant, asparagus, mushrooms, potatoes, and zucchini are always popular choices. Keep grilling those veggies, but this grilling season add fruit to the lineup too!
If you've not had grilled fruit, you may think it sounds a little odd. But one try is all it takes to fall in love. Grilling brings out the natural sugars in fruit, making for an intensely sweet treat.
Tips for grilling fruit
Make sure your grill grate is clean before grilling fruit. You don't want charred pieces of meat stuck to your fruit, trust us!
Use an oil that works well at high temps and will complement the flavor of the fruits. We prefer coconut oil or grapeseed oil. Very lightly oil the fruit with a pastry brush. You can also oil the grate instead, to prevent the fruit from becoming too greasy.
Most fruits grill up nicely but some delicate fruits, such as berries, are best prepared another way (or eaten fresh!).
Some fruits grill better with their peel/skin on, to keep the fruit intact during cooking. This is true of kiwi and bananas.
Grilled Fruit Kabobs are quite easy to make. Placing fruit on skewers prevents the fruit from falling through the grate into the coals. Plus, it also makes a handheld snack that's fun and easy to eat in the backyard. Grilled Fruit Kabobs are a hit with adults and children alike. Serve them as an appetizer or as a dessert.
Ingredients
pineapple

cut into chunks

watermelon

cut into small wedges

starfruit

sliced

kiwi

sliced with skin on

strawberries

banana

sliced with peel on

nectarine

sliced

coconut oil

or grapeseed oil

pumpkin seeds

or other seeds & nuts of your choosing

honey
Instructions
Prepare your fruit and place on skewers, alternating fruits.

Use a pastry brush to lightly brush fruit with coconut (or grapeseed) oil. Alternatively, you can oil the grill grate.

Grill uncovered over medium-hot heat, turning frequently. Grill until grill marks begin to form and fruit is heated through, about 4-6 minutes.

Optional: Drizzle skewers with honey and sprinkle with seeds/nuts to add more sweetness and crunch.
Notes
*Another great way to serve grilled fruit is with your favorite fruit dip or with whipped cream.
Nutrition information is automatically calculated, so should only be used as an approximation.
Like this? Leave a comment below!
The suggestions in this recipe are just that…. suggestions. When you make your own Grilled Fruit Kabobs feel free to experiment with different fruits. Here are some fruits that grill really well:
Oranges
Peaches and other stone fruits
Pineapple
Apples
Pears
Bananas
Strawberries
Melon
Grapes
Kiwi
Starfruit
Mango
Grapefruit
Which fruits will you use for your Grilled Fruit Kabobs? Let us know in the comments below!