10 Sweet and Savory Kebab Recipes
Kebabs, kebobs, kabobs… No matter how you spell it, one thing's for sure: everything is better on a stick! Kebabs are a grilling season staple. Fruits, veggies, meats, and more make great combinations when you skewer them together on a kebab and toss them on the grill. They're a great way to add more produce and protein to your diet without the carbs. No matter what your family is craving, we have more kebab recipes here than you can shake a stick at!
What creative kebab combinations will you come up with? Get some inspiration with these mouth-watering skewers:
Greek Salad Kebabs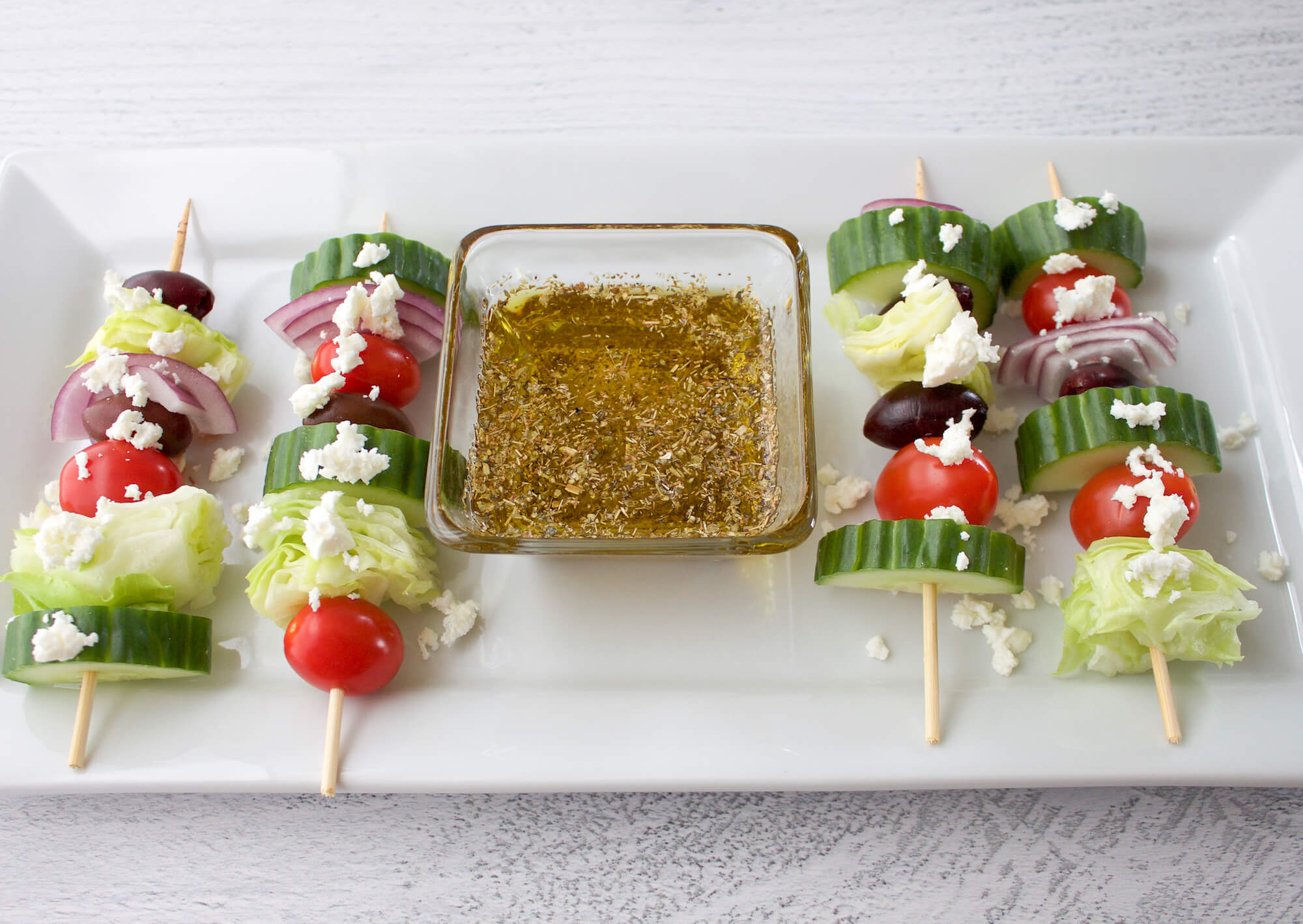 Balancing a salad plate and a drink at a party requires skill! Help your party guests out by serving a salad that's easy to eat, whether standing up or sitting down. Greek Salad Kabobs require no eating utensils or even plates! They're especially great for backyard parties… you can be eating a Salad Kabob with one hand and playing bean bag toss with the other!
Get the recipe for Greek Salad Kebabs!
Strawberry Salad Kebabs
Strawberries are definitely the star of this particular salad show, but we've included avocado and baby spinach to round out these skewers. Avocado and strawberry pair well together for a creamy, sweet taste. Spinach adds the pleasant crunch we all expect in our salads.
Get the recipe for Strawberry Salad Kebabs!
California Sassy Salad Kebabs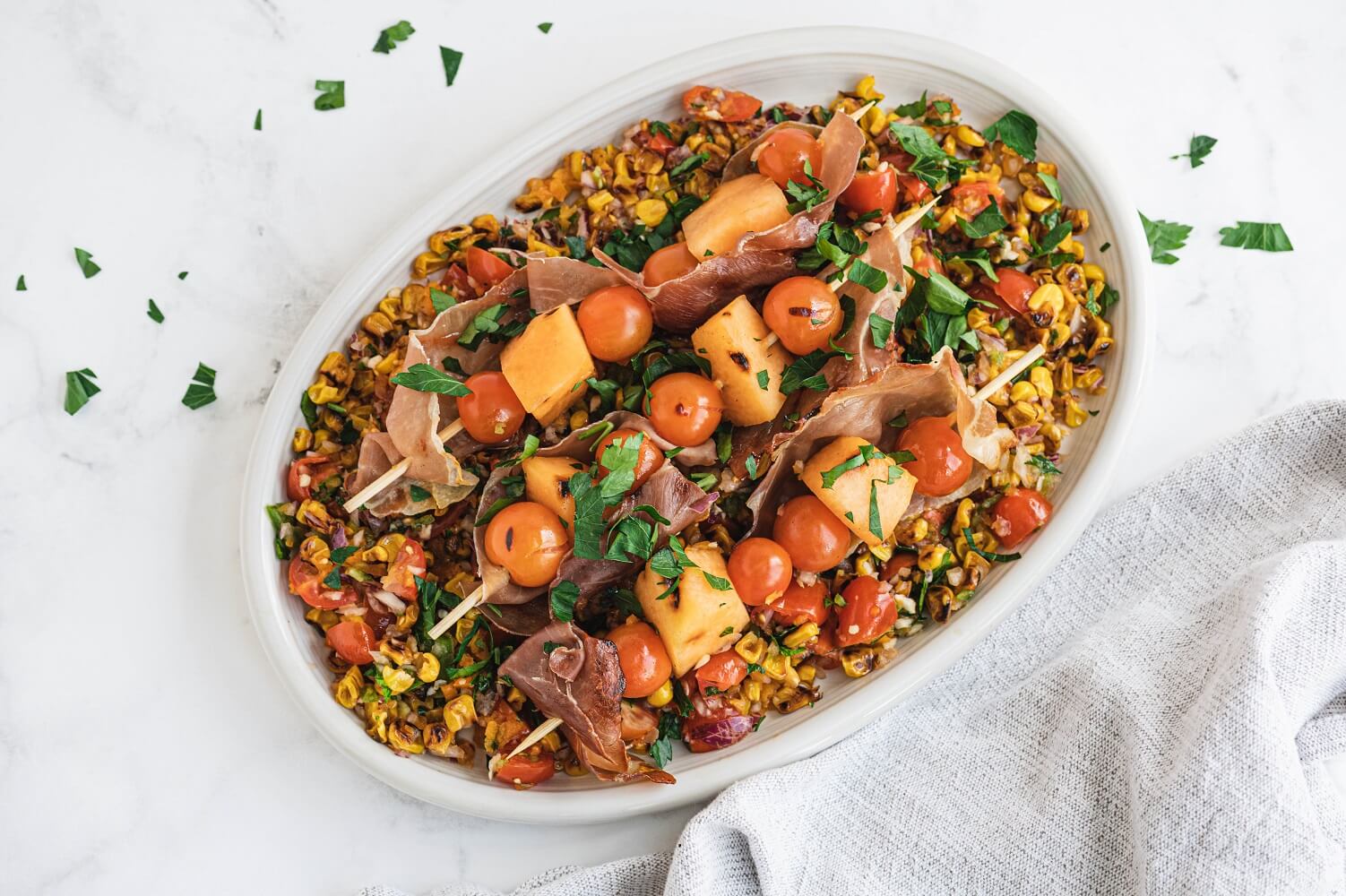 These California Sassy Salsa Kabobs will fit right into any west coast kitchen. Made with savory prosciutto, sweet cantaloupe, and of course juicy NatureSweet Glorys®, these grilled kabobs combine a variety of flavors on a single satisfying skewer.
Get the recipe for Sassy Salad Kebabs!
Mushroom Kebabs
With their delicious earthy flavor, mushrooms make great kebab ingredients – so we made three different kebabs with them! Mushrooms pair nicely with all kinds of other ingredients in any kind of meal and can take on rich new flavors as they're cooked. Kid-friendly and featuring a variety of flavors, these kebabs are perfect for parties or just meals with the family.
Get the recipe for Mushroom Kebabs!
Chicken and Lollipops Kebabs
Chicken and veggies are a classic kabob combination. The addition of Lollipops® elevates this classic to the next level! Multi-Colored Lollipops® Kale Sprouts are a cross between red kale and Brussels sprouts. We love their eye-catching purple and green color!
Get the recipe for Chicken and Lollipops Kebabs!
Grilled Red Onion, Chicken, and Mint Kebabs
These kebabs are a perfect combination of tender, marinated chicken with a variety of delicious and nutritious veggies. We all know that there is nothing more satisfying than a super easy meal that is packed full of flavor. We love these grilled red onion, chicken and mint kebabs because they are a meal that both adults and kids will love!
Get the recipe for Grilled Red Onion, Chicken, and Mint Kebabs!
Grilled Jerk Shrimp and Pineapple Kebabs
These kebabs combine two of the yummiest grilled foods: shrimp and pineapple. What really makes these kabobs next level, though, is the homemade Jamaican jerk sauce. You'll love dipping your skewers into this one-of-a-kind sauce!
Get the recipe for Grilled Jerk Shrimp and Pineapple Kebabs!
Cherry and Pork Skewers with Cherry Rosemary Sauce
Pacific Northwest cherries are famous around the globe for their unmatched taste. In some parts of the world, people pay one dollar per cherry just to get a sweet taste of them! For those of us in the States, we are lucky this delicacy is readily available – and affordable. Combine cherry season with grilling season with these unique Cherry and Pork Skewers, featuring a delicious cherry rosemary sauce that will help you make the most of them.
Get the recipe for Cherry and Pork Skewers with Cherry Rosemary Sauce
Grilled Watermelon and Italian Sausage Kabobs
If you're looking for new foods to add some crispy grill marks to, try watermelon! When grilled, watermelon becomes even more flavorful and pairs perfectly with juicy, tender meat like spicy Italian sausage. Cube some watermelon, chop some sausage links, and skewer them both to make these Grilled Watermelon and Italian Sausage Kabobs, a summer meal your family can savor all season long!
Get the recipe for Grilled Watermelon and Italian Sausage Kabobs
Grilled Fruit Kebabs
Get more out of your produce by grilling fruit! We've talked about watermelon and pineapple here, but other fruits are just as grill-friendly. Try peaches, strawberries, kiwi, and more and you'll fall in love with grilled fruit too!
Get the recipe for Grilled Fruit Kebabs!
There are so many ways to stack a good kebab! What will you be skewering this summer? Does your family have a favorite kebab combo? Share in the comments below or show us your favorites by tagging us @theproducemoms on Instagram.