How to Cut Grapefruit Into Gorgeous Segments (Step by Step)
It's time for grapefruit season! We have a quick and simple hack on how to cut a grapefruit for the perfect segments in salads, parfaits, or broiled for a refreshing and even sweet ingredient or snack. And they're in season, so grab some on your next trip to the grocery store!
I've heard so many people say that grapefruit is bitter, and it can be. But like any other ingredient, it can be transformed into something that you love with a little creativity.
I'm going to show you the easiest way to cut grapefruit so you can try it out with your favorite recipes.
This post is sponsored by Pro Citrus Network.
Use grapefruit as a topping, a sauce, a dressing, or even a dessert for a refreshing take on your menu this week. (I even have a quick salad dressing recipe I think you'll love.) And it only takes a few minutes to prep.
Here we go!
What Is a Grapefruit?
Grapefruits range in color from pink to red flesh. It belongs to the citrus family, which means that it's considered to be a Hesperidum — a modified, large berry with a thick rind. It's a cross between a pummelo and a sweet orange which gives it the famous tangy and tart flavor. Grapefruits are typically darker in color and much bigger than oranges.
There are several amazing health benefits linked with grapefruit, including:
There are many reasons to add grapefruit to your diet. So let me show you the easiest and quickest way to cut grapefruit so you can add them to recipes and snacks.
Related: Eating Citrus Makes a Difference
How to Cut Grapefruit Segments
Step 1
Start your knife at the top of the grapefruit to begin.
Step 2
Use your knife to cut off the rind in a spiral.
Step 3
Use your knife to cut along the membrane (the segment dividers) of your first grapefruit segment.
Step 4
Cut the next segment along the membrane and underneath until it falls onto your cutting board.
Step 5
Continue to cut each segment until you make your way around the entire grapefruit. And enjoy!
Related: 5 Ways to Cut a Navel Orange
Have a Grapefruit Question?
If you haven't tried grapefruit before, it's surprisingly easy to cut and adds flavor to a variety of recipes. Don't be afraid to work with citrus because it's not any harder than working with other fruits like apples or pineapples.
Let's clear up any confusion to get you started.
Can You Cut Grapefruit Ahead of Time?
You sure can. Tightly wrap your cut grapefruit in plastic wrap or aluminum foil. Store it in an airtight container or resealable plastic bag and store it in the fridge for up to four days. Segmenting your grapefruit ahead of time is fantastic for a quick addition to a salad or parfait when you're on the go.
Can Cut Grapefruit Be Left At Room Temperature?
Usually, grapefruits are ripe when you buy them, so it's best to store them in the fridge. If you get a few grapefruits that aren't ripe, then go ahead and leave them out at room temperature so they'll be ready when you need them.
Should Grapefruit Be Hard or Soft?
Use your hands to check the firmness of your grapefruit. When you squeeze the grapefruit, it should be firm all the way around with a thin, smooth skin. If you feel any soft spots, it's probably already starting to go bad, and you should look for another one. If you love grapefruit, look for one that's deeper in color because the flavor is more intense.
Why Is Grapefruit So Bitter?
All citrus fruits have something called the pith — the white part underneath the skin, attaching it to the flesh of the grapefruit. The pith can be quite bitter in citrus, and with grapefruit, it can be extremely bitter. People don't realize how sweet grapefruit can be because they're eating it with the pith.
So when you cut grapefruit, try to cut away as much of the pith as possible to eliminate that bitterness. I think you'll find that you really like grapefruit.
Quick and Easy Grapefruit Salad Dressing Recipe
If you're like me and you like the tanginess of natural grapefruit juice, leave out the honey, but feel free to add honey if you like it on the sweeter side. Add a pinch of salt to cut back on the tang of the grapefruit juice and some ground pepper. I made my dressing in a mason jar, so I added some garlic-infused olive oil until it filled the jar halfway. Put on the lid and give it a good shake.
Produce Mom Tip: Add your salad dressing ingredients to a milk frother (the kind you use for lattes) to quickly mix the ingredients together.
Why We Love Pro Citrus Network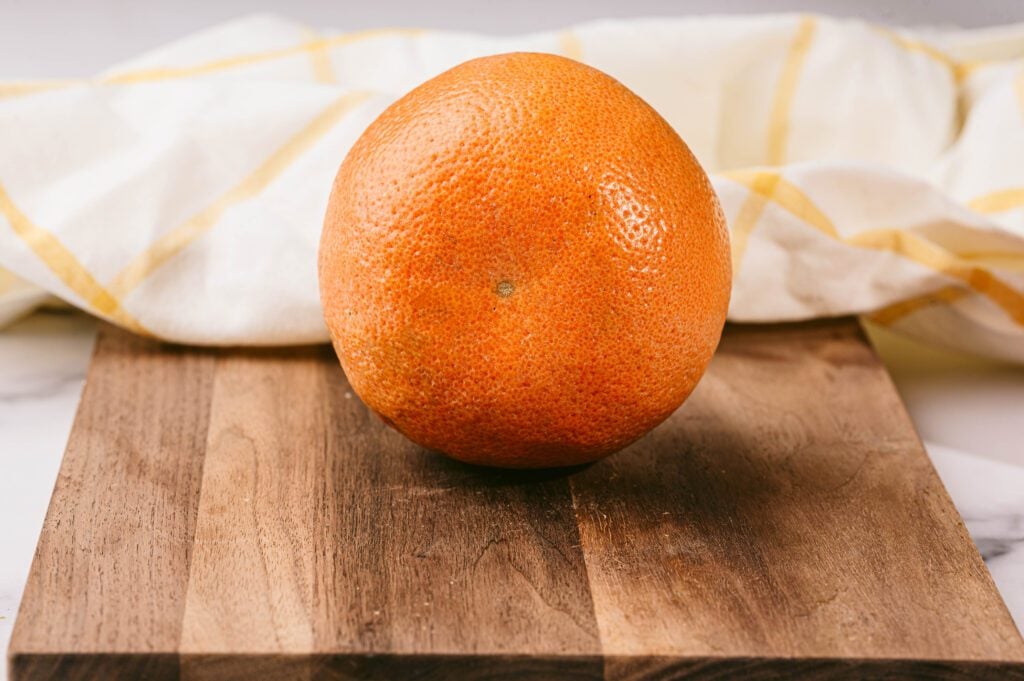 With a focus on high-quality citrus, Pro Citrus Network supplies you and your family with the right citrus at the right time. Their high standards for their produce and their efforts to work together to help each other and value the people they serve (that's YOU) are what set them apart. They strive to provide citrus in North America all year, so you always have the option to add a little slice of citrus to your plate.
Look for grapefruit with the orange and green label in the produce section for a tangy, tart treat.
More Refreshing Grapefruit Recipes
How To Segment A Grapefruit
Not sure how to cut a grapefruit? Here's a simple hack to cut grapefruit in just a few minutes for a tasty and beautiful addition to your favorite recipes.
Print
Pin
Rate
Instructions
How to Peel
Wash your hands with soap and water, and use a towel to dry off your hands. Keep a kitchen towel close by to use as needed.

Take a pairing or boning-style knife and cut at the top of your grapefruit, just under the navel. Start from the edge furthest away from you and use your thumb to guide your knife toward you. Cut about three-quarters from the edge toward the middle. This is the top of your spiral peel.

Continue to use your thumb to guide your knife around the edge of your grapefruit to cut between the flesh and the skin. You should start to see that you're removing the pith (white part of the grapefruit underneath the skin) from the flesh of the fruit as you continue to spiral down. Think of it as peeling an apple in a spiralized fashion.

When you get to the bottom of the spiral, continue to cut off the bottom piece of the skin. Then wipe off your board with your towel for a clean workspace to segment your grapefruit.
How to Segment
First, look for the light-colored membrane lines. This is your guide for cutting your grapefruit. Use your knife to cut along the membrane toward the center of the grapefruit to make a V shape. The first segment should come out easily, and it's the only segment that gets two cuts on each side.

On the second segment, cut along the membrane and gently move the knife underneath the segment to release it. It should fall right off. If not, use your hands to help separate it from the segment from the membrane.

Continue around the entire grapefruit, cutting along the memebrane and slightly underneath each slice until your grapefruit is fully segmented.
How to Juice
Grab a glass jar or bowl and use your fingers to squeeze the membrane against the inside of the jar so the juice comes out. If any seeds come out, just set them aside and take an immunity shot or make a salad dressing. Enjoy your grapefruit juice!
Notes
Use your hands or knife to help separate each segment from the membrane.
If the last segment doesn't come out easily, it may need a cut on each side with a knife.
Take it slow when cutting grapefruit, and use a knife you're comfortable handling.
Nutrition
Calories:
108
kcal
|
Carbohydrates:
27
g
|
Protein:
2
g
|
Fat:
0.4
g
|
Saturated Fat:
0.1
g
|
Polyunsaturated Fat:
0.1
g
|
Monounsaturated Fat:
0.1
g
|
Potassium:
346
mg
|
Fiber:
4
g
|
Sugar:
18
g
|
Vitamin A:
2944
IU
|
Vitamin C:
80
mg
|
Calcium:
56
mg
|
Iron:
0.2
mg