Thanksgiving Recipes Featuring Apples and Potatoes
The holidays are fast approaching. First up is every foodie's favorite, Thanksgiving! On our November 2021 Indy Style appearance, we share easy recipes featuring apples and potatoes that will delight your holiday guests. Not only are they delicious, but they are mouth-wateringly gorgeous too! Some can even double as centerpieces. Let's get cooking!
Apple Centerpiece Recipes
The following three recipes all have a couple of things in common. For starters, they each feature crunchy, honey-sweet SweeTango® apples. Secondly, they are all family-style recipes that are so stunning, they can double as your table's centerpiece. Who needs flowers when you can decorate with something beautiful and edible?
Caramel Apple Monkey Bread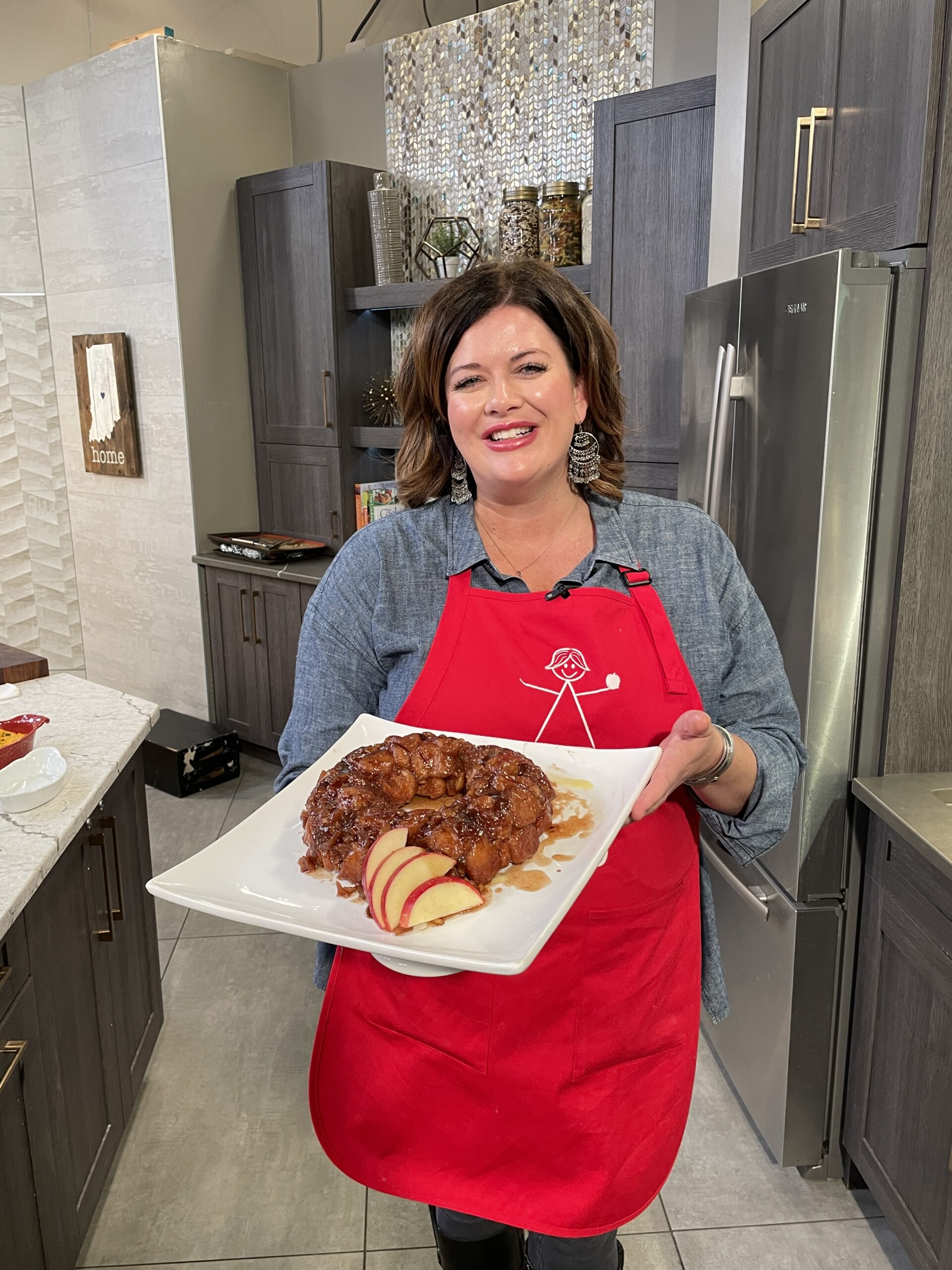 Monkey bread, also commonly called pull-apart bread, uses refrigerated pre-made biscuits and cinnamon sugar to create a bundt cake that tastes similar to cinnamon rolls. To take it up a notch, we modified this traditional recipe to include SweeTango apples and caramel sauce. The result? An ooey-gooey, oh-so-yummy, get-in-my-tummy holiday treat!
Make it in a bundt cake pan or a loaf pan. Either way, it looks and tastes delicious. Serve it for breakfast or as dessert. One thing is for sure, it won't last long!
Get the recipe for Caramel Apple Monkey Bread here.
Apple and Walnut Baked Brie
Keep your Thanksgiving guests happy while they wait on the main course with a tasty appetizer. It doesn't get any tastier than this baked brie featuring SweeTango apples, walnuts, and honey.
Worrying you don't have time to make Thanksgiving dinner and an elegant appetizer? Think again! This baked brie takes 4 ingredients, 5 minutes of prep, and 7 minutes in the oven. You don't even have to peel the apples!
No need to corral your guests to the dinner table. Place this dish in the center of the table and everyone will flock to it.
Get the recipe for Apple-Walnut Baked Brie here.
Apple Cardamom and Chèvre Tart
After guests finish the main course and are sitting around the table chatting, wow them with this elegant tart featuring SweeTango apples, cardamom, and chèvre goat cheese. Serve with coffee and good conversation.
Ingredients
5 small apples

Frozen pie crust dough

1/2 cup or 115 grams chèvre unripened (goat cheese)

2 tablespoons organic honey

1/2 teaspoon cardamom

1 teaspoon fresh lemon juice

A pinch of lemon zest

1 tablespoon organic honey to brush on apples before baking

1 tablespoon organic honey to brush on apples after baking

2 tablespoons unsalted butter cut into small cubes

1/4 beaten egg
Directions
Preaheat oven to 400.

Line baking sheet with parchment paper.

In a small bowl, mix the chèvre, honey, lemon juice, lemon zest and cardamom thoroughly until smooth and set aside.

After premade dough has thawed, roll it out with a rolling pin into a 10X X 14 rectangle.

Add parchment paper to a baking sheet. Transfer the dough. r.

With a spatula, spread the chèvre out into an even layer leaving about an inch of the edge.

Pop baking tray with rolled out dough into fridge.

Wash, core the apples and cut into quarters length wise quarter and thinly slice about 8 slices (you can also use a mandolin to slice your apples).

Do this to all quartered apples so 20 quarters (from 5 small apples).

Take dough out of fridge and start arranging your apple slices starting from the left to right. Snuggly place the sliced groups side by side in a cross-hatching pattern, leaving about 1 inch from the edge until the chèvre is completely covered with apple slices-about 4 quarters across by about 5 quarters down.

Pop in fridge again for about 15 minutes to let the dough chill again.

Once the dough has chilled, brush about 1 tablespoon of honey on the sliced apples and

Brush the 1/4 beaten egg wash on the crust.

Sprinkle the small cubes of butter all over the tart.

Bake for 40-45 minutes or until crust is crisp and golden brown.

Brush on about 1 tablespoon of organic honey while the tart is still warm.

Serve as is or with a scoop of ice-cream.
must-try holiday Potato recipes
No Thanksgiving table is complete without potatoes. When selecting potatoes for your holiday meal, look for Wada Farms. With over 80 years of farming experience, they know how to grow a good potato!
Here are some easy ways to serve potatoes this holiday season that you might not have considered before.
Roasted Red Potatoes
Red potatoes are velvety smooth and creamy. Roast them along with garlic, Italian seasoning, and parmesan cheese for a holiday-worthy side.
Ingredients
1 1/2 lbs baby red potatoes, halved (can also use large red potatoes cut into 1-inch pieces)
1/4 cup olive oil
2 tsps garlic, minced
1 1/2 tsps salt
1/2 tsp pepper
1 tsp Italian seasoning
1/4 cup parmesan cheese, finely grated
2 tbsp fresh parsley, chopped
cooking spray
Directions
Preheat the oven to 400 degrees. Line a sheet pan with foil and coat the foil with cooking spray.
Place the potatoes in a large bowl. Add the olive oil, garlic, salt, pepper, Italian seasoning and parmesan cheese. Toss to coat.
Spread the potatoes in a single layer on the prepared baking sheet. Bake for 35-40 minutes or until golden brown and fork-tender. Sprinkle with parsley and serve.
Twice Baked Potato Casserole
Indulgent and full of flavor, Twice Baked Potato Casserole is a must! Try it once and your guests will be begging for it to reappear year and after.
This casserole is a great way to reuse leftover potatoes. Overcooked the potatoes you were making for a different potato dish? Use them for this casserole instead!
Get the recipe for Twice Baked Potato Casserole here.
Savory Sweet Potato Mash
Sweet potatoes are a Thanksgiving staple. Instead of your normal sweet potato casserole, consider a sweet potato mash instead.
Here's a hack to make your sweet potato dishes even easier to make this holiday season: Cook your sweet potatoes the night before, bring them to room temperature, and then peel them with your hands. The skin peels right off and the sweet potatoes come out whole. This is a great job for the kids!
Ingredients
4 lbs sweet potatoes, peeled and cut into 1″ cubes
2 tsps salt, divided
1/3 cup green onion, finely sliced mostly green parts
1/3 cup fresh flat-leaf parsley, finely chopped
1 small-to-medium garlic clove, pressed or minced
1/4 cup sour cream
3 tbsps butter, cubed
freshly ground black pepper
1 tsp extra-virgin olive oil
Directions
Place the cubed sweet potatoes in a large saucepan or Dutch oven and add enough water to cover by about 1″. Add 1 teaspoon of the salt and bring the mixture to a simmer over medium-high heat. Reduce the heat and simmer, uncovered, until the potatoes are tender (in other words, it's easy to slide a fork in and out), about 9 to 12 minutes.
Drain well, then return the potatoes to the pot. Mash the sweet potatoes to your desired consistency.
Promptly add almost all of the green onion and parsley, reserving a small amount of each for garnish. Add the garlic, and stir to combine. Then stir in most of the sour cream (reserve roughly 1 tablespoon for garnish), all of the butter, and the remaining 1 teaspoon salt. Season to taste with additional salt (I usually add another ¼ to ½ teaspoon) and freshly ground black pepper.
Transfer the mashed potatoes to a serving bowl and swirl the reserved sour cream onto the top with a spoon. Sprinkle with the reserved green onion and parsley, drizzle the top lightly with olive oil, and finish with a sprinkle of pepper.
Serve promptly. Leftovers will keep well, covered and refrigerated, for 3 to 4 days.
What apple and potato recipes will be gracing your Thanksgiving table this year? From The Produce Moms family to yours, happy Thanksgiving!