Easy & Festive Holiday Recipes
Dec 09, 2022, Updated Jan 17, 2023
We stopped by the Life.Style.Live! kitchen earlier this week to share easy ideas to make your holiday more festive. From Christmas morning breakfast to evening dessert, we have you covered with recipes that inspire holiday cheer. We even share a unique DIY gift that your friends will love.
Just Crack An Egg – Omelette in a jar
Start your holiday with a filling breakfast that will stick with you through all the morning festivities. Omelettes in a jar are a great option because they can be assembled ahead of time, saving you time on Christmas morning. They can be cooked in a frying pan or in the microwave.
Ricotta Board with Marinated tomatoes
This ricotta board includes the colors of Christmas and tastes as good as it looks. And the best part? It takes 15 minutes of prep, tops!
Ingredients
For the Marinated Tomatoes:
2 cups NatureSweet Holiday Medley tomatoes, halved
3 tablespoons extra virgin olive oil
2 tablespoons balsamic vinegar
1/2 cup fresh basil, roughly chopped
2 tablespoons fresh thyme leaves
1 clove garlic, grated
kosher salt and black pepper, to taste
For the Lemon Thyme Honey
1/4 cup honey
2 tablespoons fresh thyme leaves
1 Juice of lemon
For the Board
2 cups fresh ricotta
lemon zest
Focaccia or bread of choice
thyme pieces
Directions
To make the tomatoes. Combine all ingredients in a bowl and season to taste with salt and pepper. Let sit 10-15 minutes or up to overnight in the fridge.
To make the honey. Combine all ingredients in a glass jar. Season with salt and black pepper.
Whip the ricotta until smooth and then spread it in a 1/3 inch layer on a wooden board.
Scatter the tomatoes and cover with lemon honey. Add thyme.
Serve with bread.
Holiday Wreath Cheese Board
This elegant centerpiece appetizer is the perfect choice for your holiday open house or cocktail party. Once it's assembled, be sure to drizzle it with olive oil for a beautiful shine and luxurious flavor.
To Go Tomatoes: Snack for Santa
An easy way to inspire kids to eat more fruits and veggies is to incorporate them into your holiday traditions — like leaving Santa a healthy snack (along with cookies too, of course!). Make things easy with NatureSweet To Go Tomatoes and carrots for the reindeer.
Learn more about To Go Tomatoes from NatureSweet here.
Apple Toffee Upside Down Cake
Enjoy the taste of caramel apples in cake form. For a shortcut, use a spiced cake mix instead of making the cake from scratch. It tastes just as good but saves precious time during the busy holiday season.
Meyer Lemon Poppy Seed Scone
These poppyseed scones can be served for breakfast or dessert. They use lemon olive oil instead of butter for extra lemony flavor, perfect for the winter holiday season.
Ingredients
1 ¼ C All Purpose Flour
¾ tsp Baking Powder
¼ tsp Baking Soda
¼ tsp Sea Salt
1 tbsp Lemon Zest
2 T Poppyseeds
1/3 C Whole Milk
1 Juice of Lemon (appx 3 T)
½ tsp pure vanilla extract
2 tsp Honey
¼ C O California Meyer Lemon Olive Oil
1 Egg, beaten
4 tbsp Sugar
Lemon Glaze
2 cups powdered sugar
1/2 cup O California Meyer Lemon Olive Oil
1/4 cup water
pinch salt
Directions
Preheat oven to 400 degrees.
Combine flour, baking powder, baking soda, salt, lemon zest and poppyseeds in a large bowl.
In a separate bowl, combine milk, lemon juice, vanilla extract, honey and O California Meyer Lemon Olive Oil.
Stir the wet ingredients into the dry ingredients until the mixture just comes together and forms a dough.
On a floured surface shape the dough into a round disk about 1 inch thick. Cut dough into 4 to 6 triangles depending on the size you want.
Place scones on a lined baking sheet and place in freezer for 10 to 12 minutes to firm.
Once the dough has firmed up, brush the top of each scone with the beaten egg and sprinkle with sugar.
Bake for 16 to 20 minutes or until golden brown.
Allow to cool slightly before serving. Add glaze.
Lemon Glaze
Whisk glaze ingredients together until smooth.
Place scones on a cooling rack over parchment paper or paper towels to catch drips. Drizzle glaze over cooled scones and allow to set.
Apple Pie Moonshine
This DIY cocktail gift couldn't be any easier to make and it will delight the adults on your gift list. It's great for handing out to neighbors, coworkers, and friends.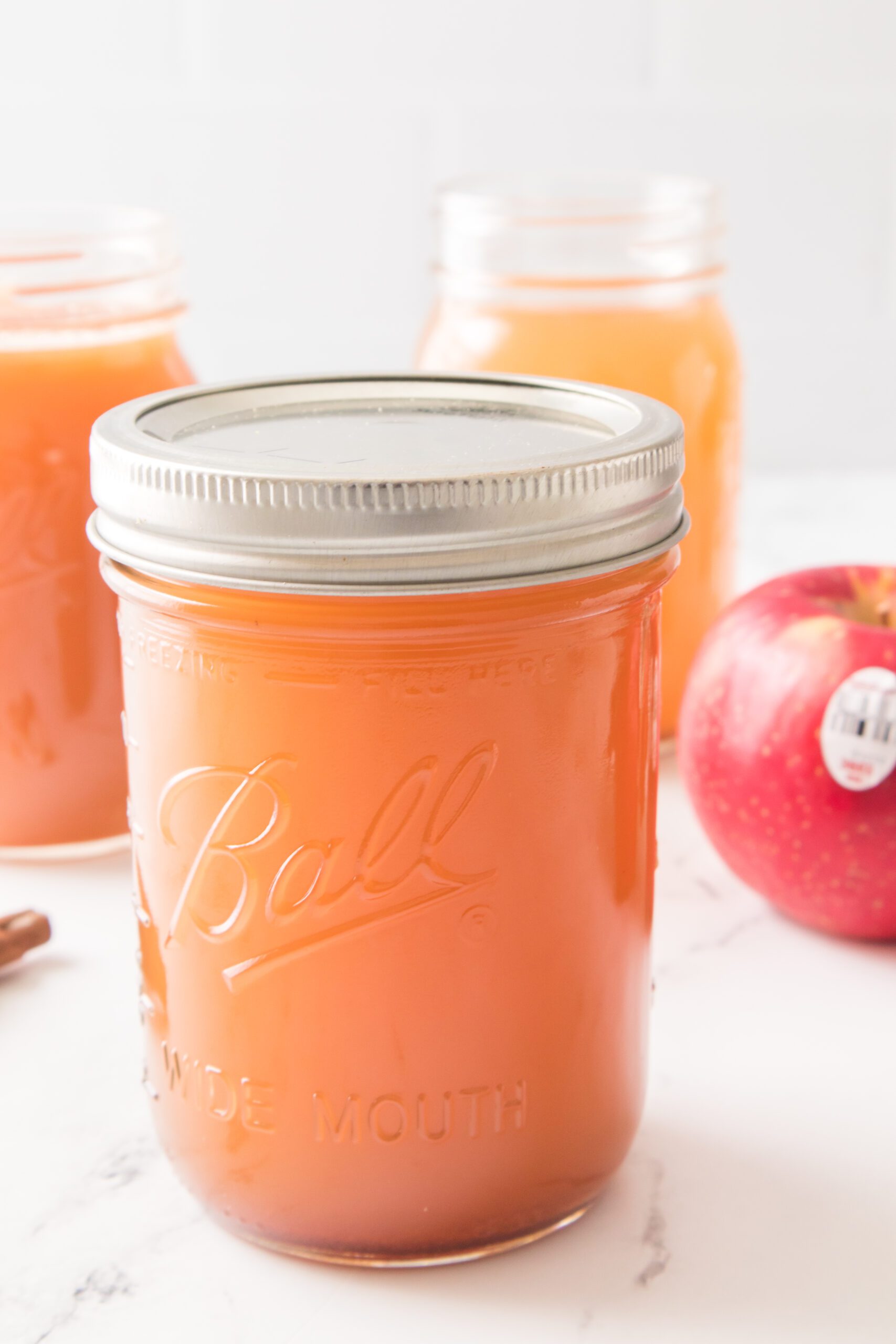 Which of these festive recipes will you make this holiday season? Let us know in the comments below.