Mashed Potato Hacks and Pear Recipes for Thanksgiving
Nov 11, 2022, Updated Nov 21, 2022
Thanksgiving is just around the corner so we headed to Life.Style.Live! kitchen to share hacks, recipes, and easy centerpiece ideas to make your Thanksgiving less stressful and more delicious. Because Thanksgiving should be about good company and good food, not dishes and chores.
Clever Potato Hacks
Mashed potatoes are a Thanksgiving must! We have several clever potato hacks that make the prep work easier and the final result tastier.
Potato Hack #1: Wash Your Potatoes In The Dishwasher
You read that right! You can wash potatoes in the dishwasher! Simply place your potatoes on the top rack and run the dishwasher for 5 minutes without detergent. This is a huge timesaver when you are washing a large number of potatoes, like on Thanksgiving.
Potatoes purposely arrive at the grocery store with dirt on them. This helps extend their shelf life. However you decide to wash your potatoes, do not do it in advance. Once they are washed and the dirt is removed, they begin breaking down.
Potato Hack #2: Alternative Potato Mashers
Potato mashers are hard to store. If you've ever owned one, you know they are constantly jamming up the kitchen drawer. Skip the potato masher and use a coffee mug instead! Hold the mug by the handle and then smash the potatoes with the side of the mug. It works just as well as a potato masher.
You can also use a hand mixer to mash your potatoes. We like to cook potatoes in chicken stock. Then, add heavy cream and half a stick of butter and mix right in the pot.
Potato Hack #3: Add Baking Powder For Fluffy Potatoes
Add a pinch of baking powder to cooked potatoes right before mashing them. Baking powder is a leavening agent. It will lighten the mixture and result in fluffy potatoes without changing the taste.
Potato Hack #4: Quick, Easy Peeling
Put away the vegetable peeler! There's an easier way to peel potatoes. Start with unpeeled, uncooked potatoes. Using a paring knife, make a shallow cut around the "tater equator" (the middle of the potato). Boil the potatoes like normal. When they are finished cooking, remove them from the water and the peel will come off easily just using your fingers.
Potato Hack #5: Easy Gravy Thickener
Is your gravy too runny? Reserve some potato water and add it to your gravy. The potato starch in the water will help thicken it.
Potato Hack #6: Use Idaho Potatoes
Idaho russet potatoes are America's famous potatoes! They cook up creamy, which is exactly what you want for your Thanksgiving mashed potatoes.
Wada Farms has been growing russet potatoes since 1943. They use rich volcanic soils and pristine irrigation water fed from the peaks of the Rocky Mountains. They are available year-round, so you can enjoy them well beyond Thanksgiving day.
Celebrating Thanksgiving with Pears
Pears are a workhorse on Thanksgiving. They can be used as a centerpiece or added to so many different recipes.
As a reminder, it's easy to tell if a pear is ripe by checking the neck. Press your thumb into the neck of a pear. If it yields to slight pressure, it is ripe. If it is firm, it needs one or two more days to ripen. If you need to speed up the process, place your pears in a fruit bowl next to apples, bananas, or avocadoes.
Pear Centerpieces
For the easiest centerpiece imaginable, simply place a bowl of pears on the table. Pears come in a variety fall colors and make an elegant Thanksgiving table decoration.
For something more creative and kid-centric, make pear turkeys. This is a great activity to keep the kids busy on Thanksgiving morning. Set up all the supplies they need on the kitchen table and let them go to town while you take care of the rest of the cooking. They can also be created the night before and stored in the refrigerator.
Click here to get the instructions + a fun Thanksgiving printable for kids.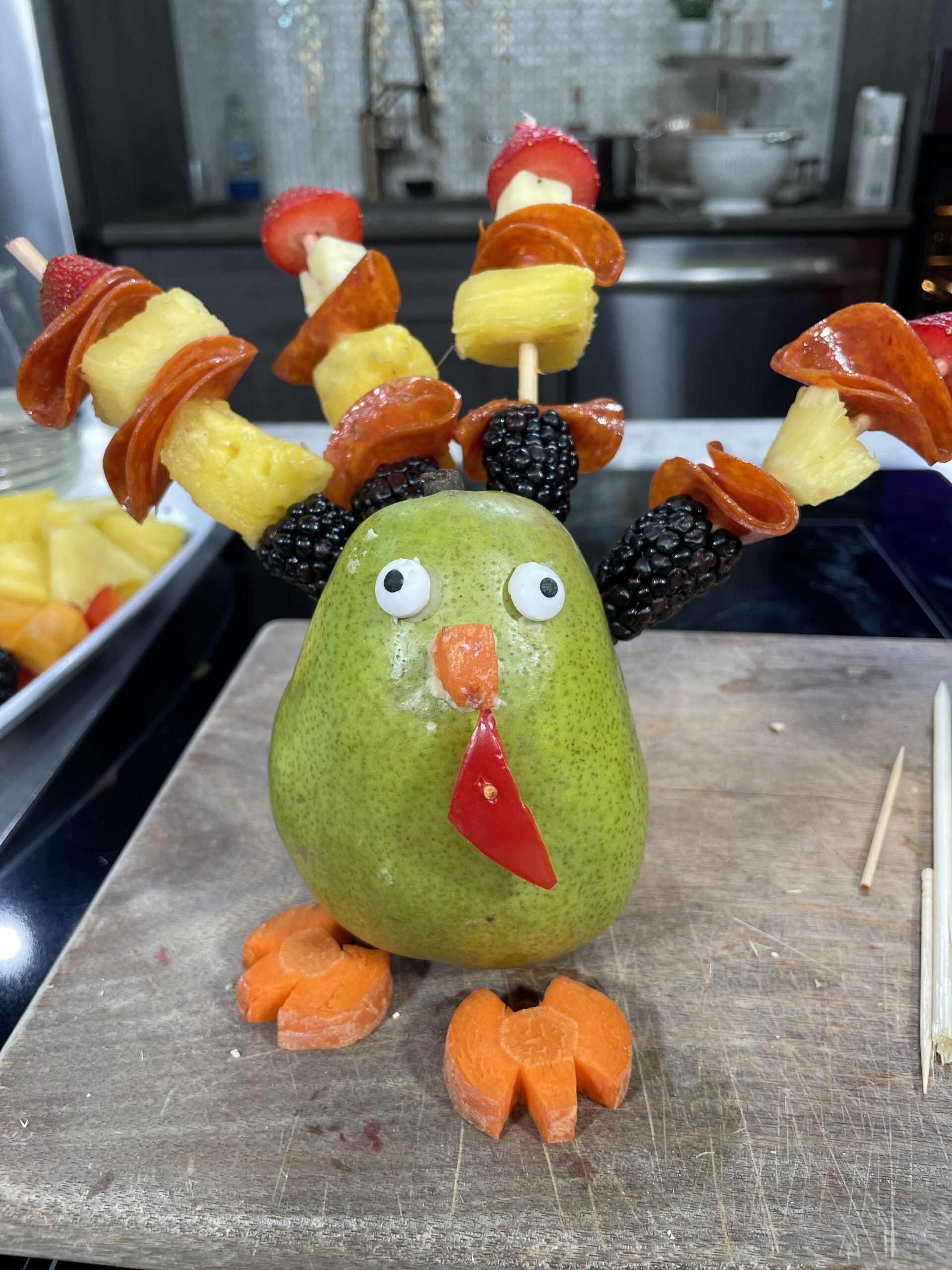 Bread Stuffing with Pears and Carmelized Onions
Pears add a bit of sweetness to classic savory stuffing flavors. No room in the oven? This dish can be baked and then reheated if oven space is limited.
Plant-Based Gravy Made With Pears & Veggies
Pear gravy? Yep! And it's delicious. This plant-based gravy is made from pears and various veggies. The pears add a natural sweetness. Miso paste gives it that umami flavor typically found in meat. And raw cashews soaked in water ensure the gravy is nice and creamy.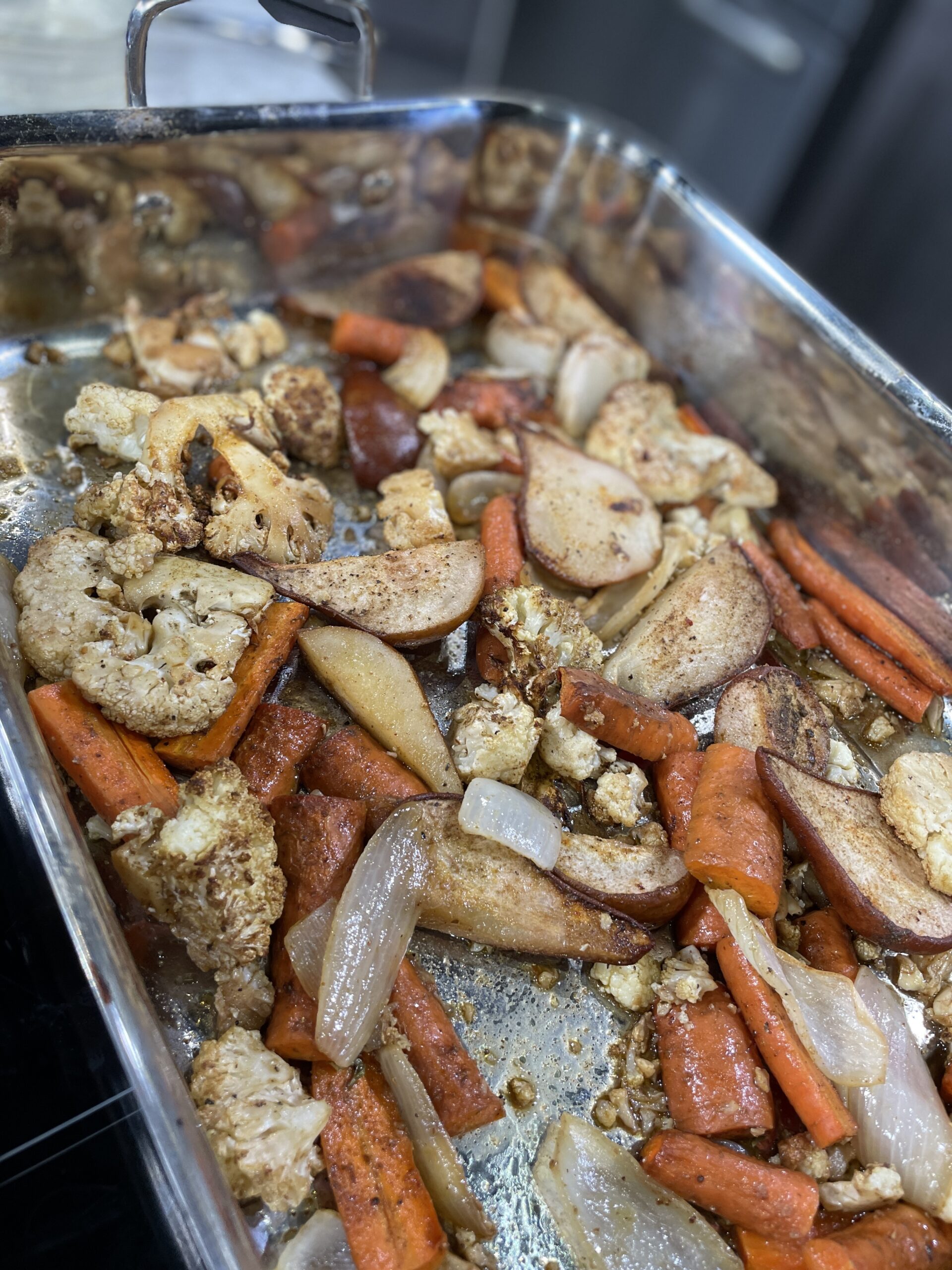 Ingredients
4 Bosc Pears, cored and diced
1 lb carrots, cut into 3″ pieces
1 medium yellow onion, peeled
4 cups cauliflower florets (from about ½ medium head of cauliflower)
4 cloves of garlic, peeled
1 T O Olive oil
2 teaspoons poultry seasoning
sea salt and ground black pepper
2 tablespoons mellow/light miso
⅓ cup raw cashews (soaked for at least 2 hours and drained)
2 teaspoons balsamic vinegar
1 T smoked paprika
3 ½ cups vegetable stock (preferably homemade)
Directions
Prepare your vegetables and then place on a baking sheet. Toss with poultry seasoning, sea salt, black pepper and olive oil.
Bake at 425° for 20-25 minutes until vegetables are tender.
Place in a blender or a large bowl using an immersion blender, with the balsamic vinegar, miso and vegetable broth. Blend until smooth or the consistency you desire for your gravy.
Enjoy topped on your stuffing, mashed potatoes or any other of your favorite Thanksgiving side dishes!
Thanks for joining us in the Life.Style.Live! kitchen. From everyone at The Produce Moms, Happy Thanksgiving!