Easy, Fresh Watermelon Popsicles: A Summer Staple For Your Home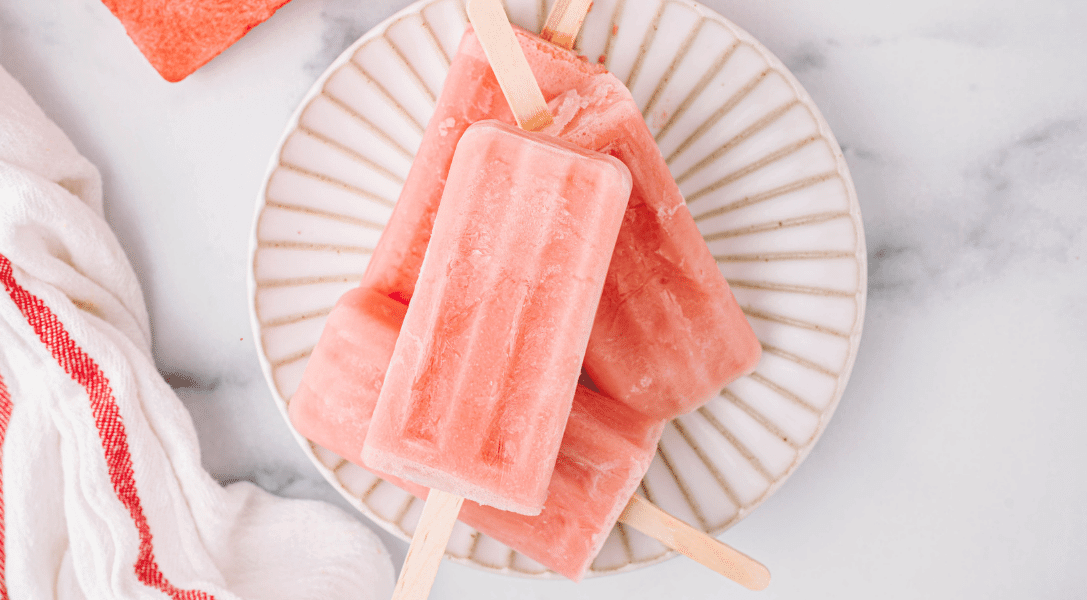 Refreshing watermelon, tangy yogurt, naturally sweet honey, and acidic lemon juice are a delightful balance of flavors in watermelon yogurt popsicles. Creamy, frozen treats that come together in just minutes. Pop them in the freezer for an easy, hydrating snack on those hot summer days just around the corner.
Is it just us, or does your freezer always seem to have at least one carton of ice cream in the freezer during summer break?
It's hot, and everyone in your house wants an icy or an ice cream sandwich from the ice cream truck.
But guess what?
You can make your own frozen treats with only four ingredients that are affordable, accessible, and nutritious — guaranteed.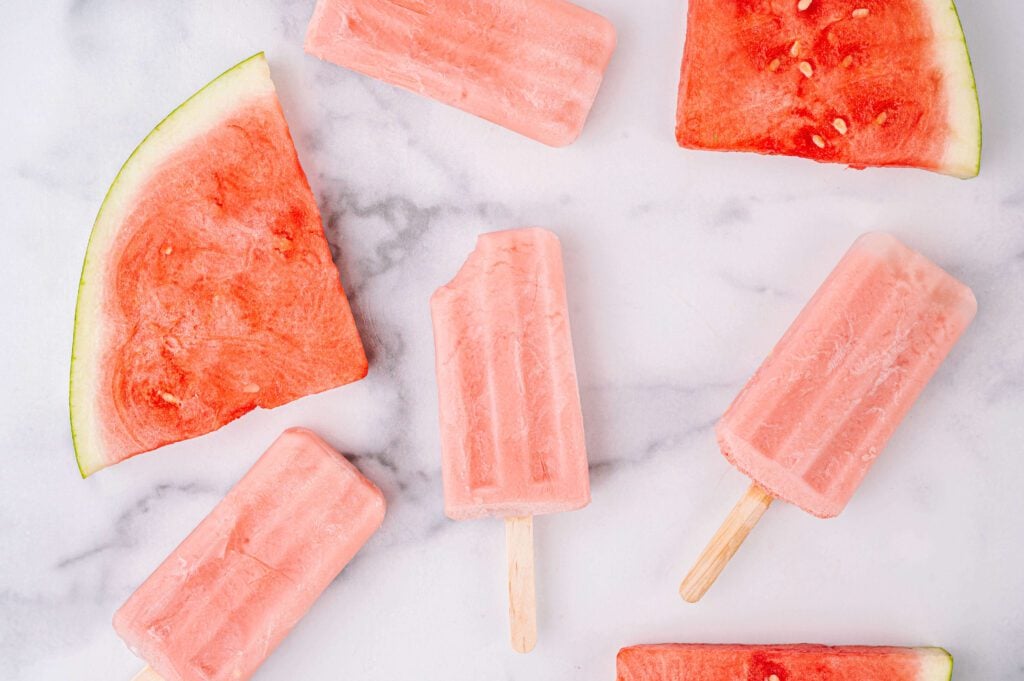 Watermelon yogurt popsicles are sponsored by National Watermelon Board.
Watermelon popsicles are about to be your (and your kids') new favorite frozen treat for summer.
Let's check out this recipe.
What Are Watermelon Popsicles?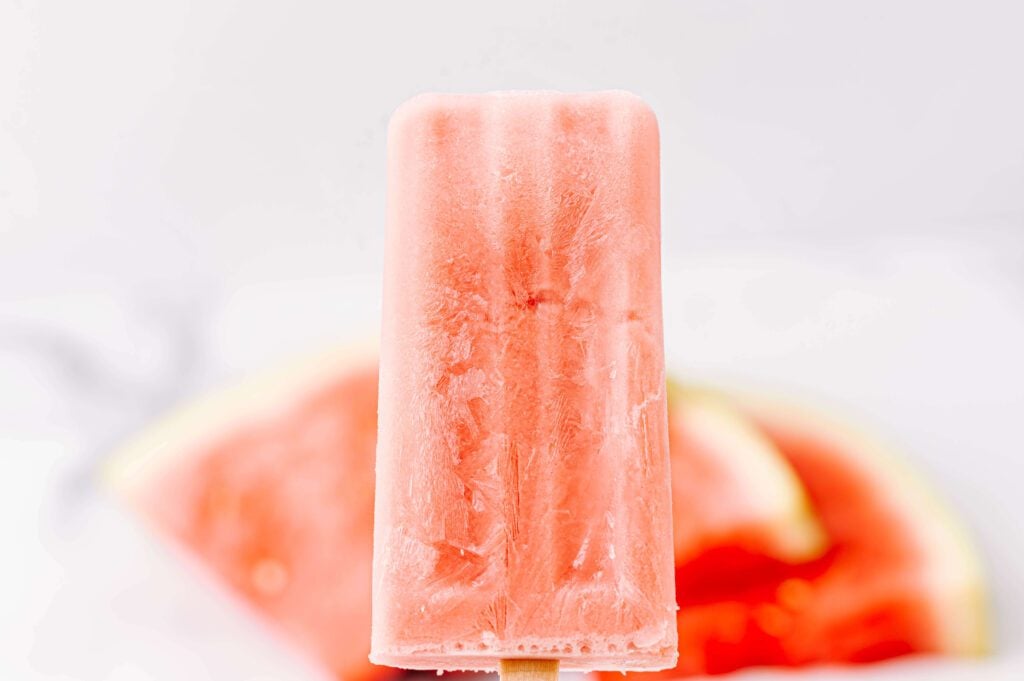 These are your new favorite frozen treats. Watermelon popsicles blend watermelon, greek yogurt, honey, and lemon juice into a fresh, creamy, and naturally sweet treat your kids (and you) will crave all season long. The best thing about this recipe is that you can divide the watermelon up and freeze it to have on hand. You'll always have these babies on standby in your freezer.
Be sure to get your kids in on the fun. Just blend, pour, freeze — and you're done!
It doesn't get much easier than that, does it?
What Can I Use as a Popsicle Mold?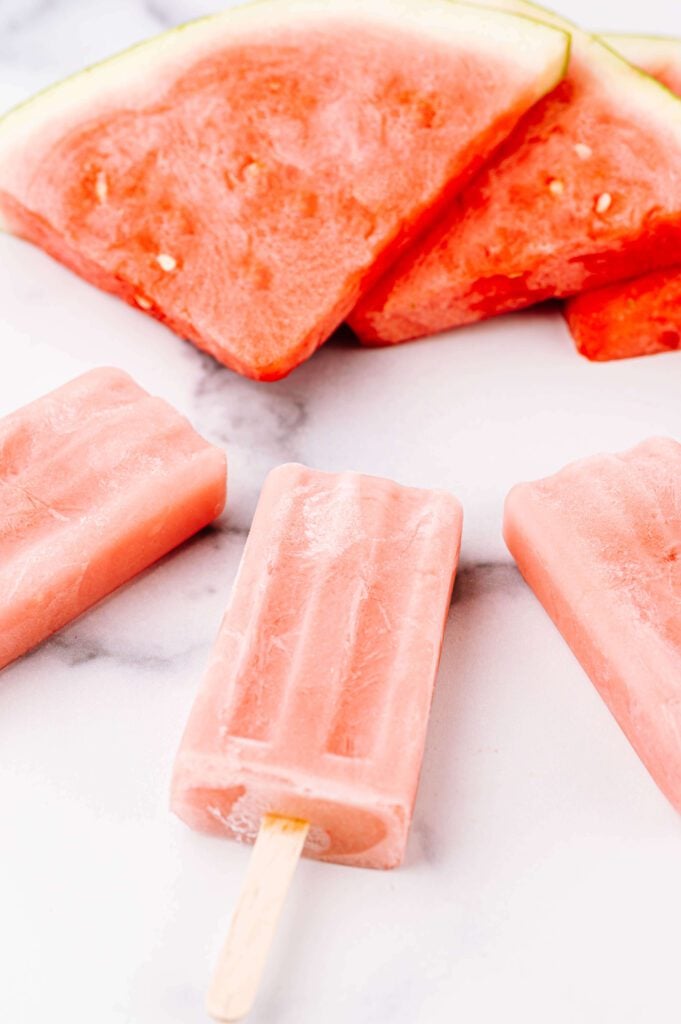 Three different types of popsicle molds work the best — metal, silicone, and plastic. And you can get creative with the shapes, from fruit to mermaid tails to traditional fudgesicle molds. We love using the silicone molds but in the end, they all form popsicles, so feel free to use your personal favorite.
Metal — stainless steel molds are more durable than plastic or silicone and aren't as likely to rust as aluminum. If you're trying to reduce plastic use or waste, a metal mold may be ideal for you.
Silicone — this is a popular choice because the material is flexible, non-stick, and easy to clean. It's also easier to get your mold out without running it underwater. You can simply peel back the mold away from your watermelon popsicle.
Plastic — plastic molds have been around for a long time and have various designs. If you're looking for a specific design, check the plastic ones. You can also use plastic popsicle sticks as a reusable option for wooden ones that usually get thrown in the trash.
Homemade Popsicle Molds
If you don't have popsicle molds, don't let that stop you from making this fun and refreshing watermelon popsicle recipe. There are a few DIY options.
Small Baking Tins
Paper/Plastic Cups
Loaf Pans
Ice Cube Trays
Small Yogurt Containers
If you decide to go the loaf pan route, line it with parchment paper. Stick the popsicle sticks in and evenly spread apart. After it's frozen, remove it and cut it into squares with a knife. You'll have your watermelon popsicles in no time.
Ingredients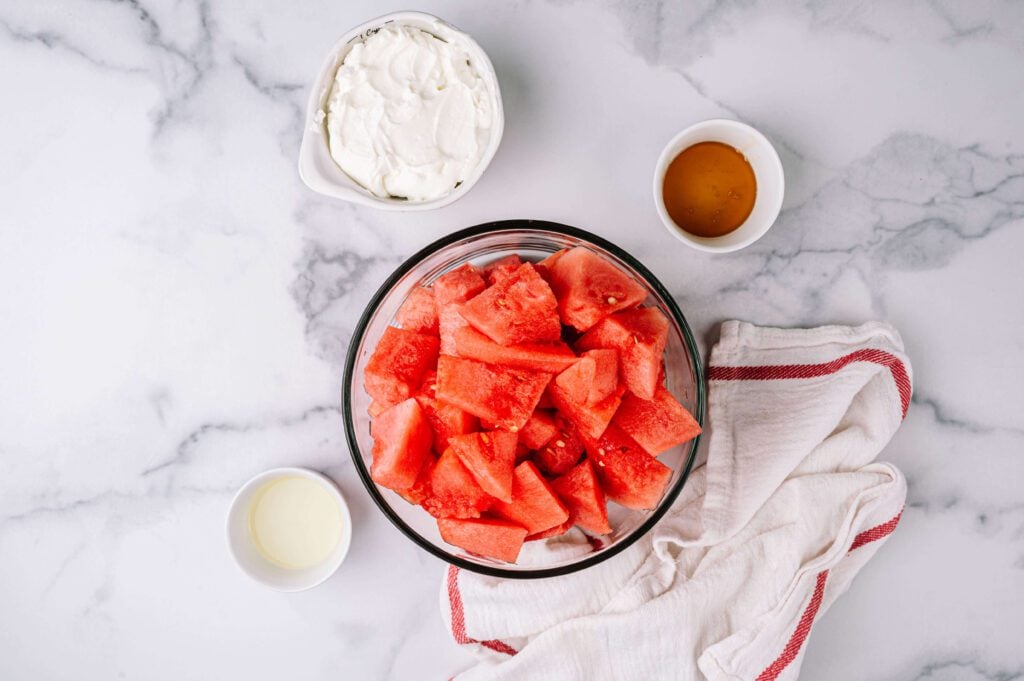 You'll love that this recipe only needs four easy and affordable whole ingredients. Just watermelon, yogurt, honey, and lemon juice. It's so simple, sweet, and refreshing. Your family and friends will want your watermelon popsicles recipe. Feel free to pass it along!
Watermelon
Watermelon is great beyond the fresh, sweet flavor. You probably already know that watermelon is mostly made up of water…92% to be exact! It is cholesterol-free, fat-free, sodium-free and has 80 calories per serving. Plus, watermelon is American Heart Association Heart-Check Certified. And it's naturally sweet without added sugar.
Greek Yogurt
Yogurt adds that luscious creaminess to your watermelon popsicles. Since there is a lot of water in watermelon, the yogurt helps alleviate your popsicle from becoming a giant block of ice. That means your popsicles keep that soft but still frozen texture that we all love about our favorite frozen treats. If you've had fro-yo, you know you can't go wrong with this ingredient!
Honey
Watermelon is already sweet, so you only need one tablespoon for your entire batch of popsicles. That comes out to less than a quarter of a teaspoon per popsicle! Honey is sweeter than regular sugar, so you don't need as much of it to taste the extra hint of sweetness. If you use local honey, it may even help improve your seasonal allergies.
Lemon
Every recipe needs some acidity, even your popsicles. Acidic ingredients are almost like salt in the same way they can enhance flavors. Lemon juice adds a bright and fresh flavor to your popsicles while balancing out the watermelon's sweetness and the yogurt's tartness. Lemon juice is what brings the whole recipe together.
These ingredients are either already on hand in your fridge or pantry and can be easily picked up at any grocery store. They are affordable and can be used for multiple batches of popsicles.
How to Make Watermelon Yogurt Popsicles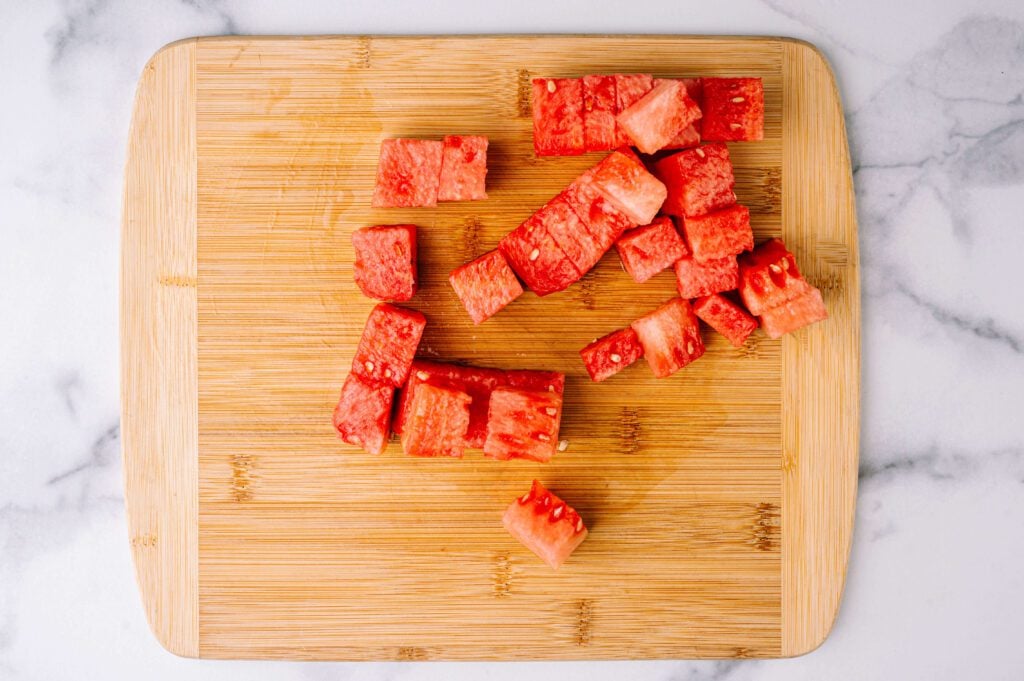 Step 1
Cube the watermelon.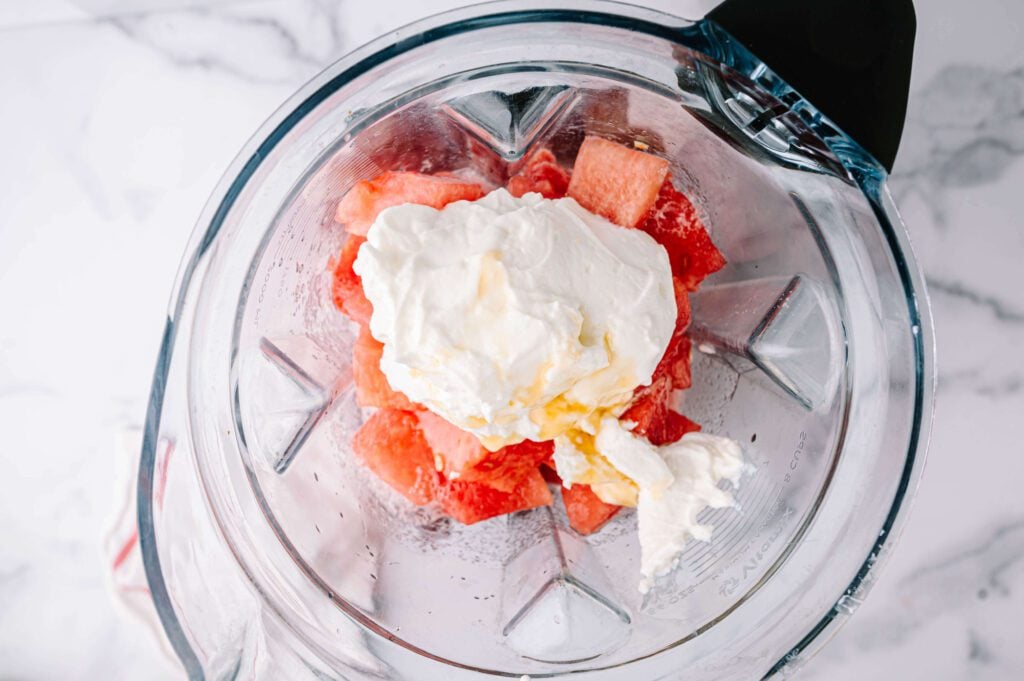 Step 2
Mix the watermelon, greek yogurt, honey, and lemon juice in a blender until smooth.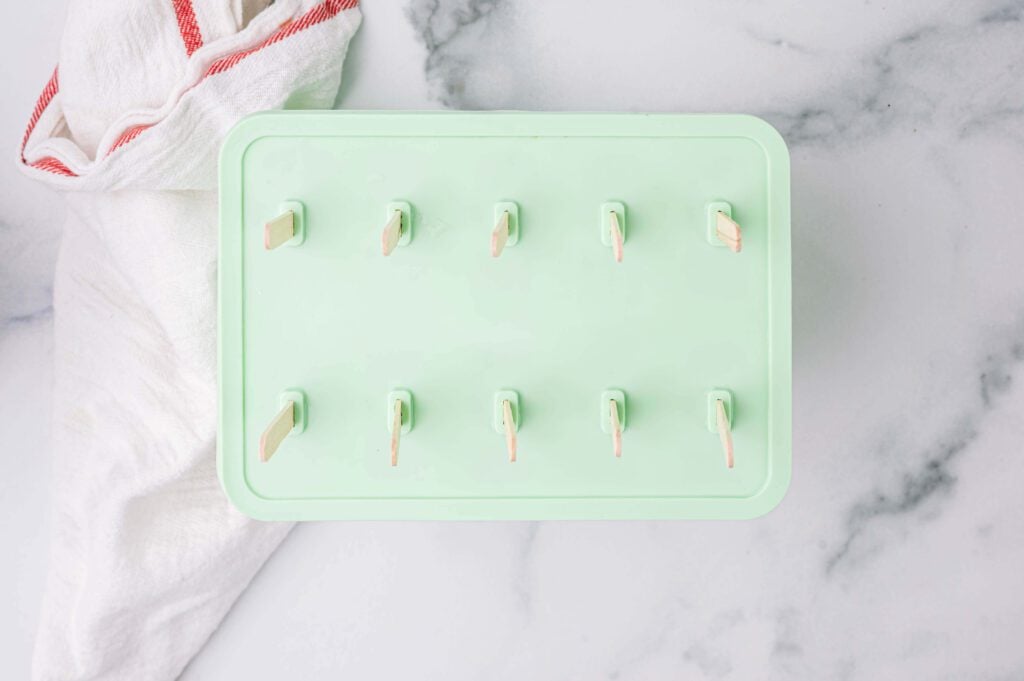 Step 3
Pour the watermelon mixture into the popsicle mold and stick a popsicle in the middle of each mold. Freeze for at least four hours.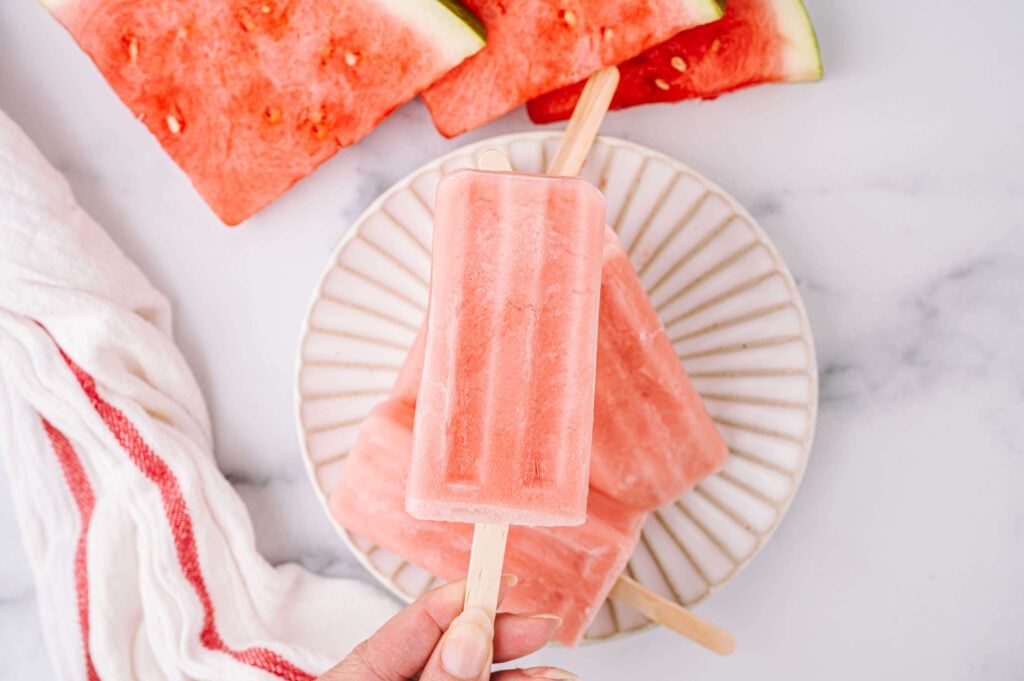 Step 4
Enjoy your guilt-free watermelon yogurt pops.
How to Remove Popsicles From the Mold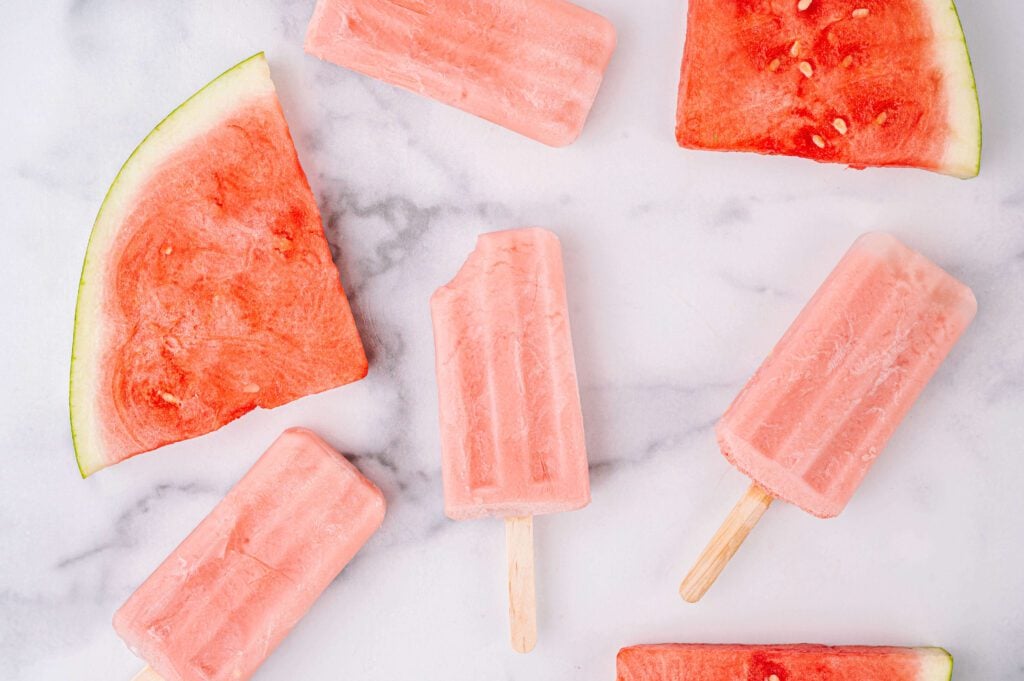 Getting your popsicles out of the mold is the most challenging part.
When you use a stainless steel or plastic mold, your watermelon popsicles will surely stick. Either hold the mold under warm running water or let your mold sit in a container of warm water. Use either method, whichever is easier, and try to pull your popsicles out of the mold after 30 seconds. If it still doesn't come out, wait another 30 seconds until it releases from the mold.
If you use a cup, you can run it under water as well or cut the paper cup off of your watermelon popsicles. The silicone molds are easier to separate by peeling the mold back, like a banana. If it doesn't separate easily, give it a quick warm water bath.
How to Store Homemade Popsicles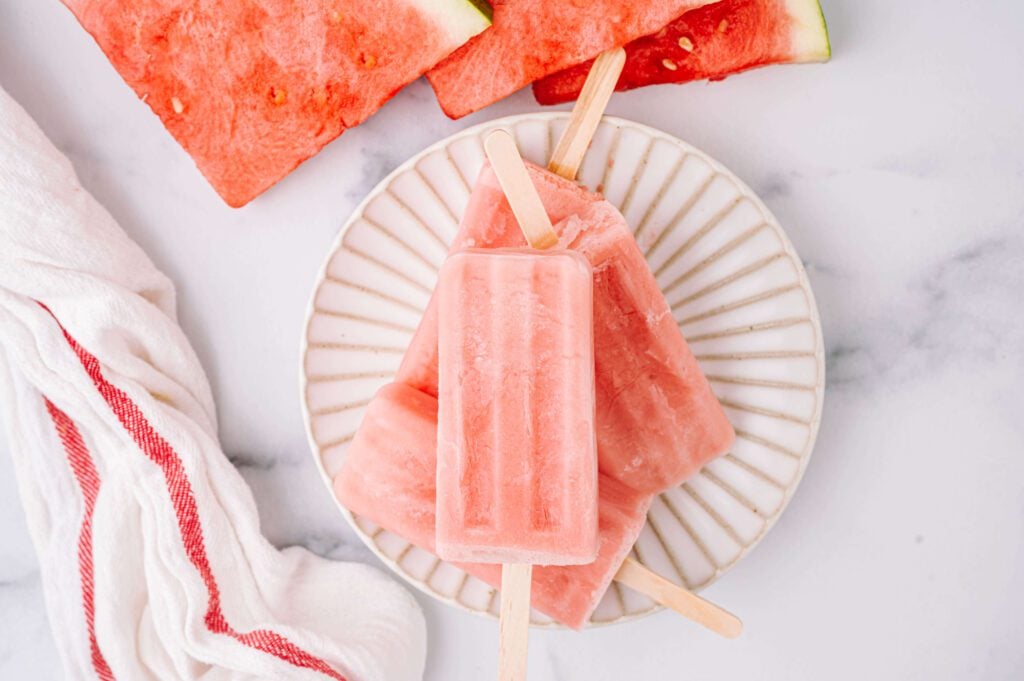 If you put your entire popsicle mold in warm water, you'll need to put your popsicles back in the freezer to firm up. Line a baking sheet with parchment paper and lay your leftover popsicles on top. Set it in the freezer for about 30 minutes.
Once frozen, tightly wrap each popsicle in plastic wrap and put them all in a freezer bag. Be sure to get all of the extra air out. Your popsicles should last up to six months, but we tend to eat all of ours within a week. They are just such a refreshing frozen treat on hot summer days.
What to Do With Leftover Watermelon
Watermelons produce a lot of fruit, so you'll have leftovers. Cube all your watermelon and freeze it in a single layer on a baking sheet. Then portion it into six-cup servings in separate freezer bags. This prevents the pieces from sticking together and makes it very easy to make more popsicles and smoothies quickly. Just toss them in the blender.
Better yet, use them as ice cubes. And don't forget, the whole watermelon is edible, even the rind. We are obsessed with these Watermelon Rind Air Fryer Churros.
Related Recipe: Use leftover watermelon in a homemade Watermelon Cooler or a Watermelon Basil Margarita
Why We Love National Watermelon Board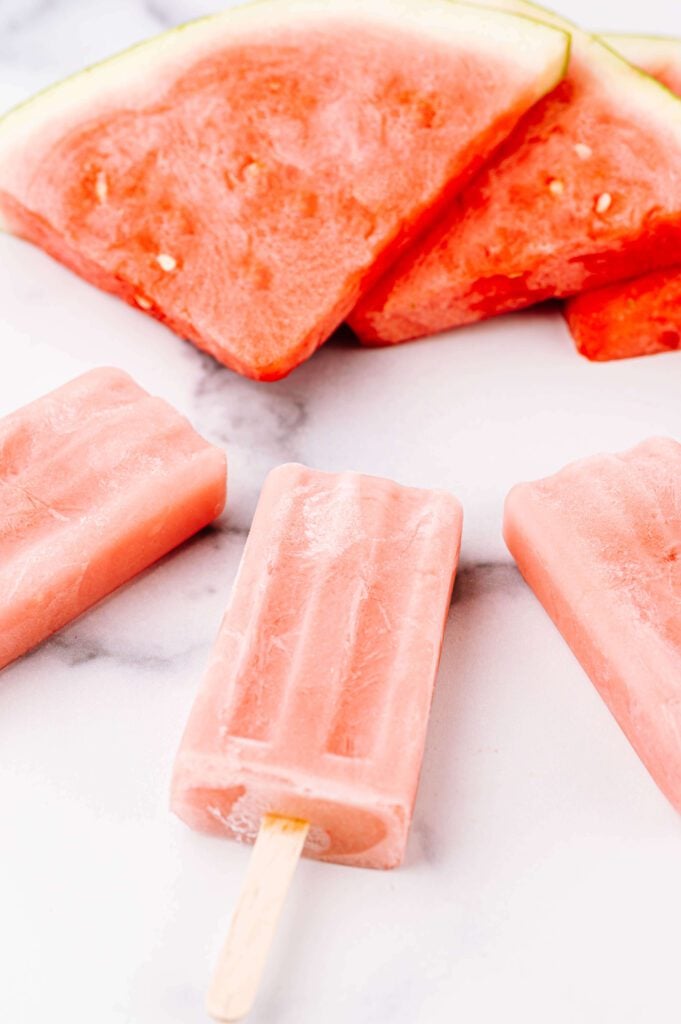 The National Watermelon Board is all about sustainability and helping you find ways to make your dollar go further. They love showing you how to use the entire watermelon (including the rind) for zero waste, saving you money in the process. From watermelon benedict to watermelon dill pickles, they've got all kinds of resources to help us live more sustainably.
To learn more about the National Watermelon Board, check out The Produce Moms Podcast.
More of Our Favorite Watermelon Recipes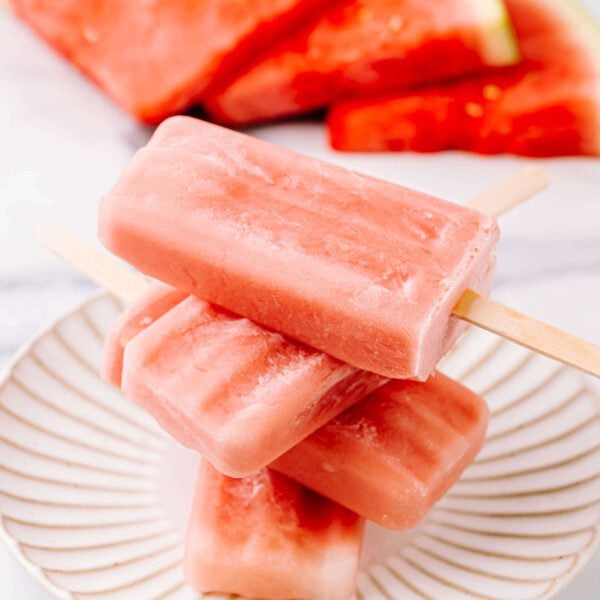 Watermelon Yogurt Pops
Watermelon yogurt popsicles only need four ingredients. Just blend watermelon, yogurt, honey and lemon juice and freeze it for a refreshingly sweet summer treat.
Print
Pin
Rate
Equipment
1 Blender

1 Popsicle Mold

popsicle sticks if needed
Ingredients
1

Watermelon

6 cups cubed

1

cup

Plain Greek Yogurt

1

Tbsp

Honey

2

Tbsp

lemon juice
Instructions
Add the watermelon, yogurt, honey, and lemon juice to your blender. Cover with the lid and blend on high until smooth. It may take a minute to get a smooth consistency.

Place your popsicle mold in front of you and pour the mixture into the mold until there is about one-quarter of an inch of room at the top. Repeat for each mold or until you run out of your popsicle mixture.

Place a popsicle stick in the center of each mold.

Put your popsicle mold into the freezer until your popsicles are firm, about four hours.

Pop the popsicles out of the molds and serve for a refreshing and nutritious summer treat. (24 hours is preferred to allow the flavors to develop.)
Notes
If you can, wait 24 hours before eating your popsicles so the flavors have plenty of time to mix together.
Nutrition
Calories:
257
kcal
|
Carbohydrates:
61
g
|
Protein:
8
g
|
Fat:
1
g
|
Saturated Fat:
0.2
g
|
Polyunsaturated Fat:
0.4
g
|
Monounsaturated Fat:
0.3
g
|
Trans Fat:
0.002
g
|
Cholesterol:
2
mg
|
Sodium:
20
mg
|
Potassium:
894
mg
|
Fiber:
3
g
|
Sugar:
51
g
|
Vitamin A:
4269
IU
|
Vitamin C:
63
mg
|
Calcium:
90
mg
|
Iron:
2
mg