Fresh Mandarin Chicken Salad With a Flavor-Packed Ramen Seasoning Dressing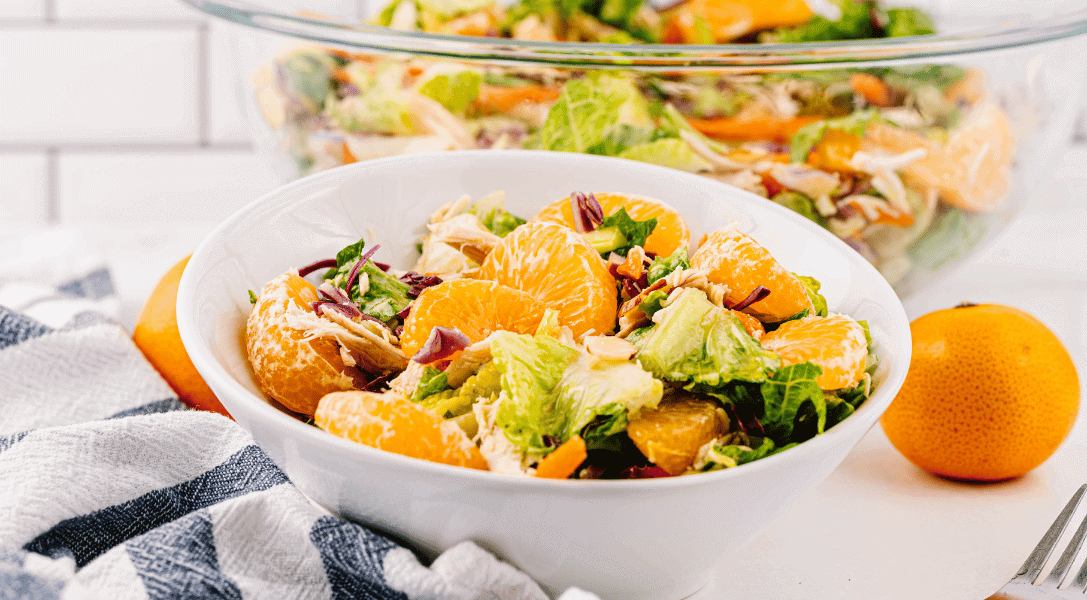 You'll love this mandarin chicken salad recipe. Every bite is infused with sweet, crunchy, zesty, and fresh flavors. From the crushed ramen noodles to the rotisserie chicken, red cabbage, and romaine lettuce, this salad is hearty while keeping things light. Be sure to add your fresh orange segments on top before tossing your salad with the ramen seasoning dressing.
We're always looking for fun ways to dress up a salad. And you know we love adding fruits, like mandarins.
After all, if your kids are anything like ours, they may not always be in the mood for another salad.
You and I are all for it… them, not so much.
We added a surprise ingredient that we know gets even the pickiest eaters on board — ramen!
Mandarin orange chicken salad is sponsored by Pro Citrus Network.
With crushed ramen noodles and a packet of ramen seasoning added to your mandarin chicken salad, your whole family will be hyped about this interesting recipe.
Remember to add your fresh mandarin oranges on top for some sweetness. And get your kids involved in the fun, too!
Let's get started.
What Is Mandarin Chicken Salad?
Mandarin chicken salad looks similar to Asian chicken salad. But we've added a few tweaks to make sure that the mandarin oranges are the star of this recipe. Instead of using Asian-inspired flavors like rice vinegar, sesame oil, or ginger, we kept this recipe simple with everyday ingredients.
The salad is made up of fresh produce your grocery store carries, like romaine lettuce, red cabbage, rotisserie chicken, celery, and carrots. We even added crushed ramen noodles for some extra crunch and used the ramen packet seasoning for bold flavors in the homemade dressing.
Ready to give it a go?
Ingredients
Mandarin chicken salad is so much fun to throw together. Salads don't require cooking, and they're a versatile dish to help use up all the fruits and veggies you have on hand. Though they can get a little boring, so we have to come up with ways to keep things interesting. Mandarin orange chicken salad has a few add-ins that make any salad exciting and fresh.
For the full list of ingredients, check out the recipe card below.
Romaine Lettuce
We'll use romaine lettuce as the base for our mandarin chicken salad. It's sturdy, crunchy, and hardy, so it holds up well with other ingredients and textures. Romaine lettuce has a neutral but savory taste that pairs well with oranges.
Romaine lettuce is also packed with vitamins. The darker the green parts, the more nutrient-dense the lettuce is. And, you may not have realized this, but romaine lettuce has fiber in it!
Look for it in the produce section of your grocery store in the mix of leafy greens.
Red Cabbage
Let's add a crunchy bite to your mandarin chicken salad with the peppery flavor of red cabbage. It's a versatile veggie that can be cooked or eaten raw. We're going to shred the cabbage and toss it right into the salad. Red cabbage is filled with antioxidants to help improve the health of your eyes, teeth, bones, and immunity.1
Feel free to swap red cabbage for green cabbage for a sweeter addition – or if that's just what you have on hand. However, we love the pop of purple and the flavor that the red cabbage adds.
You'll find red cabbage in the produce section of your grocery store.
Rotisserie Chicken
This is the step where you can cheat a little bit to truly make this mandarin chicken salad a no-cook meal. Grab a whole, cooked rotisserie chicken from the store. Add the chicken to your salad while it's hot or cold.
Plan to make your salad the next day? Use a fork to hold your chicken in place and another fork to shred the meat while it's still hot. Rotisserie chicken is very tender and comes apart easily. But it's not as easy to shred after it cools down.
Most grocery stores carry these in the deli section. You should be able to spot it when you smell its delicious rotisserie aroma.
Mandarin Orange
Pro Citrus Network has a few types of mandarin oranges that you can choose from. No matter which one you pick, they all add a burst of sweet juiciness. It's refreshing and balances out the peppery and crunchy textures of your salad. And they serve as great snacks for school lunches. Don't know which type of mandarin to get? We put together A Guide to Mandarins, so you can decide which ones you want to try.
Simply use your fingers to peel the flesh of your orange. Then separate each orange membrane and add them to the top of your salad. This is an easy job to give your kids while you prep the other mandarin chicken salad ingredients.
Look for them with the produce near the citrus.
Related: Eating Citrus Makes a Difference
Ramen Noodles & Seasoning
This is one of our favorite add-ins to this mandarin chicken salad recipe. If you have kids, you probably have a family pack of ramen sitting in your pantry. Mandarin orange chicken salad is a great way to add nutrients to your ramen.
We'll crush up the noodles and toss those in with the salad. Then we'll use the seasoning packet to add bold flavor to your homemade salad dressing.
Have your kids help you with crushing the noodles, making the dressing, and shaking it up in a mason jar. If your kids aren't huge fans of eating salad, this may be the recipe to get them interested. It can't be that bad if it's made with ramen, right?
How to Make Mandarin Chicken Salad
Step 1: Add all of your salad ingredients (lettuce, cabbage, chicken, crushed noodles, carrots, celery, and almonds) to a large salad bowl. Toss with salad tongs to combine your salad ingredients.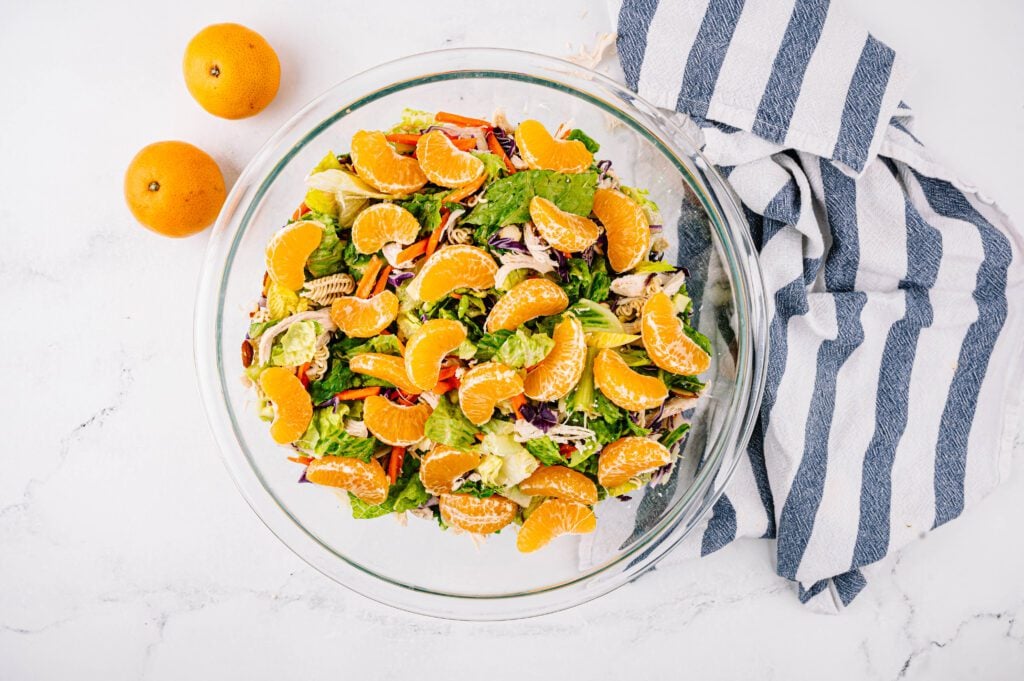 Step 2: Use your fingers to evenly place your orange segments on top of your tossed salad.
Related: How to Cut a Navel Orange
How to Make Ramen Seasoning Dressing
Step 1: Add your dressing ingredients (oil, vinegar, sugar, pepper, and ramen packet seasoning) to a mason jar. Attach the lid so it's tight, and vigorously shake the jar until all of the ingredients are combined into a dressing.
Step 2: Pour the dressing over the salad and toss again if you plan on not having leftovers. If you think there may be some leftovers, add the dressing to each individual serving for easy storage later on. Enjoy!
How to Select an Orange
Look and feel are the two best ways to see if a mandarin orange is in good shape.
Grab two mandarin oranges and use your less dominant hand to see which one is heavier. The heavier the orange is, the juicier it is.
As mandarins mature, the skin loosens and develops a puffy look, making it easier to peel. Less mature mandarins have tight, smooth skin. You can use either one.
How to Store Mandarin Chicken Salad
If you have leftover salad, store it in an airtight container in your fridge for up to three days. No need to "reheat" it, so you can eat it right out of the storage container for lunch or serve it again for dinner the next day.
Produce Moms Tip: Add the dressing to each serving of salad so you can store the dressing separately from the salad ingredients. This prevents the lettuce and veggies from becoming wilted and soggy during storage.
Why We Love Pro Citrus Network
Not only is Pro Citrus Network on a mission to provide citrus all year round, but food safety is also one of their top priorities. Food quality, safety, and hygiene is their core focus from farm to grocery store. They make sure that their high standards are met at every stage of the process – from growing, picking, and delivery to your local grocery store. They even track their oranges to be sure you get the best citrus available!
Look for the PCN label for citrus that you know has been handled with your family in mind.
Related: The Next Generation of Citrus
More Year Round Citrus Recipes
Mandarin Orange Chicken Salad
Mandarin chicken salad is an easy, toss-together dinner that's light, savory, and hardy. Make ahead or serve it fresh!
Print
Pin
Rate
Ingredients
Salad
3

cups

romaine lettuce

finely chopped

2

cups

red cabbage

shredded

2

cups

rotisserie chicken

shredded

1

instant ramen packet

crushed noodles (save flavor packet for dressing)

1/2

cup

carrot

shredded

1/3

cup

celery

diced

1/4

cup

sliced almonds

4-6

mandarin oranges

segmented
Dressing
1/2

cup

olive oil

3

tablespoons

white vinegar

1

tablespoon

white sugar

1/2

teaspoon

ground black pepper

Ramen seasoning package
Instructions
Mandarin Chicken Salad
Use salad tongs to toss the lettuce, red cabbage, chicken, ramen noodles, carrots, celery, and sliced almonds in a large salad bowl.

Place the orange segments on top of your tossed, fresh salad ingredients.
Dressing
Add the olive oil, vinegar, sugar, pepper, and ramen seasoning to a mason jar.

Put on the lid, and shake vigorously until the ingredients are combined.

Drizzle the dressing over the salad just before serving and toss to combine. Enjoy!
Nutrition
Calories:
579
kcal
|
Carbohydrates:
22
g
|
Protein:
36
g
|
Fat:
40
g
|
Saturated Fat:
7
g
|
Polyunsaturated Fat:
4
g
|
Monounsaturated Fat:
22
g
|
Cholesterol:
114
mg
|
Sodium:
451
mg
|
Potassium:
461
mg
|
Fiber:
5
g
|
Sugar:
16
g
|
Vitamin A:
6878
IU
|
Vitamin C:
51
mg
|
Calcium:
91
mg
|
Iron:
1
mg