Fresh Citrus Shrimp Ceviche
Feb 25, 2019, Updated May 27, 2021
We teamed up with Produce Citrus Network (PCN) to bring you this recipe for Citrus Shrimp Ceviche. PCN is a member of The Produce Moms' family of partners.
When you think of citrus, you may think of snacking on delicious, juicy oranges and sweet mandarins, or perhaps enjoying the tangy burst of flavor in red grapefruit. Or you might think of refreshing, fresh-squeezed orange juice or lemonade. These are all great ways to enjoy these delightful fruits. However, fresh citrus is not just for snacking or juicing. It can be incorporated as part of a healthy lifestyle in a variety of ways throughout your menu – in salads, appetizers, beverages, cocktails, marinades, main courses, desserts and more.
Today, we bring to you a prime example of the creative ways fresh citrus can be enjoyed. This Shrimp Ceviche recipe is delicious and packed full of flavorful, nutritious ingredients.  It's fresh, light, and an all-around delight!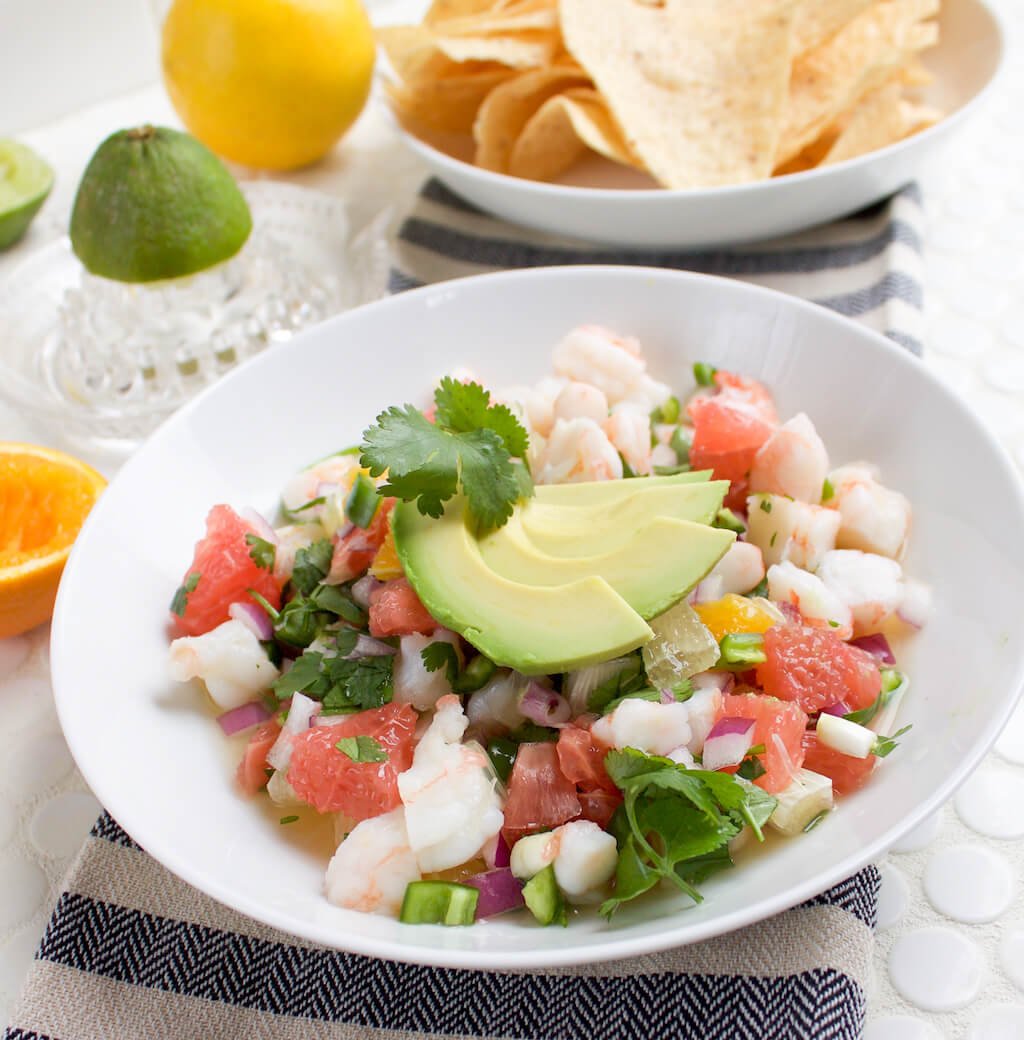 Ceviche is a traditional South American seafood dish. Raw seafood, often fish, is marinated in fresh citrus juice which essentially "cooks" the seafood. The seafood is then mixed with other ingredients, typically avocado, cilantro, onions, and chili peppers and served as an appetizer. An alternative to using raw fish, shrimp can be parboiled before marinating in citrus juices to eliminate any potential bacteria. Parboiling before marinating still results in firm, opaque shrimp with lots of citrus flavors.
It's All In The Marinade!
Great Ceviche begins with a great marinade and a great marinade begins with great citrus! For our marinade, we are using Pro Citrus Network lemons, limes, Cara Cara navel oranges, and sweet limes. This mixture is the perfect balance of tart and sweet. 
Pro Tip: If you choose to use raw seafood, you need to marinade it for at least two hours. If you parboil the shrimp as recommended in this recipe, it only needs to marinate in the refrigerator for 20 minutes. 
The marinade infuses the shrimp with sweet and tangy citrus flavors, but to amp up the citrus goodness we're also adding pieces of grapefruit, Cara Cara navel oranges, and sweet limes in with the shrimp. The citrus provides a nice balance to the heat of the jalapeno and the bite of the red onion. 
How To Serve Ceviche
Ceviche makes a great appetizer. Serve it on its own with spoons (so every bit of marinade can be scooped and enjoyed!) or with tortilla chips or crackers. It also makes a tasty, light lunch. For a less traditional approach, place ceviche on romaine lettuce, roll loosely, and eat as a lettuce wrap.
What Are Sweet Limes?
Sweet limes, also sometimes called Mosambi fruit, are a specialty variety citrus that looks similar to a lemon but has a flavor profile closer to a lime. They are light green in color with a yellow tint when they are mature. They have a sweet, mild, tangy flavor and are high in juice content. They're great for marinades, juicing, cocktails, salads, and can be eaten out of hand. While popular in many other parts of the world they are just now gaining popularity in the States.
Sweet Lime Nutrition & Health Benefits
Sweet limes contain many of the same vitamins, antioxidants, and flavonoids as other citrus fruits — Vitamin C, Vitamin B, potassium, and fiber for example — but they are low in acidity. The low acidity causes them to taste sweet, even though their sugar content is much lower than other, sweeter citrus fruits. It's a great option for people who are watching their carb or calorie intake. In several cultures, sweet limes are known for their medicinal qualities in 
boosting immune system, fighting illness, preventing dehydration, treating jaundice, and even boosting hair and skin health. 
The flavonoids in sweet limes are thought to activate the digestive system and neutralize acidic digestive juices. This makes sweet limes a particularly appealing fruit for individuals suffering from digestive or gastrointestinal issues or who want to flush toxins out of the digestive tract. 
Those individuals suffering from arthritis will also want to consider adding sweet limes to their regular diet as they are thought to reduce inflammation. Additionally, the folic acid found in sweet limes supports healthy joints.   
Sweet limes contain nearly 60% of the recommended daily intake of vitamin C. Vitamin C is 
crucial for building and maintaining a healthy immune system and promotes healthy skin and joints. Newer research indicates that vitamin C may have a big impact on heart health, too. At least one study shows that meeting your daily vitamin C intake can be as healthy for your heart as walking.   
Where Can I Buy Sweet Limes? 
Pro Citrus Network grows sweet limes in California. They bloom in the California desert in late winter/early spring and mature fruit is available from October through February. While international markets are still often your best bet for finding sweet limes, PCN is working to meet consumer demands for sweet limes by bringing them to larger markets. One-pound bags of PCN sweet limes are beginning to be sold at Kroger stores nationwide so be on the lookout! 
What Are Cara Cara Navel Oranges?
Cara Cara oranges are a type of navel orange — a cross between the Washington and Brazilian Bahia navel. They are also known as the "power orange" because they are rich in vitamins A and C, fiber, potassium, and folate. Plus, they contain a natural source of Lycopene. 
Cara Cara Navels are the great choice for ceviche because, like sweet limes, they are low in acidity and taste quite sweet. Additionally, they are seedless which makes them easier to prep 
and more pleasant to eat. 
Cara Cara Navel Oranges Nutrition & Health Benefits
Lycopene, an antioxidant found in Cara Cara navels, may help protect cells from damage. Because of this, some researchers are trying to determine if lycopene can be used to protect against and fight cancer. While more studies are needed, it is also possible that lycopene may help lower blood pressure in people who suffer from high blood pressure. Lycopene is also what gives Cara Cara Navels their distinct deep-pink interior. 
Cara Cara navels contain 150% of your daily intake of vitamin C! Additionally, they are a great source of vitamin A which promotes healthy vision and skin and boosts the immune system. It also helps with reproductive system health and to keep the heart, lungs, and kidneys working properly. 
Cara Cara navels contain 15% of your daily intake of folate. Folate is especially important for pregnant women and women attempting to get pregnant as it protects against certain birth defects. If you are pregnant or attempting to becoming pregnant, consider eating a Cara Cara navel orange daily. 
When Can I Find Cara Cara Navels?
Pro Citrus Network Cara Cara Navels grown in California are available from November through May. Imported Cara Cara Navels from Chile and Australia are available from August through September.
Fresh Citrus Shrimp Ceviche
Ingredients
1

lb

raw shrimp

no shells

1/3

cup

sweet lime juice

freshly squeezed

1/4

cup

lime juice

freshly squeezed

1/4

cup

lemon juice

freshly squeezed

1/4

cup

Cara Cara navel orange juice

freshly squeezed

1

grapefruit

peeled and diced

2

Cara Cara navel oranges

peeled and diced

3

sweet limes

peeled and diced

1/2

small

red onion

diced

1

jalapeno

de-seeded, finely diced

1/4

cup

cilantro leaves

chopped

salt

to taste

1

avocado

sliced
Instructions
Bring a large pot of water to a boil. Place in shrimp and cook for one minute. Remove the shrimp with a skimmer and immediately place in an ice water bath. Once the shrimp have completely cooled, drain the water through a colander.

In a large bowl, add the sweet lime juice, lemon juice, lime juice, and orange juice. Add the shrimp and stir. Refrigerate for 20 minutes.

Add the remaining ingredients to the shrimp mixture and mix well. Garnish with avocado right before serving.
Nutrition information is automatically calculated, so should only be used as an approximation.
Like this? Leave a comment below!
Instagram Giveaway
Would you like to win a Citrus Press Juicer? The Produce Moms and Pro Citrus Network are holding an Instagram contest from February 25 – February 27, 2019 and one lucky person will win a Citrus Press Juicer. The winner will be chosen at random and announced at the end of the month.
How To Enter
Follow @procitrus and @theproducemoms on Instagram

Like the contest post on Instagram 

Comment on the contest post with your favorite citrus fruit 

Tag 3 friends in the comments for an additional entry
Good luck! 
Look for PCN citrus at your neighborhood grocery store and make your own refreshing Citrus Shrimp Ceviche.