Sheet Pan Salmon with MandaRosa Citrus
Sheet Pan Salmon with MandaRosa Citrus recipe is sponsored by Pro Citrus Network.
Turn a cold winter night into an evening to remember with an extra-special dinner. This sheet pan salmon features citrus sweetness your sweetest will love. It's simple to make, easy to clean up, and an inexpensive way to give your family a unique and memorable meal!
How To Make a MandaRosa Salmon Sheet Pan Dinner
The MandaRosa is a sweet, versatile citrus with the perfect ombre coloring for celebrating your love. While we love to eat it plain, the sweet, juicy flavor also lends itself to roasting.
Simply slice one in half and squeeze out the juice onto your fish before you put it in the oven. Add a couple more halved MandaRosas to the pan to bake the citrus flavor into your dinner.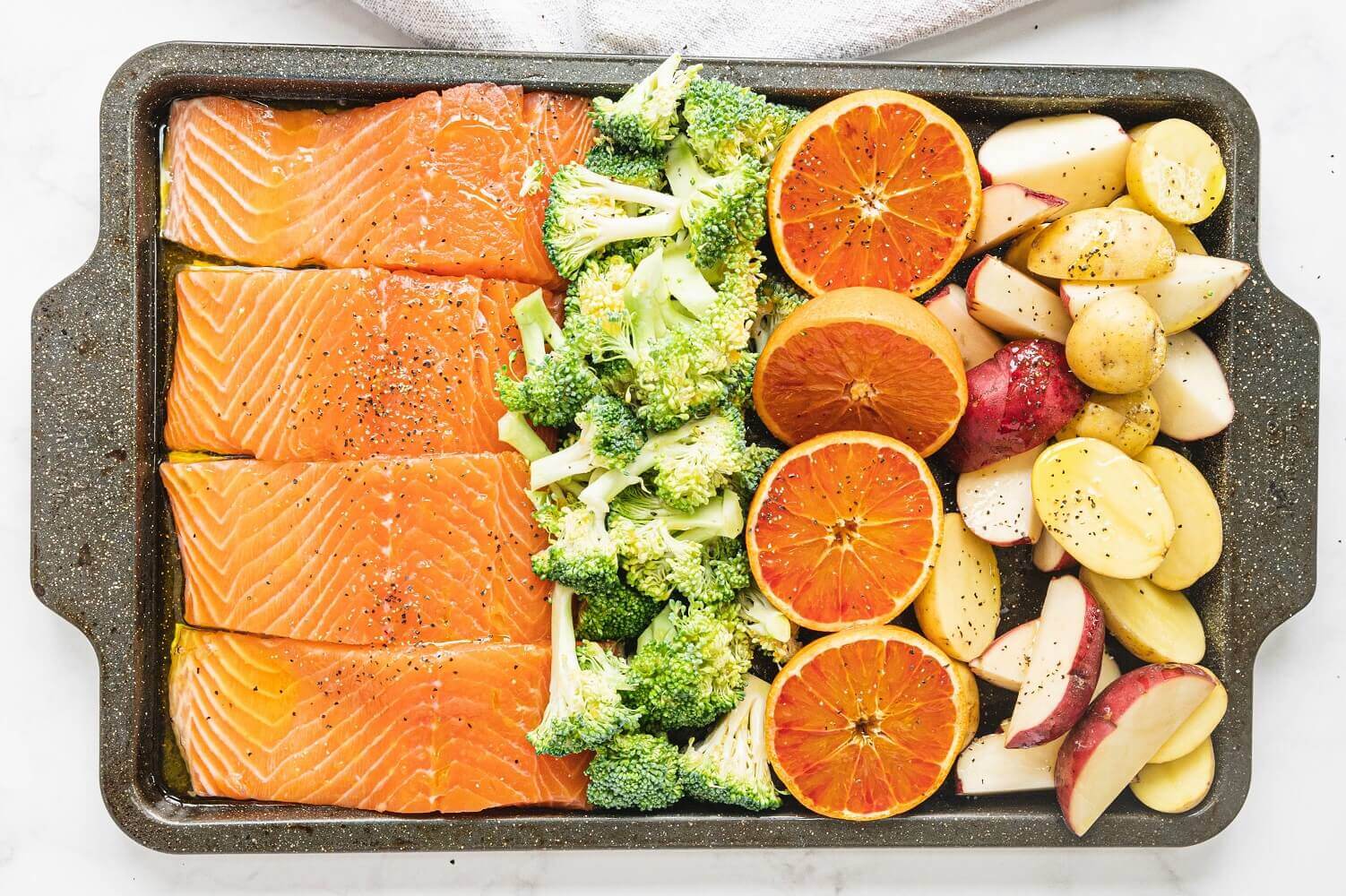 Make a restaurant-quality dinner at home with tender salmon filets, fingerling potatoes, and crispy broccoli drizzled with MandaRosa juice and olive oil. Impress your special someone with an stay-at-home date night meal or treat your family to a flavorful sheet pan feast!
Ingredients
4

4 oz. salmon filets

3

MandaRosas

cut open-face

fingerling potatoes

halved

broccoli

olive oil
Instructions
Preheat oven to 375.

On sheet pan, add salmon filets, fingerling potatoes and broccoli.

Squeeze 1 MandaRosa (both halves) over salmon and broccoli.

Add 4 MandaRosas halves onto sheet pan to roast.

Drizzle olive oil over the entire sheet pan. Season with salt and pepper.

Bake approximately 15 minutes.
This dinner is easy to make, ideal for a special occasion dinner that you don't want to spend all day preparing but also easy enough to be a weeknight meal. Because it only requires a sheet pan to prepare, cleanup is a snap. And if you're cooking on a budget, don't worry: this dish only costs about $5.00 per serving!
A Special Citrus for a Special Season
The hyper-seasonal MandaRosa is only available for about a month each year — but it's worth the wait! This seedless citrus looks like a typical Mandarin orange from the outside but its flesh is a beautiful rosy red. Find them in your local produce section before they disappear around the beginning of March.
The MandaRosa is a natural crossbreed between a blood orange and a clementine. But it has more benefits than just deliciously sweet flavor: like the blood orange, it's filled with anthocyanins, the most powerful antioxidants found in nature! They help reduce blood pressure to improve heart health and can help your body maintain a healthy weight and metabolism. Anthocyanins also boost your immune system, a helpful bonus in the middle of cold and flu season.
Want to find out more about this outstanding orange? Learn all about the MandaRosa here or listen to Episode 136 of The Produce Moms Podcast!
This is a beautiful, tasty, nutritious dish you can come back to again and again! What did your family have to say about your MandaRosa Salmon Sheet Pan Dinner? Tell us all about it in the comments below or tag us in your foodie photos on Instagram @procitrus and @theproducemoms.