Fresh and Juicy Berry Fruit Salad With a Pumpkin Twist
Oct 17, 2022, Updated Nov 01, 2023
This Mini Pumpkin Berry Fruit Salad is the perfect goodbye to summer and hello to fall. Looking for the perfect dessert, snack, or potluck idea?
With vibrant, bold colors and sweet, tart, and fresh flavors, add your favorite berries to make the best berry fruit salad recipe you'll want to use again and again.
Berry fruit salad is sponsored by Naturipe Farms.
Simply toss all the ingredients together and serve — inside mini pumpkins!
It's that easy.
Although this isn't a make-ahead recipe, it comes together in minutes, and it's super fun to serve.
What is Mini Pumpkin Berry Fruit Salad?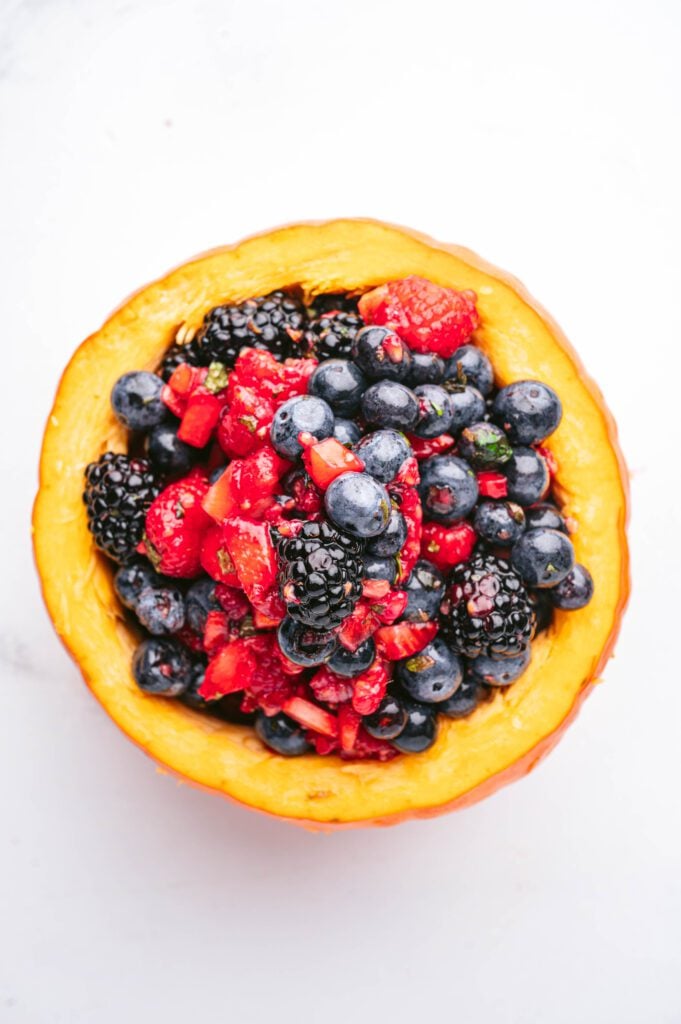 It's a berry fruit salad with any and all berries you like — strawberries, blueberries, raspberries, blackberries — tossed in a sweet and tart honey lime dressing, and served inside mini pumpkins. Fruit salads are super easy to throw together and this recipe is no exception.
Customize it by leaving out berries you don't like and adding extra of the ones you love. Or add toppings like coconut flakes, almond slivers, or a dollop of whipped cream for a dessert.
What Berries Are Used to Make This Recipe?
We use strawberries, blackberries, raspberries, and blueberries all from Naturipe for this berry fruit salad. If you have berries that grow near you like cranberries, elderberries, lingonberries, mulberries, or goji berries, feel free to add them in too.
We love when you're able to use your local produce, and Naturipe can help you do that — just look for their bright green label at these stores.
How Long Does Mini Pumpkin Berry Fruit Salad Last?
We recommend eating your berry fruit salad as soon as possible. As soon as you add your honey lime dressing, your berries will start to soften. If you have leftovers, eat them within 24 hours. If you don't like soft berries, use your leftovers as a topping for waffles, cereal, or oatmeal.
Ingredients for our Mini Pumpkin Berry Fruit Salad
2 mini pumpkins

2 oz. Naturipe blueberries

2 oz.

Naturipe blackberries

2 oz.

Naturipe raspberries

1 lb. Naturipe strawberries, diced

Zest and juice of a lime

1 ½ tablespoon honey

2 teaspoons finely chopped mint
How to Make the Best Mini Pumpkin Berry Fruit Salad
Step 1:
Cut the top off of your pumpkin.
Step 2:
Scoop out the inside.
Step 3:
Wash and dry your Naturipe berries and add them to a large mixing bowl. Add your lime zest, lime juice, and mint to your berries.
Step 4:
Microwave your honey for 5-10 seconds and pour it over your berries. Mix your berry salad until it's coated with your honey lime dressing.
Step 5:
Scoop your berry fruit salad into your hollowed-out mini pumpkins and serve.
Produce Mom Tips
We love to use Naturipe berries for this recipe because they're sweet, juicy, and fresh. You just can't replace the flavor of a fresh berry.
And Naturipe delivers Every. Single. Time.
Berries are the star of this recipe, so we recommend using quality fresh berries for the best berry fruit salad you've ever made.
Fresh
When berries are fresh, they look and taste better. Frozen berries become soft when thawed, so they are typically better for baking, or for smoothies. They probably won't hold up too well when you start mixing your berry fruit salad. Fresh berries are the best for this recipe!
Wash and Dry
Berries absorb any extra water. It's best to wash and dry them right before you use them. You've probably seen different ways to wash and sanitize berries on social media. But when you use fresh berries, you only need to wash off any excess dirt or soil. A quick rinse under cool water should do the trick. Use your fingertips to rub off any extra dirt that you see and you're ready to assemble your berry fruit salad.
Citrus
Berries pair well with the acidity of citrus. We used limes in this recipe, but you can also use lemons or oranges for your honey lime dressing. Citrus helps your berry fruit salad stay fresh longer and brings out the juicy sweetness of each individual berry.
Dressing
Add your honey lime dressing within an hour of when you plan to serve your mini pumpkin berry fruit salad. If you add the dressing earlier than that, the berries are likely to get soft and mushy. Be sure to add your dressing as close to serving as you can.
Why We Love Naturipe® Berries
Naturipe® is a leading global producer of nutritious berries for more than 100 years. Unique to the fresh produce industry, Naturipe is a network of family farmers who share a passion for growing berries naturally. Learn more by visiting www.naturipefarms.com.
More Recipes from Naturipe
If you love berries as much as we do, you'll love our Blackberry Bourbon Lemonade, too.
Try the recipe today!
Berry Fruit Salad
An easy, snack, side, or dessert full of your favorite berries. Just toss and serve!
Ingredients
2

mini

pumpkins

1

pint

Naturipe blueberries

1

pint

Naturipe blackberries

1

pint

Naturipe raspberries

16 oz

Naturipe strawberries

hulled (tops cut off) and diced

1

zest and juice

lime

1 1/2

Tablespoon

honey

2

teaspoons

mint

finely chopped
Instructions
Grab your cutting board and your knife and cut the top off your mini pumpkins. Use a melon baller to scoop out the flesh of your pumpkins so that the inside is hollow. Discard all the seeds and stringy parts, or put them in the food recycle bin.

Put your blueberries, blackberries, raspberries, and strawberries in a colander (or strainer) and rinse them with cold or cool water. Lay them out in a single layer on a clean area and gently dry your berries with a clean dishcloth or a paper towel. Then add them to a large mixing bowl.

Let's start zesting. Use a zester and rub it on the skin of your lime so you get small shavings of lime. As you start to see white, zest a different area so you only zest the green skin. Then cut your lime in half with a knife and squeeze out the lime juice. Rotate the lime in your hand and squeeze it again to get as much juice as possible. Then add the lime zest, lime juice, and chopped mint to your large mixing bowl.

Add your honey to a small mixing bowl that's microwave safe. Put it in the microwave for 5-10 seconds. It's ready when it's heated and has a runny consistency. Then pour the honey over your berries in the large mixing bowl.

Toss your berries until all of them are coated in the honey dressing. Add a squeeze of lime juice and additional honey to taste.

Add the berries to the hollowed out mini pumpkins and serve for an adorable, fun, and tasty fall treat!
Notes
If you don't have a melon baller, try using a small spoon or cookie scoop. Anything that's small enough to fit inside your mini pumpkins and is able to hollow out the inside works well.

When you need to serve a lot of people, add your berry fruit salad to a large pumpkin for the festiveness of fall.
Nutrition
Calories:
146
kcal
|
Carbohydrates:
35
g
|
Protein:
3
g
|
Fat:
1
g
|
Saturated Fat:
0.1
g
|
Polyunsaturated Fat:
1
g
|
Monounsaturated Fat:
0.1
g
|
Sodium:
3
mg
|
Potassium:
360
mg
|
Fiber:
12
g
|
Sugar:
21
g
|
Vitamin A:
243
IU
|
Vitamin C:
64
mg
|
Calcium:
53
mg
|
Iron:
1
mg
Nutrition information is automatically calculated, so should only be used as an approximation.
Like this? Leave a comment below!