Snackle Box — The Ultimate Snack Hack for Every Family Adventure
Sep 01, 2022, Updated Oct 03, 2022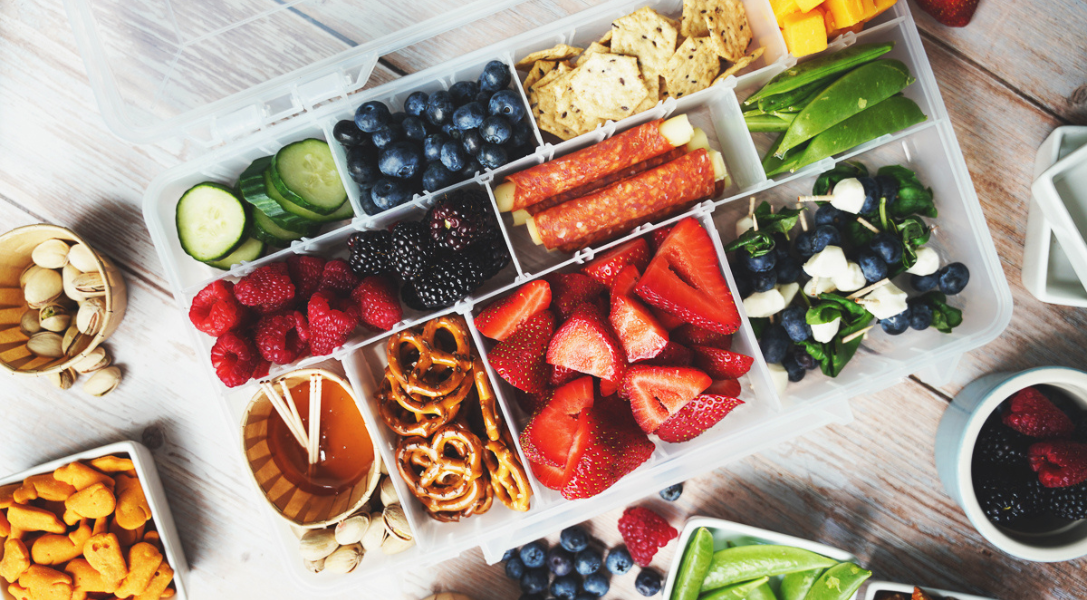 Jump on the Snackle Box trend!
Crisp air on early fall days is perfect for a day on the lake, a picnic in the park, or a road trip with the wind blowing in your hair.
Wherever you go, you know you're going to hear two things from the littles:
"I'm hungry."
"Are we there yet?"
When it comes to food, we've got you covered with the best mom invention yet… the snackle box. It's affordable, healthy, sweet, salty, crunchy, gummy — anything the kids want their snackle box to be, that's what it is.
Don't worry, we weren't sure what a snackle box was when we first heard about it either. But now we think it's the bee's knees and we're pretty sure you will too.
What is a snackle box?
A snackle box is basically a tackle box with snacks. So instead of having fishing equipment, like a line and some bait, you add your favorite meats, cheeses, crackers, and fruit. Since tackle boxes already have small compartments built in, your food stays fresh, crunchy, and separate for picky eaters.
They come in all different sizes. You can have a small snackle box with as few as four compartments that look like reusable Lunchable containers or up to 3 tiers of yummy snacking storage. Use a different size box for kids and adults, groups, and types of snacks.
You can even find snackle box coolers online with a few compartments to keep your snacks chilled and fresh. These are a great option if you plan to spend a day at the beach or on a road trip.
Produce Moms Hack: The TSA confirmed last December that as long as you bring solid food, you can even bring your snackle box with you on an airplane. Talk about saving money!
What can I use as a snackle box?
The most unique thing about snackle boxes is that they have compartments. You don't need to have an actual tackle box. Use any type of box that has compartments and is BPA free.
Here are a few ideas to search online:
Tackle box
Craft Organizer
Stackable Storage Container
Bento Lunch Boxes
Plastic Organizer Box
Compartment Lunch Containers
3-Layer Storage Box
If you search for snackle boxes online, you'll get plenty of options to choose from. Think about where you and your family go, how many people you need to feed, and how long you'll be away from civilization to decide how many compartments and what size works best for you.
If you're driving 4 hours to grandma and grandpa's house, for example, you may only need a small Lunchable-sized container for lunch. But if you plan on spending all day at the beach, you may have one large snackle box for lunch and another for snacks.
Where to buy a snackle box
Unless you order your snackle box online, it's likely that your snackle box will be something that was originally designed for a different purpose. Look for any type of box that you see with compartments in the storage section of the kitchen aisle at your local department store. Arts and crafts stores have organization boxes for beads or sewing that work well as snackle boxes too.
Are tackle boxes BPA free?
You definitely want to check for BPA before you buy your new snackle box. It should say on the product description or the tag that your box is made of a food grade plastic (it's safe to come in contact with food). If you don't see anything that plainly says, BPA free, purchase another one — just to be on the safe side.
If you're looking specifically at a tackle box, there should be a recycle symbol on the bottom with a number in the middle. That number shows what type of plastic material is safe. If the number is 2, 4, or 5, it's safe to assume that it's ok for food to be stored in it1.
How to prep your snackle box
Whether you use a tackle box or a bento box, be sure to wash your snackle box before its first use. Use soap and warm water (or your dishwasher) before you start to assemble your fruit, meat, cheese, and crackers. This makes sure your box is disinfected and keeps your family safe and healthy.
Now let's put your snackle box together.
How to make a snackle box?
There are tons of ways to make your snackle box. Think about where you and your family are going, how much food you'll need, and what kind of snacks you enjoy eating. Some mix salty and sweet snacks while others separate snacks into separate snackle boxes.
If you plan on being away from home all day, you may want to go all out with a larger box complete with lunch and snacks. Or have a few smaller boxes divided into lunch and snack options.
Have picky eaters? Create one for each kid with their favorite lunch and snacks. They'll love that you put forth the extra effort to customize their snackle box.
It's pretty much up to you and what works best for your family's activities. Go as fancy or as simple as you'd like. Of course, we are filling ours with some fresh produce.
Snackle box ideas
We always include Naturipe Farms berries when we are taking about snacking. Fresh, juicy, and just the right amount of sweetness to finish off any meal or snack. Pair your fruit with some cheese for the perfect marriage of creamy, salty, and sweet.
Here are a few things our kids love to have in their snackle box:
Fruit — Naturipe berries: blueberries, strawberries, blackberries, strawberries and raspberries.
Veggies — Naturipe avocados, carrots, cucumbers, cherry tomatoes, edamame
Salty — goldfish, olives, veggie chips, popcorn, crackers, pretzels, nuts
Cheese — cubed cheese, string cheese, round snack cheese
Meat — salami, pepperoni, ham, turkey, meat sticks, leftover chicken
Sandwich — PB&J, peanut butter and banana, ham and swiss
Breakfast — pancakes, waffles, cereal, fruit
Why we love Naturipe Farms
Unique to the fresh produce industry, Naturipe® is a partnership of distinguished, fresh berry growers. Not only does Naturipe grow conventional and organic berries, but its mission is to "Cultivate with Care" for less impact on the environment and fully support communities all over the world. Naturipe makes sure you always get the juiciest, sweetest berries from their network of family farms.
More Naturipe Recipes
Check out Naturipe Farms for your favorite berries to add to your snackle box!
This post is sponsored by Naturipe Farms.