The Best Oatmeal Recipe With Juicy Nectarines for a Filling Breakfast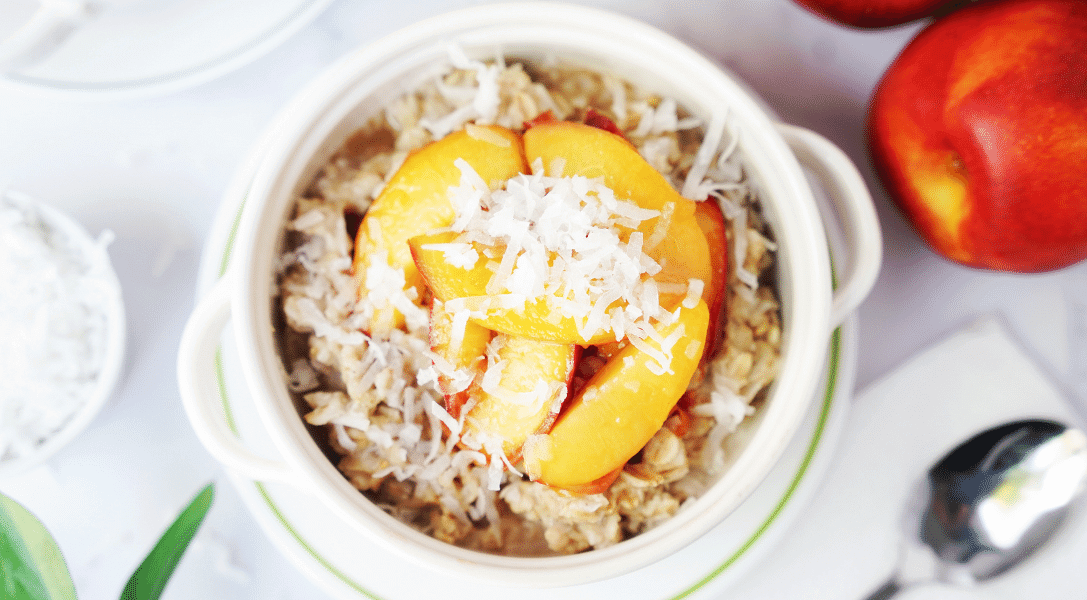 Made with nutritious old-fashioned oats, dairy-free almond milk, and spicy cinnamon, this oatmeal recipe is sure to make your mouth water. We topped this with crunchy coconut, caramelized nectarines, and a drizzle of maple syrup for something extra special. It's ready in 20 minutes and tastes so sweet and creamy, your kids will think you made dessert for breakfast.
Are you the kind of person who likes to eat the same thing every morning, or do you like to mix things up? If you're part of the latter group (hey, there), this oatmeal recipe with sauteed nectarines breaks up the monotony of traditional oatmeal in the morning.
We used almond milk to keep it dairy-free and used quality nectarines with maple syrup as a natural sweetener.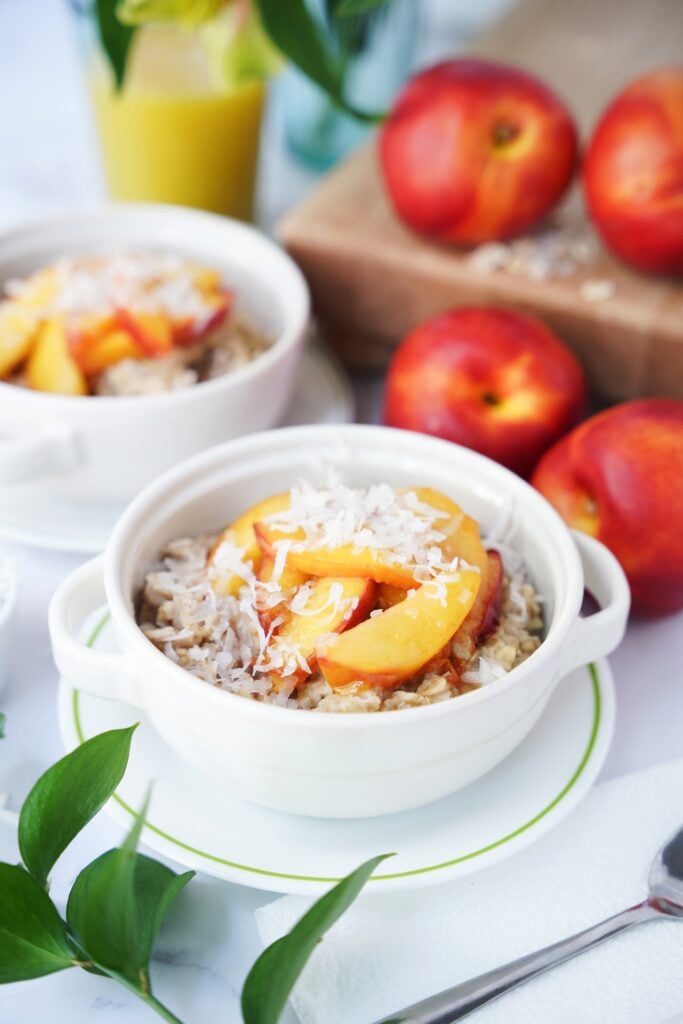 This oatmeal recipe is sponsored by Prima® Wawona.
After all, we're moms…I'm pretty sure your kids have plenty of energy without any extra sugar to top off their breakfast!
Simply cook your oatmeal recipe the same way as usual but with a few yummy additions for a filling and delicious breakfast staple, ready in only 20 minutes.
Let's get started.
What Is Oatmeal Pudding?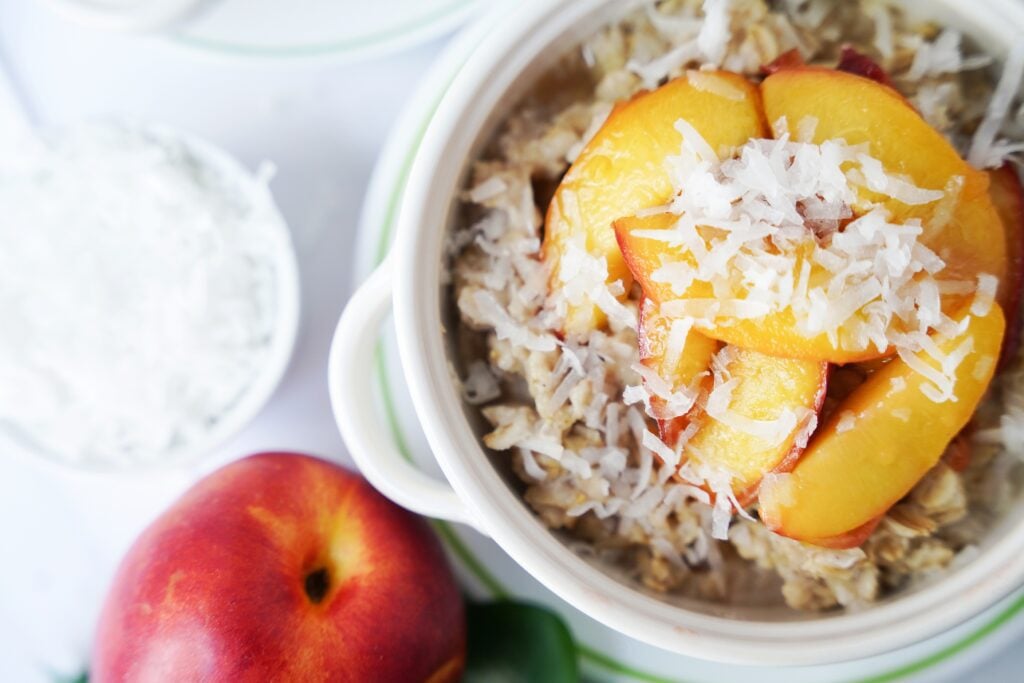 There are a few ways to make puddings, including savory and sweet. In the UK, you'll find black and white pudding that looks similar to sausage patties. But in America, you're probably thinking about a sweet custard pudding you eat after dinner for a quick dessert. We're making a dairy-free oatmeal pudding with oats, almond milk, and coconut, topped with caramelized nectarines.
Not to be confused with bread pudding made with crispy cubes of bread and baked in a warm custard, oatmeal pudding is a thick, creamy oatmeal topped off with a few extra goodies and flavors mixed in.
It's quick, filling, and easy to digest.
Ingredients
You may have most of these ingredients on hand in your pantry, so you only need to add a few things to your grocery list. Remember, if you want to swap out another ingredient to use what you have on hand, do it!
We love when you can use up all of your ingredients to cut back on food waste.
Prima® Nectarines
In this recipe, we wanted the sweetener to be as natural as possible. Prima® nectarines are the best addition to your oatmeal recipe because they are sweet and aromatic. They also have less acid making them easier to digest. White nectarines are in season from June through August.
Nectarines are smaller than peaches, with thin, smooth skin and firmer flesh. When you pick your white nectarines, look for ones that are firm with a little bit of give when you gently press on the skin. High-quality grown nectarines make all the difference. Look for the red oval sticker with white lettering in the produce section for a juicy, aromatic, and firm nectarine that's ideal for your oatmeal recipe.
Old Fashioned Oats
As moms ourselves, we love giving you easy, affordable, and nutritious recipes. We highly recommend using old-fashioned oats for your oatmeal recipe because they aren't as processed as quick oats. Because they aren't as processed, they have soluble fiber to help promote a healthy gut1.
Quick oats are in smaller pieces, so they may not absorb as much of the almond milk, altering the thickness of your pudding. Old-fashioned oats are more natural, and nutritious, and it only takes about 15 minutes to make a batch for breakfast. Get your old-fashioned oats in the cereal aisle — they also have gluten-free options.
Shredded Coconut
This is the dried and shredded meat of the coconut and is a great way to add healthy fats to your oatmeal recipe. It has a lot of saturated fat that's easier for your body to digest compared to animal fats. It can also help kill bad bacteria in your mouth and protect your gums and teeth from infections and cavities2. (Music to any parent's ears!)
Shredded coconut adds a meaty but crisp chew to your oatmeal recipe with a nutty, milky flavor. As the coconut soaks up your almond milk, this helps your pudding thicken to your desired consistency so it looks more like a thick and creamy pudding. Shredded coconut is usually available in most grocery stores in the baking aisle or at bulk stores.
Almond Milk
If you need dairy-free, you'll love this oatmeal recipe with almond milk. You still get a rich, creamy texture, and when it's paired with the nectarines and maple syrup, it almost feels like you're eating dessert for breakfast. That's always a good start to the day when you have picky eaters.
Regular cow's milk has added sugar, so if you're trying to cut back on sugar but still want the creaminess of an oatmeal pudding, almond milk is the way to go. Some almond milk brands add a little bit of sugar, and some don't add any at all. All of them will work well with this recipe. It also adds a slightly nutty flavor that pairs well with oats, nectarines, and coconut.
Grab your almond milk from the dairy section to add a slightly nutty flavor to your breakfast pudding.
Pure Maple Syrup
There are syrups that are flavored with maple, and then there is 100% pure maple syrup. The pure stuff is made from the sap in trees, with nothing else added. The sap gets boiled down to get rid of the excess water so the sugar can dissolve, giving the syrup its rich amber color. Pure maple syrup is naturally very sweet. It's slightly on the pricey side, but you don't need a lot, so a little goes a long way.
You only need three tablespoons for this entire oatmeal recipe, including your sauteed nectarines. You'll know if the syrup you're thinking of buying is pure by checking the ingredient list. It should only have one ingredient — pure maple syrup. Look for it in the baking section with the sweeteners.
Between the aromatic nectarines, crunchy coconut, filling oats, and pure maple syrup, everyone at your house will come running to the table before you can say, "Breakfast is ready!"
How to Make This Oatmeal Recipe
First things first, the oatmeal pudding…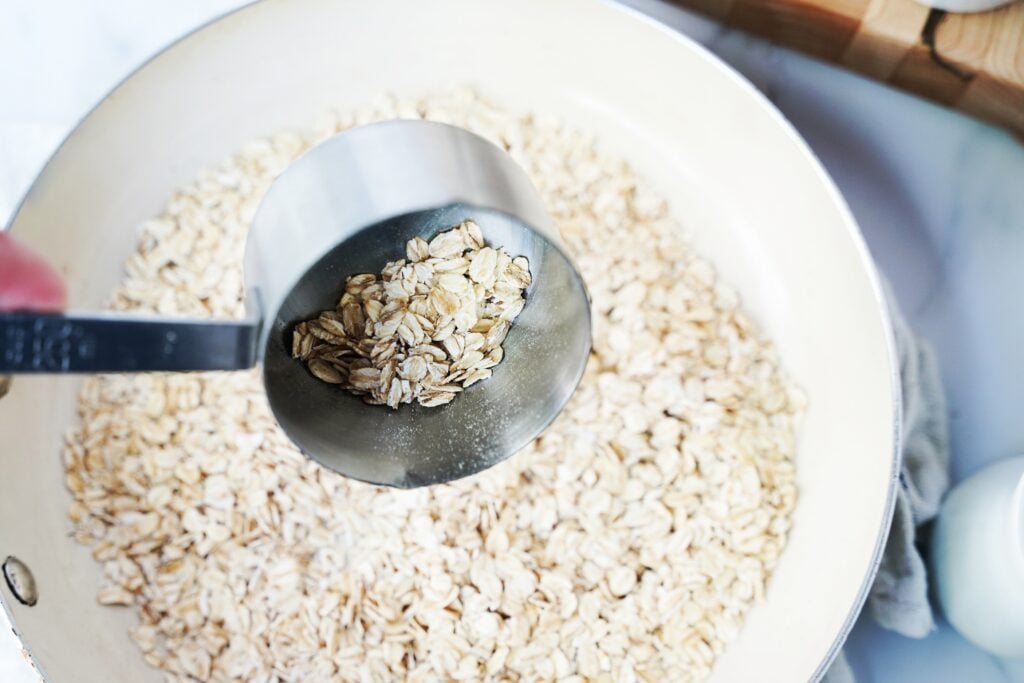 Step 1
Add oats to a saucepan.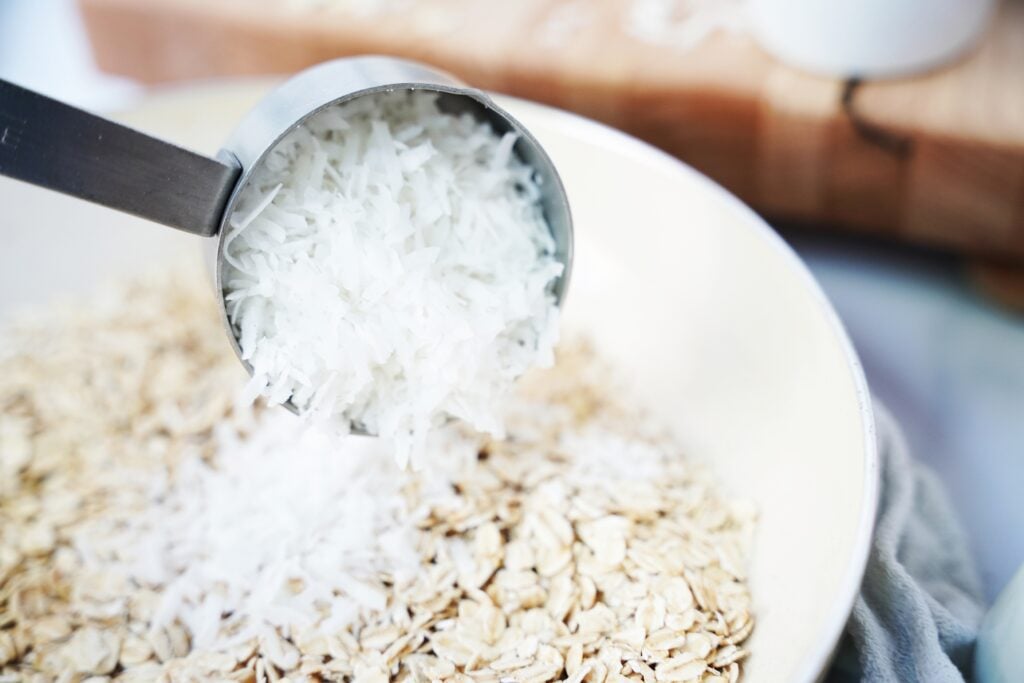 Step 2
Add shredded coconut.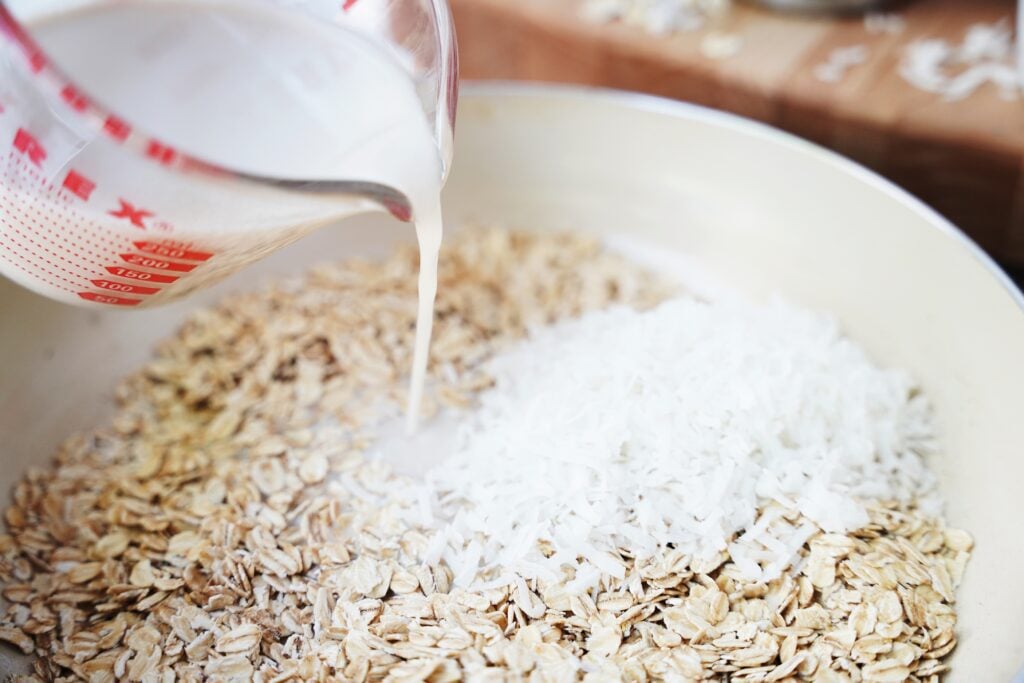 Step 3
Add water and almond milk.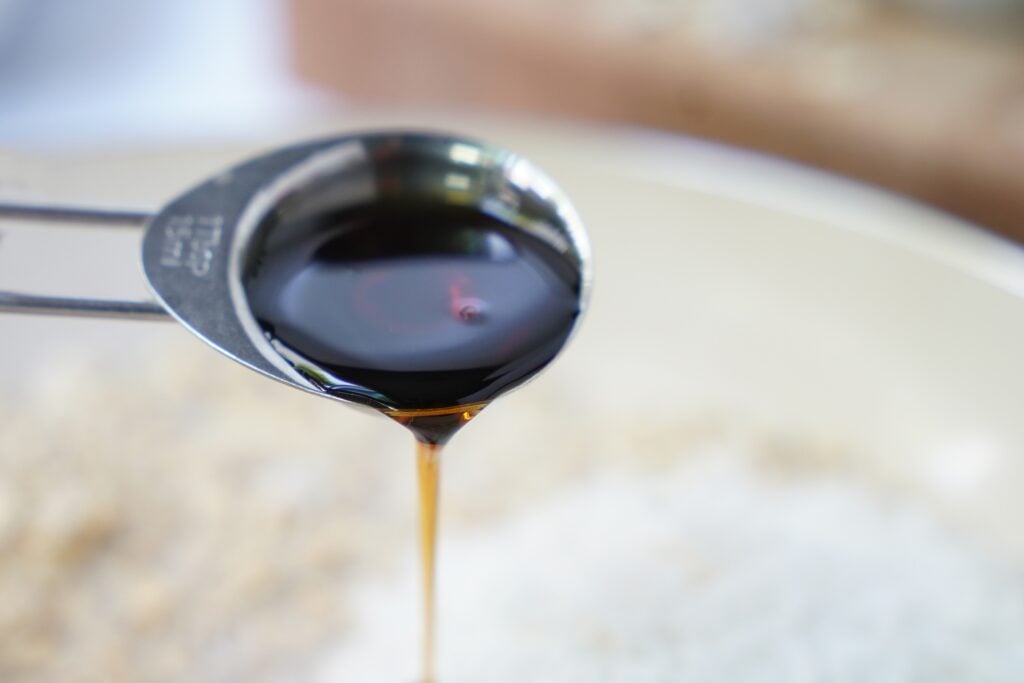 Step 4
Add two tablespoons of maple syrup.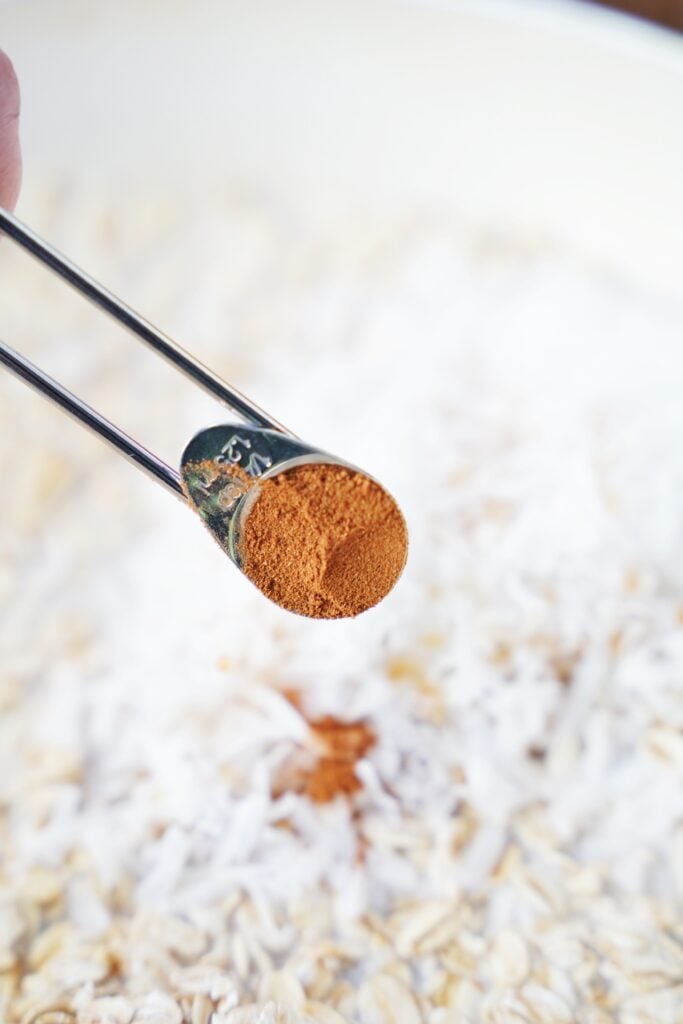 Step 5
Add cinnamon and salt.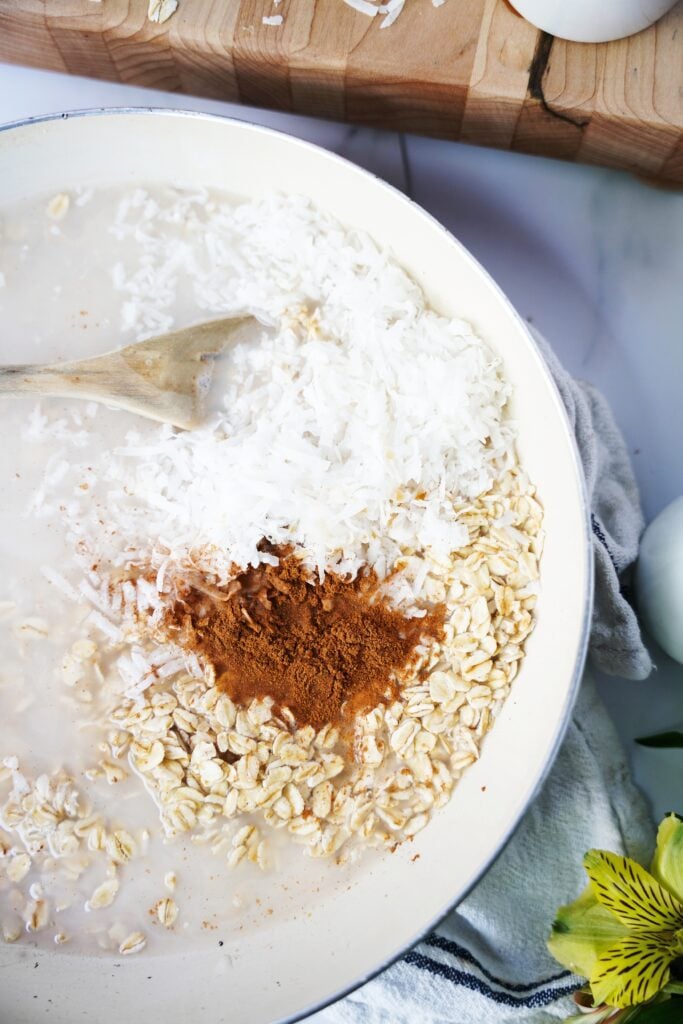 Step 6
Bring all of the ingredients to a boil in the saucepan.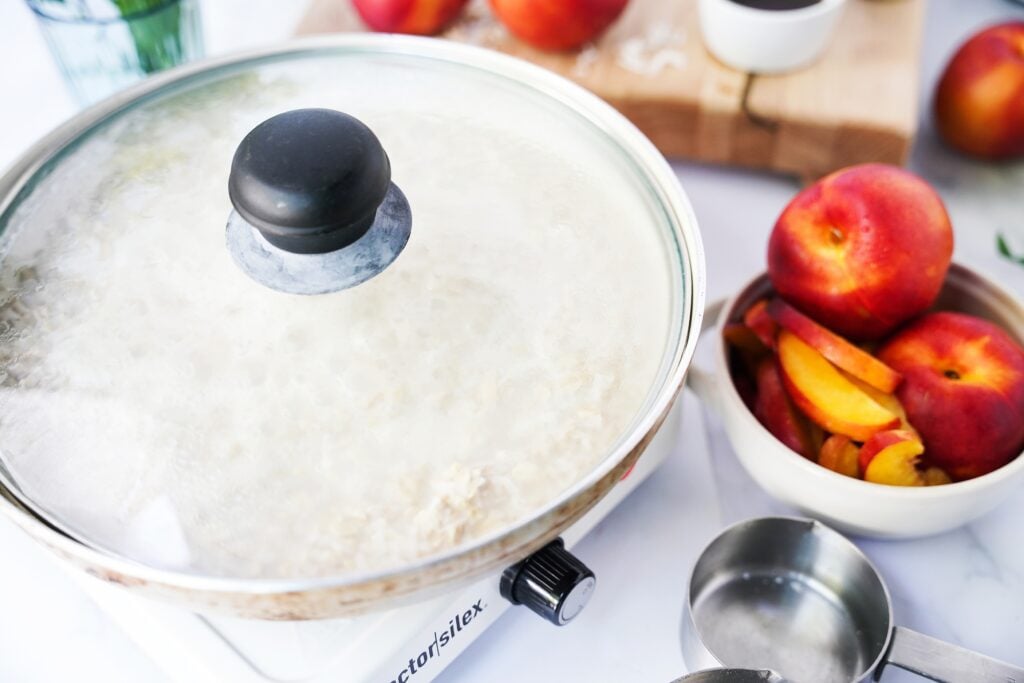 Step 7
Cover and simmer for 15 minutes. Stir and set aside.
How to Caramelize Nectarines
Now, let's talk about that juicy nectarine topping.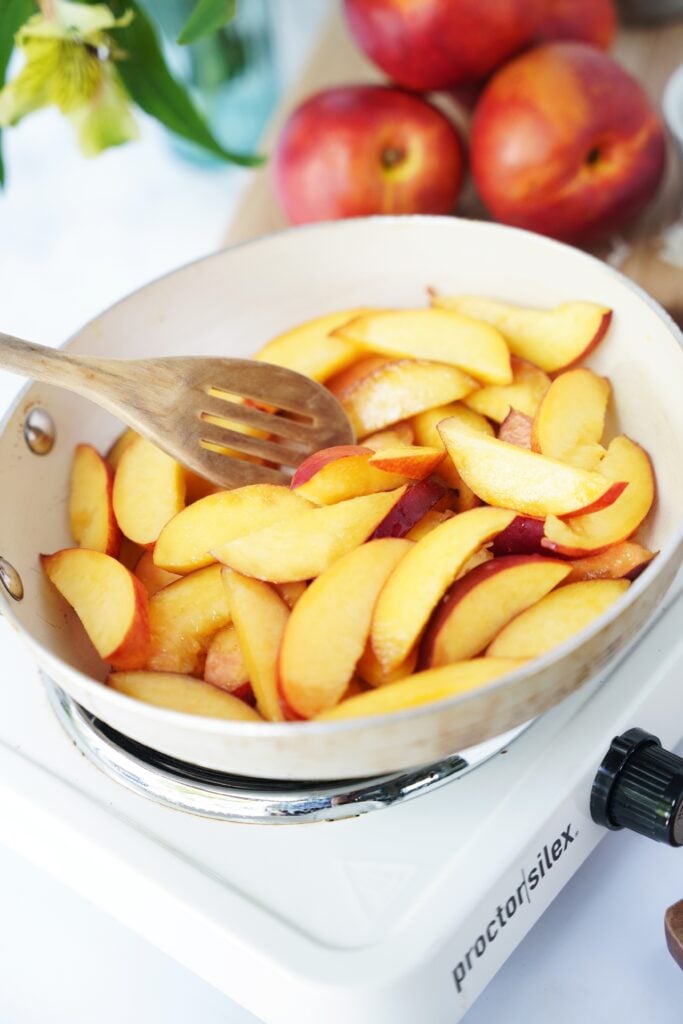 Step 1
In a large saucepan, cook sliced white nectarines in melted coconut oil for one or two minutes.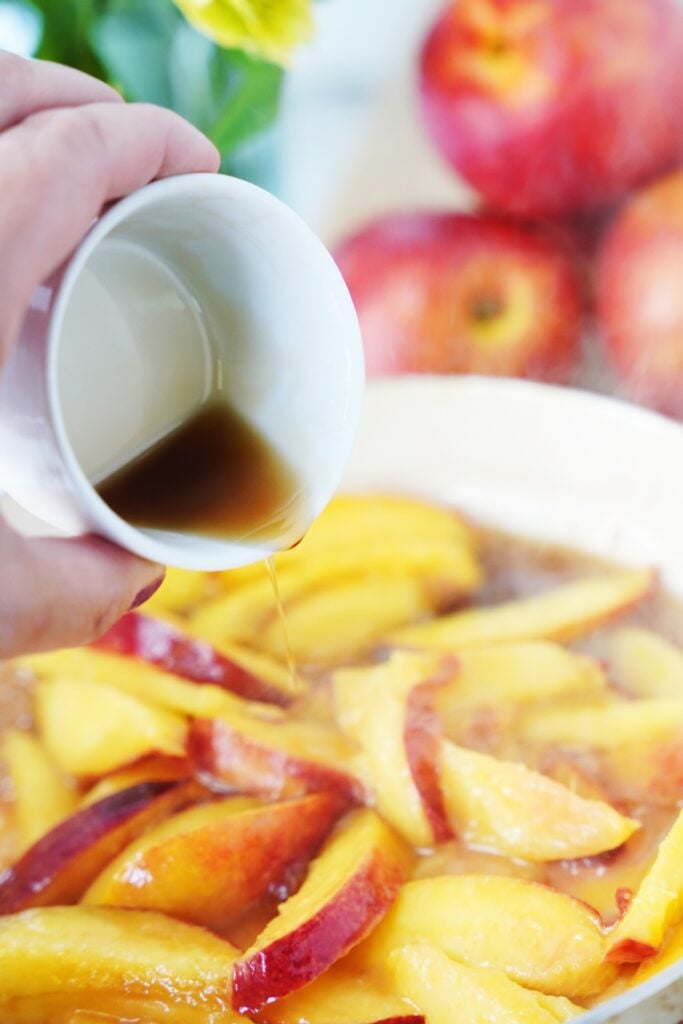 Step 2
Stir in one tablespoon of maple syrup.
Step 3
Divide the oatmeal evenly into four small bowls and top with caramelized nectarines, shaved coconut, and a drizzle of maple syrup.
Serve immediately for a satisfying and comforting breakfast.
Why We Love Prima

®

Wawona
The Prima® Promise includes delivering the freshest, juiciest, and tastiest fruits to you and your family. With a combined experience of 150 years, they know when their nectarines are at their ripest, so you always get the best quality stone fruits possible. All Prima® Wawona fruits are grown, nurtured, hand-picked, and hand packed with quality in mind.
Prima® puts a high value on people. The health, safety, and well-being of not only their own families but also their employees, the local community, and of course, YOU, the customer. They aim to build trust between you and their produce so you know you're getting fresh, quality produce grown with love.
Prima® is the key to an incredible oatmeal recipe with sauteed nectarines.
Related: Stone Fruit and The Prima® Promise
Filling Breakfast Recipes
Oatmeal Recipe
This oatmeal recipe is dairy-free with juicy, caramelized nectarines for a filling, easy, and yummy breakfast. Ready in 20 minutes for a smooth start to your morning.
Print
Pin
Rate
Ingredients
3

Prima® nectarines

pitted and sliced

1

cup

old-fashioned oats

1/2

cup

shredded coconut

1

cup

water

1

cup

almond milk

3

tablespoons

100% pure maple syrup

(plus extra for drizzling)

1/4

teaspoon

ground cinnamon

1/8 teaspoon

kosher salt

1

tablespoon

coconut oil

unsweetened shaved coconut

for garnish
Instructions
Add the oats, shredded coconut, water, almond milk, two tablespoons of maple syrup, cinnamon, and salt to a large saucepan (the one that looks like a pot). Stir until the ingredients are combined. Bring the oat mixture to a boil over high heat.

When it reaches a steady boil, lower the heat to a simmer and cover. Cook for 15 minutes or until the oatmeal pudding is cooked to your preferred thickness and consistency.

Remove the saucepan from the heat, stir with a mixing spoon, keep it covered, and set aside until you're ready to serve.

In a large sauté pan (the one with a short lip), melt the coconut oil over medium heat. Add the white nectarines and cook for a minute or two until the nectarines start to caramelize on the outside. Stir in the last tablespoon of maple syrup and remove the pan from the heat.

Evenly divide the oatmeal pudding. Use large bowls for two servings or small bowls for up to four servings.

Top each bowl with sauteed nectarines, shaved coconut, and a drizzle of maple syrup.

Eat it while it's hot for the ultimate comforting breakfast!
Notes
Any type of non-dairy milk can be used to keep this recipe dairy free, including nut, soy, and oat milk.
Nutrition
Calories:
253
kcal
|
Carbohydrates:
39
g
|
Protein:
4
g
|
Fat:
10
g
|
Saturated Fat:
7
g
|
Polyunsaturated Fat:
1
g
|
Monounsaturated Fat:
1
g
|
Sodium:
130
mg
|
Potassium:
285
mg
|
Fiber:
4
g
|
Sugar:
23
g
|
Vitamin A:
354
IU
|
Vitamin C:
3
mg
|
Calcium:
109
mg
|
Iron:
1
mg