Sweet or Savory English Muffin Breakfast Recipe With Crisp Apple Slices
Sweet like apple pie or savory Tajin, an English muffin breakfast is the easiest way to please everyone in your house. Grab some English muffins and Crunch Pak® sliced apples, the rest we leave up to you. Add your favorite spread or drizzle our cinnamon sauce for a breakfast that feels like a dessert. And it's ready in five minutes!
Whether you're looking for a mid-week breakfast, no-cook, or kid-friendly recipe (or perhaps all three), we've got four words for you….
English muffin breakfast rounds.
This isn't a breakfast sandwich recipe where you need to spend an hour in the kitchen cooking sausage, eggs, and bacon.
This post is sponsored by Crunch Pak®.
However, if your kids know how to make a sandwich, they can make this recipe themselves, freeing up some of your time in the morning.
Keep reading to find out how!
What Are English Muffin Breakfast Rounds?
Your and your family's new favorite weekday breakfast. English muffins are the base of these babies. From there, it's up to you what you do with your rounds next. We recommend adding a spread like nut butter, cottage cheese, peanut butter, or hazelnut. Then add your sliced apples and drizzle with our gooey cinnamon sauce or sprinkle with Tajin for a savory finish.
You'll love this breakfast recipe because it's quick, easy, and versatile. Swap spreads and toppings so everyone is excited about eating this English muffin recipe. You only need a few minutes to throw together this open-faced breakfast sandwich. Or better yet, let your kids make it themselves with mom-approved toppings that are tasty and nutritious.
Base Ingredients
You only need two ingredients to make the base of your English muffin breakfast rounds — English muffins and Crunch Pak® sliced apples. Other than that, get your favorite toppings at the store, or take a look through your pantry for some inspiration. This is a great way to use up the last bits of nuts and spreads hiding in the back.
English Muffins
In terms of nutritional value, whole grain muffins offer the most benefit. Compared to bread, English muffins are lower in calories, carbs, and sugars. In the end, English muffins are still bread, so they have carbs which give our bodies energy and support physical activity. This is an easy way to avoid a mid-morning energy slump. And when paired with fruit, its nutritional benefits increase.
Crunch Pak® Apples
Depending on whether you're going for sweet or savory, we recommend Crunch Pak's tart and sweet apple slices. They have family-sized bags of precut apples so your whole family can make their breakfast on their own. No slicing or prep work is involved. This is a fun way to help age-appropriate children learn how to make a nutritious breakfast in the morning. And it saves you major breakfast prep time.
Sweet Toppings
Nut Butter
Sun butter, peanut butter, almond butter, hazelnut spread — whatever you have on hand pairs well with sweet apple slices. Nuts are packed with protein, making them an excellent alternative to expensive meats like bacon or sausage. Affordable and time-saving.
Brown Sugar
Although brown sugar is processed the same as white sugar, it adds a different flavor and color, especially when cooked. Brown sugar immediately gives off that caramel look to this cinnamon sauce that makes you feel like you're eating apple pie for breakfast. You only need a quarter of a cup to sweeten up this English muffin breakfast recipe.
Butter
We all need healthy protein and fats in our diets. Since butter is made from dairy, it's a perfect addition to our cinnamon sauce. As the butter melts into a warm, gooey pool of cinnamon, the sauce becomes rich and velvety. The perfect drizzle to your apple snack.
Cinnamon
Known for its warm, spicy aroma, cinnamon has also been used in medicine for years. Although it's believed that cinnamon has healing properties as an antioxidant, antibiotic, and antiinflammatory, there haven't been enough studies to say this for sure.1 However, it can't hurt to add some to our cinnamon sauce, right?
Savory Toppings
Cream Cheese
Like most dairy products, cream cheese has protein, fats, and vitamin A. Unless you have a dairy allergy or intolerance, adding dairy to a balanced diet helps your kids build strong bones, repair muscles, and keep your skin and eyes in tip-top shape. Spread a tablespoon for a deliciously creamy and nutritious spread to your savory breakfast rounds.
Tajin
The best blend of citrus, salty, and mild heat, Tajin is the easiest way to add a savory component to your English muffin breakfast. It's made with dried peppers, lime, and salt and adds a beautiful pop of red spice that you'll want over and over again. Start with a gentle sprinkle. If you want more, you can always add to it.
Look for it in the produce section (it's often eaten with fruit), with the seasoning, or down the Hispanic aisle.
How to Make English Muffin Breakfast Rounds
Step 1: Use a knife to cut your English muffins in half and toast them. Lay them, cut side up on your work surface.
Step 2: Open your bag of Crunch Pak apple slices and set them aside for topping.
Step 3: Use a tablespoon to scoop your choice of spread and plop it on each English muffin half. Use the back of the spoon to spread it evenly onto each slice of bread.
Step 4: Top each half with your favorite Crunch Pak® apple slices straight from the pouch – so simple!
Sweet Option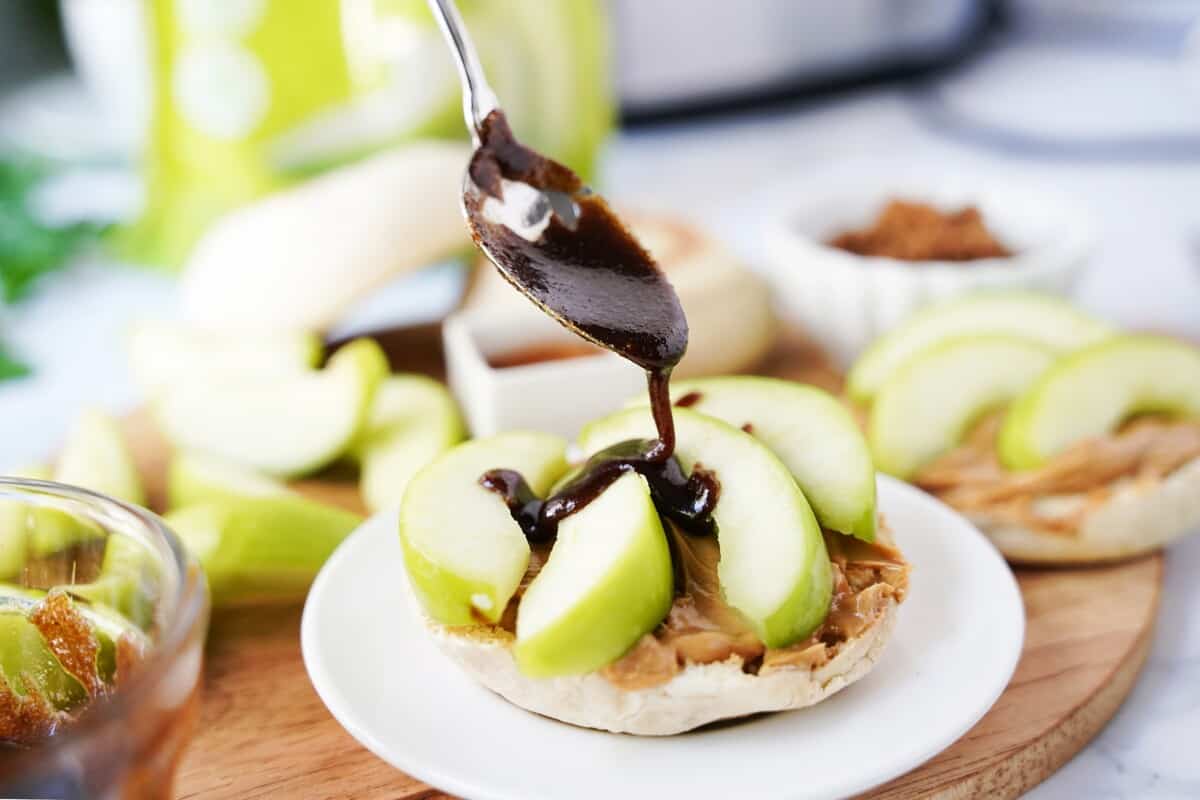 Heat the brown sugar, butter, and cinnamon together in 15- to 30-second increments in the microwave. Be sure to stir the ingredients between heating to get a smooth, caramel-like consistency. Drizzle as much or as little as you'd like to sweeten your English muffin apple rounds.
Savory Option
Spread each English muffin slice with cream cheese, top with apple slices, and sprinkle Tajin seasoning on top.
The sweet and savory options for this English muffin breakfast recipe are both incredibly simple to make. With endless flavor combos, you can mix and match to meet everyone's taste.
Imagine everyone happy with the breakfast you put on their plate… you'll be saying, "Pinch me!"
Why We Love Crunch Pak®
As moms ourselves, we love a nutritious snack pack that's ready to go at any given moment. Crunch Pak® has all your apple and pear snacks that your kids will beg you for every time you go to the store. They always use apples grown in the "apple capital of the world" — Washington.
Crunch Pak® strives to provide you and your family with healthy and environmentally-friendly snacking solutions. Grab your well-balanced snacks complete with protein, fats, and carbs that keep your kids alert and happy all day long. Choose from fun themes like Minnie Mouse, Paw Patrol, and Baby Shark for your next family adventure.
Apple Snack Recipes
English Muffin Breakfast Rounds
English muffin breakfast rounds are easy, quick, and versatile. That means everyone loves what's on their plate, even the pickiest of eaters. Sweeten things up or keep it savory for an easy weekday breakfast.
Ingredients
Sweet
1

bag

Crunch Pak® tart apple slices

1/2

cup

spread of choice

(peanut butter, nut butter, cottage cheese, etc.)

1/4

cup

packed brown sugar

2

tablespoons

butter

1/4

teaspoon

ground cinnamon
Savory
1/2

cup

cream cheese

1

bag

Crunch Pak® sweet apple slices

Tajin
Instructions
Toast the English muffins.

Spread 1 tablespoon of the spread of your choice into the cut side of each English muffin half.

Top each half with Crunch Pak® apple slices.
Sweet
Spread any nut butter on each English muffin slice and top with sliced apples.

Microwave the butter, brown sugar, and cinnamon together in a microwave-safe bowl in 15- to 30-second increments until smooth.

Drizzle your cinnamon mixture over the apple slices.
Savory
Spread a tablespoon of cream cheese onto each English muffin slice.

Sprinkle Tajin seasoning.

Enjoy your English muffin breakfast rounds!
Nutrition
Calories:
529
kcal
|
Carbohydrates:
49
g
|
Protein:
13
g
|
Fat:
33
g
|
Saturated Fat:
13
g
|
Polyunsaturated Fat:
5
g
|
Monounsaturated Fat:
12
g
|
Trans Fat:
0.2
g
|
Cholesterol:
44
mg
|
Sodium:
541
mg
|
Potassium:
315
mg
|
Fiber:
3
g
|
Sugar:
18
g
|
Vitamin A:
557
IU
|
Vitamin C:
0.1
mg
|
Calcium:
87
mg
|
Iron:
1
mg
Nutrition information is automatically calculated, so should only be used as an approximation.
Like this? Leave a comment below!