How To Make Irish Pub Nachos (Hint: Swap Potatoes for Tortilla Chips)
Sep 19, 2022, Updated Jan 24, 2023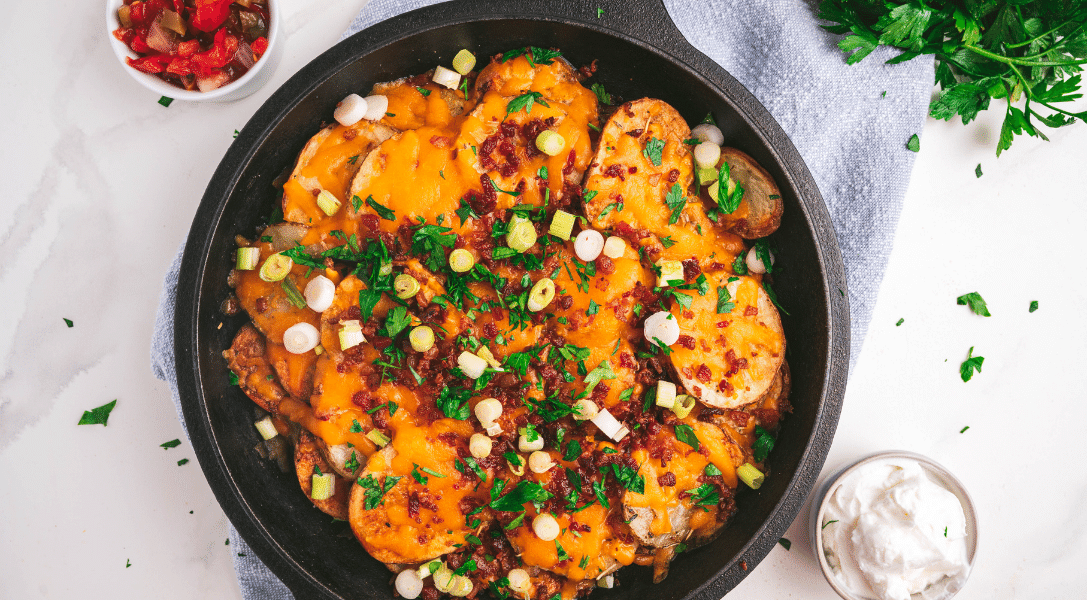 You may have heard of Irish potato nachos from your favorite cooking show. Or you may be looking for a fun, new appetizer or snack for a family night in.
Either way, this is an Irish twist on your favorite Mexican appetizer, loaded with all of your favorite nacho toppings.
Irish Potato Nachos is sponsored by Wada Farms.
Perfect for game day, movie night, or your last pool party of the season, this is a crowd pleaser for everyone of all ages. Substituted with homemade potato crisps for the base, even the pickiest eater will go crazy for this recipe.
But first, let's talk about the potato nachos in the iron skillet.
What Are Irish Potato Nachos?
They are similar to regular nachos except instead of tortilla chips, you use potatoes. Use thinly sliced potatoes baked to crispy perfection. It's basically homemade potato chips. Top your potato base with melted cheese and sprinkle with bacon bits. Then add your favorite toppings like sour cream and pico de gallo, and you've got everyone's new favorite appetizer.
Are These Nachos Irish?
Irish Potato Nachos aren't really Irish. But because they use potatoes, which are a staple in Ireland, they were nicknamed Irish Potato Nachos. If you go to Ireland and ask for these, they probably won't know what you're talking about. It's simply an Irish twist on a Mexican classic.
Who Invented Irish Nachos?
Randy Ford, the owner of a place called J. Gilligan's in Texas, came up with the recipe in the 80's. When they got their air fryer, he started experimenting with different cuts of fries. He thought the cottage fries looked similar to nachos when they were put into a skillet, so he added his favorite nacho toppings.
When customers asked what it was, he called it Irish Nachos. Although Randy came up with this melty, gooey appetizer years ago, he was featured on three different television networks including Food Network, and the recipe gained national traction.
It really is an Irish twist on your favorite appetizer.
Ingredients
1.5 pounds Wada Farms russet potatoes (cleaned, and sliced 1/4 inch thick)
2 tablespoons olive oil
½ teaspoon dried rosemary, crushed
½ teaspoon dried thyme leaves, crushed
sea salt and black pepper to taste
1 cup shredded sharp cheddar cheese
6 slices bacon, cooked and chopped
1/4 cup sour cream, plus more for serving
1/4 cup pico de gallo style salsa, plus more for serving
2 minced green onions
1 tablespoon chopped cilantro leaves
One of our favorite things about this recipe is that potatoes are an affordable and delicious alternative to tortilla chips. And you can easily double or triple batch this recipe with quality and nutritious potatoes from Wada Farms.
You might even prefer these over traditional nachos.
What Toppings Do You Put On Potato Nachos?
We used sour cream, pico de gallo, green onions, and cilantro. But you know we love to give you ideas on how to customize each recipe, especially with produce.
Here are a few more ideas:
Jalapenos
Bell peppers
Pickled red onion
Pickle relish
Ranch Dressing
Ground beef or pork
The list can go on and on. Top with your favorite veggies or protein for the perfect Irish pub food, right from your kitchen.
How To Make Irish Nachos With Potatoes
First, slice your potatoes into ¼ inch thick, round slices and add to a mixing bowl with spices and olive oil. Then, toss until your potatoes are evenly coated with seasonings.
Next, bake your potato slices in an even layer on a baking sheet at 450° F for 40 minutes, flipping over halfway through.
Then, lay your potato slices into an iron skillet with the edges slightly overlapping, and evenly sprinkle the top with cheese and bacon.
Bake for 3-4 minutes, until the cheese is melted.
Finally, sprinkle with green onions and cilantro, and top with sour cream and pico de gallo.
How do you reheat Irish Nachos?
Reheat your Irish Potato Nachos in the oven at 350° F for about 15-20 minutes, or until the cheese melts. We prefer the oven method so the potatoes stay crisp and crunchy. But you can also microwave your nachos for 2-3 minutes. But be warned, you won't have that crispy bite.
Why We Love Wada Farms Potatoes
We choose Wada Farms potatoes from the produce section for their hearty flavor and focus on sustainability as well! Family-owned since 1943, they use resources efficiently to increase productivity and quality of their produce. Wada Farms' potatoes are a delicious addition to your Irish Nacho appetizer!
More Recipes From Wada Farms
Instant Pot Chicken and Potatoes
Not sure why your potatoes turn green?
Here's a few storage tips to keep your potatoes ripe and ready for any recipe.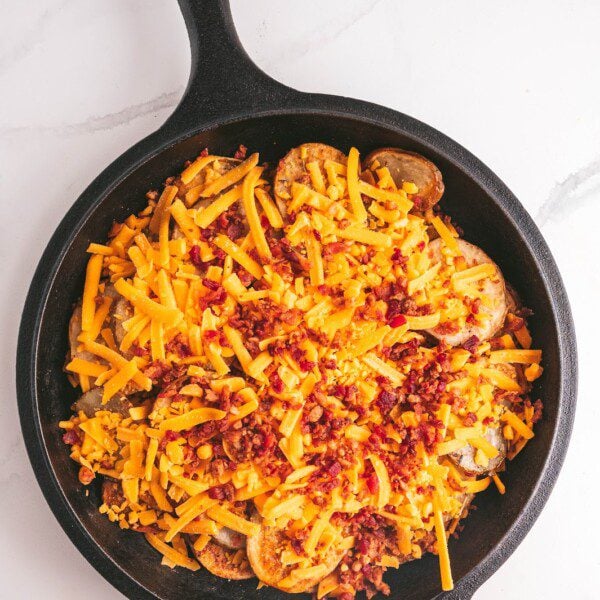 Irish Potato Nachos
Swap tortilla chips with crispy potatoes for an Irish twist on a classic appetizer – nachos! Load it up with your favorite toppings and serve.
Ingredients
1.5

lb

Wada Farms russet potatoes

cleaned and sliced 1/4 inch thick

2

tablespoons

olive oil

1/2

teaspoon

dried rosemary

crushed

1/2

teaspoon

dried thyme

crushed

salt

to taste

pepper

to taste

1

cup

shredded sharp cheddar cheese

6

slices

bacon

cooked and chopped

1/4

cup

sour cream

plus more for serving

1/4

cup

pico de gallo style salsa

plus more for serving

2

minced

green onions

1

tablespoon

cilantro

chopped
Instructions
Preheat your oven to 450° F.

Rinse your Wada Farms russet potatoes under water. Use your finger to get any stubborn dirt and grime out of the nooks and crannies. Then rinse your potatoes under water to wash away any loose debris. Use a paper towel to dry.

Leave the skin on and use a knife to slice your potatoes into 1/4-inch thick rounds and put them in a large mixing bowl.

Drizzle your potatoes with olive oil, rosemary, and thyme. Use a mixing spoon to stir the potatoes until they are evenly coated with herbs and olive oil.

Get your baking sheet and spray it with cooking spray. Place your potatoes in a single layer on your baking sheet. Bake for 40 minutes, turning your potatoes over halfway through.

Transfer your potato slices from your baking sheet to a single layer in your cast iron skillet. The edges should slightly overlap each other.

Sprinkle cheese and bacon evenly over your potatoes and pop your iron skillet in the oven for 3-4 minutes, or until the cheese is melty.

Take your iron skillet out of the oven and sprinkle your Irish nachos with fresh green onions and cilantro.

Serve your nachos right from your iron skillet with a dollop of sour cream in the middle and topped with salsa.
Nutrition
Calories:
361
kcal
|
Carbohydrates:
34
g
|
Protein:
11
g
|
Fat:
21
g
|
Saturated Fat:
8
g
|
Polyunsaturated Fat:
1
g
|
Monounsaturated Fat:
9
g
|
Cholesterol:
38
mg
|
Sodium:
300
mg
|
Potassium:
752
mg
|
Fiber:
2
g
|
Sugar:
3
g
|
Vitamin A:
458
IU
|
Vitamin C:
11
mg
|
Calcium:
239
mg
|
Iron:
2
mg
Nutrition information is automatically calculated, so should only be used as an approximation.
Like this? Leave a comment below!