15 Potato Recipes We Can't Get Enough Of
This post is sponsored by Wada Farms. 
Breakfast, lunch, dinner… No matter the meal, a potato is always a delight to see on your plate. We're rounding up our favorite potato recipes in honor of National Potato Lover's month. 
Sausage and Potato Sheet Pan
Let's kick off the list with what's sure to be your new favorite weeknight dinner recipe. Featuring red baby potatoes and kielbasa sausage, this easy sheet pan meal is one that the entire family will enjoy. 
Roasted Idaho® Potato Hummus Bowls
Looking for a unique, filling, and healthy lunch idea? Packed full of flavor and nutrition, you can't go wrong with these potato hummus bowls. 
Twice Baked Potato Casserole
Creamy, cheesy, buttery… we've turned this classic side into a shareable casserole. It's perfect for holidays but easy enough to whip up for a weeknight dinner. 
Vegan Potato and Corn Chowder
You'll never believe that this creamy Potato and Corn Chowder is 100% dairy-free! Blended Yukon gold potatoes make a creamy base without milk or heavy cream. Try it for yourself and taste the magic!
Loaded Potato Grilled Cheese Sandwich
Turn the flavors up, way up, on your grilled cheese sandwiches. Loaded Potato Grilled Cheese Sandwiches make a killer lunch. And they're kid-friendly and easy to make! 
Easy-Baker Fajita Potatoes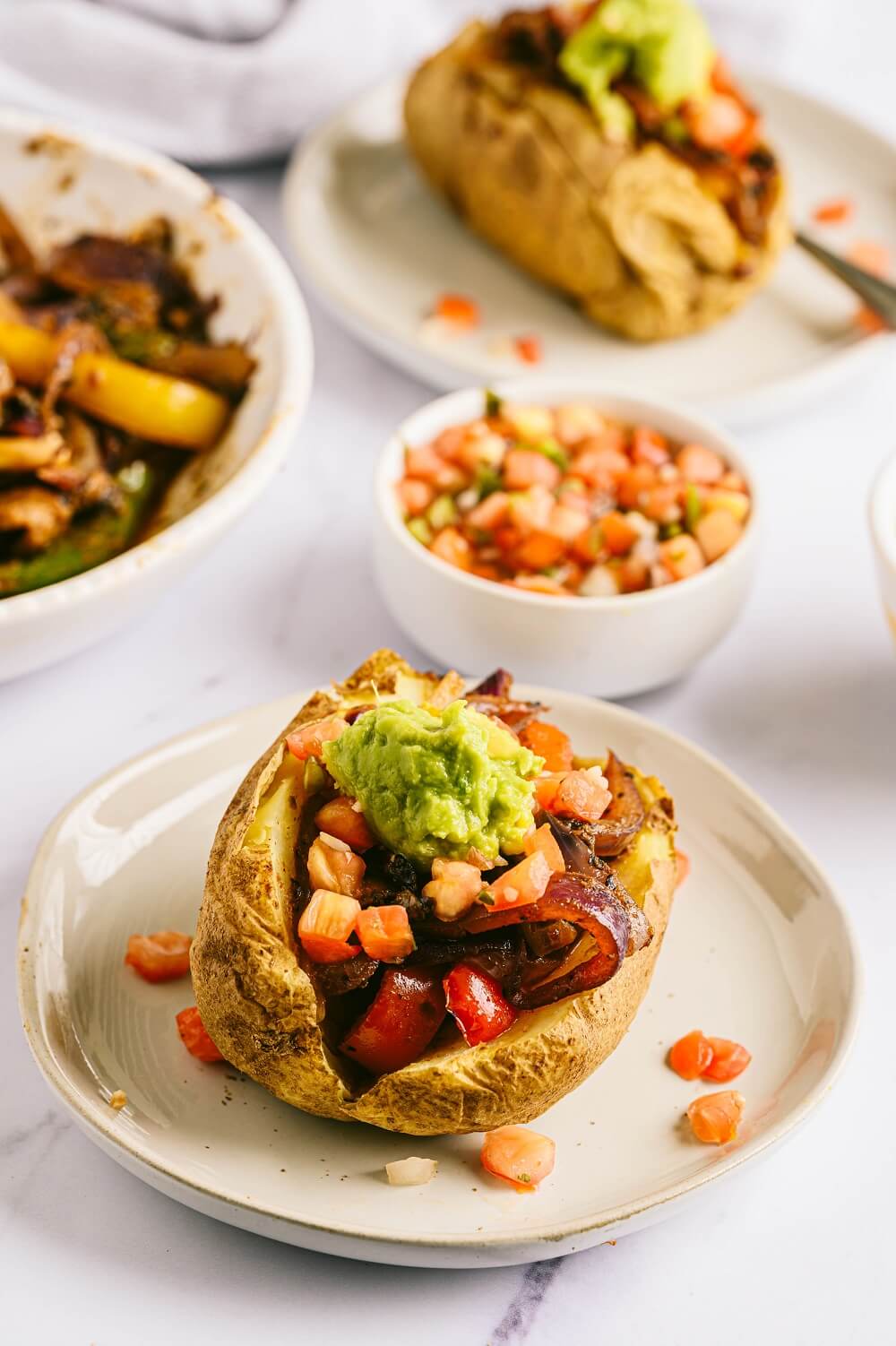 TPM x Wada Farms Easy-Baker Potatoes make preparing and enjoying potatoes a breeze. Pop one in the microwave and then top with onions, bell peppers, mushrooms and spices for a nutritious and flavorful lunch or dinner. This recipe is vegan and gluten-free but so flavorful that you won't miss what's been left out.
Crispy Smashed Potatoes
Soft on the inside and crispy on the outside, Crispy Smashed Potatoes are fun finger food that kids and adults both crave. 
Instant Pot Chicken and Potatoes
Chicken and potatoes are a classic combo, one many of us likely grew up with in one form or another. Whether they're part of a home-cooked southern feast or a savory western skillet, made from ingredients from the farm next door or whipped up in a downtown apartment kitchen, chicken and potatoes are a match made in heaven's kitchen. This recipe features melt-in-your-mouth baby gold potatoes and tender chicken coated in ranch seasoning and parmesan cheese. 
One-Pot Hoosier Stew
Hoosier Stew is a hearty Midwestern classic that consists of green beans, potatoes, and smoked sausage. It's a comforting dish to end the day with. And when you're done with dinner, there's only one pot to clean! 

Southwest Scramble
Let's move from the midwest to the southwest and enjoy a savory breakfast featuring eggs, bell peppers, corn, avocado, scallions, cilantro, and roasted potatoes. It's a delicious way to start the day! 
Slow Cooker Potato and Ham Soup
Warm up from your head to your pota-toes with a hearty bowl of potato and ham soup. A slow cooker makes the ingredients in this soup delightfully tender and brings out all the flavors of the ham and vegetables.
Air Fried Rolled Potato Tacos
This recipe combines some of our very favorite things… tacos, potatoes, and air-fried food! Keep this recipe on hand for when you have leftover mashed potatoes you'd like to use up. 
Vegan Potatoes Au Gratin
If you're following a dairy-free diet you may assume that cheesy potatoes are off-limits. But we found a way to make creamy, cheesy potatoes au gratin completely without an ounce of dairy. 
Steakhouse Baked Potato
Have you ever wondered how steakhouses get their baked potatoes to taste so good? We'll let you in on the secret so you can enjoy steakhouse-quality baked potatoes at home.
Idaho Potato Pound Cake (Gluten-Free)
Potatoes for dessert? Don't knock it 'till you try it! This potato pound cake proves that potatoes have a place at the dessert table.
The Key To All Great Potato Recipes
Whatever potato recipe you plan to cook up this week, a key step is starting with the very best quality potatoes.Wada Farms has been growing world-famous Idaho Potatoes since 1943. Decades of farming experience have yielded their reputation as masters in their trade. Their quality processes go beyond industry standards, which result in consistently delicious potatoes you can count on. Look for the Wada Farms label when shopping for potatoes.
Learn how to select and store potatoes here. 
Which of these potato recipes will you try first? Do you have a favorite potato dish? Be sure to share it in the comments below or tag us in your food photos on Instagram @theproducemoms and @wadafarms. 
Check out our Potato Pinterest Board for even more recipes.