Easy Baked Potato Bar Ideas
Apr 22, 2022, Updated Jun 06, 2022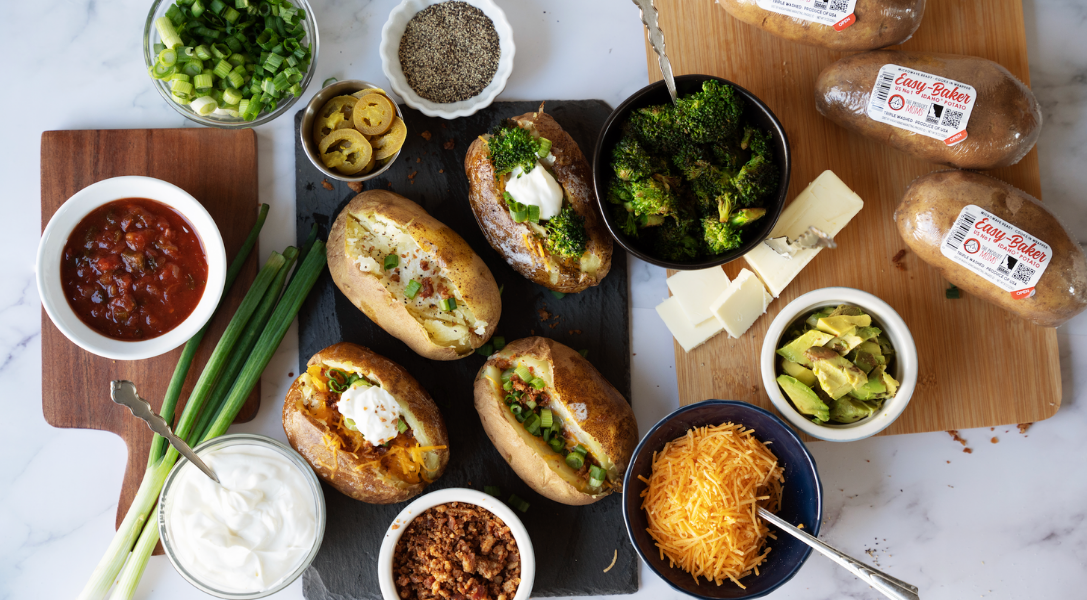 This post is sponsored by Wada Farms.
A Baked Potato Bar is a simple and easy way to entertain a crowd. We have so many great ideas on how to simplify and elevate your next baked potato bar.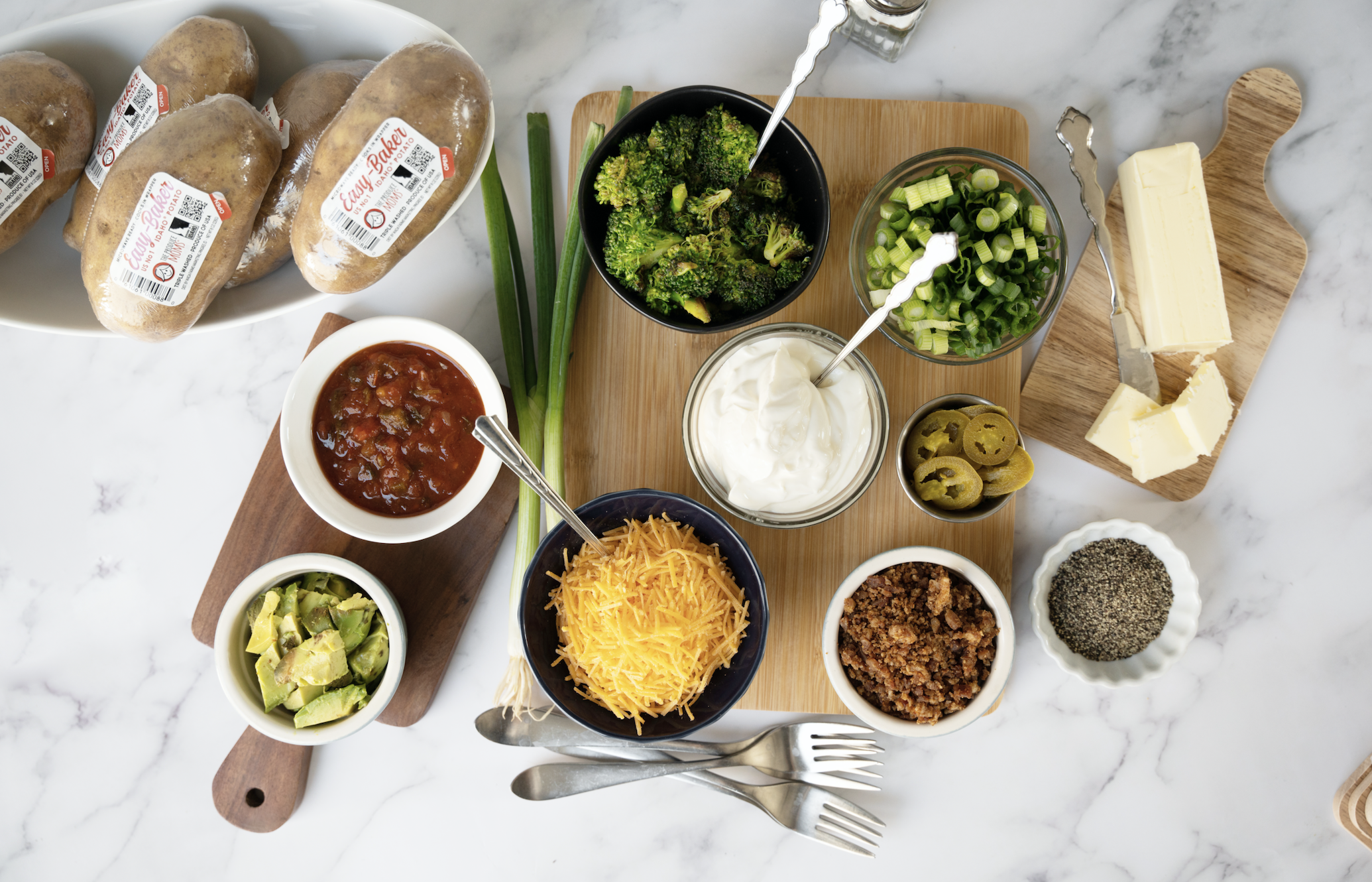 We don't know anyone who doesn't like a baked potato (that isn't even possible)! It has become a go-to for us when entertaining for a crowd or a fun family dinner idea. It is simple to throw together, and we typically have all the toppings already at home. Plus, the Wada Farms X The Produce Moms Easy-Bakers can simplify the process even more! Overall, the baked potato bar is a great way to entertain, whatever the occasion may be.
Wada Farms X The Produce Moms Easy-Bakers
If your crowd is coming at different times, you can make the Easy-Bakers as you go. They make having a baked potato bar just that much easier.
These flavorful spuds are grown in rich Idaho soil. When you pick up The Produce Moms X Wada Farms Easy-Baker Potatoes at your local grocery store, they've been triple-washed and are ready to eat. If you're short on time but not on standards, these quality potatoes are exactly what you're looking for.
To make Easy-Baker Potatoes, simply put them in the microwave – that's it! Each potato is individually sealed in microwave-ready plastic, which ensures that it cooks through for an irresistibly fluffy texture. Cook your potato on high for 6 to 8 minutes, then remove and peel off the plastic wrap. Be careful, the potato will be hot. Now you're ready to serve it alongside your family's favorite baked potato toppings!
How To Build a Baked Potato Bar
When you are building your baked potato, you should have a bowl of your potatoes. We suggest planning one potato per person, but you should have a few extra for those who want to go back for seconds. You should prepare your toppings in small bowls with spoons or tongs so that people can easily walk through and grab what they want. We suggest having six to eight toppings including someone from each of the following categories: protein, dairy, veggies and garnishes.
Toppings for a Baked Potato Bar
Keep it simple with items you already have at home. The best part is that there is no wrong answer. Toppings will vary depending on who you are serving. Below are some common toppings and ideas that can help you get started
Dairy
Butter
Cheese
Cottage Cheese
Sour Cream
Proteins
Bacon
Beans (Black Beans, Pinto, Red Beans)
Crumbled Sausage
Ground Turkey (or Beef)
Shredded Chicken, beef or pork
Veggies
Bell Peppers (sautéed or fresh)
Broccoli (fresh or steamed)
Kale (sautéed or fresh)
Onions (red, yellow, white or sweet)
Sautéed Spinach
Garnishes
Cilantro
Chives
Green Onions
Guacamole
Jalapeños
Salsa
Building Your Stuffed Baked Potato
First, you need to bake your Easy-Bakers in the microwave. Follow instructions on the label.
Produce Mom Tip: Drop your potato onto a plate or hit it in the middle several times with the palm of your hand. Why? This loosens up the inside of the potato so it's nice and fluffy inside. 
Then, cut your baked potato with a knife  to open it up at the top.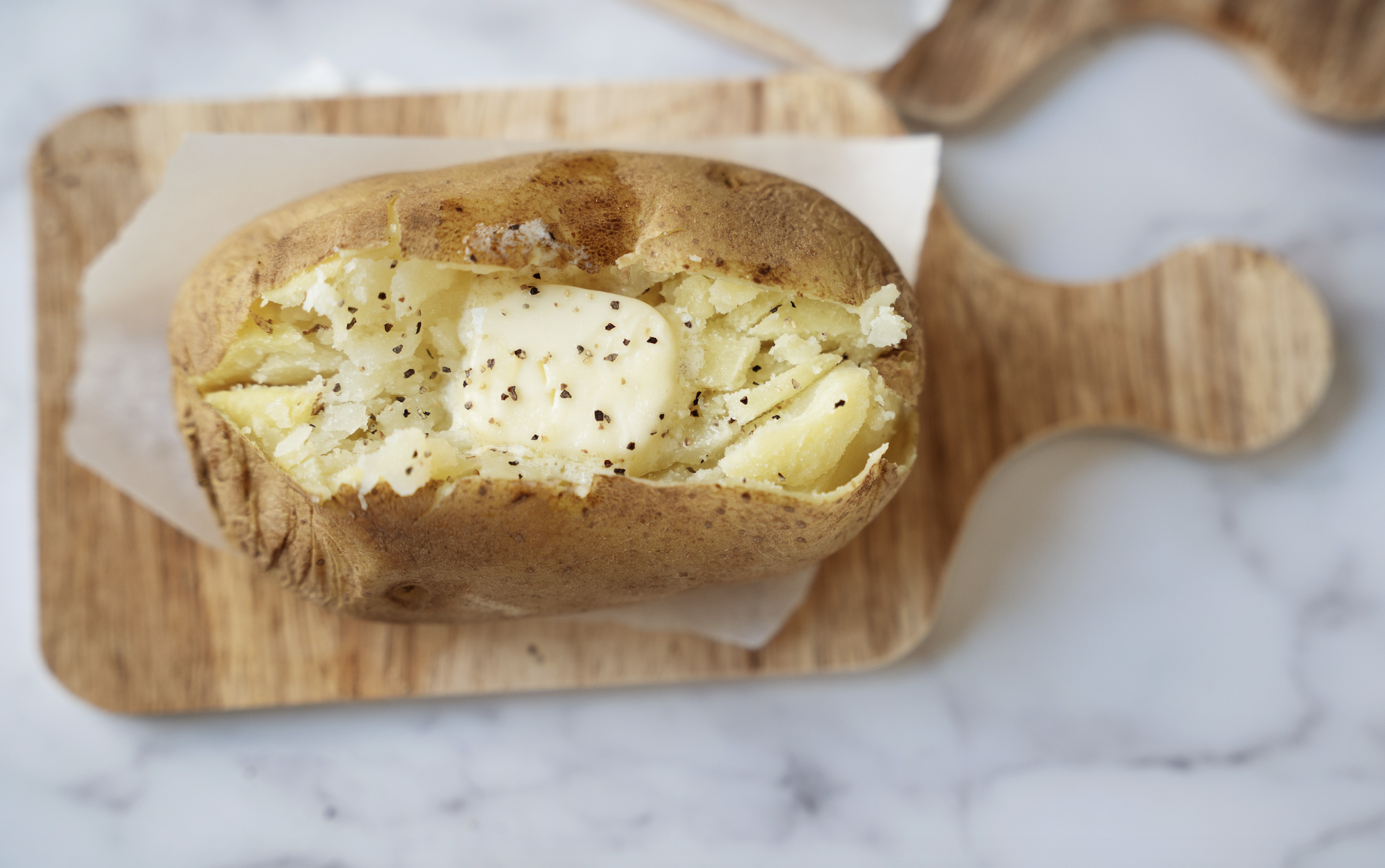 After that, you will want to season your baked potato with salt and pepper (or another seasoning of choice). Plus, you will want to add your butter before adding in the rest of the toppings.
Finally, add all of your toppings, and enjoy!
Theme Ideas for your Baked Potato Bar
Depending on your crowd (or what you may have on hand), you can create a spud bar with different themes. We have added some of our favorite ideas below.
Fajita – sautéed bell peppers, salsa, guacamole, Mexican cheese, sour cream, cilantro
BBQ – pulled BBQ pork or chicken, barbecue sauce, white onions
Chili – chili, hot sauce, green onions and shredded cheese
Philly Cheesesteak – ground beef, onions, bell peppers, provolone cheese
Plant-Based – beans, fresh veggies, mango, avocado
Irish – cabbage, sauerkraut, cheddar cheese
Greek – olives, feta, red onion, tzatziki sauce
Did you make a baked potato bar using the Wada Farms X The Produce Moms Easy-Bakers? Share and tag us on Instagram @theproducemoms and @wadafarms. Share your favorite toppings in the comments. We love to hear new ideas!