Breakfast Stuffed Peppers With Eggs, Sausage, and Cheese — Kid Approved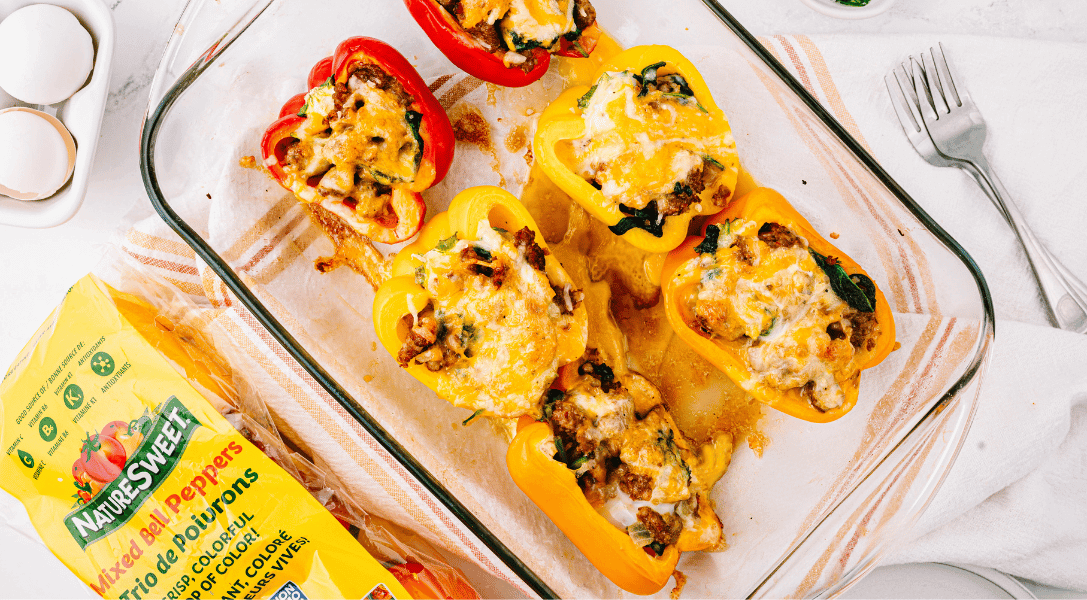 Breakfast stuffed peppers are like a keto and low-carb sausage, egg, and cheese sandwich – but are still delicious and filling. Instead of using bread, we've tossed our favorite breakfast ingredients into a bell pepper for an even more nutritious breakfast. Make it ahead and heat it up in the morning. And the best bonus? This is sure to be a kid favorite.
Ready to make your mornings easier?
Breakfast stuffed peppers are the way to do it.
You don't have time to make a full-on eggs and sausage breakfast each day before school or work. But now, you can!
Breakfast stuffed bell peppers are sponsored by NatureSweet®.
Make your stuffed pepper and eggs at the beginning of the week for an easy breakfast your kids can heat up in the microwave the next morning. You and your family get all the makings of a weekend breakfast that's filling and nutritious every day of the week.
It's so simple.
Let's give it a try.
What Are Breakfast Stuffed Peppers?
You've probably made stuffed peppers before. But this time, we're using breakfast ingredients for the filling to make this your go-to recipe for busy mornings. Whip up some fluffy eggs with onions, sausage, and cheese and turn this classic recipe into an easy make-ahead breakfast with an extra boost of nutrients. Simply bake your peppers and serve warm or store them in the fridge for later.
Ingredients
We've listed the ingredients you'll need to add to your grocery list this week. If you have a larger family, double the ingredients to make a second batch without having to make another trip to the store. You only need these six affordable and nutritious ingredients – not including olive oil, salt, and pepper.
Here's what you'll need.
1. Bell Peppers
Did you know that bell peppers are considered a fruit? That's right. Bell peppers have seeds in the middle and grow from the flower of pepper plants — the two criteria for fruit. We use NatureSweet® Mixed Bell Peppers with orange, red, and yellow peppers because they're sweeter than green ones.
Look for the NatureSweet® Mixed Bell Peppers in the produce aisle.
2. Pork Sausage
When you crave a hearty breakfast, pork sausage hits the spot. Sausage is high in protein to help you and your family build and repair muscles. It even helps promote growth and development in children and teens.1 However, pork sausage is also high in fat. But that doesn't mean that you need to be afraid of it. We need fat in our diet. Just be sure to eat it in moderation. You only need one pound of sausage for your breakfast stuffed peppers. And when it's spread among your peppers, it's the perfect amount to keep you feeling full.
Grab your pork sausage from the meat section. If you get the ones with the casings, remember to remove those before you brown your meat.
3. Spinach
Leafy greens can be eaten raw or cooked. And they add a pop of color in our egg-stuffed peppers. You can never have too much green in any recipe. Spinach is considered a brain food. It has an antioxidant that cleanses your brain of toxins and prevents mental decline caused by aging.2 It's like a natural brain booster, the perfect way to start you and your family's day off right.
Spinach is available in bags or large tubs by the salad kits and leafy green mixes in the produce section.
4. Eggs
This is how you'll load up your breakfast stuffed peppers with even more protein. The National Institute of Health says that eggs are one of the "best dietary sources of high-quality protein".3 The four eggs in this recipe give you a combined 24 grams of protein. It's important to add protein to each meal, and these peppers get you and your kids off to a great start.
You probably already know where eggs are in your grocery store. But just in case, you can find them in the dairy section.
5. Colby Jack Cheese
This is the cheese that has a white and yellow marbled look. It pairs well with almost anything from sandwiches to soups and omelets to fruit – and, of course, in breakfast stuffed peppers. When in doubt, Colby jack is usually a safe option for most recipes. It's sweeter than cheddar, with a mild flavor and buttery finish. We used a shredded bag of Colby jack but you can also get a block of it and shred it yourself.
Shredded cheese saves you time, while the block usually adds more yummy flavor. Look for it in the dairy section and compare prices to help you decide.
6. Parsley
This is an easy way to brighten your breakfast stuffed peppers. Leafy, herby, and vibrant, parsley adds a lightness to your egg, sausage, and cheese-filled peppers. Not to mention, it adds a fresh pop of color and brightens up the flavors so your peppers taste even better. It's almost like a condiment, garnish, and flavoring – all in one. And it's all-natural.
Grab some parsley from your garden – if you have one – or get a small pack of it in the produce section where the herbs are located.
How to Make Breakfast Stuffed Peppers
Step 1: Preheat the oven to 350℉ and spray a 9×13 inch baking pan with cooking spray. You could also use olive oil or butter.
Step 2: Cut your NatureSweet® bell peppers in half, cut away the middle, and rinse out the seeds. Place the halves cut side up in your baking dish so that they are able to sit side by side.
Step 3: Heat oil in a large skillet, add the onions, and cook for five minutes or until translucent.
Step 4: Add the sausage to your onions and cook until browned. You shouldn't see any more pink meat.
Step 5: Add the spinach to your skillet and cook until it becomes wilted. Then remove the pan from the heat.
Step 6: Whisk the eggs, salt, and pepper in a medium mixing bowl until the mixture is yellow and the spices are combined with the eggs. Use a spoon to mix ½ cup of cheese to your egg mixture.
Step 7: Use your spoon to scoop the sausage mixture from the skillet to the bell peppers as evenly as you can.
Step 8: Pour your egg mixture over the sausage mixture into each bell pepper half. Use the ¼ cup of remaining cheese to top each bell pepper.
Step 9: Bake your breakfast stuffed peppers for 25-30 minutes or until the cheese is melted and starts to brown. Enjoy!
How to Select Bell Peppers
Bell peppers are pretty easy to choose when you're at the grocery store. Your peppers should be bright in color and firm with tight skin. Avoid peppers that are dull or shriveled on the outside.
Red, yellow, and orange peppers are the sweetest because they are picked later than green peppers. But in the end, a bell pepper is a bell pepper, they were just harvested at different times.
Related: How to Select, Store, and Serve
How to Store Breakfast Stuffed Peppers
Store your egg-stuffed peppers in an airtight container in the fridge for up to four days. Then reheat in the microwave for one and a half to two minutes for one bell pepper. If you make more than one at a time, you'll need to cook them closer to two minutes. If they are still not as hot as you'd like, heat them in thirty-second increments until heated through.
Prepping these babies ahead of time is one of our favorite things about this bell pepper recipe. Let your peppers cool completely before wrapping them in foil and storing them in the freezer. They will last for up to three months. Defrost overnight in the fridge for even thawing. Remember that your breakfast peppers will be softer after they defrost.
Why We Love NatureSweet®
NatureSweet® not only cares about sustainability, but they also enjoy educating you about your produce so you can feel confident about what you feed your family. From learning how to select, store, and serve your peppers, we're both on the same page when it comes to getting more fruits (because peppers are a fruit) and veggies on your table at home. And get your kids excited about it too!
Look for the NatureSweet® logo when you pick up your ingredients for your breakfast stuffed peppers.
More Pepper Recipes
Breakfast Stuffed Peppers
Breakfast stuffed peppers are an easy solution to a well-rounded breakfast, even on a weekday. Make it ahead for a breakfast that's mom and kid-approved.
Print
Pin
Rate
Ingredients
3

NatureSweet® mixed bell peppers

cut in half lengthwise and remove inner seeds and stems

1

tablespoon

olive oil

1

cup

white onion

diced

1

pound

pork sausage

casing removed

2

cups

spinach

4

large

eggs

1/4

teaspoon

salt & pepper

each

3/4

cup

shredded colby jack cheese

2

tablespoons

fresh parsley
Instructions
Preheat the oven to 350℉ and grease a 9×13 baking dish with cooking spray.

Place the NatureSweet® bell pepper halves side-by-side, with the cut side facing up, in a baking dish and set aside.

Heat olive oil in a large skillet over medium heat. Add the onions and cook for about 5 minutes or until they're translucent.

Add the sausage to the skillet and cook until browned and no longer pink.

Stir in the spinach and cook until wilted, about 1-2 minutes. Remove the pan from the heat.

In a medium-sized mixing bowl, whisk together the eggs, salt, and pepper. Then stir in 1/2 cup of cheese with a spoon.

Spoon the sausage mixture evenly among your peppers.

Pour the egg mixture over the sausage mixture, inside your bell peppers. Top with the remaining 1/4 cup of cheese.

Bake your peppers uncovered for 25-30 minutes. It's ready when the cheese is melted and slightly brown.

Remove your peppers from the oven and let them cool for about 5 minutes.

Garnish with a pinch of fresh parsley and serve your breakfast stuffed peppers warm!
Notes
Cook less for runnier eggs and longer for more firm eggs.
Nutrition
Calories:
369
kcal
|
Carbohydrates:
7
g
|
Protein:
20
g
|
Fat:
29
g
|
Saturated Fat:
10
g
|
Polyunsaturated Fat:
4
g
|
Monounsaturated Fat:
13
g
|
Trans Fat:
0.2
g
|
Cholesterol:
189
mg
|
Sodium:
725
mg
|
Potassium:
472
mg
|
Fiber:
2
g
|
Sugar:
4
g
|
Vitamin A:
3245
IU
|
Vitamin C:
83
mg
|
Calcium:
118
mg
|
Iron:
2
mg