Pumpkin Banana Dog Treats
Sep 18, 2022, Updated Nov 01, 2022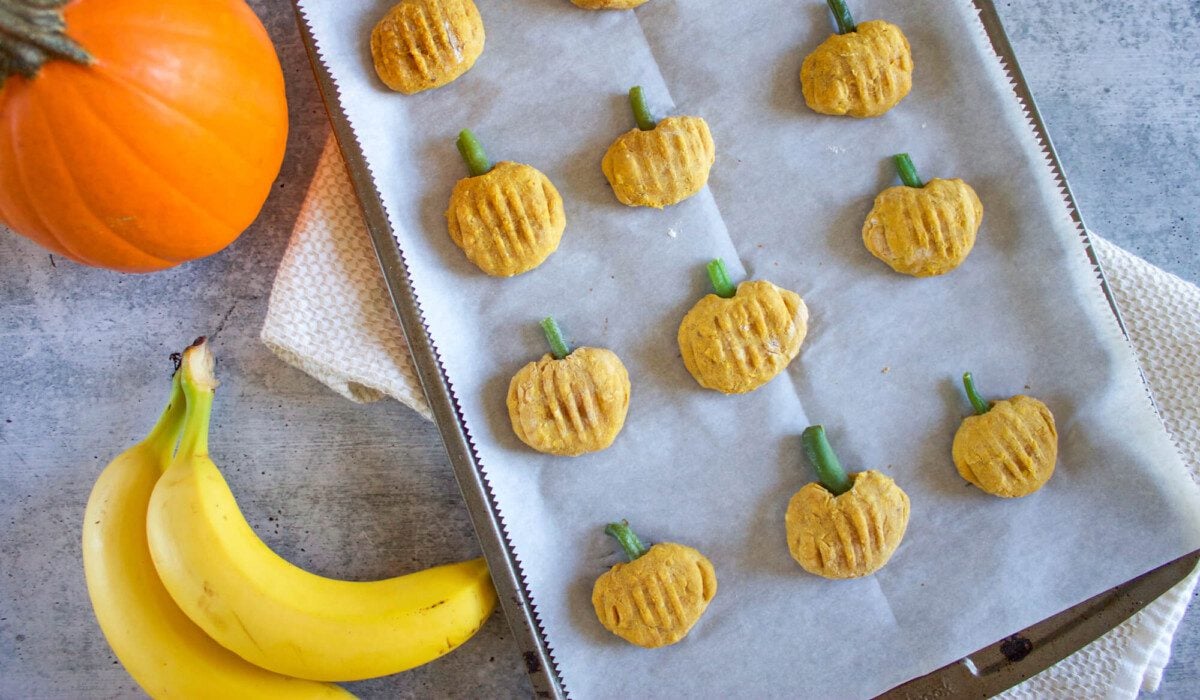 Celebrate the season of fall with your dog with these adorable banana pumpkin dog treats.
Just like humans, most dogs love fall. The weather is cooler for longer walks and what pup can resist jumping into a big leaf pile? Your pup is an important part of the family, and that means they deserve seasonal treats, just like us!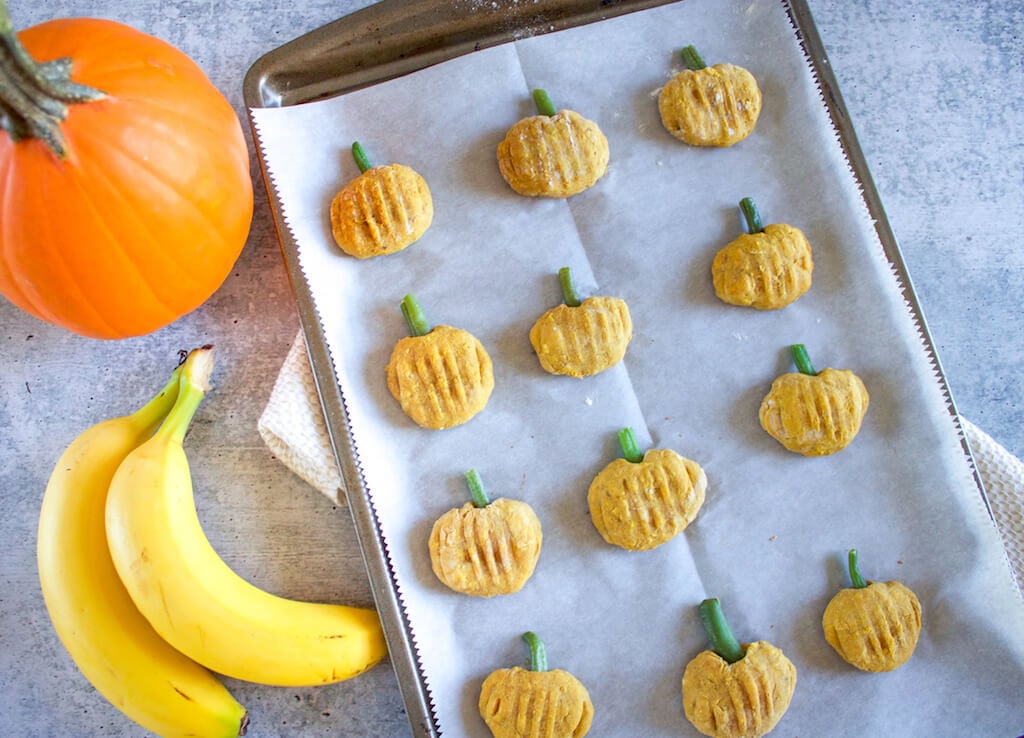 Is Pumpkin Safe For Dogs?
Pumpkin is a puppy favorite! Not only do most dogs love the taste, it is high in fiber and can help with digestive health. Because it's also low in calories, it can be a good choice if your dog needs help managing his weight. To make these treats, you can use natural canned pumpkin puree (no added sugar or other additives) or you can make your own. It's actually quite easy to make your own pumpkin puree. With the holidays just around the corner, why not make a big batch and freeze what you don't use to have on hand for pumpkin pies?
Pumpkin is a safe food for dogs, they can have up to a small amount each day. Pumpkin has many excellent health benefits for your dog.
Related: How to Make Pumpkin Seeds
How To Make Banana Pumpkin Dog Treats
These treats are a breeze to whip up!
1, Begin by mixing together "wet" ingredients (pumpkin puree, banana, and egg).
2. Then, slowly add flour to your mixture. Use whatever flour you'd like. If you want to keep these treats grain-free, almond or coconut flour can be a good choice. Depending on the flour you use, you'll need anywhere from 2 to 2 1/2 cups of flour. The dough should resemble a sugar cookie mixture in its consistency.
3. Next, fold in the oats.
4. Once you have your dough made, shape it into ping pong sized balls. Flatten the dough balls slightly between your hands and then place them on a baking sheet lined with parchment paper. Using a fork, gently press down on each treat (similar to how you would when making peanut butter cookies). The fork marks aren't necessary, but they help the treats look more pumpkin-like. Lastly, place a green bean into the top of each treat to act as the pumpkin stem.
5. Bake at 350 degrees for 15-18 minutes or until the edges begin to brown. If you have a small dog you can make smaller treats and lessen the bake time.
Related: Healthier Halloween Treats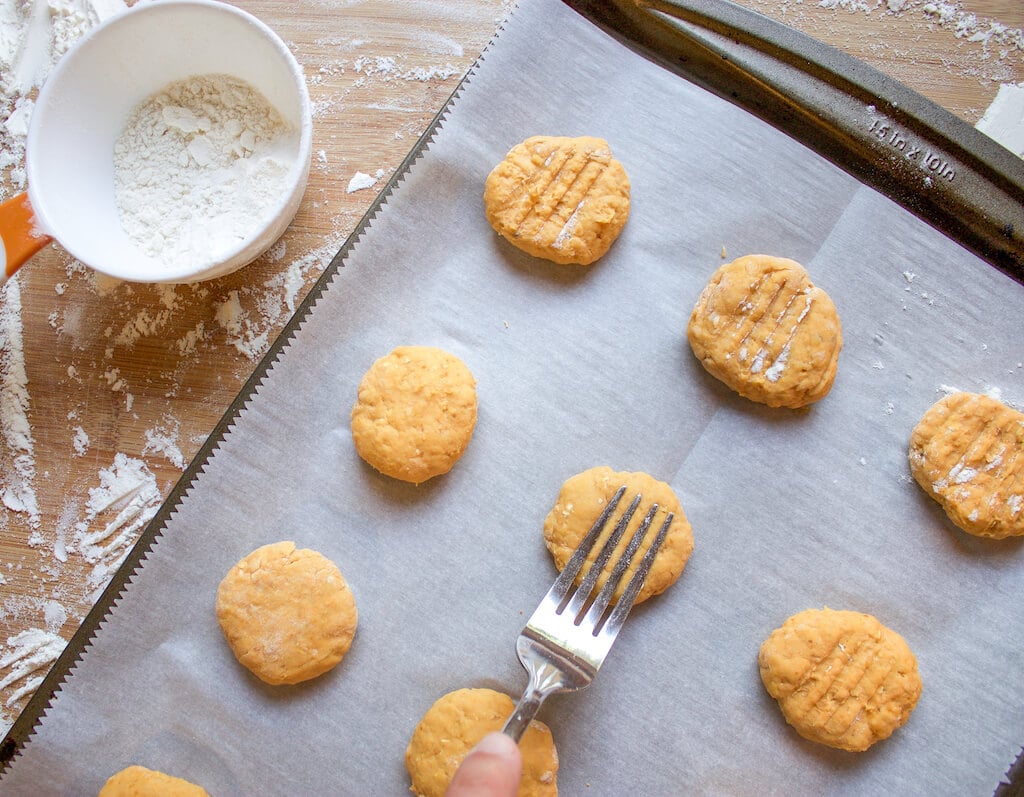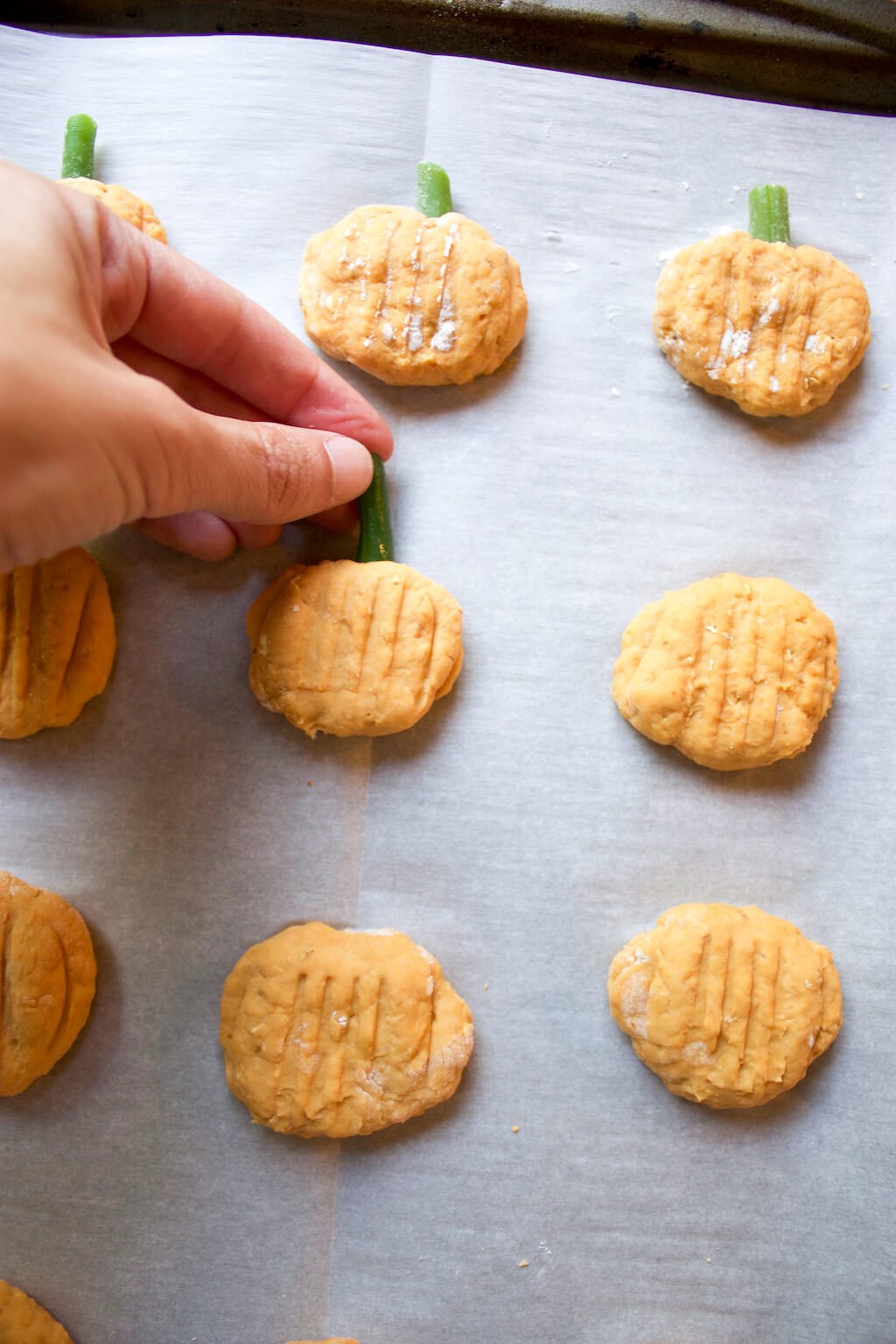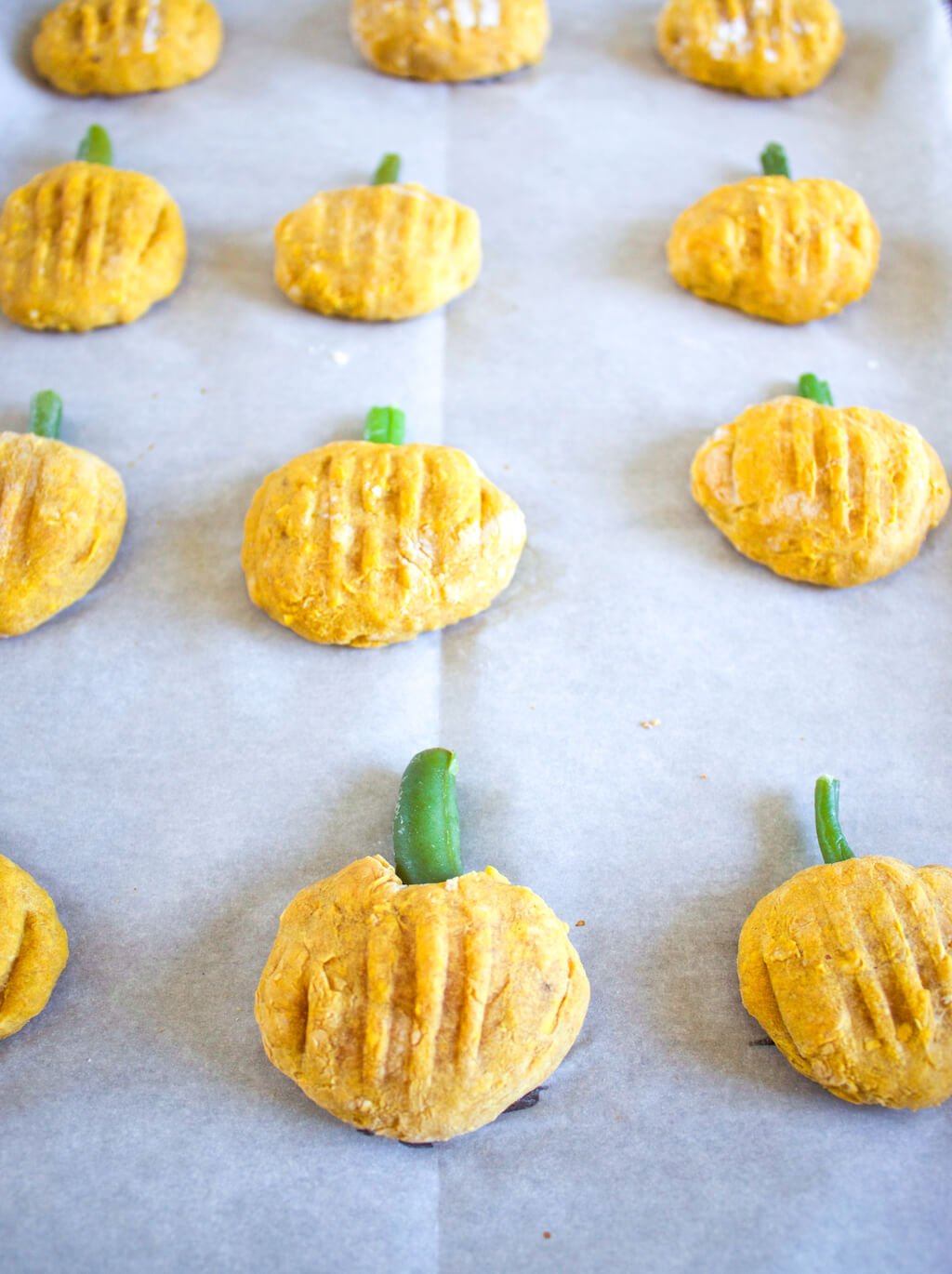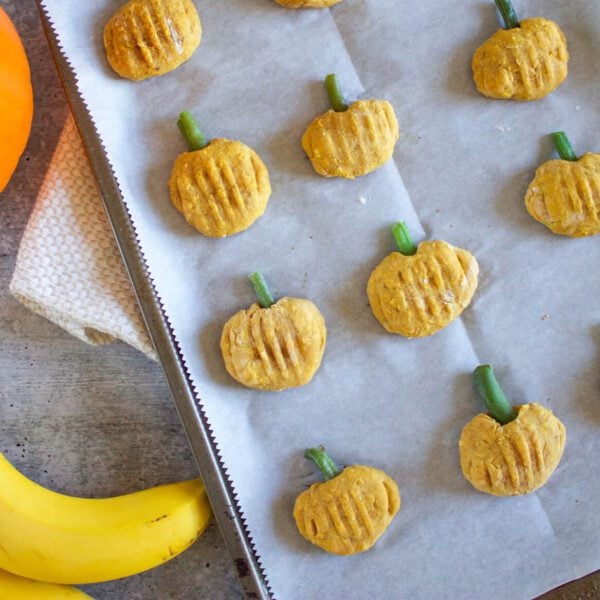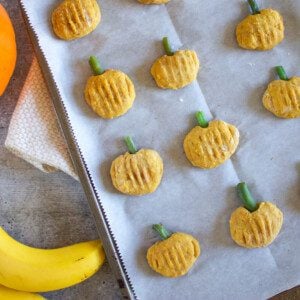 Banana Pumpkin Dog Treats
Ingredients
3/4

cup

pumpkin puree

1

banana

1

egg

2 - 2 1/2

cups

flour

use your choice of flour

1/4

cup

oats

green beans

cut in half
Instructions
Preheat the oven to 350 degrees.

In a mixer, blend together the pumpkin puree, banana, and egg. Mix until smooth.

Slowly add in flour until dough forms (amount will depend on the flour you choose. Dough should be similar to a sugar cookie dough). Fold in oats.

Shape dough into ping pong sized balls and flatten slightly with hands. Place on a lined baking sheet.

Using a fork, press down on each dough round (similar to making peanut butter cookies). Then place a green bean into the top of each treat.

Bake treats until edges begin to brown, about 15-18 minutes.
Nutrition information is automatically calculated, so should only be used as an approximation.
Like this? Leave a comment below!
Now your autumn-loving dog can enjoy a pumpkin treat while you enjoy a pumpkin treat… perhaps this Pumpkin Spice Smoothie.
Want other easy homemade dog treat ideas? Check these out!
Curious about which other fruits and vegetables are safe for dogs? Find out here.
Share a photo of your dog enjoying these homemade treats and tag us on Instagram @theproducemoms. Happy fall!
*Always talk to your veterinarian before introducing new food's into your dog's diet.