At-Home Educational Resources: Free eBooks and Activity Sheets for Kids
Educational eBooks and activity sheets are a great way to keep kids learning and entertained at home. What's great about the following at-home education resources is that they familiarize children with different fruits and vegetables and encourage healthy eating.
The All-In-One STEM Curriculum
The All-In-One STEM Curriculum has STEM activities for the classroom, at-home projects, and science fairs for early grades and middle schoolers. You'll also find activity sheets for pre-K and kindergarten. Best yet, it's free!
DOWNLOAD THE ALL-IN-ONE STEM CURRICULUM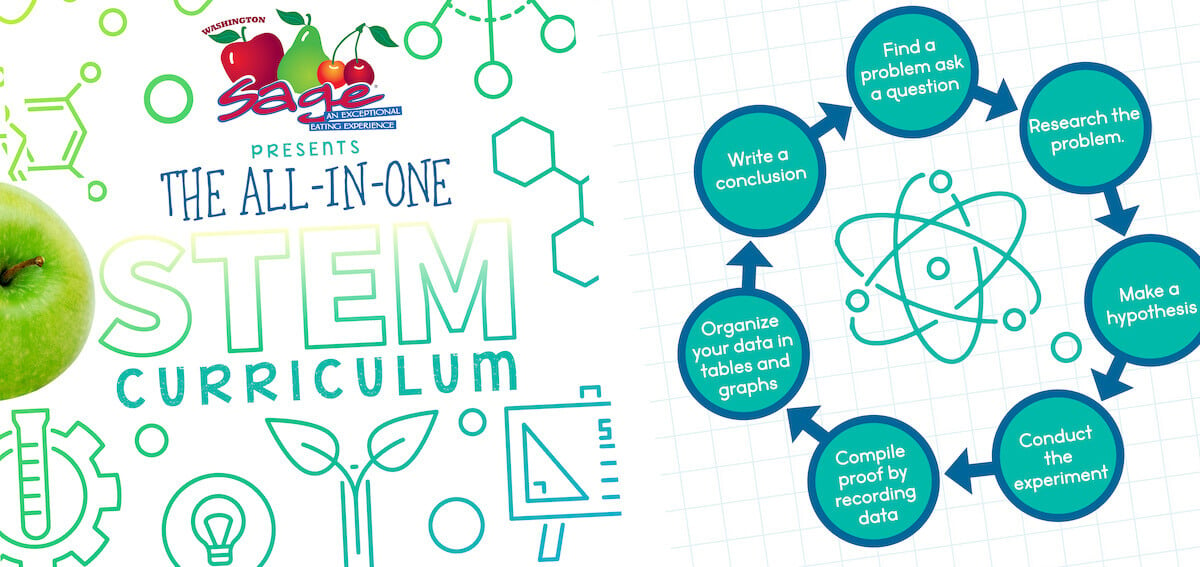 Celery Educational Activities
Do your kids like to play with their food? These hands-on activities will have kids playing with celery. Watch celery turn fun colors in the colorful capillary action experiment. Next, create celery stamp roses. Finish off the day with the "counting ants" activity sheet.
DOWNLOAD THREE CELERY EDUCATION ACTIVITY SHEETS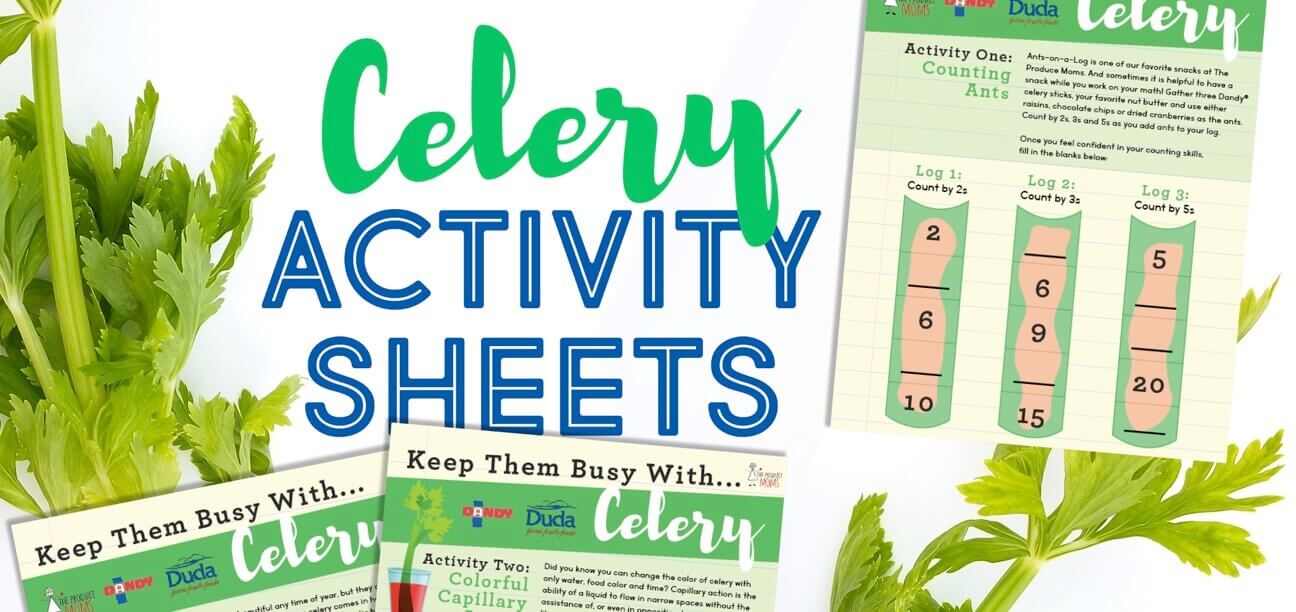 Science Fair and STEM Project Guide
This free eBook is suited for students in grades 3-8 and can be modified according to a student's interest. It includes 15 science fair and STEM projects using fruits and vegetables. Each project includes step by step instructions but it's up to the student to find the conclusion. The projects cover various science disciplines including biology, chemistry, physical science, and physics.
DOWNLOAD THE SCIENCE FAIR AND STEM PROJECT GUIDE HERE
Dehydration of Grapes STEM Project
This is an activity to see if the skin color of the grapes has any impact on the time it takes for the dehydration process of grapes. It can be modified to include other fruits or you can test how storage impacts or changes the dehydration process.
DOWNLOAD THE DEHYDRATION OF GRAPES ACTIVITY SHEET
Grape Smash + Dancing Grapes: Two Middle School STEM Projects
The Grape Smash STEM Project is designed for students to practice classification along with learning about the Law of Conservation of Mass. The Dancing Grapes STEM project focuses on using the POE (Predict-Observe-Explain) strategy.
DOWNLOAD GRAPE SMASH + DANCING GRAPES STEM ACTIVITY SHEETS 
The Life Cycle Of An Apple Tree
This free eBook focuses on how apple trees are grown, how long it takes to go from seed to bloom, and farming practices used to grow apple trees. Also included are apple activity sheets for kids and yummy apple recipes to make at home.
DOWNLOAD THE LIFE CYCLE OF AN APPLE TREE
Power Up With Potatoes eBook
Power Up With Potatoes explores how potatoes can be a powerful food before, during, and after an athletic performance. If you have a young athlete in your house, this is a great resource!
Cosmic Crisp® Activity Sheets
Keep elementary-aged kids busy with three fun Cosmic Crisp® activity sheets. They're even more fun when served with an apple snack!
DOWNLOAD COSMIC CRISP® ACTIVITY SHEETS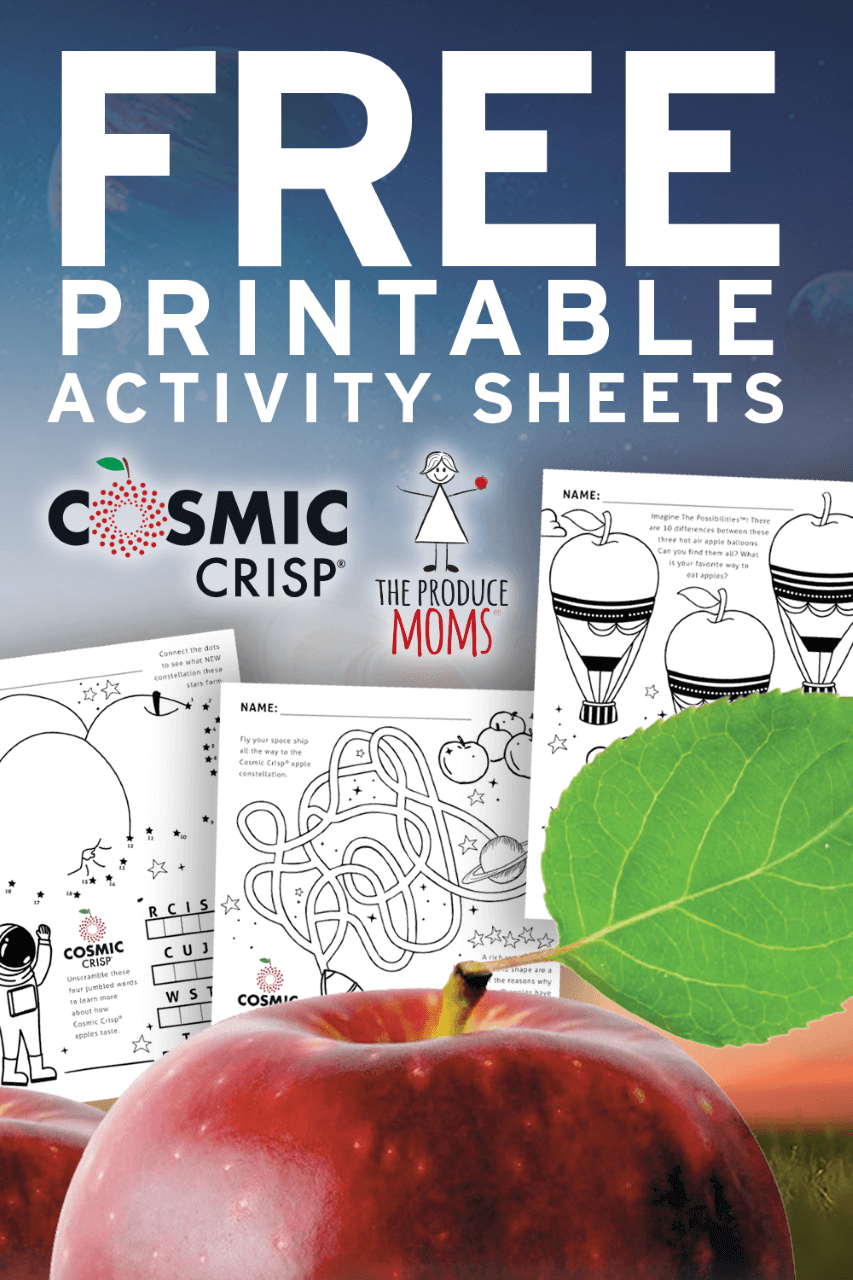 Love Grapes With All Of Your Heart Activity Sheet
Created for Valentine's Day but relevant all year long, this activity sheet teaches young kids that grapes are beneficial for heart health.
DOWNLOAD LOVE GRAPES WITH YOUR HEART ACTIVITY SHEET
Tailgating With Potatoes
Do you have a young football fan in your house? Our tailgating With Potatoes eBook includes fun tailgating activity sheets that he or she will love!
DOWNLOAD TAILGATING WITH POTATOES
Cinco de Mayo Activity Sheets
Celebrate Mexican culture with these fun avocado-themed activity sheets and a big batch of guacamole!
DOWNLOAD CINCO DE MAYO ACTIVITY SHEETS
Sweet Spud Love eBook
Discover the origins and history of sweet potatoes, explore their nutritional benefits, then choose one of the sweet potato recipes included to cook together.
Share The Love Activity Sheet
This activity sheet teaches the life cycle of an apple and includes a fun game that's always a hit!
DOWNLOAD SHARE THE LOVE ACTIVITY SHEET
Do you have an at-home educational resource we should know about? Share in the comments below.