Farmer, Farmer, How Does Your Vineyard Grow? A Vineyard Lesson Plan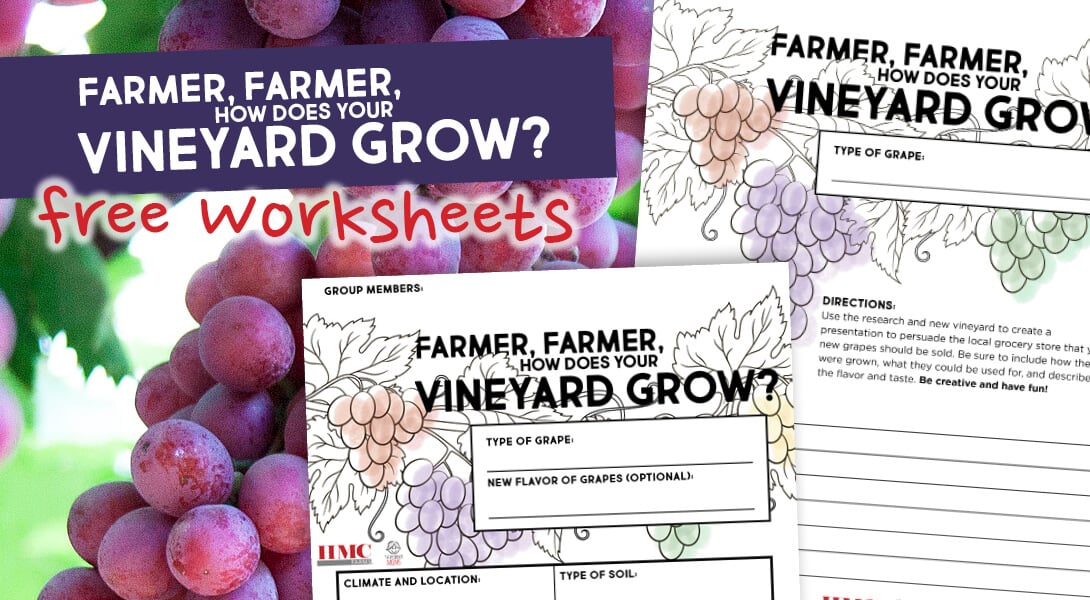 This lesson plan is sponsored by HMC Farms. 
Kids love grapes! They're a juicy treat that bursts with sweet flavor when they bite into them. Grapes are easy to pick and eat on or off the stem.
But have your kids ever asked "Where do grapes come from?" We've partnered with HMC Farms to bring you a 4th and 5th grade classroom and at-home vineyard lesson plan to teach them just that!
In this lesson plan, students will learn what it takes to grow grapes, build their own crafty vineyard, and even create a sales pitch for their grapes. Let's get started!
Bringing the Vineyard To Your Classroom
No matter where in the world we live, we all depend on farmers to grow the food we need. Making the connection between the food they eat and the people who produce it is an important lesson for kids at any age. It can make their favorite foods more meaningful and help them understand the importance of agriculture. Add in some fun and creativity and this lesson could spark interest in growing food themselves!
Start your lesson by taking a tour of HMC Farms' vineyards with Farmer Drew in the videos here. You'll learn about HMC's methods for growing, irrigating, and harvesting their grapes.
Once they've been introduced to the way grapes are grown, your students will research different types of grapes in small groups to answer questions like:
What is the best climate and location in which to grow this grape?
What kind of soil is needed to grow the best fruit?
What is this grape best used for?
Craft and Pitch Your Own Vineyard
Let's grow some grapes! In this vineyard lesson plan, we've included ideas for crafting shoebox vineyard models. Each group can take what they've learned to put together a vineyard tailored to their grapes.
We suggest using real soil in the shoeboxes along with pom-poms for the grapes and string or wire for the vines. Incorporate ice pop sticks and other common craft materials as needed and use glue to hold it all together.
Now that your students have their own vineyards, it's time to get those grapes to hungry customers. And where do those customers go to find grapes? The grocery store, of course!
Just like real farmers, your students will need to use everything they've learned to persuade a local grocery store to sell their grapes. They'll create presentations that include how their grapes were grown, what they can be used for, and what they taste like.
Have Fun with Our Free Vineyard Lesson Plan
At home, at school, or wherever they're learning, today's students are preparing for tomorrow's world. Whether they're future farmers or not, this STEM vineyard lesson plan is designed to help familiarize them with modern agriculture using one of their favorite tasty fruits. It meets Common Core and Next Generation Standards in several categories. But this vineyard lesson plan isn't just about meeting requirements — it's about having fun while learning!
Our partners at HMC Farms grow more than grapes! Learn how their plums are grown here!
How did your students enjoy our vineyard lesson plan? What parts of the grape farming process were they most excited to learn about? Share your thoughts in the comments below and share your students' shoebox vineyards with us on Instagram @theproducemoms and @hmcfarms!