22 Must-Try Produce Items In 2022
A new year brings new beginnings and fresh starts. Whether you are committing to a plant-based diet, living more sustainably, or improving your overall health, here are 22 must-try produce items in 2022.
Kiss Melons
Here's hoping that 2022 is a sweet one! It doesn't get much sweeter than Kiss melons. Sugar Kiss® is the sweetest of the kiss melons. Its texture is similar to a Crenshaw melon and it practically melts in your mouth, dissolving like sugar on your tongue.
Summer Kiss® is still sweet, but not overly so. It is mellow and creamy. Kiss limon melons are a mixture of tart and sweet, similar to a glass of lemonade. Try each member of the "Kiss" family this year and see which is your favorite.
Raspberries
Raspberries are good and good for you! They might be small but they pack a mighty punch, both in flavor and nutrition. The vitamins, minerals, and antioxidants contained in raspberries can help boost brain health, lower cholesterol, and keep cells healthy.
Incorporate more raspberries into your meals in 2022 in new and unusual ways. Top salads with a homemade raspberry vinaigrette, recharge your batteries with no-bake raspberry and dark chocolate energy bites, treat yourself to a keto-friendly raspberry mousse, and unwind with a raspberry margarita.
Grapefruit
Grapefruit is surprisingly versatile and can be served at breakfast, lunch, dinner, or dessert. They can be roasted in the oven, added to salads, or used in marinades. There's no reason to ever skip breakfast in 2022 when you have grapefruit on hand!
Learn how to select, store, and serve grapefruit here. 
Spicy Sweet Kale Salad Kit
You've probably already tried and love Eat Smart® salad kits. Turn up the heat in the new year with Eat Smart's newest addition to their salad kit line-up: Spicy Sweet Kale. It's everything you love about the original Sweet Kale but with spicy croutons and a spicy poppyseed dressing. No doubt, it'll become your favorite bagged salad in 2022!
Simplicity® Cold Press Juice
2022 is the year to commit to a healthier, more sustainable lifestyle and you can do just that with Simplicity® Cold Press Juices. These juices are made using a zero-waste juicing process, are packaged in 100% recycled bottles, and shipped in 100% recycled boxes with reusable insulated bags and ice packs that double as plant food.
This women-owned business works with independent farmers to source whole produce that is then turned into juice. They never use purees or powders, added sugar, preservatives, or artificial colors. One sip and you'll taste and feel the difference.
Listen to our podcast episode with founder Beth McCarthy Smith.
maglio Mango Cheeks
Maglio is making it easier than ever to enjoy fresh mango. Do you struggle to peel and slice mango? Skip this step in 2022 with Maglio Mango Cheeks. These ready-to-eat mango halves are peeled, pitted, and individually wrapped. Grab a multipack and begin enjoying fresh mango in salsas, smoothies, agua fresca or on a stick!
High Vitamin D Mushrooms
Whether you are fully committing to a plant-based diet in the new year or simply trying to incorporate more meatless meals into your week, you'll want to make mushrooms a household staple. Their versatility and unique texture make mushrooms a great alternative to meat. Not to mention, they are a good source of plant-based protein.
When selecting mushrooms, look for Monterey Mushrooms® "High Vitamin D" labeled mushrooms. Eating a dozen of their medium-sized "High Vitamin D" mushrooms provides all the vitamin D you need in a day! This is major, given over 40% of Americans are vitamin D deficient. Make 2022 the year you boost your vitamin D levels while also enjoying more plant-based meals.
Dragon Fruit
Expand your palate with dragon fruit (also known as pitaya). Native to Central and South America, dragon fruit is becoming more accessible and commonplace in the States. If you haven't tried it yet, make 2022 the year you do!
Dragon fruit has a subtle sweetness and is juicy like watermelon or pear. The texture and black edible seeds are similar to a kiwi. Some dragon fruits have red flesh while others have white. Red and white-fleshed dragon fruits taste similarly, with the red-fleshed fruits tasting a bit sweeter and richer.
Kids tend to love dragon fruit, because of its fun name, unique look, and vibrant color. Dragon fruit yogurt parfait is a great way to introduce the whole family to this exciting fruit!
Organic Celery Sticks
Dandy® fresh-cut organic celery is pre-washed, ready-to-eat, and perfect for these must-try celery recipes! The eight-ounce snack packs are resealable, so you can enjoy a crunchy snack on the go, like at the ballpark or in the carpool line.
Squeezed Juice®
Squeezed Juice®, new from Trinity Fruit Company, is made from California-grown fruit and is 100% juice, with no added water. Because these juices are not made from concentrate they keep all their nutrients and vitamins. Squeezed Juices® check all the boxes… Non-GMO, Kosher, HPP Pasteurized, High Pressure Certified, BPA Free Bottles, and Delicious!
Feel good about what you sip! Squeezed 100% Mandarin Juice is high in vitamin C and is a good source of dietary fiber and potassium. Squeezed 100% Pomegranate Juice is high in both potassium and antioxidants.
The Produce Moms x Wada Farms Easy Baker Potatoes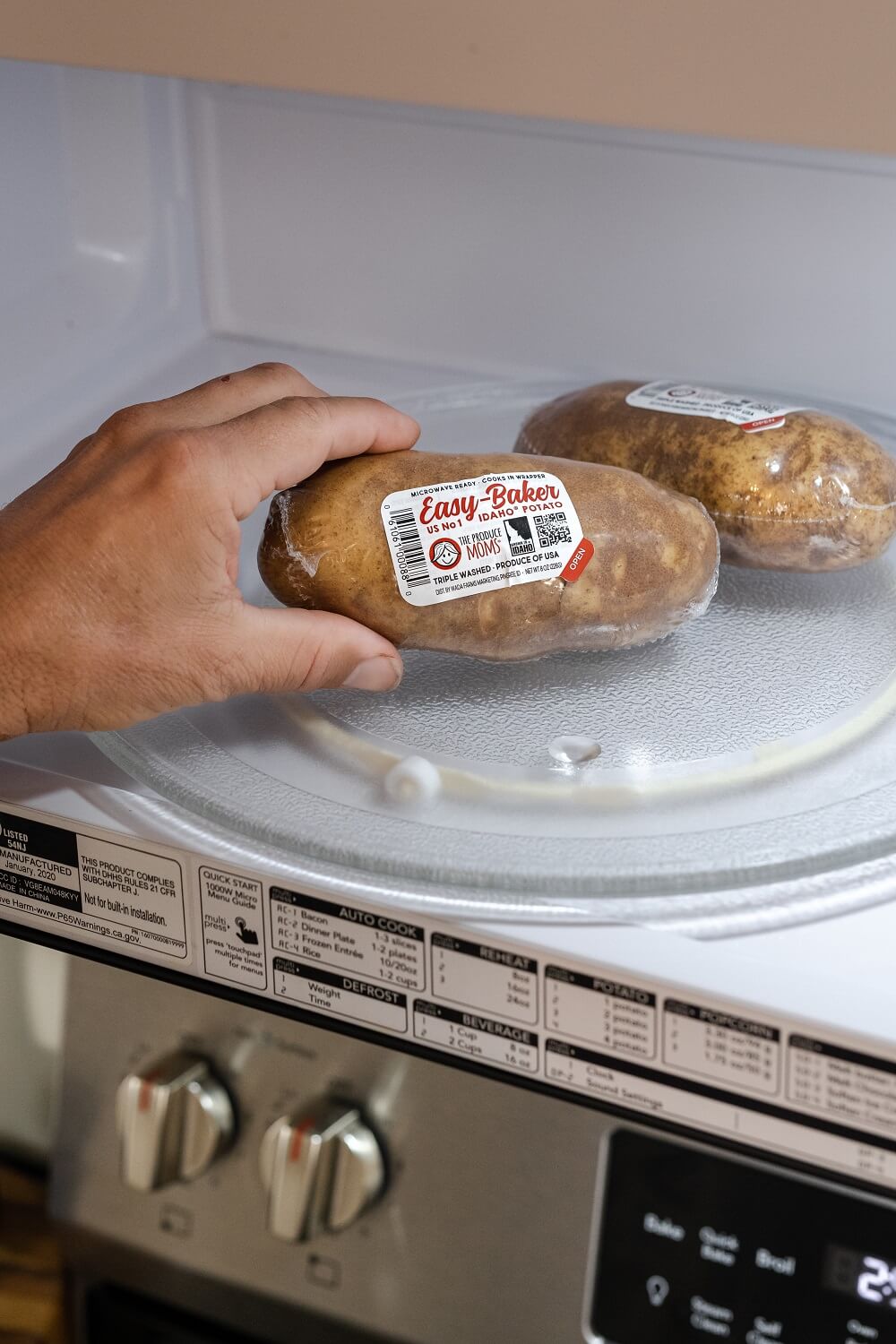 With more than 80 years of farming experience, Wada Farms knows how to grow a good spud! The Produce Moms teamed up with Wada Farms to make it easier than ever to prepare delicious baked potatoes in minutes.  TPM x Wada Farms Easy Baker Potatoes are triple-washed and sealed in microwave-ready plastic. Pop one in the microwave and in 6-8 minutes, you'll have a fluffy baked potato ready to enjoy. Learn more here.
Constellation™ Tomato Variety Packs
Never again have to choose between your favorite NatureSweet tomatoes! Constellation™ variety packs are a blended, balanced mix of Cherubs®, sweet yellow Comets™, mini-heirloom Twilights™, and orange cherry tomatoes.
These variety packs are perfect for snacking, salads, veggie trays, and charcuterie boards. Once you've devoured them all, turn the empty container into a fun craft with your kids.
Turmeric
Nicknamed "the spice of life," turmeric has been held in high esteem for its health benefits for centuries. Curcumin, the active ingredient in turmeric, is a potent anti-inflammatory that has been shown to promote joint and brain health. Curcumin may also aid in digestion, alleviate gastric issues, and reduce blood sugar.
Make 2022 the year you get better acquainted with turmeric. Start by enjoying a warm cup of Golden Milk before bed each night.
Sea Salt & Vinegar Pistachios
As you work to increase plant protein in your diet this year, be sure to add in some pistachios. Every serving of Wonderful® Pistachios contains six grams of protein. That's even more than tofu! Not to mention pistachios have all nine essential amino acids, making them a complete protein.
Wonderful® Pistachios' new sea salt and vinegar flavor is the perfect balance of sour and savory. And because they are already shelled, you can eat them on the go, like in the car or at the ball field. Keep a bag in your purse for an easy, guilt-free snack.
Artichokes
Have you been avoiding artichokes all these years because they look too intimidating to tackle in the kitchen? Once you learn how to select, store, and prepare artichokes they are actually quite approachable, even for novice cooks.
Begin your artichoke journey with our popular Crock-Pot artichoke recipe (with step-by-step directions) or Instant Pot artichoke tutorial.
Artisan Sweet Red Onions
Artisan Sweet Red Onions from Tanimura & Antle have a mild flavor that is not overpowering or pungent, making them highly versatile for a variety of recipes, like this spinach salad.
Tanimura & Antle is a highly innovative and sustainable company that is committed to enhancing the lives of all through employee-ownership and customer-inspired partnerships. When you choose any of their premium quality produce, you can feel good about the impact your dollar is making.
Marinated Baby Beets
Marinated baby beets from Love Beets come peeled, cooked, cut into wedges, and ready to eat. Baby beets are harvested young and offer a sweeter taste. Then they are marinated with vinegar, garlic, and herbs for an un-beet-able flavor! Vegan, Kosher, and Gluten-Free, they are a delight for any diet! In addition to snacking, add them to salads or grain bowls.
Moon Drops®
Moon Drops®, developed by Grapery, are out of this world delicious! They are distinctively crisp and sweet. You can identify this other-worldly grape variety by its oblong shape and dark blue-hued skin. They are available from late August to late November. Because of their limited availability and high demand, they get snatched up quickly. Mark your calendar now so you don't miss out in 2022!
Shishito Peppers
Shishito peppers are small, green, wrinkly peppers that originate from eastern Asia. They are sweet and smoky. Generally, they are not hot (they are much less hot than jalapenos, for example) but about one in ten peppers will have some heat so use caution as you dig in. Shishitos are most often blistered but you can also roast, pickle, or sauté them.
Salad Greens from Local Indoor Vertical Farms
As you try to eat locally and more sustainably in the new year, consider purchasing some of your salad greens from local indoor vertical farms, such as Forward Greens, Gotham Greens, and Bowery.
Salad greens from indoor farms can be grown 365 days a year and aren't dependant on weather or even soil! Through the use of technology and data monitoring, salad greens can be grown indoors in warehouses. These greens take less water, energy, and transportation than traditionally-grown greens.
Bolthouse farms Bolts®
As you're looking for ways to keep your immune system in tip-top shape in 2022 and beyond, give Bolthouse Farms BOLTS® a shot. These two-ounce functional shots come in several varieties including Immunity, Digestion, and Energy. Subscribe and have them delivered to your home and get 15% off every order and free shipping.
Plums
Plums come in lots of different sizes, colors, and flavors but one thing is consistent: their sweet, juicy flavors. They are stone fruit that often gets overlooked for peaches or nectarines. Peaches and nectarines are wonderful as well, but plums are uniquely delicious and you don't want to go another year without adding them to your grocery list.
Plums also happen to be incredibly versatile. In addition to eating out of hand, they can be added to salads, used in cooking, or turned into sauces.  Learn more about plums from HMC Farms here.
Which of these must-try produce items will you add to your grocery list first? Which have you already tried and love? Would you add anything to this list? Share your thoughts in the comments below.
See last year's must-try list here.