10 Ways To Use Celery
Celery is a vegetable that we all know and love. Sadly, it has a reputation as being a little bit boring. We're here to bust that myth and change celery's reputation from boring to bold and versatile. Celery is nutrient-dense and can be used so many ways, it's practically a superhero in the produce world.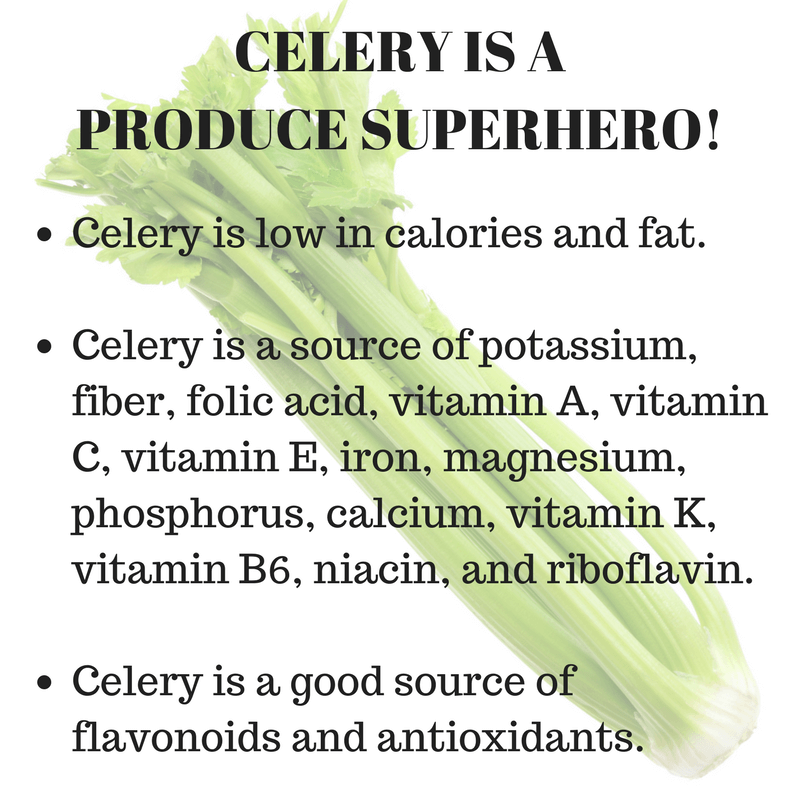 10 Ways to Use Celery
1. As a Snack
Celery is a great dipper, making it a snack-lover's dream. We love dipping celery in salad dressing, peanut butter, Greek yogurt, or hummus. Because celery is low in calories (about 10 calories per stalk) and high in vitamins and minerals, it's a snack you can feel good about. What's your favorite dip for celery?
Kids love to snack on celery too! For your little ones, transform celery into Ants on a Log or Celery Fondue Pops. These treats are so delicious, they'll never guess they're nutritious too!
2. As Substitute for Starchy Vegetables
All veggies are good veggies and they all provide nutritional benefits. But in some cases, a person may want to limit their intake of starchy foods. Did you know celery can be a great substitute for potatoes? Really! We love Au Gratin Potatoes but Celery Gruyere Gratin is equally as delicious!
Celeriac, also called celery root, is a celery variety that is grown for its root rather than its stalks. It has a similar taste to celery and can be prepared in many of the same ways as potatoes, including roasted, fried, and mashed.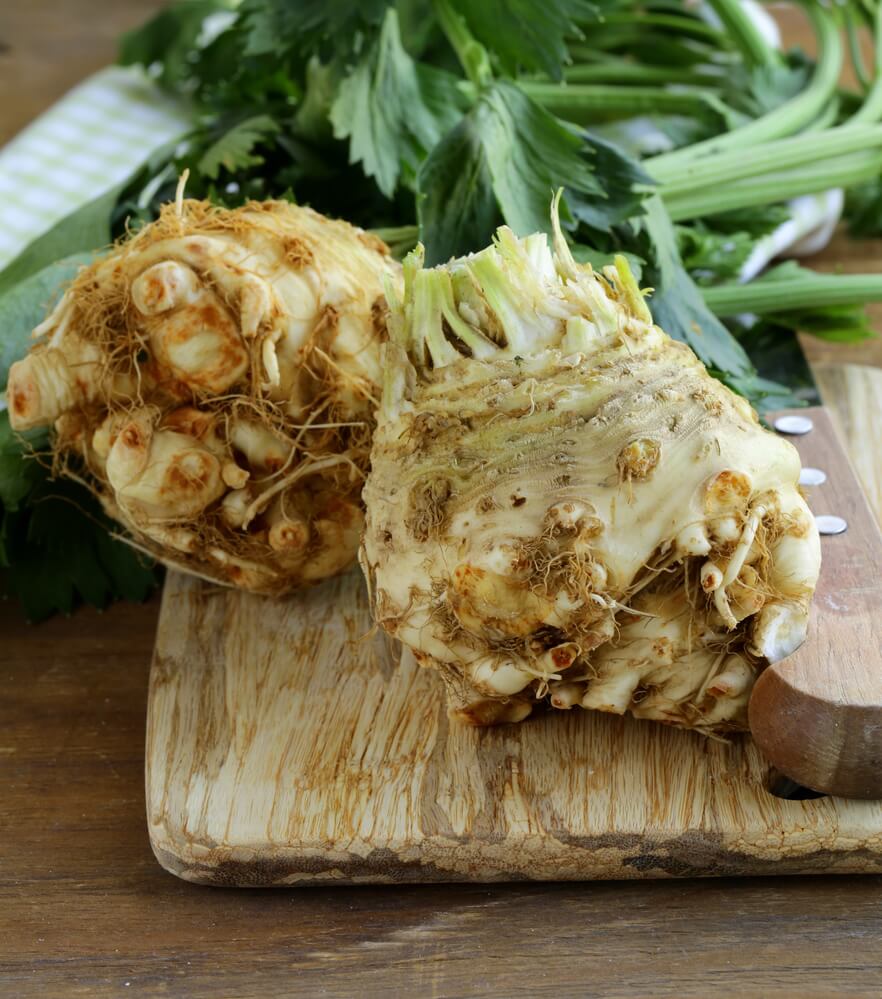 Prepare celeriac as you would potatoes — fry 'em, roast 'em, or mash 'em! 
3. To Stay Hydrated
In order to function well, your body needs water and lots of it. Did you know about 20% of our daily water intake comes from food, not liquid? Many of these hydrating foods are fruits and veggies, including celery. Celery is 95% water, making it an incredibly hydrating snack!
4. To Flavor Your Water
While 20% of our water intake comes from food, that still leaves 80% of our daily intake coming from beverages. Of course, water is the obvious choice but sometimes water can get a little boring. Infusing water with fresh produce is a great way to add variation, as well as vitamins and minerals, to your diet. Infuse water with celery to add a subtle spring flavor. Also try in combination with lemon or with lime and grapes.
5. Juiced
Celery was made to be juiced. C'mon it's 95% water and the stalks fit right in a juicer! Next time you're concocting your favorite juice, throw in a few stalks of celery to reap its nutritional rewards. We love this recipe for Fresh Apple-Celery Juice with Ginger and Parsley. Seriously, so yummy!
6. Use Celery Leaves Like an Herb
Okay, okay we've said it already but celery is seriously so nutritious! What you may not realize is that even celery leaves are full of nutrients your body loves. Plus, they pack an intense celery flavor. Top your favorite salad with celery leaves or add leaves to vegetable stock, stews, and pasta sauce.
7. To Add a Crunch
One of the most satisfying things about eating celery is the crunch. Chop up raw celery and add it to any dish that you think could use a little crunch. Think potato salad, leafy salads, stir fry, chicken salad, tuna salad, or guacamole.
8. As a Treat for Your Dog
Celery is a safe vegetable for your dog to consume. Because this veggie is low in calories, it's often recommended by vets as treat for overweight dogs. As an added bonus, it might also help to freshen your dog's breath. Crunching on celery can sometimes clean away tartar and old food from your dog's teeth. Be sure to consult your vet before adding celery or any fruit or vegetable to your dog's diet.
9. As a Cocktail Garnish, Stirrer or Ingredient
A long, slender stalk of celery makes an elegant cocktail garnish and doubles as a stirrer. A win, win for you and your guests. A Bloody Mary just isn't complete before the celery is added.
Imbibers know celery is beginning to gain popularly on the cocktail scene. For those Produce Moms and Dads who want to kick back and relax with a cocktail, try this recipe for a Celery Gimlet. Who knows, it might motivate you to try making your own celery bitters.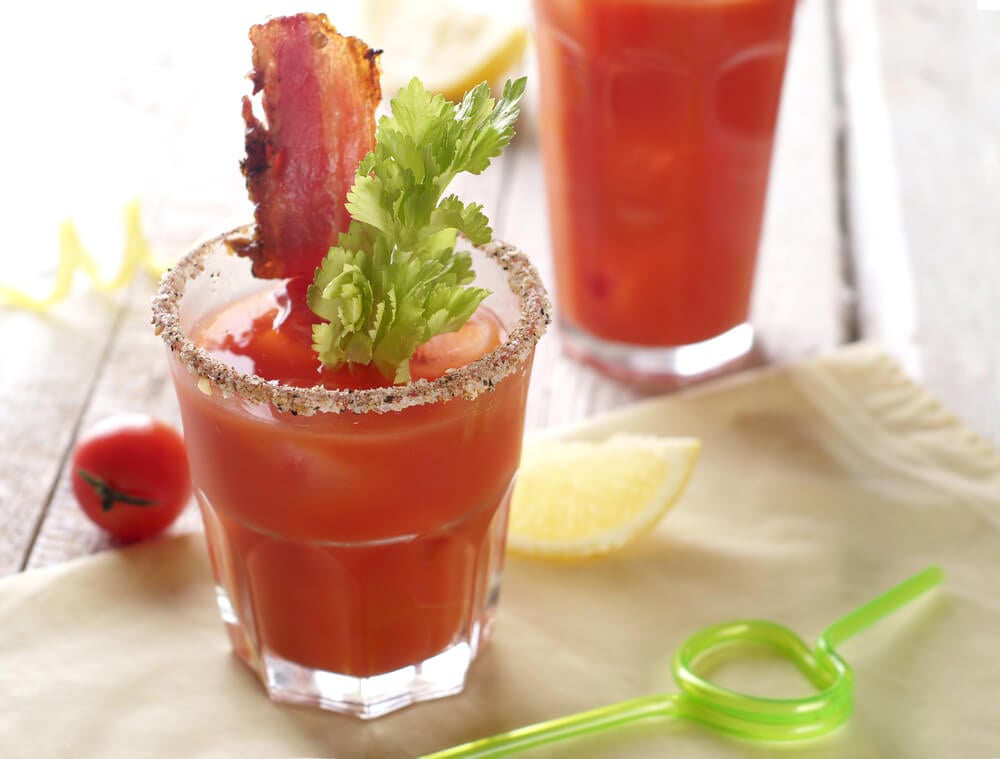 A Bloody Mary isn't complete without the celery!
10. In a Science Experiment
Celery can be used in various science experiments that kids will find fascinating. One of our favorites is this experiment, which uses celery and food coloring to demonstrate how plants absorb water.
For more Science Fair and STEM projects, download our free eBook here.
So there you have it. Celery is a pretty amazing veggie that can be used in many different ways. What is your favorite way to use celery? Which of these 10 ideas do you plan to try?