The Anatomy Of A Stone Fruit
Jul 19, 2017, Updated Jun 03, 2021
Our long time partner and good friends at Sage Fruit Company have exciting news. They are adding stone fruit to their commodity line up! This summer, Sage Fruit added apricots, peaches, and nectarines to their mix of offerings. What exactly is a stone fruit? It's a fruit with a large, hard pit or "stone" inside of it. The stone contains the seeds or kernels of the fruit. The stone fruit category also includes plums, mangoes, lychees, and cherries (another delicious Sage Fruit commodity!).
Let's take a closer look at stone fruit…
The Anatomy of a Stone Fruit

Sage Fruit's Stone Fruit Offerings
Apricots
Apricots look very similar to peaches but are smaller in size. They have a smooth, velvety skin. Their coloring can range from yellow to orange. Occasionally, you'll even spot a hint of red. The flesh of an apricot is firm and the taste can range from sweet to tart, depending on the variety.
Sage Fruit apricots are available from June through August.
Peaches
The flesh of the Pacific Northwest peach ranges in color from whitish to yellow. Peaches with a lighter colored flesh tend to be very sweet with little acidity, whereas yellow fleshed peaches have an acidic tang paired with its sweetness. The flesh is very delicate. The skin is velvety with very short hairs.
Depending on the pit, peaches are classified as either "freestone" or "cling" varieties. As you might guess, a freestone peach's stone can be easily removed because it's not attached to the flesh. The stone of a cling peach is strongly attached to the flesh and more difficult to remove.
Sage Fruit Pacific Northwest peaches are available from July through September.
Nectarines
Nectarines are closely related to peaches. The primary difference is their skins. While peaches have a velvety or fuzzy textured skin, nectarines have a smooth skin. Nectarines have a brightly colored gold skin with ruby and pink hues.
There are two-types of nectarines—yellow fleshed and white fleshed. White fleshed nectarines are generally low acidity and very sweet. Yellow fleshed nectarines have a higher acidity and their flavor is a combination of sweet and tart.
Sage Fruit nectarines are available from July through September.
Cherries
Named after the highest peak in Washington, Rainier cherries are a cross between Bing cherries and Van cherries. Rainier cherries are large with a golden skin with pinkish red hues. Their flesh is a clear yellow color. They have a delicate flavor and are very sweet!
Dark Sweet Cherries include Chelan®, Tieton, Bing, Sweetheart, and Skeena varieties. As you probably already guessed, these varieties have dark red or mahogany skin. They range in flavor from mildly to extremely sweet.
Sage Fruit's cherries are available from the beginning of June until the end of August.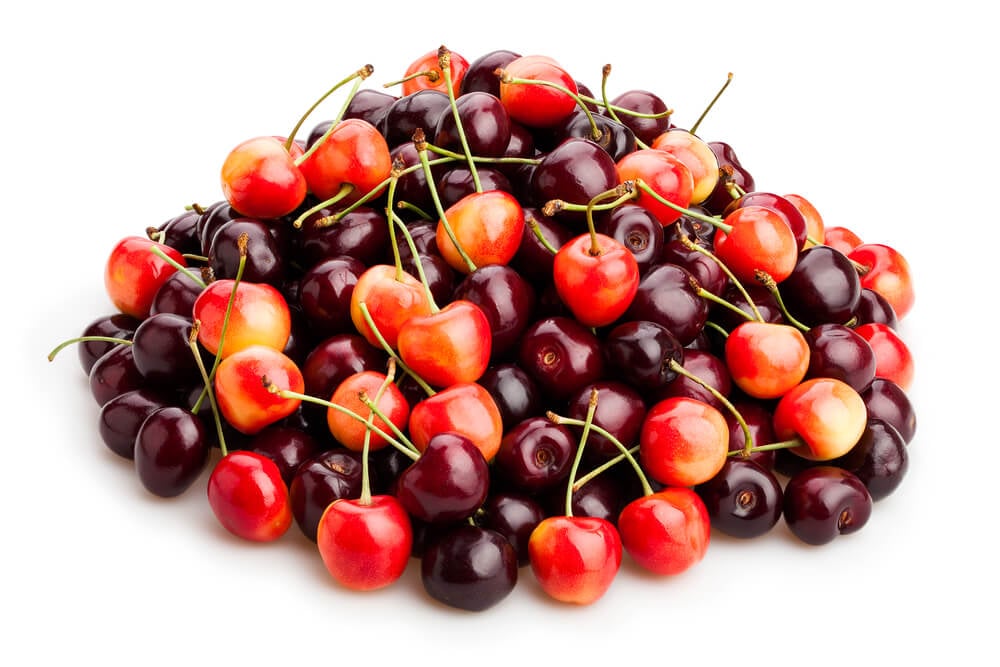 Congratulations to Sage Fruit on their new commodity line up! And congratulations to you, the consumer, who now has more access to delicious stone fruit!
What is your favorite way to eat stone fruit? Do you eat it out of hand or do you use stone fruit in your cooking or baking? Let us know in the comments below.