Simple and Creamy BLT Broccoli Slaw — The Perfect Addition to Your BBQ Spread
Mar 07, 2023, Updated Jun 15, 2023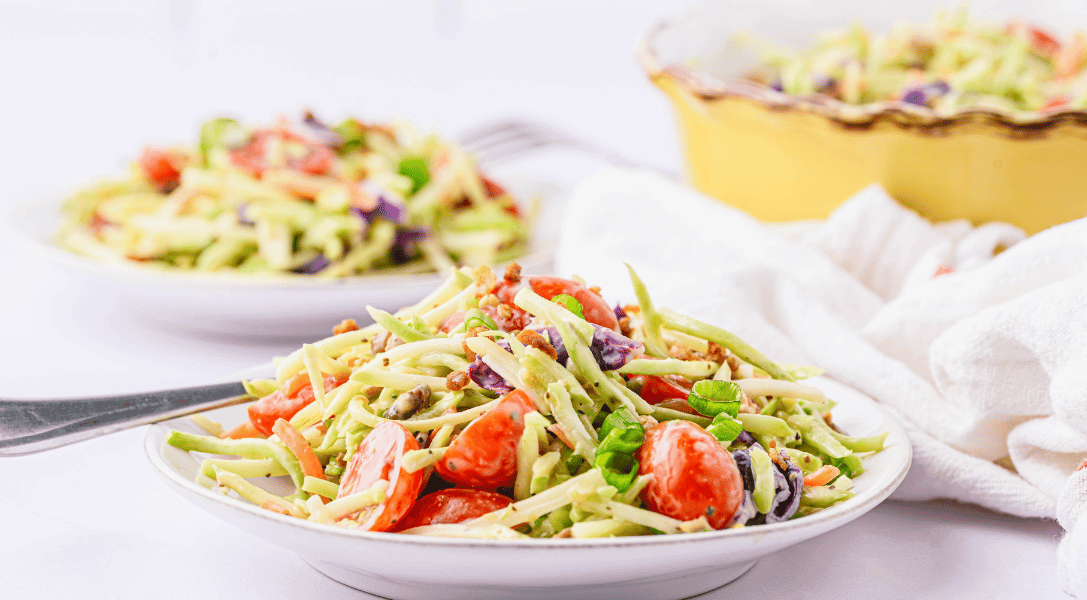 Looking for a fresh take on a traditional side at your next BBQ, cookout, or picnic? This broccoli slaw recipe is colorful, crunchy, and creamy with a tangy mayo dressing. Filled with veggies that go with everything, serve it as a side or toss it right into an old recipe for a new twist. Thin strips of broccoli, carrots, red cabbage, and crispy bacon round out this favorite side dish.
We're coming up on grilling season, and we've got just the side to take to your next potluck.
Broccoli Slaw.
BLT Broccoli Slaw is proudly sponsored by NatureSweet®.
It's a fresh but beloved take on traditional coleslaw, and we've given you a handy shortcut to get this put together in minutes. Make ahead for extra flavor, less stress, and easy transport to your next outdoor gathering.
Come join us in the kitchen!
What's Broccoli Slaw?
This slaw recipe has thin, small strips of broccoli, carrots, and red cabbage. These veggies are then tossed in a creamy dressing balanced with mayo, a punch of apple cider vinegar, and a splash of maple syrup for a hearty slaw on the side of any main course. In fact, broccoli slaw has become so popular that it's sold in pre-made bags at the grocery store.
That means less work for you, and you're the hit of the BBQ.
Score!
And we wanted to take this slaw one step further by adding an American classic: BLT. The NatureSweet Cherubs® is the star of this salad, especially when they are combined with bacon and the base of the broccoli slaw.
Coleslaw v. Broccoli Slaw
You've probably had traditional coleslaw, made with thinly sliced cabbage and a creamy mayo-based dressing. The primary difference is that broccoli slaw is made with thinly sliced pieces of broccoli instead of cabbage. Broccoli slaw also has many variations, like the addition of cranberries, apples, almonds, or sunflower seeds for added sweetness and extra crunch.
This broccoli slaw recipe keeps things savory with juicy tomatoes and crispy bacon pieces.
Fresh Ingredients
At The Produce Moms, we love using as many fruits and veggies as possible. But that doesn't mean that recipes need to be boring or lack flavor. Fresh ingredients with a fast prep time, an easy-to-make dressing, and pops of natural colors are a few reasons why you'll love this recipe.
Broccoli Slaw
This is the easiest part of this recipe. Grab the pre-made bag of broccoli, carrots, and red cabbage, and most of the prep work is done for you. Just dump it in the bowl. And you've got slivers of green, orange, and purple that make this dish so appealing. Not to mention all of the antioxidants and nutrients. You'll find this in the produce section. Look for the bag near the salad in the produce section of your grocery store.
Bacon
Who doesn't love bacon? It goes well in any type of salad, and it's kid approved. Cook your favorite bacon over medium-high heat for about four minutes on each side for a salty addition to this salad. Look for any sales in the meat section to save a few bucks. Sometimes the butcher counter has deals on premium meats, including different flavors of bacon.
NatureSweet Cherubs®
Cherubs® say right on the label — "heavenly salad tomatoes." They were grown to be in your salad. Bursting with sweet and tangy flavor as you bite into them, these grape tomatoes add an extra level of freshness to your broccoli slaw recipe. Grown in greenhouses and picked at just the right time, they've been named the #1 best-selling baby tomato in the world! Be sure to pick these up at the store to add to your salad.
Green Onions
Similar to regular onions, green onions offer a mild flavor with a slight crunch and beautiful color. The white bulbs at the bottom are more pungent than the green stems. Raw onions are higher in sulfur compounds than cooked onions which may help fight cancer and lower blood sugar. They're even considered an affordable superfood. So, why not thinly slice a few and throw in a handful?
With these fresh and delicious ingredients, it's no wonder this salad is so popular. Now let's jump in on how to assemble it.
How to Make BLT Broccoli Slaw
Step 1
Add the broccoli slaw, cooked bacon, chopped NatureSweet Cherubs®, and diced green onions to a large mixing bowl.
Step 2
In a medium bowl, mix the mayo, red wine vinegar, mustard, maple syrup, celery seeds, salt, and pepper with a whisk.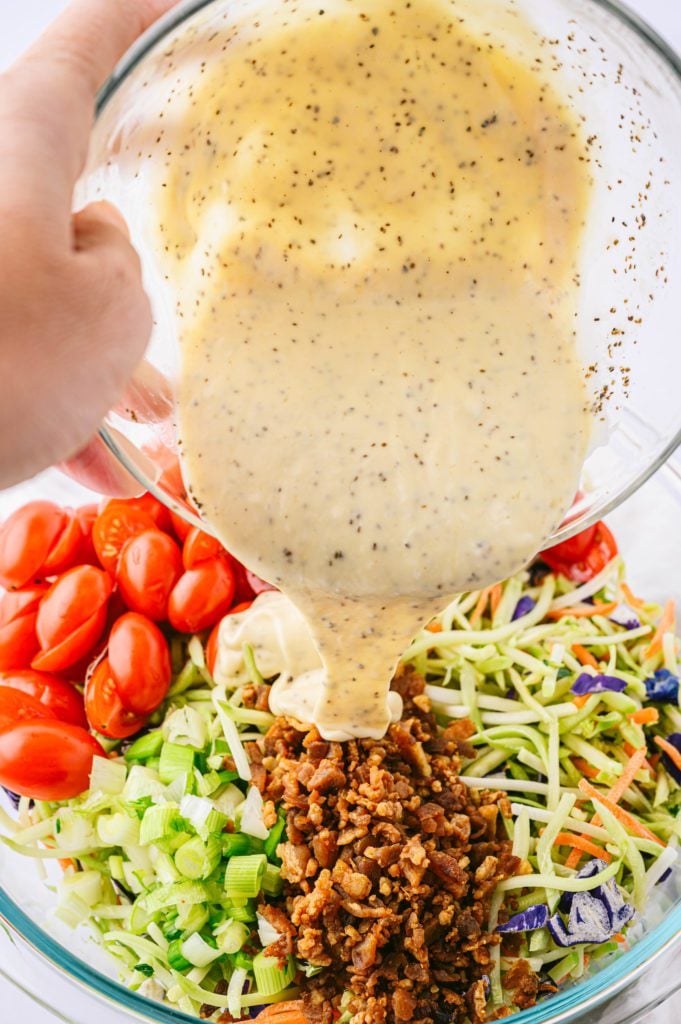 Step 3
Pour the dressing over the slaw mixture.
Step 4
Stir until the slaw is coated with the dressing, and serve with your favorite entree.
How to Serve
This take on coleslaw can be served as a side at your backyard BBQ or as a topping on ramen.
Because it's so easy and quick to make, we've served it with:
Ramen Noodles

Chicken Stir Fry

Fish Tacos

Pulled Pork

Sausage

BBQ
Add a crunchy, creamy, and light bite to meaty main dishes with this BLT broccoli slaw.
It's always a hit. (And easy to make ahead and store in your fridge, too!)
How Long Does Broccoli Slaw Last?
Store your slaw in an airtight container, and it will keep for three days. It tastes better when the flavors have time to marinate and mix, so feel free to make it ahead of time. If it stays in the fridge longer than three days, the vinegar and mayo-based dressing may cause the slaw to get soggy and lose its flavor.
Can Broccoli Slaw…
Be eaten raw?
Yes! Nutrients in raw broccoli stay intact better, so your body can absorb them easier when they aren't cooked. Some people have a harder time digesting broccoli because it's part of the cabbage family and it's high in fiber. But if you don't have any digestion problems, you'll love adding broccoli to your slaw.
Be frozen?
If you want to make a double batch and freeze your broccoli slaw, go right ahead. But we recommend freezing just the slaw mixture without the dressing. Add the dressing when it's thawed, just before serving.
Be cooked?
It sure can. Mix it with some ramen or stir fry for a complete, all-in-one pan meal. Everything in the slaw is veggies that can be enjoyed raw or cooked. Depending on what you're cooking, you may want to leave the dressing out when you mix broccoli slaw or dress up the whole dish. But there is always room for creativity with food.
Why We Love NatureSweet®
Besides growing the sweetest, juiciest tomatoes, NatureSweet is non-GMO, fair trade certified, and farmworker assured. They're so confident in the tomatoes they grow for you that they include a QR code on the bottom of each package so you can trace your tomatoes back to the greenhouse they were raised in. With so many vitamins and minerals and great care to nurture your tomatoes to sweet ripeness, Cherubs® are a key ingredient to liven up your broccoli slaw recipe.
More NatureSweet Recipes
Can't Get Enough? More Broccoli Slaw Recipes
Broccoli Cole Slaw With Bratwurst – surprisingly delightful bratwurst topping
Asian Broccoli Cole Slaw – broccoli slaw with an Asian flare
Broccoli Cole Slaw and Egg Scramble – serve as a side or mix it in with your main course
BLT Broccoli Slaw
Colorful, creamy, and crunchy broccoli slaw is a great addition to your sides lineup for your next BBQ or cookout. Filled with carrots, broccoli, red cabbage, tomatoes, and bacon for a filling and refreshing bite.
Ingredients
Slaw
1

16-20 oz

bag of broccoli slaw

1

lb

bacon

cooked and diced

10

oz

NatureSweet Cherubs®

halved

1

bunch

green onions

diced
Dressing
3/4

cup

mayo

2

tablespoons

apple cider vinegar

1

tablespoon

Dijon mustard

1

tablespoon

pure maple syrup

3/4

teaspoon

celery seeds

1/4

teaspoon

sea salt

freshly ground black pepper
Instructions
Lay five to six pieces of bacon in a skillet over medium-high heat. Cook the bacon for four to five minutes on each side until crispy but not burnt. Transfer the bacon to a paper towel-lined plate to absorb the excess grease. Then use a knife to dice the bacon into bite-sized pieces.

In a large bowl, combine the broccoli slaw, bacon, NatureSweet Cherubs®, and onions.

Whisk the mayo, apple cider vinegar, mustard, maple syrup, celery seeds, salt, and fresh pepper in a medium bowl.

Pour the slaw dressing over the slaw mixture and stir to combine.

Serve as a side to your favorite BBQ recipe.
Nutrition
Calories:
889
kcal
|
Carbohydrates:
4
g
|
Protein:
1
g
|
Fat:
96
g
|
Saturated Fat:
33
g
|
Polyunsaturated Fat:
21
g
|
Monounsaturated Fat:
39
g
|
Trans Fat:
0.1
g
|
Cholesterol:
84
mg
|
Sodium:
428
mg
|
Potassium:
158
mg
|
Fiber:
1
g
|
Sugar:
2
g
|
Vitamin A:
61
IU
|
Vitamin C:
5
mg
|
Calcium:
20
mg
|
Iron:
1
mg
Nutrition information is automatically calculated, so should only be used as an approximation.
Like this? Leave a comment below!