Fresh, Quick, and Easy Cucumber Tomato Salad With Basil
Mar 21, 2023, Updated Jul 31, 2023
Try this cucumber tomato salad for an easy, light side to any meal. Sweet tomatoes and crunchy cucumber tossed with a homemade vinaigrette and sprinkled with fresh basil for a crave-worthy side that tastes more complicated than it is to make. Toss five simple, flavorful ingredients together, and it's ready in ten minutes.
Cucumber and Tomato Salad is sponsored by NatureSweet®.
Sometimes you just feel like you don't have the brain power to think of something to make for dinner.
You're not alone. This happens to us, too — all the time.
When the kids are hungry and you feel spent, try this cucumber tomato salad as a meal on its own or as a side to baked chicken or salmon. It's a quick side you can toss together while you wait for your main dish to finish cooking. You can even make it ahead and store it in the fridge for even easier meal prep!
Let's get your family fed.
What Do You Need for Cucumber Tomato Salad?
This recipe is as delicious as it is easy. Simply cut up cucumbers and tomatoes with oil and vinegar for a simple vinaigrette dressing. Don't forget to sprinkle some basil on top with some salt and pepper, and you're done!
This salad is great for getting more veggies on the plate without having to eat another green leaf salad. Sometimes you just need to mix things up a little bit. This tomato cucmber salad is a great way to do that.
You only need five ingredients to make this cucumber tomato salad, and you probably already have more than half of them in your kitchen waiting to be used.
Here's what you'll need.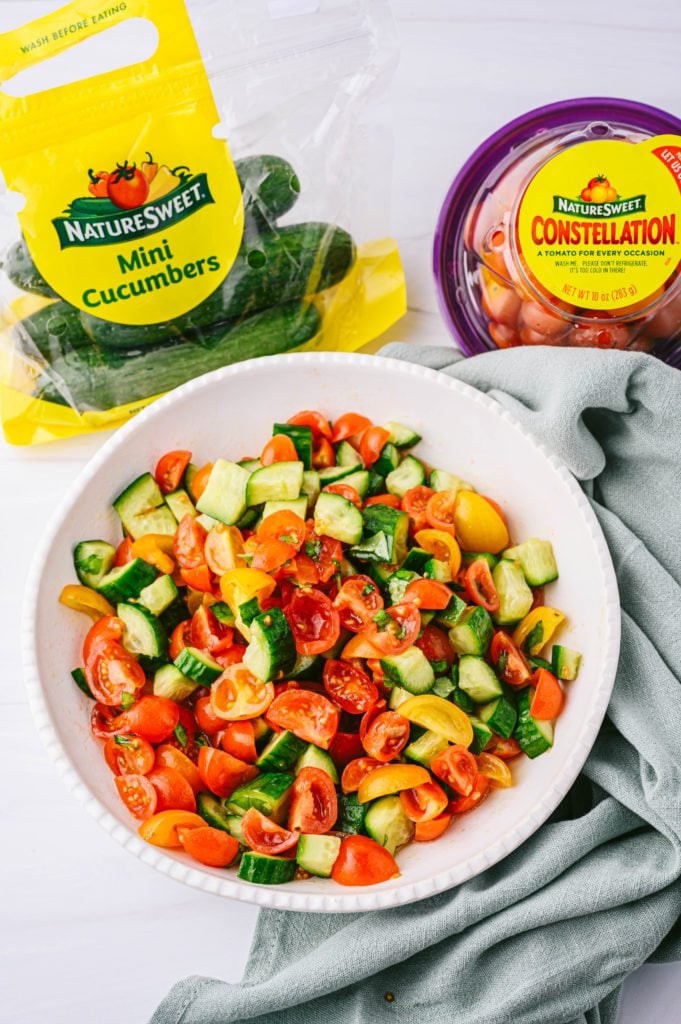 NatureSweet® English Cucumber or Mini Cucumbers
Like many fruits and veggies, cucumbers have most of the nutrients in the skin. Cucumbers have been linked to healthy eyes, stronger bones, and helping wounds heal. If you or your littles don't like the skin, you can peel it off. But we personally love the crunch and nutrition benefits. Any way we can sneak in extra nutrients is always a win in our book.
NatureSweet Constellation® Tomatoes
Tomatoes have powerful antioxidants that support a healthy immune system, are low in calories and fat, and have 16% of your daily dose of fiber! Constellation® tomatoes are sweet and juicy, so they pack extra flavor in this tomato salad with cucumbers. You can find these small tomatoes in the produce section in their famous container (which is also used as a strainer).
Related: Arts & Crafts with NatureSweet® Containers
Basil
Peppery with a hint of mint, basil goes really well with the sweet tomatoes. This aromatic herb adds a hint of sweetness to the salad as well. Basil and tomatoes are one of our favorite produce flavor combos. For delicious flavor, don't skip out on this!
Related: How to Freeze Herbs
Olive Oil
This is a staple in any kitchen. And for good reason too! High-quality olive oil is better for you than butter and has been linked to better heart health. This is an ingredient that really rounds out this salad and pulls every flavor together.
Red Wine Vinegar
Red wine vinegar pairs well with this salad because of its sharp tang and stronger flavor. Made with fermented red wine, the flavor can vary based on the type of red wine that's used. If you have another vinegar on hand, like white vinegar, feel free to use it instead. However, you'll probably need more because it's not as tangy and flavorful as red wine vinegar. Add a little bit at a time, mix, and taste. The goal of vinegar is to balance out the sweetness of the tomatoes and basil and helps to meld each flavor together.
Salt and Pepper
You'll never go wrong with salt and pepper. Am I right? Both spices make all kinds of foods and dishes taste better. Salt brings out the taste of each ingredient, and pepper makes it bolder. That means a more sweet, acidic, and zesty salad that your whole family will devour, maybe even before the main course.
A Little Something Extra
There are a thousand salad recipes out there, and the beauty is that you can change and adjust them all according to what you love.
Check out these toppings and add-ons for a little extra yum.
Cheese:

burrata, goat cheese, feta, or mozzarella

Veggies:

red onion, bell pepper, or avocados

Herbs and Spices:

fresh dill, oregano, parsley, or Italian seasoning

Protein:

salmon, chicken, steak, or crispy tofu
When it's been a long day, we love adding protein to this salad recipe for an easy weeknight meal. Add meat from the crockpot. Prep some chicken ahead of time, then slice it and toss it in. Or bake salmon while you prep the salad.
This cucumber tomato salad is so versatile, and it pretty much works with anything.
How to Make Cucumber Tomato Salad
Step 1
Dice the NatureSweet® cucumbers into small bite-sized pieces.
Step 2
Quarter the NatureSweet Constellation® tomatoes.
Step 3
Toss the cucumber, tomato, and chopped basil in a large bowl.
Step 4
Mix olive oil and red wine vinegar in a small bowl.
Step 5
Mix the dressing mixture with the fresh veggies.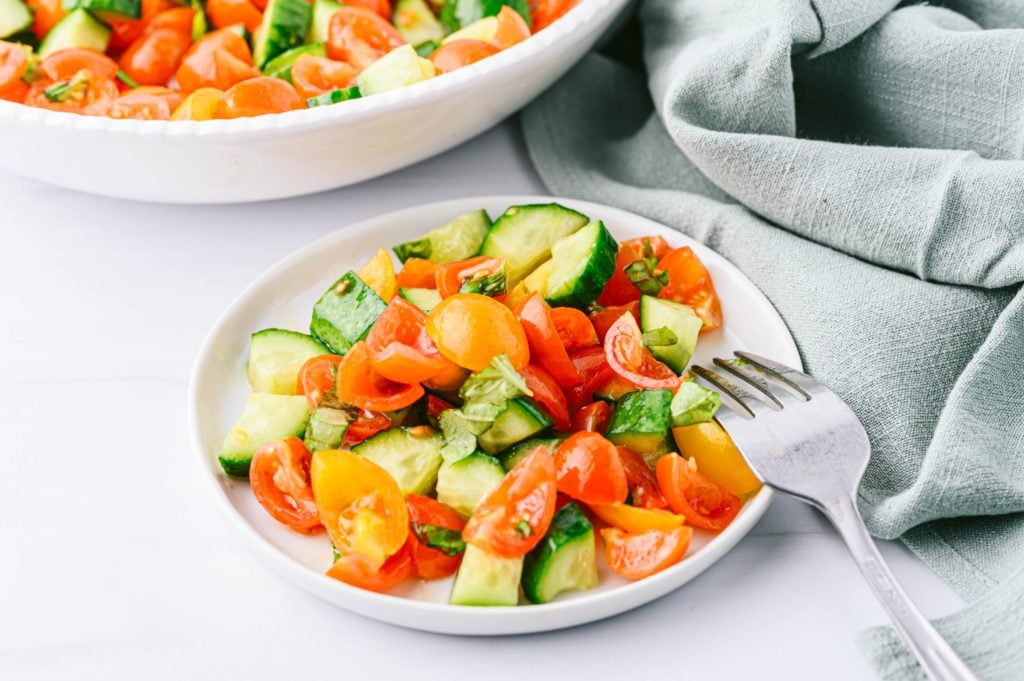 Step 6
And serve with your favorite meal.
Can I Make It Ahead?
It's a great make-ahead side for a BBQ or dinner for a lot of guests. Depending on how far ahead you make it, the tomatoes may get a little soft, and the cucumbers may lose some of their crunch. It really depends on your preferences if you want to eat tomato cucumber salad immediately or a few days ahead.
Quick Tips
How to Dice Cucumbers
Use a knife to cut the cucumber in half lengthwise, from stem to stem. Then cut it in half again. You should have cucumber quarters. Cut off the ends. Now, slice each quarter into small bite-size pieces. Hold your cucumber quarters together for a quicker prep time, or cut each piece individually. It's up to you and what you're comfortable with.
How to Quarter Tomatoes
Since these tomatoes are small, they are super easy to quarter. Simply use a knife to cut them in half and then in half again. And that's it.
How to Chiffonade Basil
Chiffonade basically means to cut into small, thin ribbons. To do this with your fresh basil leaves, stack four to five leaves on top of each other and tightly roll them up. Use your knife to cut small pieces into your rolled-up basil leaves. This is your salad, so cut them as thick or as thin as you'd like. When the basil is cut, it extracts the peppery, minty properties into your salad. And it looks fancy.
Now, you're ready to assemble your tomato cucumber salad in your mixing bowl.
Why We Love NatureSweet®
NatureSweet® operates on the purpose of "Raised Right." The only way they are able to accomplish that is through the associates and growers that they work with. They believe in transforming lives and the effects of the produce industry. NatureSweet® offers competitive wages, supports continuing education, and makes improvements in the community.
NatureSweet® grows their tomatoes, cucumbers, and peppers the right way even when it's harder, more expensive, and takes longer. And that's why their tomatoes are so sweet. Find the main ingredients for your cucumber tomato salad for a fresh, sweet, crunchy, and juicy side.
Some of Our Favorite NatureSweet® Recipes are:
Cucumber Tomato Salad
Try this easy Cucumber Tomato Salad that comes together in minutes with a homemade vinaigrette. Fresh, easy, quick, and delightful as a side.
Ingredients
1

NatureSweet®  English cucumber

washed, sliced, and diced

1

16.5 oz

NatureSweet Constellation® tomatoes

quartered

1

tablespoon

fresh basil

2

tablespoons

olive oil

1

tablespoon

red wine vinegar

salt and pepper

to taste
Instructions
Salad
Toss the chopped NatureSweet®  cucumbers, Constellation®  tomatoes, and basil in a large mixing bowl with salad tongs or a large spoon.
Dressing
In a small bowl, whisk together olive oil and red wine vinegar.

Use your salad tongs to mix the oil and vinegar mixture with the fresh veggies and top with salt and pepper to taste.

Serve as a side to meat and fish for a balanced meal.
Notes
Store in an airtight container in the fridge for up to three days. 
Nutrition
Calories:
296
kcal
|
Carbohydrates:
11
g
|
Protein:
2
g
|
Fat:
28
g
|
Saturated Fat:
4
g
|
Polyunsaturated Fat:
3
g
|
Monounsaturated Fat:
20
g
|
Sodium:
8
mg
|
Potassium:
455
mg
|
Fiber:
2
g
|
Sugar:
5
g
|
Vitamin A:
425
IU
|
Vitamin C:
9
mg
|
Calcium:
53
mg
|
Iron:
1
mg
Nutrition information is automatically calculated, so should only be used as an approximation.
Like this? Leave a comment below!
More Filling Salad Recipes