Festive Celery Reindeer Snacks for Your Next Holiday Party (Kids Love It)
Nov 14, 2022, Updated Jun 07, 2023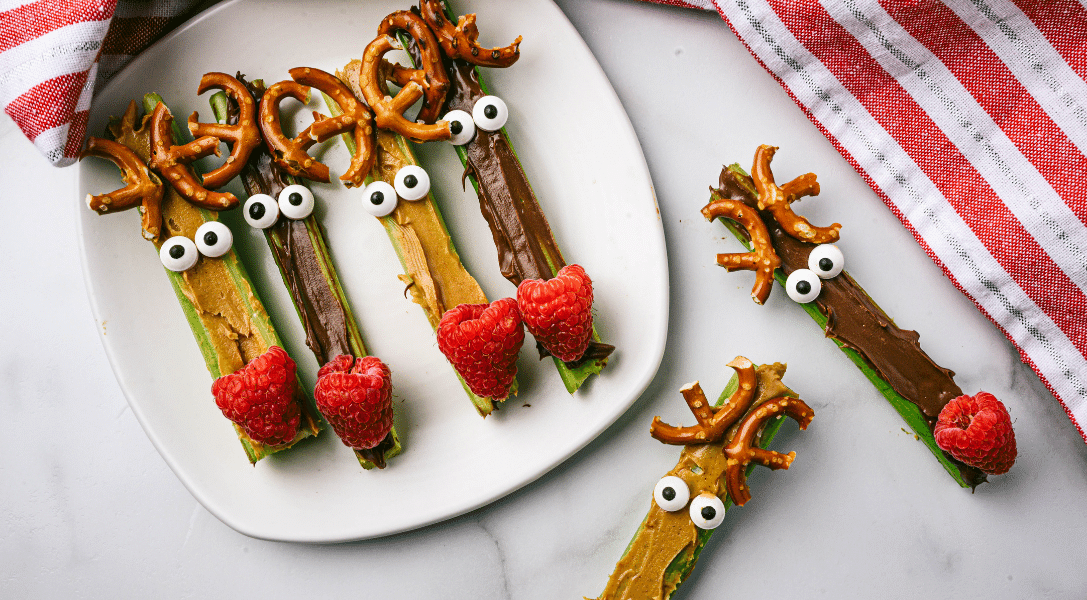 Celery Reindeer Snacks is sponsored by Duda Farm Fresh Foods
You know that saying, "you eat with your eyes"?
It's so true, even for our kids.
Celery Reindeer Snacks are a fun, easy, festive, and nutritious snack to bring to your next holiday party. All the kids will actually want to eat these little snacks up.
Even if it's been a crazy day, you can make this festive snack recipe in less than 10 minutes. It requires just a few ingredients and you'll still make it to the party on time.
You've got this, supermom!
11 Reasons You'll Love This Fun and Festive Reindeer Snack
Fun and easy to make

Your kids can help you

Less than 10 minutes to make

Simple, everyday ingredients

Produce positive snack

No bake

Not messy (as long as you don't use natural peanut butter)

Only need a knife

Clean-up is a breeze

Only 6 ingredients

Guilt-free
Only 6 Ingredients
1 bag of Dandy® Celery Sticks

12 raspberries

6 Tbsp Peanut Butter

6 Tbsp Nutella

12 pretzel twists, cut in half

24 candy eyes
If you have time, make your own reindeer eyes by rolling a tiny piece of oreo cookie cream into a small ball. Place a mini chocolate chip in the center and put one eye under each pretzel antler. Super easy and effortless.
Related: Chocolate Covered Strawberry Turkeys
How to make Reindeer Celery Snacks
Step 1
Cut up the celery sticks into four pieces and fill half with chocolate spread.
Step 2
Fill the rest of your celery sticks with peanut butter.
Step 3
Cut pretzels in half and place them at the top of each celery stick. Gently press until it sticks.
Step 4
Place a candy eye just below each pretzel antler and lightly press into the celery filler.
Step 5
Put a raspberry at the bottom of the celery stick. Softly press it into the celery opening until it feels secure.
Tips For a Smooth And Easy Snack
Wide open celery sticks. It's easy to work with celery sticks that have a wider opening. This gives you more space to work with when you add the pretzel antlers, raspberry red nose, and candy eyes. If your celery sticks aren't very wide, this is a perfect job for the littles to get in on the fun and help you decorate your reindeer celery snack. Smaller hands fit perfectly into small spaces.
Cut or break the pretzels. It can be a little tricky to break the pretzels the way you'd like. You may have a few broken pieces left over that you can snack on later. Or use a knife for a better chance at cutting your pretzels right in half for the best-looking antlers.
Don't use natural peanut butter. It's too runny, and you'll end up with a giant mess that looks like melted ice cream on a hot summer day. (We tried it.) Look for thick peanut butter to help hold the pretzel antlers and raspberry nose in place.
Put less peanut butter at the bottom of your celery stick before you top it off with a raspberry. This prevents the celery stick from becoming top heavy and tipping over on it's side. We recommend you leave just enough peanut butter so that the raspberry sticks. Try to fit the raspberry inside your celery opening to keep it stable.
How To Serve
Serve your celery reindeer on a holiday themed plate or serving platter. This recipe is so easy you can make it for a party or whenever you and your kids want a snack at home during the holidays. Make it as creative, festive, or casual as you'd like.
Be sure to check if there are any nut allergies if you make this for a classroom or daycare party. If there is, no problem. Instead of peanut butter, try hummus or cream cheese as a filler in the celery to hold everything in place.
How To Store
Cover your celery snacks and store them in the fridge until you're ready to serve. They will stay fresh for up to two days. Feel free to make them ahead of time for your holiday party platter or for a grab-and-go snack.
Why We Love Dandy® Celery Sticks
As moms, we love a quick snack that's simple to serve and nutritious. That's not always an easy task. But Duda Farm Fresh Foods understands that we all have busy lives. With lots of crunch and no guilt, their grab-and-go snacks have been a lifesaver more times than we can count.
After almost 100 years as growers and six generations later, they still care about growing, harvesting, and shipping celery to you and your family, with care. So be sure to look for the red Dandy label at your grocery store for this fun, easy, and nutritious snack.
More Great Recipes Featuring Dandy® Celery
Celery Reindeer Snacks
A fun twist on simple ingredients. Peanut butter, Nutella, and celery never looked so festive as a reindeer snack or appetizer. Great to have on hand in your fridge or for your next holiday party.
Ingredients
1

bag

Dandu Celery Sticks

12

raspberries

6

Tbsp

peanut butter

6

Tbsp

Nutella

12

pretzel twists

cut in half

24

candy eyes
Instructions
Use a knife to cut the celery stalks into four pieces, each about five inches long.

Use a small spoon to fill half of the cut up pieces of celery with Nutella and the other half with peanut butter. Use about 1 Tbsp of Nutella or peanut butter per celery stick.

Use your hands to break (or knife to cut) the pretzel twists in half. Place the two pretzel halves at the top of the celery stick and gently press them into the peanut butter or Nutella. Now you have two antlers.

Place 2 eye candies under the antlers and gently press them into the Nutella or peanut butter, so they stay in place.

Place a raspberry at the bottom end of the celery stick and press until it sticks to create a red nose.

Serve on a festive holiday plate.
Nutrition
Calories:
122
kcal
|
Carbohydrates:
13
g
|
Protein:
3
g
|
Fat:
7
g
|
Saturated Fat:
3
g
|
Polyunsaturated Fat:
1
g
|
Monounsaturated Fat:
2
g
|
Sodium:
113
mg
|
Potassium:
99
mg
|
Fiber:
1
g
|
Sugar:
6
g
|
Vitamin A:
1
IU
|
Vitamin C:
1
mg
|
Calcium:
16
mg
|
Iron:
1
mg
Nutrition information is automatically calculated, so should only be used as an approximation.
Like this? Leave a comment below!