What's in Season September: Fruits & Vegetables
Sep 01, 2022, Updated Oct 30, 2022
To help you with The Produce Challenge®️, we have a list of what's in season during September that you can add to your table daily for more variety. Choosing seasonal fruits and vegetables is an amazing way to enjoy the best flavors during September.
Seasonal Fruits You Have to Try in September
Fruits you have to try this September:
Papaya
A tropical fruit that is sweet, soft, and fleshy. This exotic fruit can be found year-round but is in season during September. Eating papaya can reduce the risk of heart disease, diabetes, and some cancers.
Papaya can be prepared in various ways, like smoothies, salads, and desserts. Check out some of our favorite papaya recipes. To pick ripe papaya, you'll want to choose soft, yellow papaya with a sweet musky smell.
Blueberries
Blueberries are considered a super fruit full of antioxidants and vitamins. You can eat dried, frozen, or fresh blueberries to enjoy their many health benefits. Blueberries are summer fruit that is still in season in September and can be incorporated into loads of dishes for a healthy meal.
To pick ripe blueberries, you'll want to look for deep blue, plump berries that have a dusting of gray on the surface. The darker the blue, the sweeter the berry will taste. If the blueberry is firm and has hints of red, it isn't ripe yet.
Related Link: Blueberry Brie Grilled Cheese
Peaches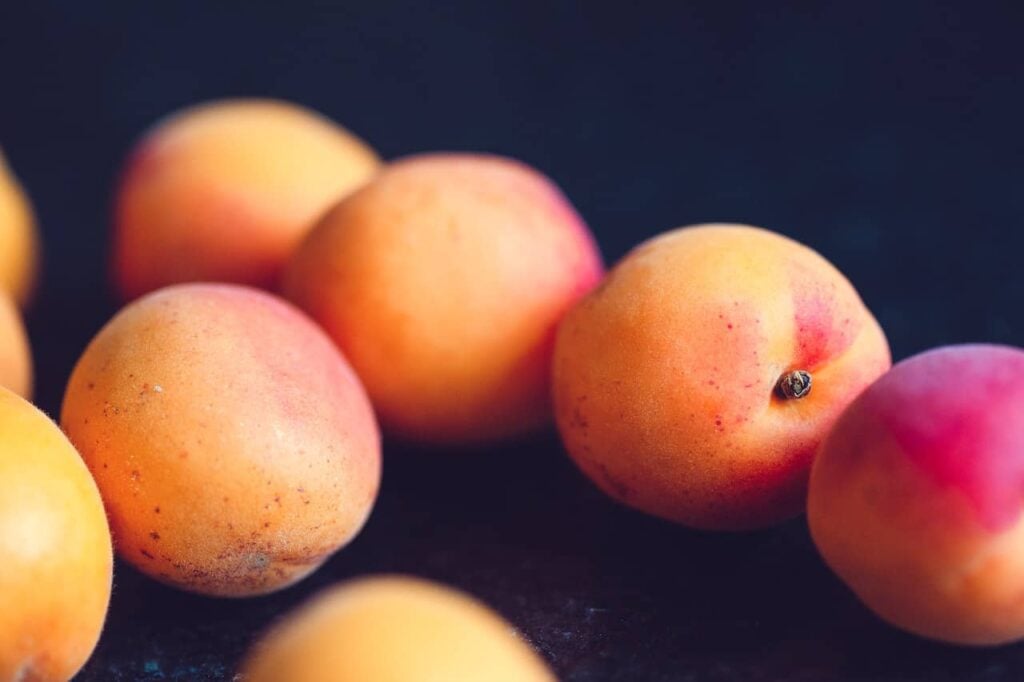 Oh, it is a glorious time when it's peach season runs from April through October. A ripe peach is hard to beat in flavor and health benefits. Peaches are packed with antioxidants, vitamins, and nutrients. Check out the many ways we like to incorporate fresh peaches into healthy meals and desserts.
You'll want to gently press the top of the peach where the stem is. If it starts to give, then it's ripe. You can still buy it if it is firm, but you'll need to leave it on your kitchen counter or pantry shelf for a few days to ripen.
Cantaloupe
Cantaloupe is a heart-healthy melon full of fiber, vitamin C, and potassium that can lower high blood pressure. While often considered a summer fruit, cantaloupe is still in season during September and makes an excellent addition to salads, desserts, breakfast, and beverages. Here are some mouth-watering recipes we love to make with cantaloupe.
Lime
Limes are easy to pick up at your grocery store year-round with a tangy citrus that adds depth to a dish. In September, limes are considered in season and at their juiciest. Limes are helpful antioxidants that can reduce inflammation and help the body heal. To pick a ripe lime, you'll want to weigh it compared to the other limes. Heavier limes are riper. Check out our favorite dishes that incorporate limes.
Bartlett Pear
If you love pears, you'll want to pick up Bartlett pears in September. Pears are rich in antioxidants and are a significant source of fiber, vitamin C, vitamin K, and potassium. To ensure you pick a ripe pear, apply gentle pressure to the top of the pear where the stem is. If it is soft to the touch, it is ready to eat. Click here for some yummy recipes using pears.
SweeTango® Apple
Apples are superior fruit chock-full of vitamins and minerals with significant health benefits. While National Apple Month isn't until October, you can see a variety of delicious apples come into season during September. SweeTango apples are a juicy sweet choice to add to your favorite fall recipes. Ripe apples are firm and crisp. If you press near the stem, it should be firm.
Blood Orange
Blood oranges are vibrant citrus known for their deep red flesh and tart and tangy flavor. This vibrant citrus is a rich source of vitamin C, vitamin A, potassium, manganese, and dietary fiber. Add color and punch to your favorite fall salads, desserts, breakfast dishes, and more. Select the heaviest oranges in the bunch to pick a ripe blood orange.
Honeycrisp Apple
Arguably the best apple variety, Honeycrisp has a uniquely sweet flavor that is tough to resist. More and more grocery stores carry Honeycrisp apples year round, but you'll find better prices and flavor from September to November. Rich in fiber, Honeycrisp apples also help fortify your eyes, heart, and liver. We dare you not to drool over our most delicious Honeycrisp apple recipes.
Dragon Fruit
Want a more exotic, adventurous fruit? You should introduce your family and friends to the wonderful flavors of the dragon fruit. An unusual fruit, the dragon fruit has a mildly sweet flavor that tastes somewhere between a pear and kiwi.
Dragon fruit is a excellent source of iron, magnesium, fiber, vitamin C, and E. To pick a ripe dragon fruit, you'll want to treat it like an avocado. You want the flesh to be soft but not mushy.
Blackberries
If you love berries, you'll want to incorporate blackberries into your cooking during September. These large, dark berries have a rich, juicy flavor that adds color and tang to your fall recipes. These berries are excellent in salads, desserts, and beverages. Full of nutrients, blackberries may boost brain and oral health and help digestion. Ripe blackberries will be black in color and tender to the touch.
Honeydew Melon
Another melon you don't want to miss out on during September is the honeydew melon. This deliciously green melon has a unique sweet flavor that is distinctly its own. Honeydew is also amazing for reducing blood pressure, controlling blood sugars, and boosting your skin, bone, digestion, and immune system. To pick a ripe honeydew for a fall meal, make sure the rind is creamy yellow and smooth to the touch.
Heirloom Tomatoes
While there are a wide variety of tomatoes in the fall months to choose from, we love heirloom tomatoes for their sweet flavor and versatility. Heirloom tomatoes are a rich source of lycopene, a powerful antioxidant that can relieve stress and protect your skin.
Choose a ripe heirloom tomato based on tender skin and deep red color. Here are some scrumptious fall recipes that call for heirloom tomatoes.
Avocado
Avocado is a low-calorie fruit with healthy unsaturated fats that help lower cholesterol. Avocados are perfect for any meal. Slice avocado on a piece of wheat toast for a heart-healthy breakfast. Add avocado to elevate your salad or favorite recipe for an easy way to add a fruit serving to your meal. When choosing a ripe avocado, look for a dark purple color. If it is black, it is past ripe. The avocado should be soft but not squishy.
Tropical Avocado
Tropical avocados are similar to regular avocados except for their size. These more exotic avocados are two to three times bigger than a Haas avocado. These avocados give you more bang for your buck when cooking dishes that call for avocado. You can find them generally year-round in the grocery store but are in season during the fall. When picking, you want the tropical avocado to be soft but not mushy when you squeeze gently.
Which fruits are you going to try during our Monthly Produce Challenge? Sign up to get access to our recipes, tips, and more to make healthy eating easy.
Related Link: What is a Farmer's Market? What to Know Before Your First Trip
Seasonal Vegetables You Should Put on Your Table in September
Fall is harvest time for delicious veg and cozy cooking. Here's what's in season in September for vegetables:
Mushroom
Mushrooms add an earthy flavor to your favorite savory dish. Fungi, mushrooms come in a wide variety that can be found in most grocery stores. Mushrooms boost heart, immune system, bone, and gut health. Mushrooms are also a powerful source of riboflavin. Whether you're adventurous in harvesting mushrooms from the forest or prefer the easy foraging of the store, mushrooms offer amazing texture and flavor to your meal.
Spinach
Spinach is a superfood leafy green you should add to your meals in September. Spinach is packed with important nutrients like vitamin K, C, A, fiber, and protein. You can get spinach year-round, but it is considered a cool weather crop, so it will be less expensive and more flavorful in the fall. Check out our healthy recipes that include spinach.
Sweet Potato
Sweet potatoes are an excellent starch to add to your diet for fiber, vitamin C, potassium, and beta-carotene. A fall harvest vegetable, sweet potatoes are best between September through October. When picking sweet potatoes, you should look for smooth-skinned, small to medium size potatoes. You don't want any cracks or bruises. Need ideas for healthy sweet potato recipes? We got you covered.
Celery
A cool weather vegetable, celery is best in fall, winter, and spring. Celery is nutrient-rich and has a low glycemic index, which helps regulate your blood sugars. You want to pick long celery stalks to ensure the best flavor. Celery adds a wonderful flavor and texture to savory dishes, or you can slap some peanut butter on a stalk and nosh on all those nutrients.
Black Beans
Technically a legume and not a vegetable, black beans still make our list of seasonal vegetables for September because of their rich flavor, high protein, and versatility. Most grocery stores carry dried, canned, or fresh black beans. Black beans are an excellent dish to add as a side or incorporate into a salad or savory meal.
Red Cabbage
Red cabbage is another nutrient-dense leafy vegetable with fiber, potassium, thiamine, and riboflavin, which your immune system needs. Red cabbage is a vibrant vegetable that can liven up your salads and fall dishes with great color and texture. Unfortunately, getting your kids to eat red cabbage is a bit of a trick. We have some kid-friendly recipes to help.
Eggplant
The iconic purple teardrop-shaped eggplant is a unique and memorable vegetable to add to your fall table. Eggplant is full of vitamins and vital minerals like calcium, magnesium, potassium, and phosphorus. The peak season for eggplant is July through October. When picking an eggplant, you want it to be firm but not hard. Check out our favorite eggplant recipes.
Green Onions
Green onions are another flavorful veg that can boost your meals. Green onions are low-calorie and high in vitamin A. However, you do have to eat a significant amount to gain the health benefits. Green onions are a better topping for salads, potatoes, and savory dishes. Green onions should be firm and deep green when you pick them.
Garlic
As part of the onion family, garlic is an aromatic vegetable that, when used in small amounts, can enhance the flavor of a savory dish, side, or salad. While good for you and your heart, garlic is a polarizing vegetable. Some people love garlic while others can't stand the smell. When picking garlic, the outside cloves should be firm and not dry. Try our tasty garlic recipes.
Collard Greens
A southern favorite, collard greens have a unique flavor and a dark green leaf. Collard greens are rich in fiber, antioxidants, and essential vitamins. You'll want to look for a deep green color and large leaf to ensure the best flavor. We love incorporating collard greens into salads, sides, and main dishes.
Turmeric
Used in Indian cooking and medicine for thousands of years, turmeric is a proven herb that has healing qualities. It also has a distinct flavor, making it an excellent cooking spice. You can find turmeric in the spice section of your grocery store as dry, ground, or fresh. Turmeric is ready to harvest when its leaves are brown and dry.
Thyme
Another aromatic herb, thyme, can really turn up the flavor of your fall recipes or even breathe new life into an omelet. Although, too much of this herb can be overpowering, especially when it is fresh. So use it as an accent to enhance your dish. You can buy thyme in the herb section of your market as dry, fresh, or ground.
Spaghetti Squash
Spaghetti squash has grown in popularity as more and more people experiment with making vegetable noodles with this tasty squash. A cool weather vegetable, spaghetti squash is best during the fall harvest. When picking a spaghetti squash, you'll want one that is heavy and firm with no soft spots.
Jalapeno
Want a vegetable with some kick? Jalapeno peppers are a milder choice when it comes to spicy peppers. These crispy and delicious peppers can elevate your eggs, sandwich, salsa, side dish, salad, or main course. Jalapenos are extremely versatile for cooking, and you can control the heat by removing the seeds. Check out these must-try jalapeno recipes.
Brussels Sprouts
Last but not least, Brussels sprouts are another excellent fall vegetable you've got to eat this season. There are many ways to cook these mini cabbages that even kids enjoy. Your mother was right when she told you to eat your Brussels sprouts as a kid. This vegetable is packed with fiber, protein, and key vitamins.
Looking forward to trying some of these September fruits and vegetables during The Produce Challenge®️? Sign up to get access to our free The Produce Challenge®️ Calendar.
Related Link: How to Store Vegetables: Eat Fresh for Weeks