Thanksgiving with Fruits and Vegetables on Indy Style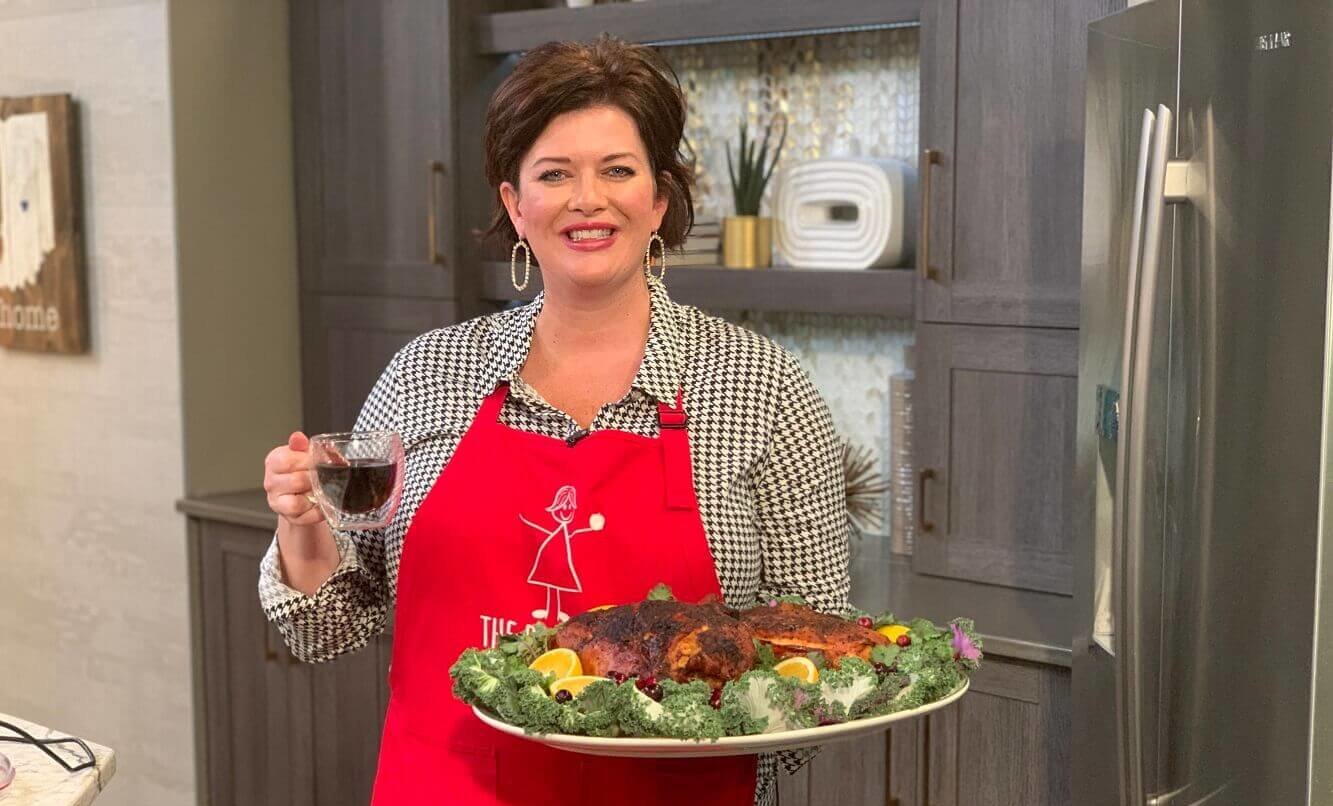 A time for gratitude is just around the corner… so right now is the time to think about the food your family will be thankful for! Some of our favorite fruits and vegetables are in season right now, like cranberries and apples. This year, we've put new twists on old favorites using colorful salads, crunchy vegetables, flavorful fruits, and much more! We brought our mouth-watering creations to the kitchen of Indy Style to share ways to prepare for Thanksgiving with fruits and vegetables.
Bacon-Wrapped Kale Sprouts with Goat Cheese and Cranberries
We started our Indy Style dinner just like we would any other – with a delicious appetizer! We used tender Lollipops® kale sprouts and Naturipe cranberries along with a bit of goat cheese to make these irresistible Bacon Rollups. These poppable snacks boast a unique fruity and savory flavor. They're a great way to begin Thanksgiving with fruits and vegetables and will tide your guests over until dinner. Just make sure they leave room for the main event!
Learn more about Naturipe's cranberry farmers in episode 126 of The Produce Moms Podcast!
Ingredients
12 slices bacon, cut in half
1/2 pound Lollipops® kale sprouts washed and stems trimmed (about 24)
3/4 cup ketchup
3/4 cup white vinegar
1 cup light brown sugar
Goat Cheese
Naturipe Cranberries
Tooth Picks
Directions
Preheat the oven to 425 degrees F.
Coat 2 baking sheets with cooking spray.
Wrap a piece of bacon securely around half of the kale sprout, leaving flowering ends uncovered.
Place on a baking sheet and bake 15 to 20 minutes or until bacon is crisp.
Put bacon wrapped lollipop on tooth pick and top with goat cheese and cranberry.
Salad Savoy Signature Salad with SweeTango Apples
Here's another mashup of The Produce Moms partners: Salad Savoy and SweeTango Apples! This salad is a lively addition to your Thanksgiving Day spread. We used white and bright violet Salad Savory Signature Salad as our base and added goat cheese, blue cheese, and toasted pecans. We topped it off with slices of one-of-a-kind SweeTango apples, which brings sweetness and crunchiness to a salad that's sure to delight.
But we didn't just use Salad Savoy for the flavor and color. We love it for the convenience, too! As a hardier green, this purple kale can be prepared as a salad in advance. That means less rush in your Thanksgiving meal preparation. Prepare it before you start cooking your other courses for a convenient way to enjoy Thanksgiving with fruits and vegetables!
Ingredients
2-3 heads Salad Savoy a mixture of white and violet leaves
2 oz blue cheese
2 oz goat cheese
2 oz pecan pieces toasted
SweeTango apples, sliced
Directions
Mix all ingredients together.
Serve and enjoy!
Turkey on a Salad Savoy Signature Salad Bed
Thanksgiving dinner is synonymous with oven-roasted turkey, so of course we included one in ours! However you choose to prepare your bird, add some color to your presentation with Salad Savoy Signature Salad. The violet hues of these wrinkly leaves will make your turkey look even tastier. And the salad itself is tasty, too!
Tricolor Cauliflower Mash
Mashed potatoes are a Thanksgiving classic, but why not switch it up with this cauliflower mash? Cauliflower is a nutritious and versatile veggie. But while you might be picturing a bland white dish, this recipe is anything but! We recommend buying a premixed package of colorful cauliflower; it will save you some work and looks incredible.
Ingredients
1 head cauliflower, cut into florets
1 tablespoon olive oil
1 clove garlic, smashed
¼ cup grated Parmesan cheese
1 tablespoon reduced-fat cream cheese
½ teaspoon kosher salt
⅛ teaspoon freshly ground black pepper
Directions
Place a steamer insert into a saucepan and fill with water to just below the bottom of the steamer. Bring water to a boil. Add cauliflower, cover, and steam until tender, about 10 minutes.
Meanwhile, heat olive oil in a small skillet over medium heat; cook and stir garlic until softened, about 2 minutes. Remove from heat.
Transfer half the cauliflower to a food processor; cover and blend on high. Add remaining cauliflower florets, one at a time, until vegetables are creamy. Blend in garlic, Parmesan cheese, cream cheese, salt, and black pepper.
Sweet Potato Skillet with Toasted Pecans
What Thanksgiving meal is complete without sweet potatoes? These spuds always have a place at our table! Our favorite sweet spuds are grown organically by Wada Farms.
If you've avoided making sweet potatoes because they're hard to cut and prepare, we have a super-secret tool you can use: your microwave! All you need to do is prick your sweet potato with a fork to create a vent, then pop it in the microwave for one to three minutes. This softens your sweet potato but doesn't change the consistency or flavor. Make sure you're using sharp knives to cut your potatoes.
These sweet potatoes fry up nicely in a skillet and come out with a rich, sweet caramelization. With spices and some pecans for a crunchy texture, these sweet potatoes are practically a mid-meal dessert!
Ingredients
½ cup light brown sugar
¼ cup granulated sugar
1 teaspoon ground cinnamon
1 teaspoon ground nutmeg
1 pinch kosher salt
½ cup unsalted butter
6 sweet potatoes, peeled and sliced into ⅓" rounds
2 teaspoons vanilla extract
¾ cup pecans, chopped and toasted
Directions
Combine the brown sugar, sugar, cinnamon, nutmeg, and salt in a small bowl and set aside.
In a large skillet or Dutch oven, melt the butter over medium heat.
Add the sliced sweet potatoes and toss to coat with butter.
Sprinkle the sugar mixture over the buttered potatoes and stir to coat.
Reduce heat to low, cover skillet, and continue cooking for 45 minutes to 1-hour ; stirring occasionally.
Once the sauce has caramelized the potatoes and they're fork-tender, stir in the vanilla. The sauce will thicken slightly once off the heat.
In a separate sauté pan, toast the pecans before topping the candied sweet potatoes.
Traditional Mashed Potatoes
Shoutout to Tyler Florence from the Macy's Thanksgiving Day Parade – Lori has been preparing mashed potatoes this way ever since she saw him do it on live TV when she was just 19! These mouthwatering homemade mashed potatoes will become a staple in your home cooking menu.
We use Yukon Gold potatoes from Wada Farms, some of the best-tasting taters around! They're made even better by cooking with cream and butter in chicken or vegetable stock, allowing them to absorb more flavor before mashing.
We use a hand masher to mash our potatoes, but you can also run them through a ricer or a blender to get them extra creamy. After you've mashed your potatoes, mix in a few ladles of the cooking liquid. This helps maintain the consistency of your mashed potatoes and enhances their flavor.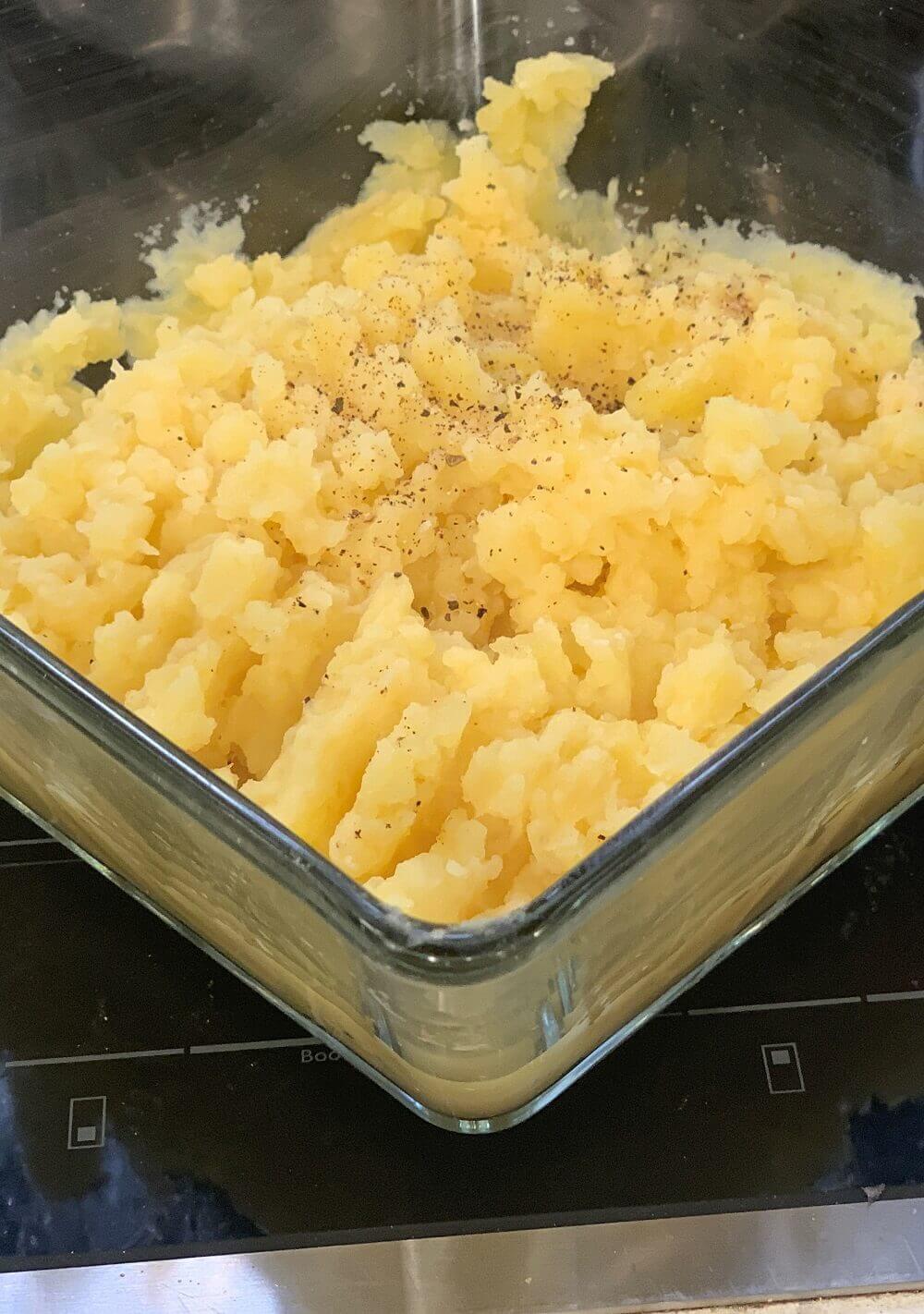 Ingredients
Peeled Yukon Gold Potatoes
Chicken or vegetable stock
Heavy Cream
1 stick butter
Salt and pepper to taste
Directions
Boil potatoes in stock.
Add cream and butter directly into pot while the potatoes are cooking.
Once they're soft enough to cut with a spoon, remove potatoes from cooking liquid with a slotted spoon and place in a mixing bowl.
Mash thoroughly.
Add a few ladles of cooking liquid, salt, and pepper to potatoes and mix together.
Serve and enjoy!
That's Tasty Mulled Wine
Cold November nights are just right for a hot drink, and nothing warms the soul like mulled wine. Maybe that's why people have been drinking it for thousands of years! It comes from the medieval era yuletide tradition of "Wassail." Wassailing meant singing door to door or singing to the orchard trees in hopes to improve the harvest. The tradition has evolved over the years but the unique flavor and aroma still brings the holidays to life!
We love the easy-to-use mulled wine kits from That's Tasty. With a bottle of fruit-forward red wine, you can add this timeless classic to your list of holiday traditions! Wassailing is entirely optional!
In addition to mulled wine, you can also use these mulling kits to make mulled cider or, stir into your hot cocoa with a cinnamon stick It's also great in hot tea and can make a wonderful hostess gift. Get creative and enjoy the flavors of the season!
Ingredients
1 bottle red wine
2 tbsp That's Tasty Mulling Spices
5 Cinnamon Sticks one per mug
5 slices orange one per mug
honey or agave syrup to taste
5 shots brandy, bourbon, or cognac one per mug – optional
Directions
In a saucepan, gently simmer one bottle red wine and mulling spices (in reusable steeping bag), taking care not to overheat the wine.
Add honey or agave syrup.
Simmer up to 20 minutes.
Remove spices and serve hot in mugs garnished with a cinnamon stick and an orange wedge.
Optional: Add shot to mug… for medicinal purposes, of course.
Cranberry Apple Pie
This should be the official pie of Thanksgiving. A fruity filling of Sage Fruit sliced apples and more Naturipe cranberries mixed with spices gives this pie an unforgettable flavor. Not only that, it's also surprisingly easy to make. Save room for dessert!
There's no need to add more stress to your preparation by making a pie crust from scratch. We think store-bought pie crusts taste just fine. The tasty pie we baked on Indy Style is proof! But we do recommend investing in fresh nutmeg and grinding it yourself. It makes a difference in the end result.
Ingredients
2 cups sugar
1/4 cup cornstarch
1/4 cup orange juice
1/2 teaspoon ground cinnamon
1/2 teaspoon apple pie spice
1/8 teaspoon ground nutmeg
1/4 teaspoon lemon juice
4 cups sliced peeled tart apples
2 cups fresh or frozen cranberries
Pastry for double-crust pie
2 tablespoons butter
Directions
In a large bowl, combine the first 7 ingredients. Add apples and cranberries; toss gently. Line a 9-in. pie plate with bottom pastry. Add filling; dot with butter.
Roll the remaining pastry to fit top of pie. Cut vents in pastry, using a small apple cutter if desired. Place over filling; seal and flute the edges.
Bake at 425° for 10 minutes. Reduce heat to 350°; bake 50 minutes longer or until crust is golden brown and filling is bubbly.
Be thankful for those you get to spend time with this Thanksgiving. This year may be different than most, but you can still make the most of it! Try out The Produce Moms' Thanksgiving recipes from our Indy Style segment and give your family and friends some new flavors to be thankful for.