SweeTango®: Meet the Growers at Pine Tree Apple Orchard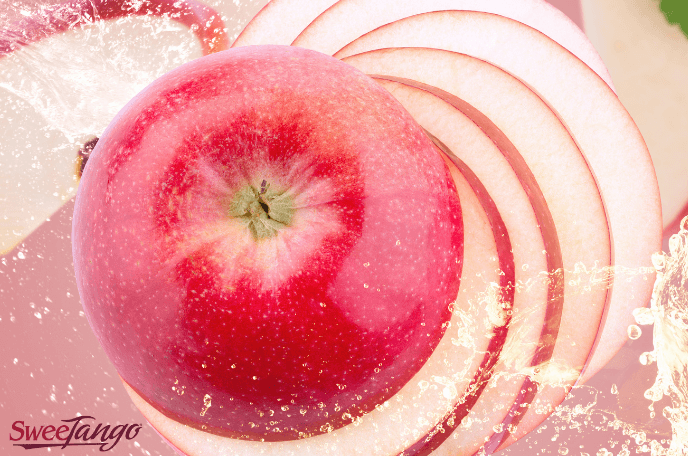 This post is sponsored by SweeTango®.
About SweeTango®
The SweeTango® is a crisp and sweet apple with a touch of citrus, honey and spice – a perfect combination of flavors! The SweeTango® apple is not like any other apple variety – it is a special breed. The blushed apple, with deep red coloration over a yellow-breaking background, is as appealing to the eye as its flavor is to the palate. 
The story of this special apple begins at the University of Minnesota. Expert apple breeders struck gold by marrying the Honeycrisp and Zestar varieties to create the Minneiska – the tree that produces one of the best apples around, the SweeTango®. 
With its outstanding flavor and remarkably loud crunch, SweeTango® is definitely a top pick for any apple lover! SweeTango® apples are available mid-August to early September into November or early December. Take advantage of apple season this year with SweeTango® apples. This juicy apple will have your family eating an apple a day!
Meet the Jacobson Family
We recently had the pleasure of interviewing John Jacobson of Pine Tree Apple Orchard.  John and his five siblings are actively involved in the growing and marketing of their family orchard in White Bear Lake, Minnesota.  In 1958 John's father, Art Jacobson bought the 25 acre orchard from the previous owner. Since then, the Jacobson family has grown Pine Tree Apple Orchard to span nearly 350 acres.
The Jacobson family has put their heart and soul into making Pine Tree a destination for those in the NorthEast corner of the Minneapolis/St. Paul area. John truly believes that they have built a bond and trust with the people who come and visit the orchard year after year.
In 1963, the family purchased an additional orchard in Preston, Minnesota to expand and diversify their growing operation. In 2006, the Jacobson family tasted the SweeTango® apple for the first time.  John recalls, "It only took one bite, and they knew that they wanted to go all in with the SweeTango®."
Pine Tree Apple Orchard
Pine Tree Apple Orchard offers 20 different varieties, many of which are currently regional.  John talked about how lucky they are to be less than 30 miles from the University of Minnesota, a true leader in apple breeding.  They often get to try new apple varieties from the beginning. Selecting what they will grow comes down to a few varying factors: seasonality, storability and if an apple fills a need or void.
Unlike many of the other SweeTango® growers, Pine Tree Apple Orchard sells directly to consumers.  They are a full-service orchard with a heavy emphasis on value-add.  The orchard has a bakery filled with pies, donuts, apple cider and many other sweet treats that locals love to come in and take home!
At the Orchard
Pine Tree is a fully-integrated orchard that cares for the fruit from seed to table. Although they are not a U-pick orchard, they have many other things to do when you visit.  During the fall they offer a corn maze, pick your own pumpkin, wagon rides and much more! During the summer months, Pine Tree has "Pick Your Own Strawberries" and  "Picked for You Strawberries".
Bloom season is around the middle of May (weather depending).  During this time, the biggest fear is having a hard freeze that will damage the crop.  Throughout the early stages of bloom, weather conditions like heavy moisture, hail, high winds and cold evenings could impact the fruit on the tree. One differentiation that you will find at Pine Tree is that they use hail netting on their trees to help protect them from the unpredictability of mother nature!  In late August/early September, the early season apples are harvested.
Pine Tree Apple Orchard is Special
John explains that Pine Tree is different for various reasons. The number one factor being that people know and trust them and come back year after year. The Jacobson family has put some much passion and love into Pine Tree, and it is evident in their success. 
Another differentiating factor is that they use trickle irrigation. It is renowned for being a very efficient method of watering plants. Trickle irrigation applies water slowly and directly to the soil. This irrigation technique's efficiency is provided by two major factors.  First, the water is absorbed by the soil for access to the tree roots rather than running off or evaporating. Secondly, the water is only supplied to those areas of the field that actually need the water.
High density planning of the orchard is also a differentiating factor.  The apple trees are planted very close together and are pruned to keep them smaller. This method allows them to grow more trees in their orchard.
Each of these factors play a significant role in the success of Pine Tree.  Don't believe us? Take a look at the video below and experience the beauty for yourself!
Visit the Pine Tree Apple Orchard website to learn more.
How to Enjoy SweeTango® apples
Unlike John Jacobson, not all of us have the luxury of eating a SweeTango® right off the tree in the orchard which is John's favorite way to enjoy the crunch.  We have said this time and time again, this apple is incredible on it's own!
We also have a passion for cooking with our favorite fresh produce items.  In our latest eBook, SweeTango for All Eating Occasions has our top 5 recipes for using our favorite apple.  Try them all and share your favorite with us in the comments below.
Some of our other favorite recipes include the Spicy SweeTango® Apple Sweet Potato Soup. Its blend of unique flavors is like nothing else and makes for a hearty meal or side dish. Another fall classic recipe to try is the SweeTango® Apple Pumpkin Spice Smoothie, a cool drink with autumn aromas and fall flavors. Looking for something a little more elegant? The SweeTango® Apple Cardamom and Chevre Tart is the answer. 
RELATED: Back 2 School with SweeTango® Apples | SweeTango® Halloween Charcuterie Board
Please tell us your favorite way to enjoy SweeTango® apples in the comments below.